Matsumoto Castle
Matsumoto Castle: read a guide to Matsumoto Castle in Nagano Prefecture. Matsumoto Castle has Japan's oldest wooden keep or donjon.
Matsumoto Castle 松本城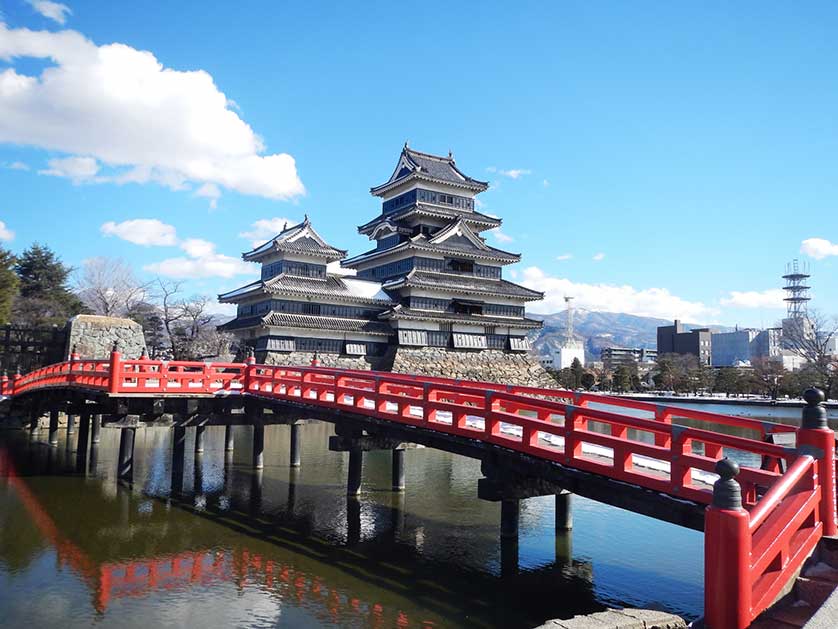 Matsumoto Castle, Nagano Prefecture
Matsumoto Castle, in Matsumoto city in Nagano Prefecture, is among Japan's oldest and most beautiful castles and along with Hikone Castle, Himeji Castle and Inuyama Castle, is designated as a National Treasure. Matsumoto Castle is one of Japan's only twelve completely original castles.
Matsumoto Castle History
Matsumoto Castle's black painted, wooden keep (donjon) is the oldest surviving such structure in Japan, dating from 1595. The black color gave Matsumoto Castle its nickname "Karasujo" (Crow Castle) and the brooding, somber color was designed to sow fear in the hearts of any approaching attacker. Matsumoto Castle is built on flat ground and is thus classified as a hirajiro in Japanese (flat-land castle) and has a large moat and thick walls as a means of defense.
Construction of the fortress that was to become Matsumoto Castle began under the Ogasawara clan in 1504 and was remodeled by Lord Kazumasa Ishikawa, a retainer of warlord Hideyoshi Toyotomi, in the mid-1590's.
Matsumoto Castle has six floors, including the obligatory hidden floor where the samurai soldiers rested and kept their food and powder supplies. Visitors to Matsumoto Castle must take off their shoes as they climb up the steep wooden stairs. There is an English and Japanese piped commentary and exhibits of firearms, armor, roof tiles, photographs and samurai swords. There are excellent vistas of the Southern Alps from the top of the castle.
Matsumoto Castle was not designed for permanent residency, purely for military purposes. On your way to the top floor look out for the openings for archers (yazama), guns (teppozama) and for dropping stones (ishiotoshi).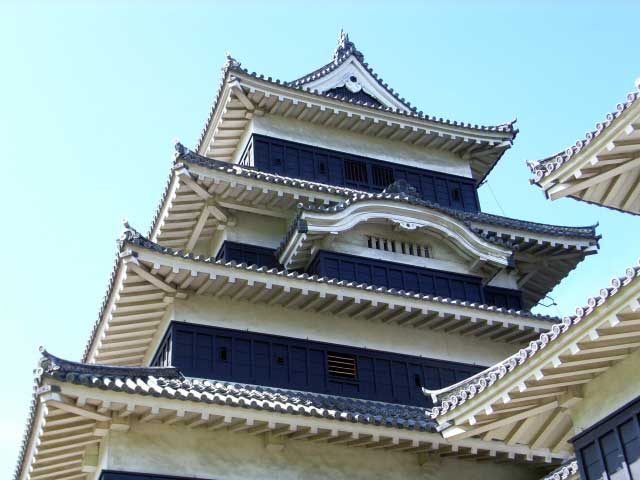 Matsumoto Castle, Nagano Prefecture
There is an annual taiko drumming festival at Matsumoto Castle in July (last Saturday & Sunday) and a moon viewing festival in either September or October. August 8th is the annual Takigi Noh (5 pm-8 pm; free) performed at night under torchlight. The Noh performances are interspersed with kyogen comedies.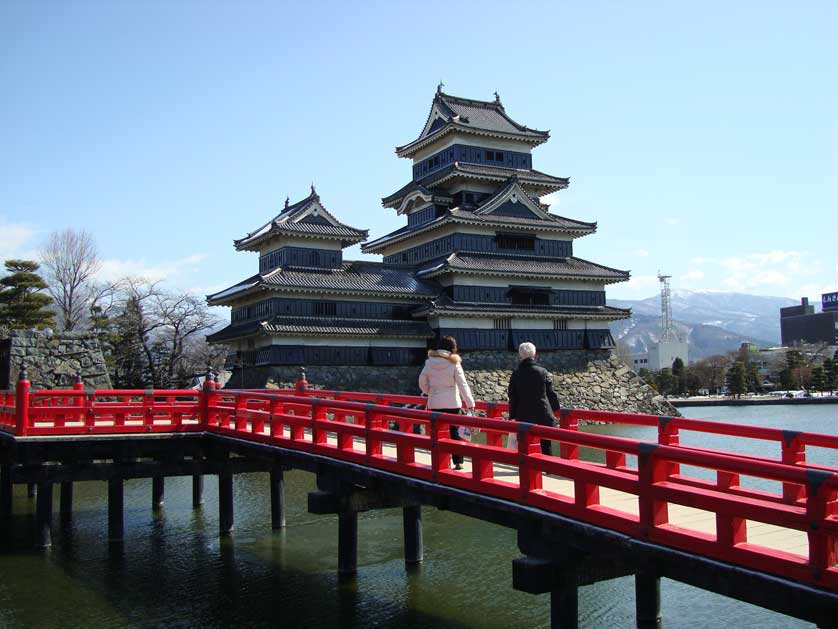 Matsumoto Castle, Nagano Prefecture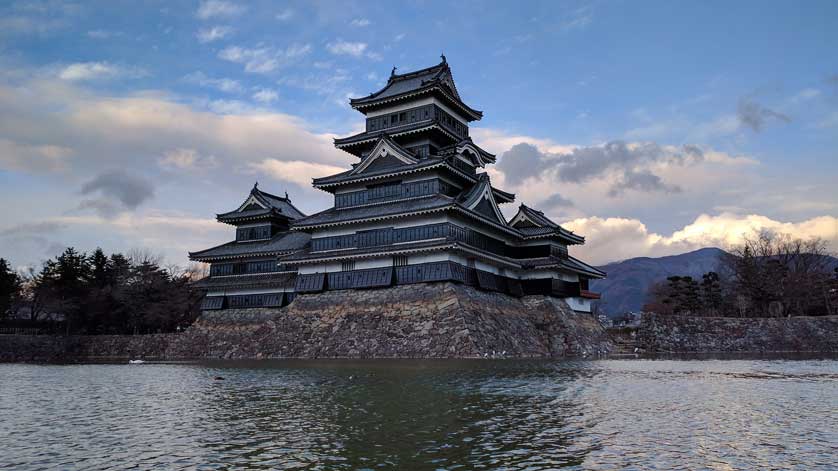 After Himeji, Matsumoto Castle in Nagano Prefecture is surely Japan's most beautiful
Matsumoto Castle4-1 MarunouchiMatsumotoNagano390-0873Tel: 0263 32 2902Admission: 600 yen (with reductions for foreign visitors on presentation of a passport)Hours: 8.30 am-5 pm (last entry 4.30 pm)
The ticket also includes admission to Matsumoto City Museum (Tel: 0263 32 0133) in the south east corner of the castle park.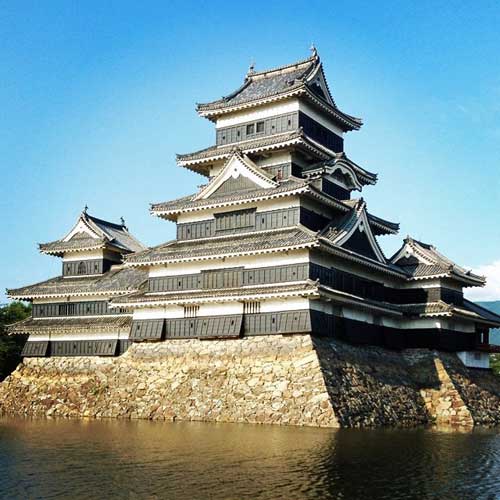 Matsumoto Castle, Nagano Prefecture
Matsumoto Castle Access - Getting to Matsumoto Castle
There are direct Shinano trains from Nagoya Station (2 hours) and from Shinjuku Station in Tokyo by Azusa and Super Azusa trains (2 hours, 30 minutes) to Matsumoto.
There are also direct trains to Nagano city (50 minutes). Shinshu Matsumoto Airport has flights to Fukuoka, Osaka and Sapporo.
Bus
There are direct highway buses to a variety of destinations including Shinjuku, Osaka, Nagoya, Chubu International Airport and Takayama from Matsumoto. By road, Matsumoto is accessed from the Chuo Expressway.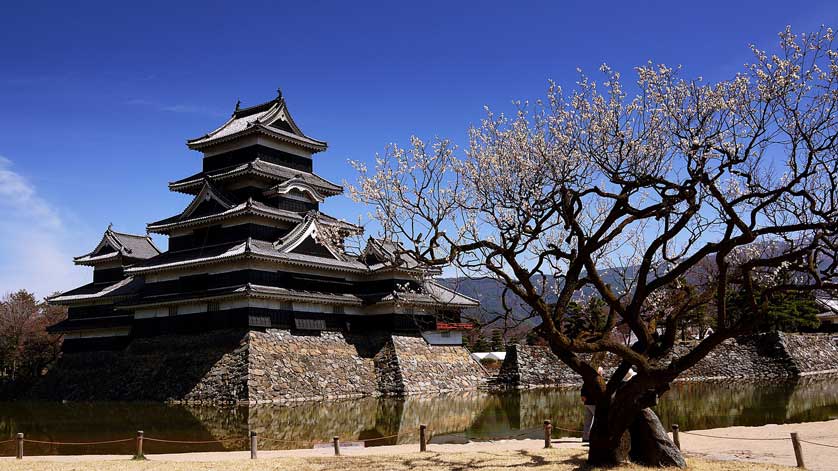 Matsumoto Castle, Nagano Prefecture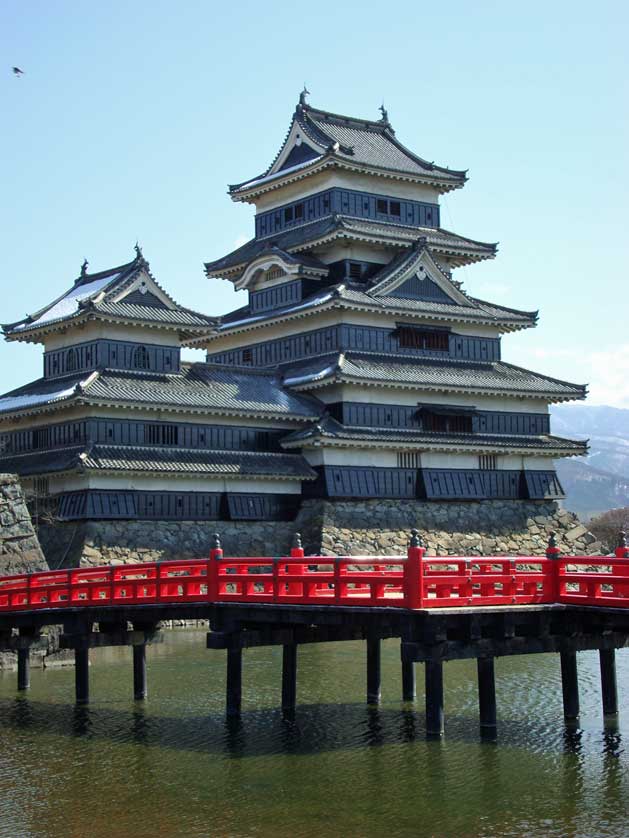 Book Luxury Hotel Accommodation in Japan Here
All the themes of the city