Tempozan District
天保山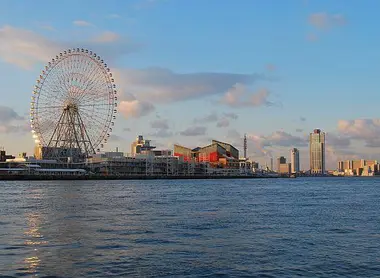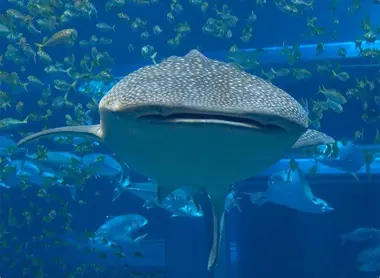 Attractions and artifices
Ideal for families, this harbor district offers all the entertainment that all ages dream of for long Sunday afternoons.
In Japan, any coastal town worthy of the name must have its artificial island. Like Odaiba in Tokyo, Tempozan is an island attraction. Opportunities to have fun abound. First, there is obviously Osaka Aquarium, known for its diversity. But the silhouette of the big wheel, which stands out on the skyline does not leave the children indifferent. From its summit, 112 meters above the ground, one of the highest in the world, it is even possible to see all the Osaka-Kobe agglomeration. Tempozan is above all an island and as such looks to the sea. The locals go to the business district of Sakurajima Island, where the Maritime Museum is located, by boat, like others would go to work by bus.
Weigh anchor
The fun cruise begins a little further west of the aquarium. This Santa Maria, tourist boat, takes the form of the famous ship of Christopher Columbus (1451-1506) that allowed him to discover America, but it is twice the size. Budding pirates can already see themselves at conquest ofOsaka! After landing, head towards the market square of Tempozan as for the Japanese, fun rhymes with good food.
Mouth watering
This particular mall houses the Naniwa Kushinbo Yokocho (gourmet aisle), the reproduction of a 1960s shopping street. The restaurants that line it are worth trying for the dishes of ordinary city dwellers of the time, such as takoyaki (Octopus balls) that they serve. And surprise, amid the bustle of activity, Mt. Tempozan, which gives its name to the island, the smallest mountain in the country (4.5 meters) sits proudly in the middle of a park within walking distance of the Ferris wheel. A good way to say goodbye to the island of fun before catching the train this time to return to dry land.
All the themes of the city