Tennoji Park (Tennoji-koen)
天王寺公園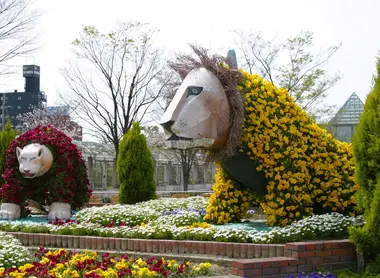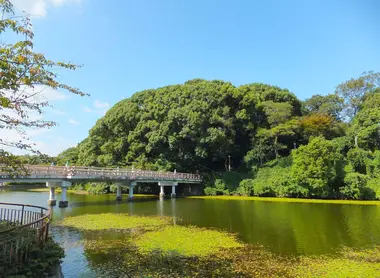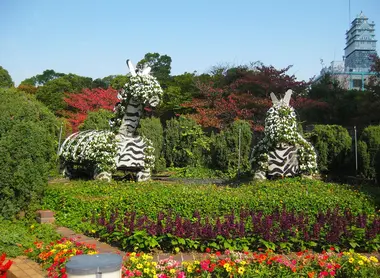 The Princes' Park
A green canvas laid out to the southeast of the city, Tennoji Park successfully fuses the love of art and flourishing wildlife.
For the modest sum of 150 yen, Tennoji-koen welcomes walkers who are missing aesthetic. Along its paths are multiple floral constructions with elaborate motifs. Here a flowerbed of daffodils, there some violets. The colors are in harmony and interweave to attract the eye. Surprising appearances in this minimalist landscape, sculptures made ​​of flowers emerging from a vegetable sea. From a vaguely animal form, guessing what species they represent becomes a game.
At the edge of the park, to the right of the main drive, you will soon discover the traditional  Keitakuen garden, of which the tea house and pond inhabited by cranes, inspire many dreams for the visitors who linger there. Those who prefer culture to nature lose themselves in the contemplation of works of art from the National Museum of Fine Arts of Osaka . Opened in 1936, it houses works from both China and the archipelago, including "important cultural property". Its imposing building cannot be missed as it overlooks the surrounding trees.
Not so insignificant land
The surprises of Tennoji however do not stop there. Once you have passed the massive frame of the museum, the famous Tsutenkaku Tower of Osaka  splits the sky. A modern image that this iron construction suggests on the horizon. To the north, Kawazokoike Pond lets herons laze around on its surface. But the tranquility of the moment is soon disturbed by the cries of animals from the zoo to the east. Before the joy of watching the facial expressions of the nice animals, a visit to Mount Chausuyama proves essential. At the top of the hill stood the first shogun Tokugawa Ieyasu (1543-1616) at the Battle of Tennoji in 1615 that led to the fall of the rival clan, the TOYOTOMI. Since then, the Japanese surround this place in mystery and rumors has it that it is would make the sepulchre of Toyotomi Hideyori (1593-1615), the last heir of the clan, who committed seppuku (ritual suicide by disembowelment) before his defeat by Tokugawa Ieyasu. After the battles left to the past, young and old melt before the inhabitants of the zoo, to the west of the garden. Sometimes it doesn't take much to be happy.
---
Address, timetable & access
All the themes of the city