Dotonbori
道頓堀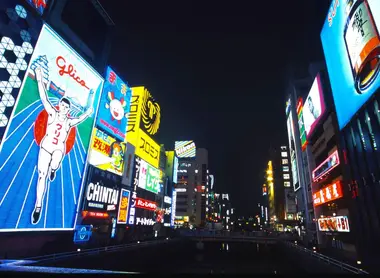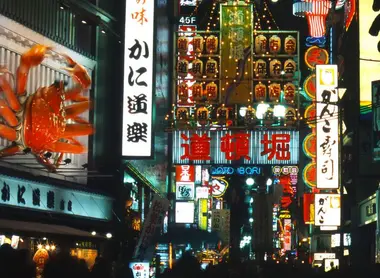 Nocturnal Hallucinations
Dotonbori at night is like an explosion, a psychedelic trance that smells like grilled fish and skewers of fried foods.
There are game centers and pachinko parlours that vibrate with noise until the small hours of the night, that don't stop for anything, especially not for your poor ears. Lights flashing, the pupils rave, senses awaken. The reflections of the flashing lights on the canal, Dotonbori-gawa, is the only quiet, as the sea of people and volume of noise seem overpowering in the surrounding streets. Lanterns sway above the takoyaki stands and trinket vendors.
Noises and voices
For a moment you find yourself between a big plate of noodles and a giant mechanical crab as you turn down an avenue; a few minutes later you're seated in an izakaya where on all sides the gruff voices of Osakan men rise above the crowd, themselves followed by plumes of cigarette smoke. The locals speak loudly in Osaka, laugh too loud, and not just in restaurants when it's getting late.
Dotonbori is an unmissable experience for an evening, giving visitors a glimpse of unmistakably Japanese night life.
All the themes of the city