Flea market Shitennoji
四天王寺の骨董市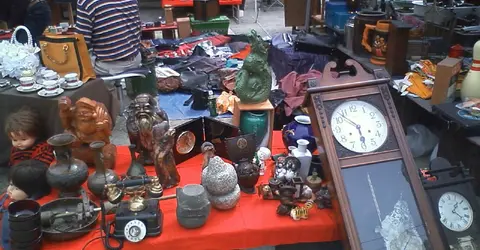 Trésorsanodins
Tous les 21 et 22 du mois, les travées du Shitennoji s'animent. Au sein de ce temple millénaire se tient régulièrement un marché aux antiquités centenaire.
Wooden sculptures, kimonos, porcelain... everything is designed to be enjoyed by travelers who want to bring home a piece of Japan. With over three hundred stalls, wandering along the paths takes time, and bargain hunters who've been there since early morning quickly become hungry. Then the food stalls are stormed and those brave enough to withstand the crowds will discover at the same time the regional specialties such as takoyaki (octopus dumplings) or okonomiyaki (savory pancakes).
Often for the modest sum of 1,000 yen, second-hand objects are sold out quickly. Even the locals take advantage of the bargains, so it's a good way to meet them.
---
Address, timetable & access
All the themes of the city