Shinsaibashi Guide
Osaka Area Guide: Shinsaibashi 心斎橋
Alan Wiren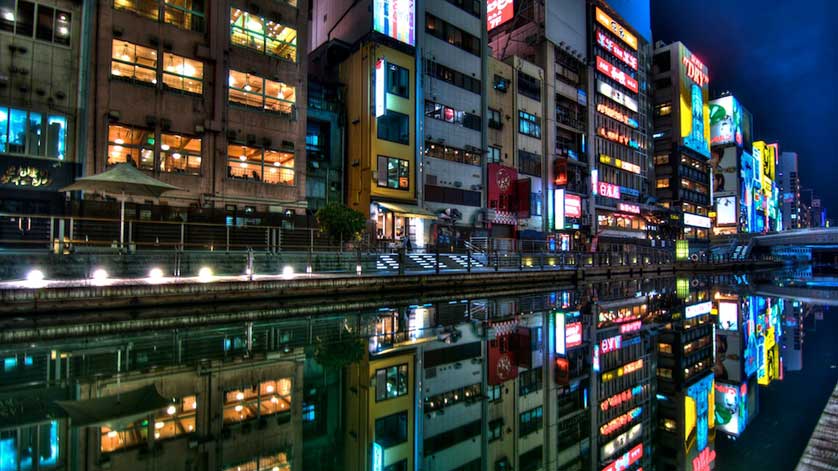 Dotonbori, Shinsaibashi, Osaka
If you did not know what to look for, you would never know that Osaka's Shinsaibashi area was named for a bridge spanning a canal.
Shinsai Okada was one of four merchants who had the canal constructed in 1622. They called it Nagahorigawa and Shinsai built one of several bridges (hashi) that ran over it.
The place he chose was a popular one. The street leading away from his bridge to the north would bring you to a night market and a red light district.
To the south it led to the Dotonbori theater district. What lay in between became a popular venue for shopping and dining and is now one of the larger streets in Japan that are set aside as shopping arcades, exclusively for pedestrian traffic.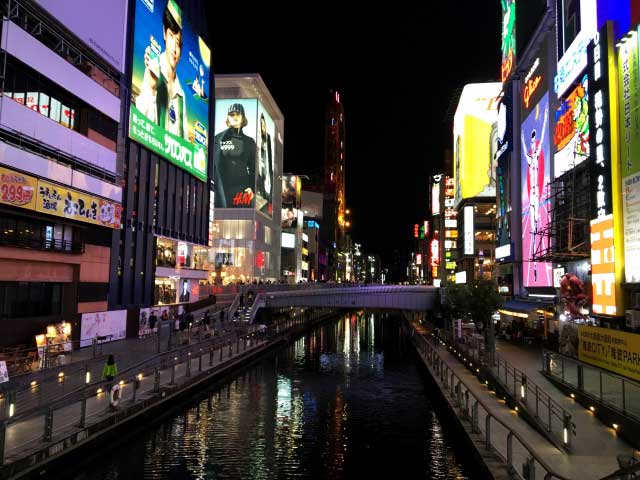 Dotonbori, Osaka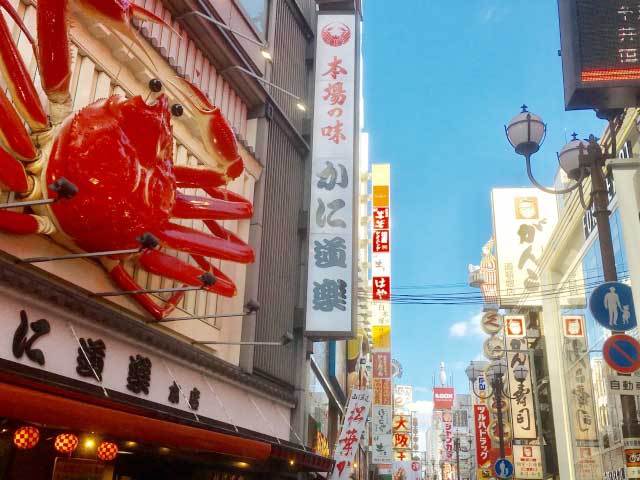 Dotonbori, Osaka
In Shinsai's day, warehouses and merchants selling decorative and memorial stones lined the banks of the canal. His bridge, itself, was no exception with stalls selling amazake (a mild, sweet sake) above and boats fitted out for dinner cruising congregating below.
In the 20th century the canal was filled in, changing it from a waterway to a major road named, Nagahoridori. The bridge - which had been through incarnations of wood, iron, and stone - became a pedestrian overpass. A major renovation in 1997 dug into the ground again, but this time created Crysta Nagahori, which is claimed as the longest underground mall in Japan (if you include the parking area).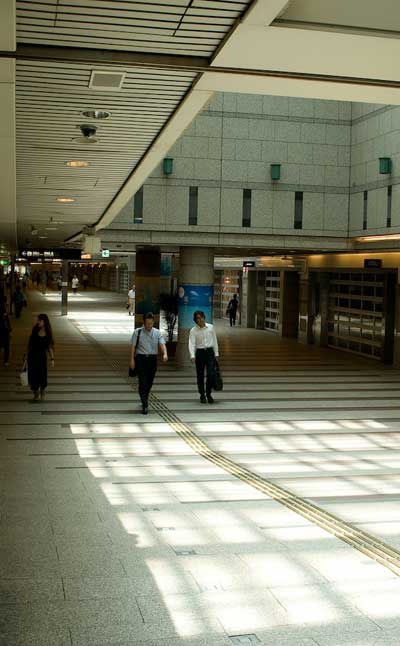 Shinsaibashi-suji, Osaka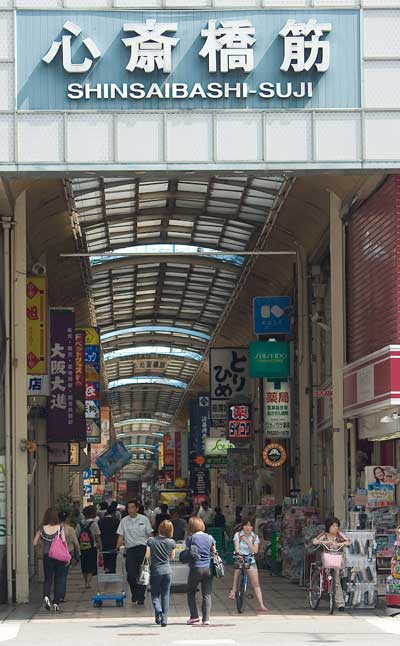 Shinsaibashi-suji, Osaka
Crysta Nagahori Shinsaibashi
The mall, while devoted largely to women's fashion, is large enough to host book and music stores, and variety shops as well. Its dining options range from caf to restaurants offering multiple course meals. Along its length, niches are reserved for displays of artwork from ancient to modern times. Fountains in the central area - one that runs alongside the escalator and others that splash water onto skylights overhead - remind visitors that where they are walking now, they would have previously had to swim.
Above, between the skylights, traces of the stone bridge, just over 100 years old, can still be found. Sections of the railings, carved with a four-leaved-clover motif serve as the boundaries of the walkway that crosses the center of Nagahoridori there.
Along the shopping arcade, establishments come and go with time. Among them was one of the first of what are known in Japan as "celebrity shops." The well known actor Kazuo Hasegawa opened a "fruit parlor" there in 1933.
Today you can find hand crafted items such as silks and kimono, lacquer ware, and tea from establishments that have stood for generations. One of the longest surviving businesses in the arcade is the Daimaru Department Store. It opened its doors just south of the bridge in 1726 as Kimono Store Matsuya and eventually became part of the Daimaru Corporation. Recently it has expanded into the buildings next to it, which were previously owned by another department store chain, Sogo, making it an enormous shopping complex.
Japanese department stores tend to be pricey, but there is a shop on the north side of Nagahoridori that is the antithesis of haut culture with a name that echoes history. The Japanese expression bura bura means to stroll idly, as shoppers often do. Strolling in Tokyo's famous Ginza area, became known as Gin bura. Not long afterward Osaka people mirrored the expression with their own, Shiin bura, to describe idling time away in Shinsaibashi.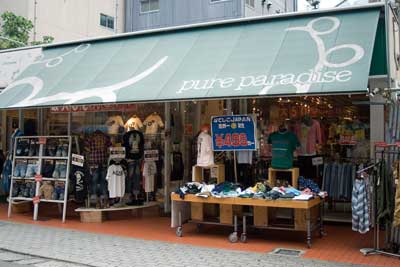 Shinsaibashi stores, Osaka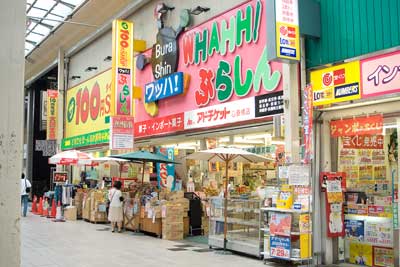 Whahh! Bura Shin Shinsaibashi store, Osaka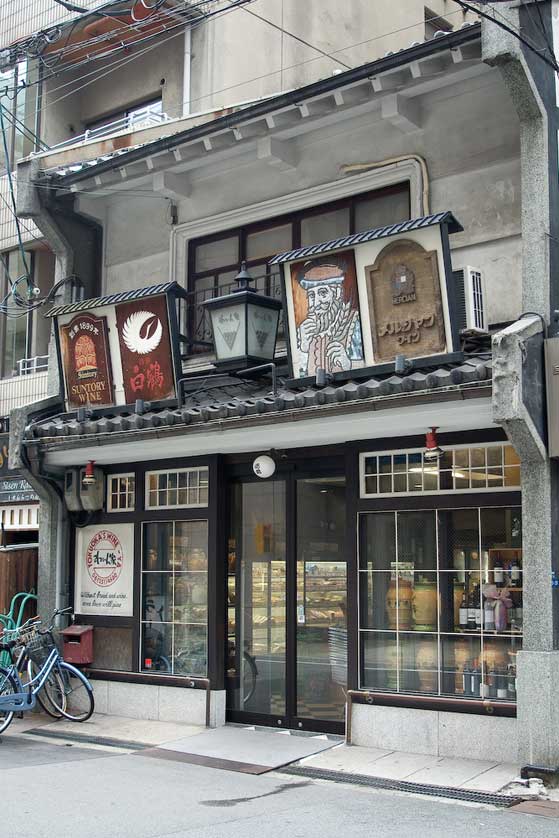 Tokuoka's Wine-ya, Osaka
A large, yellow sign along the arcade turns the traditional epithet on its head with the words, Whahh! Bura Shin. Inside is one of the larger examples of a 100 yen shop. A common phenomenon in Japan, these stores offer every item under their roofs for the price of 100 yen (105 with tax). Some of the goods are slightly defective, but perfectly serviceable. Others are indistinguishable from those sold in other shops. The only caveat is to watch out for small items that might, in fact, sell for less than a hundred yen elsewhere. Bura Shin offers a wide variety.
Another shop that might turn your head here is Bon Repas. At the back of the first block on the north side of Nagahoridori and the east side of the arcade, their main focus is wine and they offer a broad selection of vintages and countries of origin along with regional blends.
Their selection of foreign liquors and Japanese sake is also impressive. Their price range for alcoholic beverages is at the middle to high end. On the other hand, they offer low prices on foreign food items - many that are difficult to find elsewhere - especially when you buy large quantities. If you are looking for rock bottom prices on foreign liquor and food, follow Crysta Nagahori to its eastern end then come above ground where you will find Le Cave de Yamaya.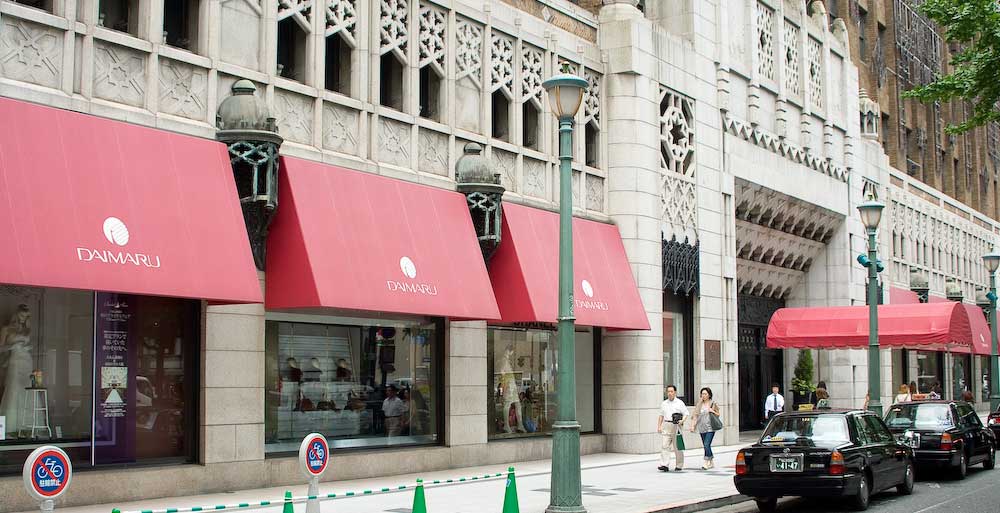 Daimaru Department Store, Shinsaibashi, Osaka
Continuing on to the west, across the major street, Mido-suji, the canal is lined with more restaurants until it reaches the bridge, Daikokubashi. Just beyond, across another thoroughfare called Yotsubashi-suji, the water is spanned by an artistically designed suspension bridge that overlooks the Minato-machi district comprising the staging areas for some different kinds of entertainment. This is the boarding point for Osaka sightseeing cruises that feature raku-go (traditional Japanese storytelling) performers as guides. The dock is at the foot of a large octagonal building called Namba Hatch which is a venue for contemporary music concerts.
The place also attracts a grass roots element. During the warmer seasons, in every nook and corner, you will find small groups of young, amateur performers. creating or rehearsing stand-up comedy. Follow the signs from here toward JR Namba Station and, just in front of the station entrance, you will come to the Wing Stage area. With a huge silver ball at the center and a wall of mirrors, it is nearly always filled with dancers rehearsing for the annual contest held there, or just practicing break dance moves.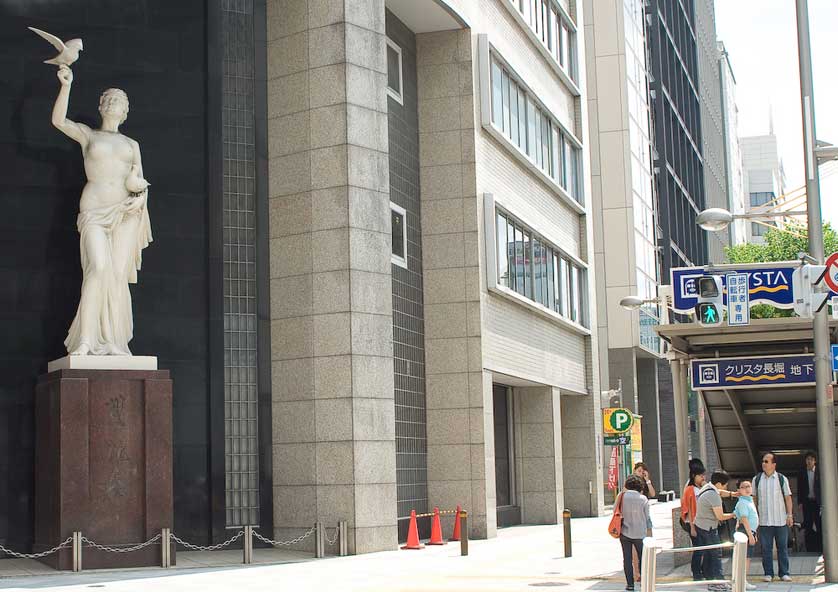 Shinsaibashi, Osaka
Between these two, in the block just east of Bon Repas and facing on Nagahoridori is Osaka City's largest branch of Tokyu Hands, a do-it-yourself oriented department store. Here you can satisfy your needs for anything from the mundane to the high tech in hardware, crafts, hobbies, stationary, party goods, cookware, travel gear, and more.
Midosuji
To the south of Nagahoridori, Midousuji (Midosuji) is the main thoroughfare running parallel to the shopping arcade between Nagahoridori and the Dotonbori Canal. On its western side is the area called Amerika Mura (America Town), centered on Triangle Park: a small, brickwork area formed inside three interlinked streets, that sports benches and a small amphitheater. The park is surrounded by boutiques targeting the High School and college-age generation with (from a Japanese perspective) North American style fashion and accessories.
From there, cross over the Midousuji and you will be in Yoropa Mura (Europe Town). Stretching from here to the East, as far as the multi-lane street, Sakaisuji, and to the south as far as Dotonbori, is a warren of narrow streets that host bars and restaurants representing virtually every culture in the world. Every night this area comes alive with eating, drinking, dancing, dating, and meeting new people in settings from around the globe until the early morning hours.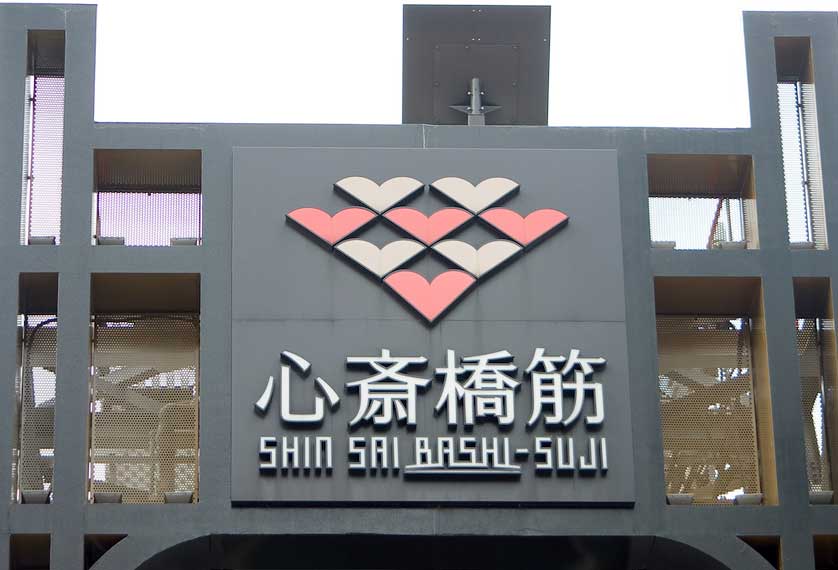 Shinsaibashi-suji, Osaka
Shinsaibashi Hotels
The Shinsaibashi area has a large concentration of hotels to suit most budgets and is very close to more hotels in Namba. Hotels located in Shinsaibashi include the Chisun Hotel Shinsaibashi, the Ark Hotel Osaka, the Hearton Hotel Shinsaibashi, and the Hotel Villa Fontaine Shinsaibashi.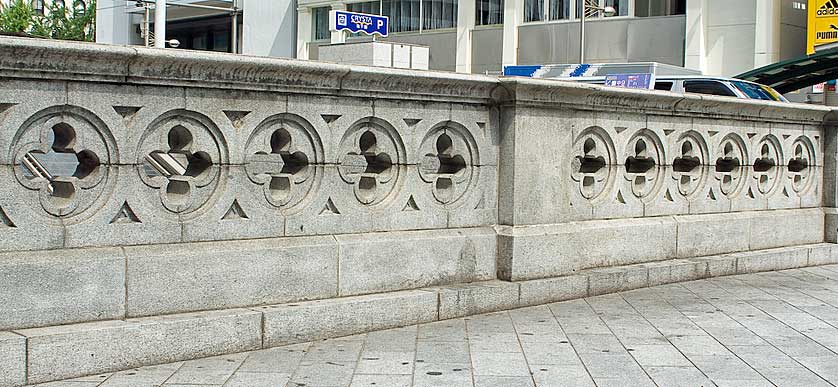 Shinsaibashi, Osaka
Access - how to get to Shinsaibashi
Shinsaibashi Station is on the Midosuji Line (for Umeda) and Nagahori Tsurumi-ryokuchi Line of the Osaka subway. Yotsubashi Station on the Yotsubashi Line and Nagahori Tsurumi-ryokuchi Line is convenient for Amerika mura, Crysta Nagahori and Horie.
Shinsaibashi Station is one stop north of Namba Station on the Midosuji Line and Sennichimae Line and three stops south of Umeda Station.
Osaka Map
Shinsaibashi: read a guide to the major shopping and entertainment area of Osaka - Shinsaibashi.
All the themes of the city