Tezuka Osamu Manga Museum
Tezuka Osamu Manga Museum, Takarazuka, Hyogo Prefecture 手塚治虫記念館
Jake Davies
The God of Manga; The Father of Manga; The Godfather of Manga and Japan's Walt Disney are just a few of the ways that Tezuka Osamu has been described. If there is just one single person who can be said to have been responsible for the growth of manga culture in modern Japan, that would have to be Osamu Tezuka.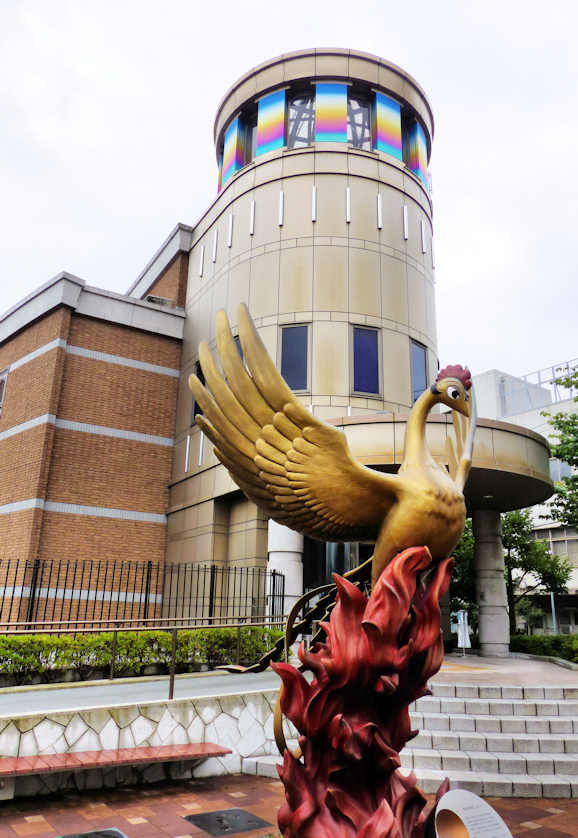 The Tezuka Osamu Manga Museum in Takarazuka. The statue in front is of a phoenix (Hi no Tori), the title of a series of 12 books that remain uncompleted. Tezuka considered it his life's work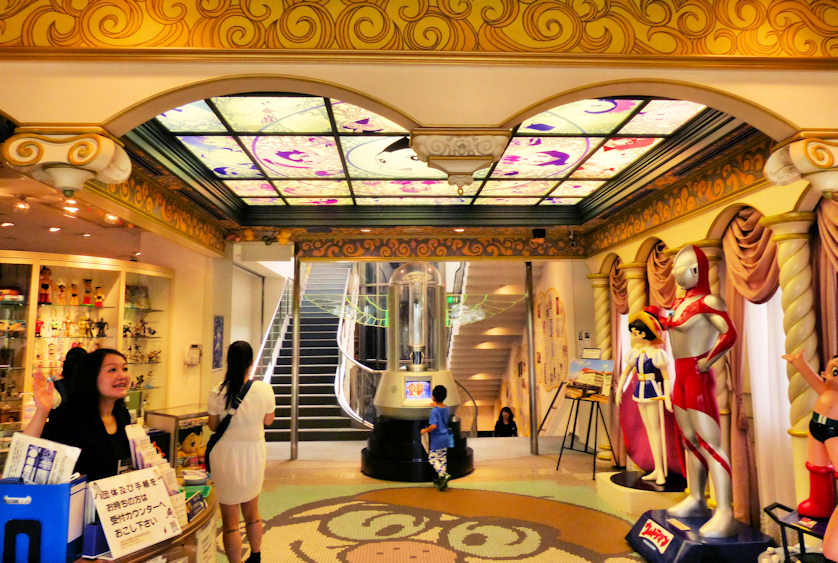 Entrance lobby to the Tezuka Osamu Manga Museum. While growing up Tezuka's mother often took him to the local theater to see the all-female Takarazuka Revue, and the experience was another big influence on him
Tezuka Osamu
Tezuka Osamu was born in Toyonaka in Osaka in 1928, and grew up in nearby Takarazuka, near Kobe in Hyogo.
While still an elementary student he was a prolific drawer being particularly inspired by the cartoons of Walt Disney. After the war he entered medical school and while still a student published his first works.
He went on to become the most influential artist in post war manga and soon moved into animation as well.
Probably his most famous creation was Atom Boy, originally a series of manga but later adapted for TV becoming the foundation of the TV anime industry. The character continues to appear in manga, animation and full length movies up to the present day
Tezuka's fame spread beyond Japan, and Walt Disney expressed a desire to work with him. That never happened though the two did meet, but there is a controversy over similarities between Tezuka's 1965 Kimba the White Lion and Disney Studios' 1994 production of The Lion King.
I was also surprised to learn that Tezuka was the first choice of Stanley Kubrick to be the art director of the 1970 classic movie 2001 A Space Odyssey.
Tezuka passed away in 1989 at the relatively young age of 60. In 1994 The Tezuka Osamu Memorial Hall was opened in Takarazuka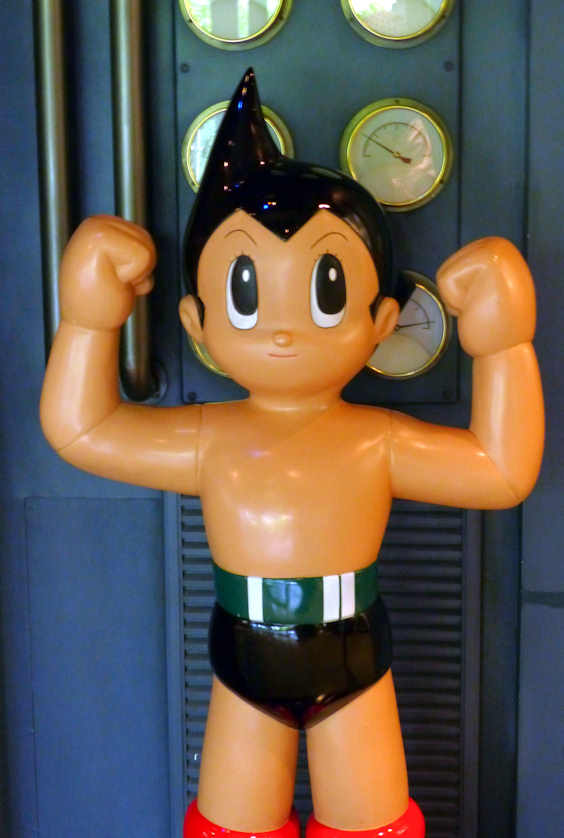 Astro Boy, probably Tezuka's most famous creation, is known as Mighty Atom (Tetsuwan Atomu) in Japanese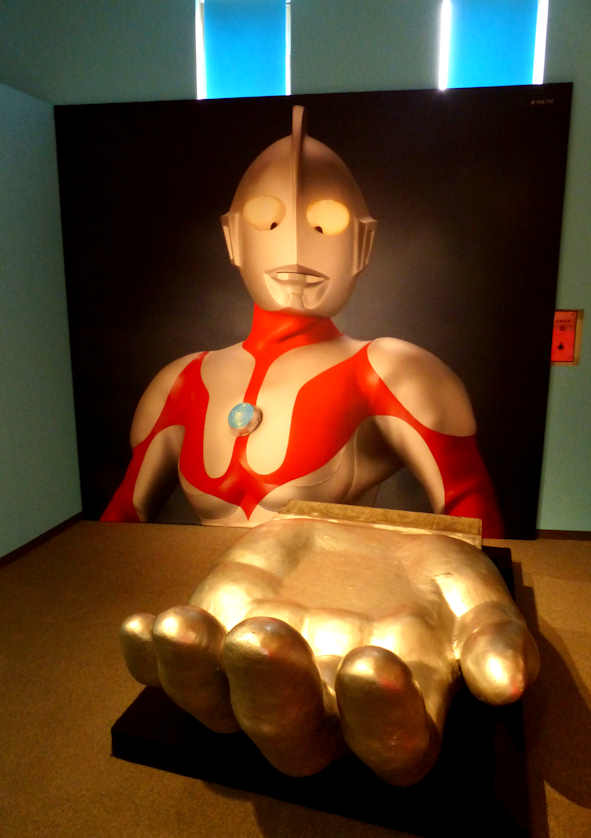 As well as the permanent exhibition, the museum also stages temporary exhibitions. This one was on the history of the Ultraman TV series, Tezuka Osamu Manga Museum, Takarazuka, Hyogo Prefecture
Tezuka Osamu Manga Museum Exhibits
The Tezuka Osamu Manga Museum is spread over three floors. After entering on the first floor there are displays about the man and his life as well as examples of merchandise.
The rear of the floor is devoted to a cinema showing animations.
Up on the second floor of the museum are where the temporary exhibitions are displayed and also the large library of Tezuka's manga works, including translations into other languages.
Copies of the original editions of many of his works are also displayed and there are monitors for viewing his anime. There is a 'Jungle' cafe and a museum shop on this floor, selling a variety of souvenirs such as cute Atom Boy key chains, T-shirts and cell phone straps.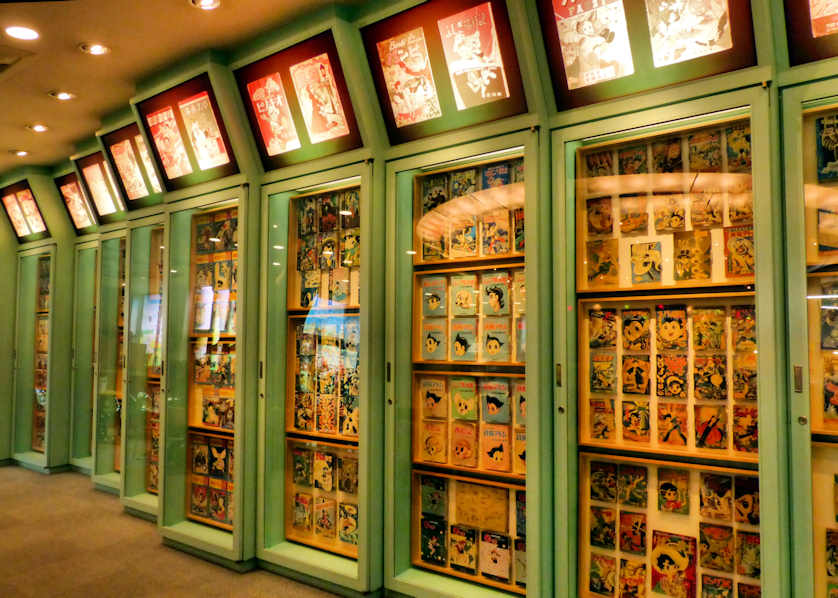 Original copies of Tezuka Osamu's manga works on display at the Tezuka Osamu Manga Museum in Takurazaka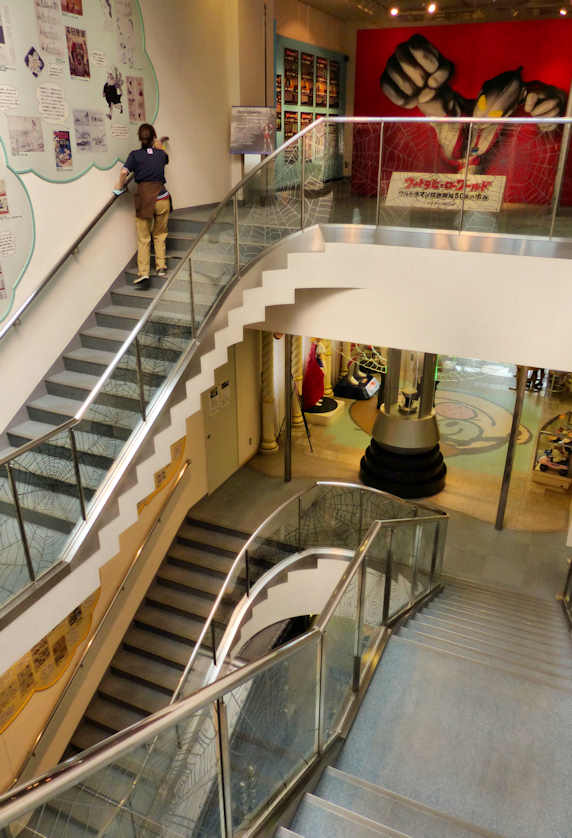 Tezuka Osamu Manga Museum, Takarazuka, Hyogo Prefecture
Down in the basement there is a studio - the Anime Laboratory - with many workstations where visitors can try their hand at creating their own animations overlooked by a replica of Tezuka sitting up in his studio. There are also small exhibits chronicling the history of both manga and anime in Japan.
Obviously the museum is a must see for any fan of Tezuka Osamu, great for kids, but also interesting enough for those who seek a broader understanding of contemporary Japanese popular culture.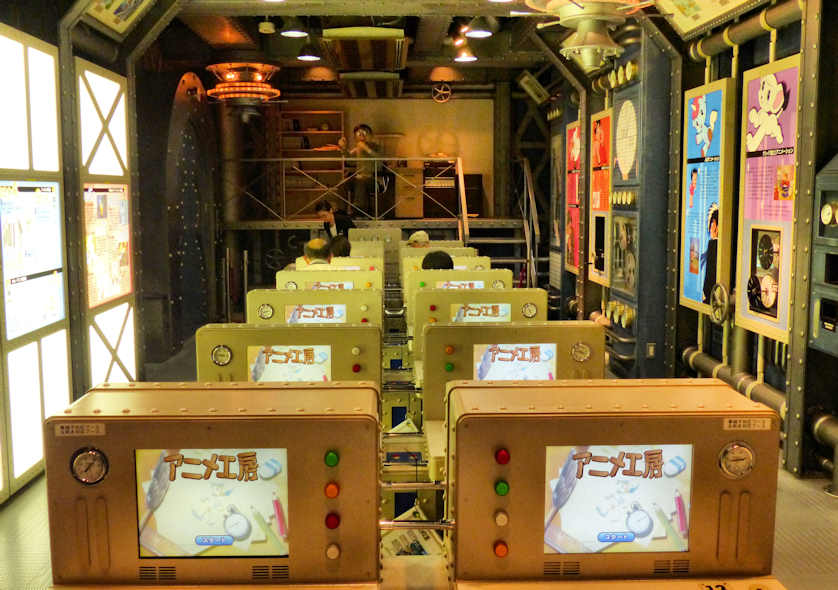 A replica of Tezuka's studio overlooks the animation workshop where visitors can try their hand at producing their own animation
Access - how to get to the Tezuka Osamu Manga Museum
Tezuka Osamu Manga Museum (tezukaosamu.net)
7-6-5 Mukogawacho
Takarazuka
Hyogo 665-0844
Tel: 0797 81 2970
Hours: Open from 9.30 am to 5 pm. The usual closing day is Wednesday though in spring and summer school vacations the museum stays open. Closed over the New Year and the last week of February.
Admission: Adults 700 yen. High school and junior high school students 300 yen. Elementary school students 100 yen.
The Tezuka Osamu Manga Museum is a 10 minute walk from Hankyu Takarazuka Station, just past the Takarazuka Theater.
Osaka Hotels
The Tezuka Osamu Manga Museum in Takarazuka is dedicated to the life and work of manga great Tezuka Osamu. The museum displays original Tezuka manga included in a large library of Tezuka's manga works.
All the themes of the city