Osaka City Museum of Fine Arts
Osaka City Museum of Fine Arts 大阪市立美術館
Alan Wiren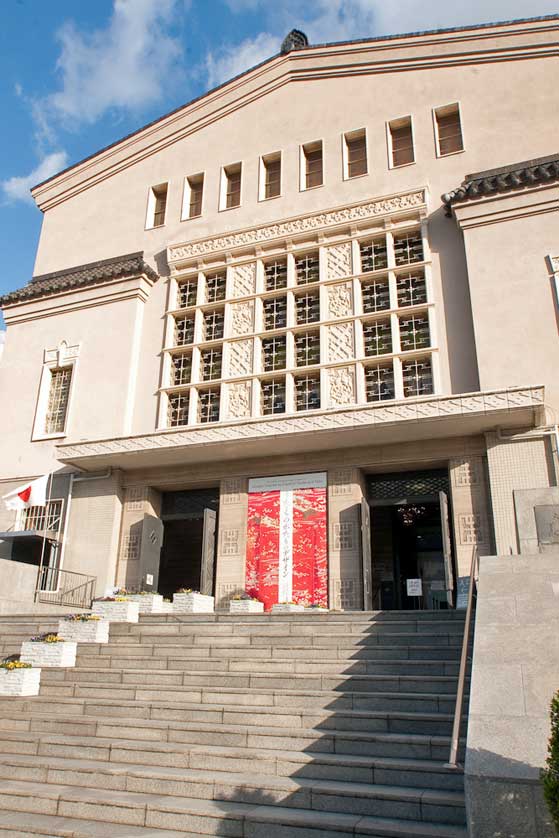 The Osaka City Museum of Fine Arts, Tennoji-ku, Osaka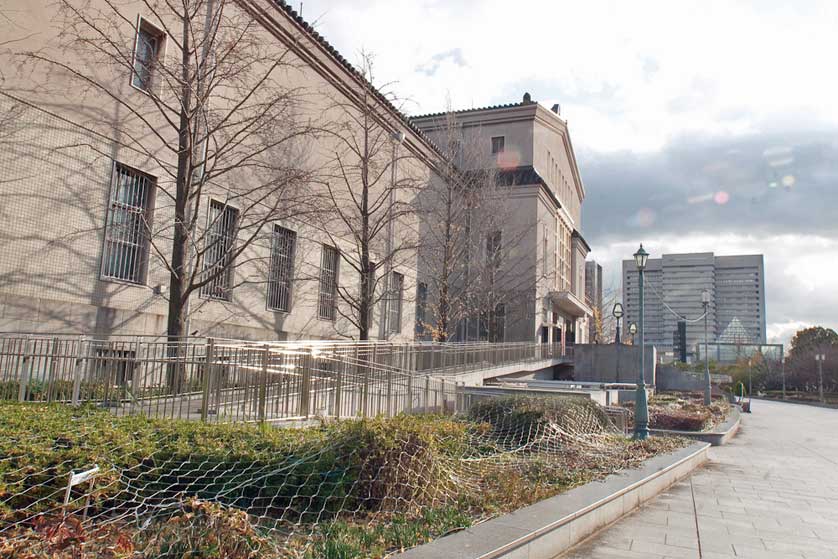 The Osaka City Museum of Fine Arts, Tennoji-ku, Osaka
The Osaka City Museum of Fine Arts has an unconventional beginning, according to its current director, Masahiro Shino, and he should know.
He worked at five museums, and this is his second post as a museum director and he has been in his current position since 2007. Most museums, he told me, begin with a concept of the collection they want to create, preserve, and display then bring it together as best they can.
Osaka City Museum of Fine Arts' permanent collection, however, comprises smaller collections that were assembled and donated by a number of businessmen. This gives the collection an international scope, including Etruscan works from Italy and Coptic art from Egypt and incorporating examples of artistic style that are difficult to find elsewhere in Japan. The majority of properties preserved there, however, are oriental works connected with Buddhism.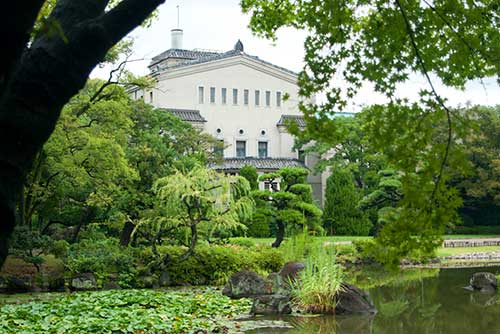 The Osaka City Museum of Fine Arts, Tennoji-ku, Osaka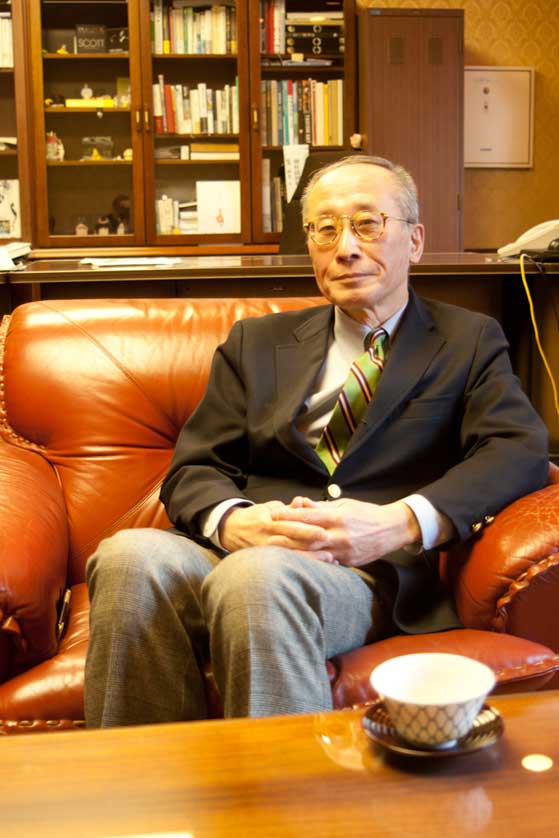 Masahiro Shino, The Osaka City Museum of Fine Arts, Tennoji-ku, Osaka
The museum is renowned for its high quality works from Japan and China, but it hosts temporary exhibitions from around the world as well. Works by Vermeer and Van Gogh, Ukiyo-e prints, brushworks from the National Palace Museum in Taipei and a modern art collection from the Detroit Institute of Arts, to name a few, expand the museum's appeal to virtually anyone who takes an interest in artistic tradition or expression. When I spoke to Mr. Shino, a special exhibition of Buddhist art and (perhaps inevitably in Japan) works produced by the Walt Disney Corporation were in the pipeline.
The experience of visiting this museum can expand even beyond its walls. In the early 1900's the Osaka City government had decided to build an art museum and in 1921 the Sumitomo family, heirs to one of the city's tycoons, donated land to the city for that purpose.
It included a five year old residence and a Japanese garden named Keitakuen. The residence was cleared away and over the next fifteen years, delayed Mr. Shino said, by typhoons and the Great Kanto Earthquake, a three storied structure was built overlooking the garden. Keitakuen was renovated in 2016 and is open to the public.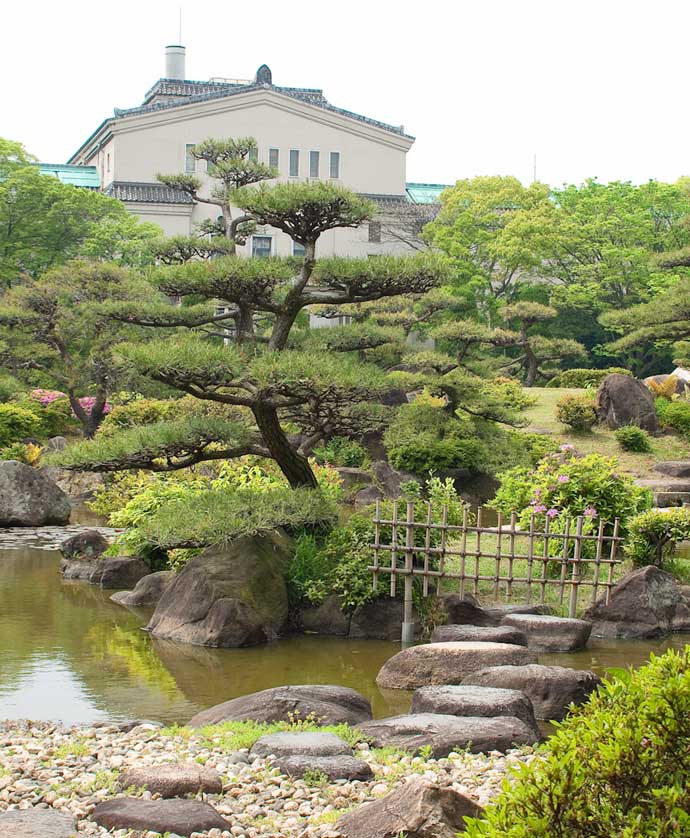 The Osaka City Museum of Fine Arts, Tennoji-ku, Osaka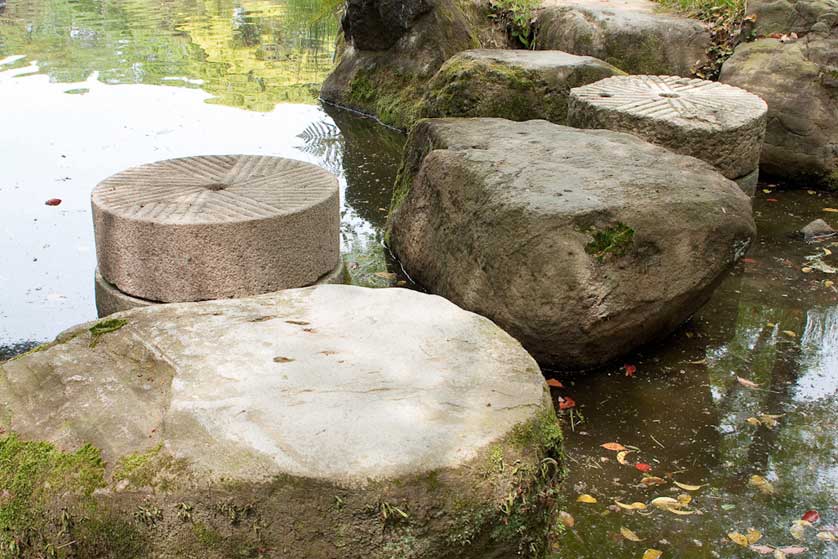 The Osaka City Museum of Fine Arts, Tennoji-ku, Osaka
The museum is now a National Heritage site with a somewhat checkered history. Half of it, Mr. Shino told me, was used by the Japanese army during World War II and when the war ended it was used by the American General Headquarters.
"Even when Japan had been destroyed," Shino stated proudly, "this museum remained." It is a source of pride, he said, for Osaka citizens, even those who have never visited, and the city government has come to recognize it as a valuable facet of Osaka's economy. The building was renovated in 1979 and two basement floors were added in 1992, but as recently as 2014 Mr. Shino faced a fundamental challenge in his role as a preservationist.
The director of the museum is, of course, a servant of the city government and the mayor of Osaka had decided to move the museum's properties to a site on Nakanoshima, an island in Okawa River in the center of the city.
"That," Shino said, "was a curious idea." Nakanoshima is not only surrounded by water, but is very close to the ocean. An earthquake or tsunami could cause inestimable loss. The current location of the museum is on high ground at one corner of Tennoji Park with a long, stone staircase leading to its main entrance and luckily Mr. Shino, by making his case to the governor was able to keep it there.
And yet he is still not satisfied with the venue. It is not, he says, up to world standards: "The opening hours are short. There is no restaurant or museum shop." He told me there are plans to close the museum for two years in the near future and bring it up to the expectations of international visitors.
The function of preservation, in any museum, must be balanced with that of allowing the public to appreciate and study its properties. Osaka City Museum of Fine Arts' permanent collection is much too large to be displayed all at once, so exhibitions with various themes are scheduled throughout the year providing access to some of its over 8,400 properties.
It is among the responsibilities of the museum's curators to propose to Mr. Shino ideas for special exhibitions. When I asked how large his staff is, he laughed and asked me to guess then explained that the directors of museums in other countries are usually surprised that the maintenance and curatorial staff comprise no more that 30 people. Much of the work of preserving and displaying the properties of Japanese museums, he said, is outsourced.
When designing the overall program of exhibitions Mr. Shino says he remains conscious of the history he is creating and how he is keeping Japan involved in the traditions of Oriental art. The museum also maintains programs that get local people involved. It hosts gallery talks and classes for children, and the basement galleries are used to display the works of amateur art groups in the Kansai region. Mr. Shino believes this cycle of students learning from masters of a craft, then displaying their work is also a reflection of Japanese culture.
In the beginning of each year Mr. Shino travels to various shrines and temples in Kyoto, Nara, and Shiga prefectures to visit their head priests. He wants to maintain a friendly relationship with them because there may come a time when the museum might want to borrow some of the artwork they own. When I said that it seemed the Osaka City Museum of Fine Arts helps to preserve not only valuable artworks in Japan, but the spiritual traditions that inspired them as well, he bowed his head and whispered, "Arigato."
Museums, Mr. Shino says, are a place of safety: "If one hundred people see a work of art there will be one hundred opinions about it. The most excellent thing about a museum is that, there, we respect all of those opinions." He hopes that museums will help the respect of cultures spread to their surrounding communities.
The Osaka City Museum of Fine Arts, Tennoji-ku, Osaka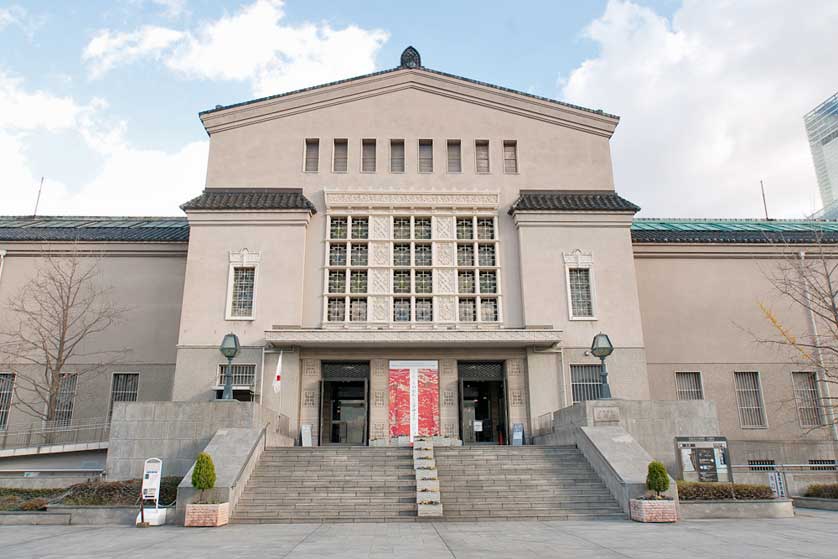 The Osaka City Museum of Fine Arts, Tennoji-ku, Osaka
Access - how to get to Osaka City Museum of Fine Arts
Osaka City Museum of Fine Arts (www.osaka-art-museum.jp)
1-82 Chausuyama-cho
Tennoji-ku, Osaka City 543-0063
Tel: 06 6771 4874; Fax: 06 6771 4856
Hours: 9.30 am-5 pm (last entry 4.30 pm); Closed Monday (Tuesday, if Monday is a holiday), Year-end and New Year holidays, between exhibitions.
Access: JR Loop Line, 400 meters from the Chuo Exit of Tennoji Station
Exits 15 & 16 from the Tanimachi Line and Exit 5 from the Midosuji Line of the Osaka subway.
West gate of Kintetsu Abenobashi Station and the city bus Abenohashi and Tennoji Ekimae stops on the Hankai Uemachi Line.
Admission: Adult: 300 yen, College & high school students: 200 yen, Junior high school students & under: Free of charge (extra charge for special exhibitions)
Barrier-free: Roll-in restroom, wheelchair available, child day care: nursing room
Parking: Parking space for 500 cars (parking space for 9 buses)
Discount for the disabled: Free (A certificate required)
Discount for the aged: Osaka city residents older than 65 years old are free of charge
Around Osaka City Museum of Fine Arts
Other places to visit in the vicinity of Osaka City Museum of Fine Arts include Tennoji Park, Tennoji Zoo, Abeno Harukus, Shinsekai and the Tsutenkaku Tower, Shitennoji Temple and Isshinji Temple.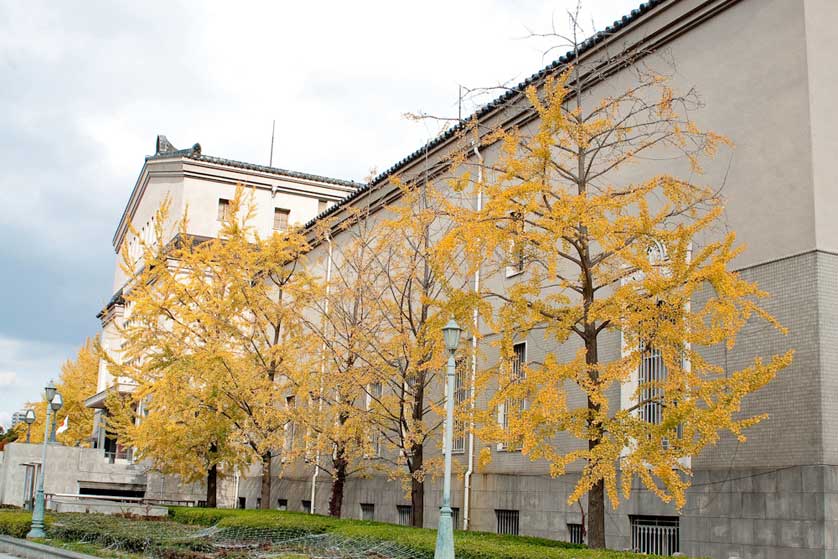 The Osaka City Museum of Fine Arts, Tennoji-ku, Osaka
Books on Osaka
Recommended books on Osaka include the Offbeat Guide to Osaka and Exploring Osaka: Japan's Second City by David M. Dunfield.
The Osaka City Museum of Fine Arts in Tennoji, Osaka has a large international collection with the majority of exhibits oriental works connected with Buddhism.
All the themes of the city