Gion Matsuri
祇園祭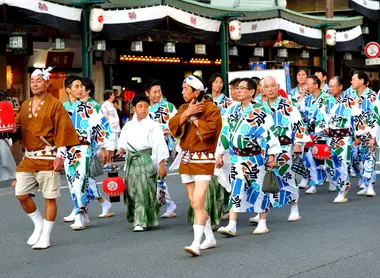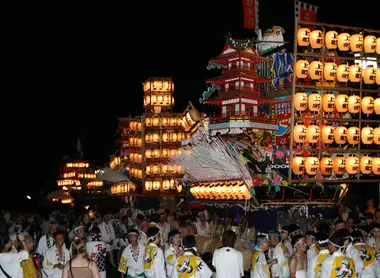 The Awakening of Gion
This major tourist attraction, a popular festival but more specifically an ancestral celebration, is one of the most famous Japanese festivals. It's held in July in Kyoto, bathing the city in lights and towering, colorful floats.
Welcoming thousands of visitors each year, who fill this peaceful neighborhood with activity, Gion Matsuri has evolved while still retaining its traditions and folk customs. In 863, while Kyoto was being ravaged by an epidemic, the Emperor decided to hold sacred rituals to appease the kami (gods of Shinto worship). In addition to the many ceremonies that perpetuate Kyoto, the festivities of Gion Matsuri are part of the living tradition of the former imperial capital.
Book your seats to enjoy the show with Voyagin.
Solemn chigo
Registered with UNESCO in 2009 as an intangible cultural heritage, the float ceremony of the Gion Festival runs from July 1st through 29th near the shrine of Yasaka Jinja. The thirty-two Yamahoko, or portable shrines, are on display in the city for all to see, and are true works of art. The Kyoto locals distinguish between yama and hoko: the twenty-three yama depict Japanese mythology through sculptures, costumes and draperies; nine hoko, which can reach up to eight meters high, are decorated with fine antique tapestries. After two weeks of exhibition, the Yamakobo are illuminated on the nights of the 14th, 15th, and 16th during the Yoiyama festival. During this time you can then attend the Byobu Matsuri festival screening, where locals who own traditional houses open their doors to visitors to can explore their interiors and artwork.
The highlight of the show occurs on July 17th, when the floats carrying musicians, artists and prominent figures, parade alongside ladies in yukata (light cotton kimono) amid traditional music. Led by the Naginata Hoko, the most spectacular of all the portable shrines, it marks the return of the chigo, a young boy who embodies the divine kami during the first seventeen days of the festival.
Réservez votre visite guidée de Kyoto, journée complète
---
Address, timetable & access
All the themes of the city