Akasaka-Mitsuke
Akasaka-Mitsuke 赤坂見附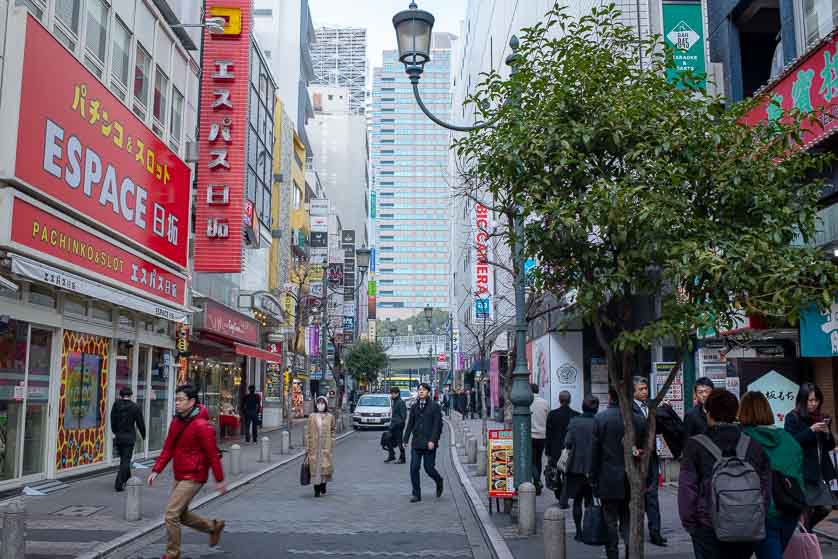 Backstreet of Akasaka-Mitsuke, Minato ward, Tokyo
Akasaka-Mitsuke is the bustling north-east corner of the Akasaka district, in Minato ward, Tokyo, centered around Akasaka-Mitsuke Station. Akasaka-Mitsuke is on a very large intersection where Route 246 (Aoyama-dori) and Route 405 (Sotobori-dori) cross, and with the No. 4 Shinjuku Route of the Metropolitan Expressway passing overhead.
Akasaka-Mitsuke is full of places to stay, eat, drink, shop, sing, dance, and be otherwise entertained. Although busy during the day with office workers, Akasaka-Mitsuke offers more to the visitor in the evening when its huge variety of cafes, bars and restaurants open their doors.
Akasaka-Mitsuke vs. Akasaka
The bustling neighborhood feel of Akasaka-mitsuke's entertainment area distinguishes it somewhat from the south-western part of the Akasaka around and south of Akasaka station. The Akasaka Station end of the district is closer to the glitzy nightlife area of Roppongi, and features much larger scale and newer self-contained shopping and entertainment facilities. On the other hand, Akasaka-mitsuke has a more low-profile, down-to-earth buzz.
Akasaka-Mituske is a safe, clean inner city location that caters to all budgets when it comes to eating out, drinking, and staying.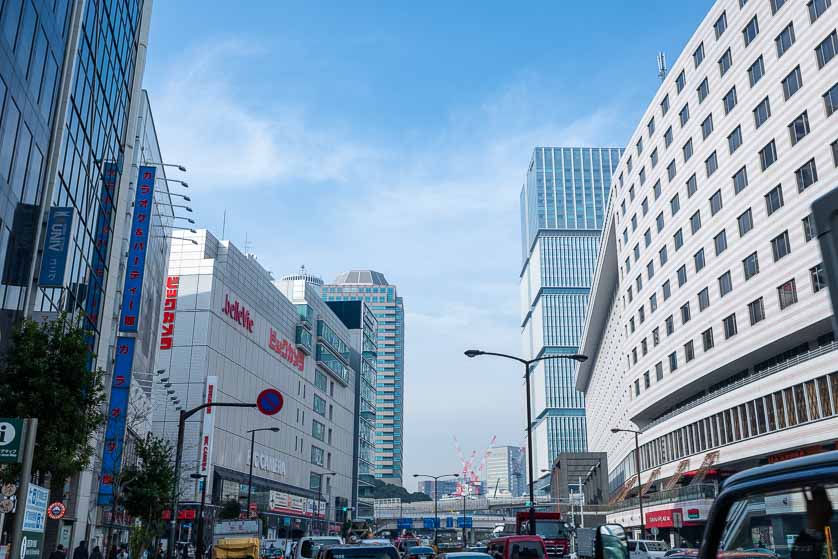 Akasaka-mitsuke on Sotobori-dori Avenue, Minato ward, Tokyo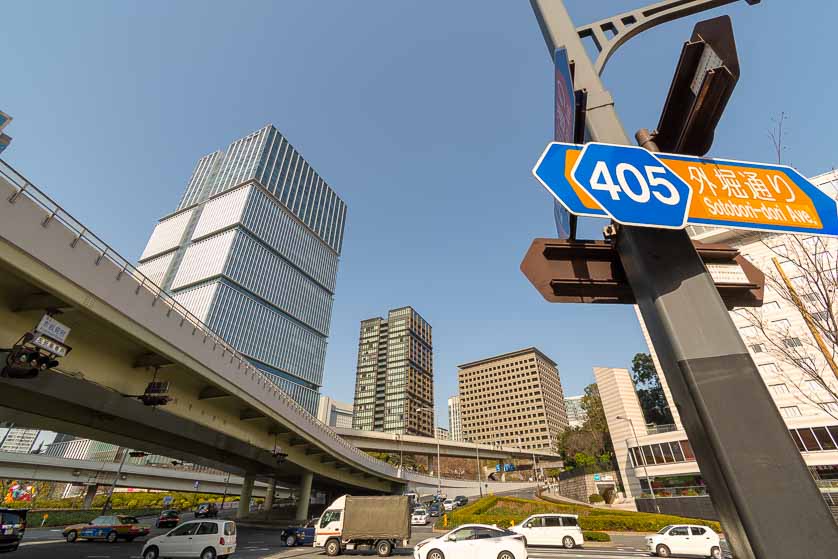 Akasaka-mitsuke intersection, on Sotobori-dori Avenue and Aoyama-dori Avenue
Akasaka-Mitsuke Townscape
The Akasaka-Mitsuke intersection is dominated by the multi-floor BIC Camera store on the station side, the big, white Akasaka Excel Hotel Tokyu and Tokyu Plaza shopping on the other side, and, further along, the white, 38-floor Prudential Tower. (Although, being on the east side of Route 405, Tokyu and Prudential are actually in the neighboring Nagatacho district.)
Akasaka-Mitsuke History
Mitsuke means "castle gate approach" in Japanese, and just across the big intersection north of Akasaka-Mitsuke Station is a short stretch of what remains of an outer moat of Edo Castle (now the Imperial Palace). At the eastern end of where that moat section ends (i.e., where the road starts climbing) is the site where the Akasaka-Mitsuke Gate to the castle used to be.
The old moat is still lined with the original stones, as is the spot where the castle gate was, complete with commemorative plaque. If you are there during daylight hours, cross the picturesque, old-style Benkei Bridge (leading to the neighboring Kioicho district) for a photogenic view of the moat.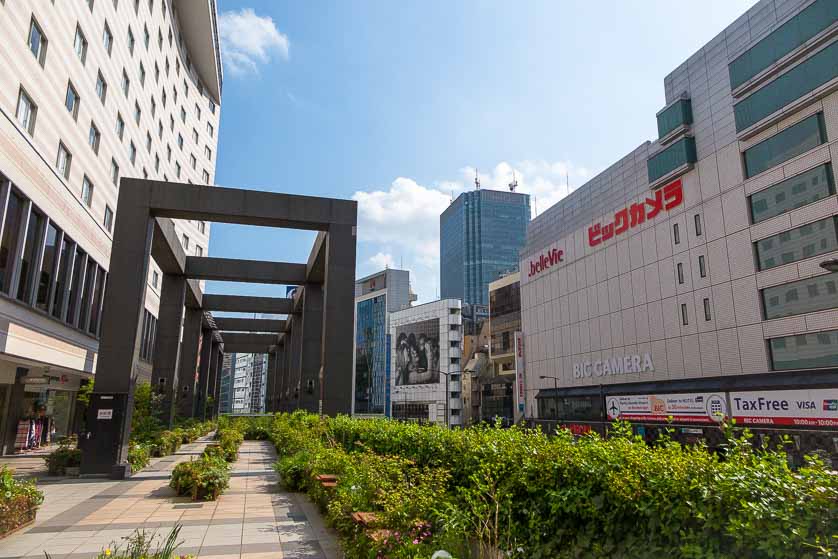 BIC Camera Akasaka-mitsuke, from Tokyu Plaza on the Nagatacho side of Sotobori-dori Avenue, Tokyo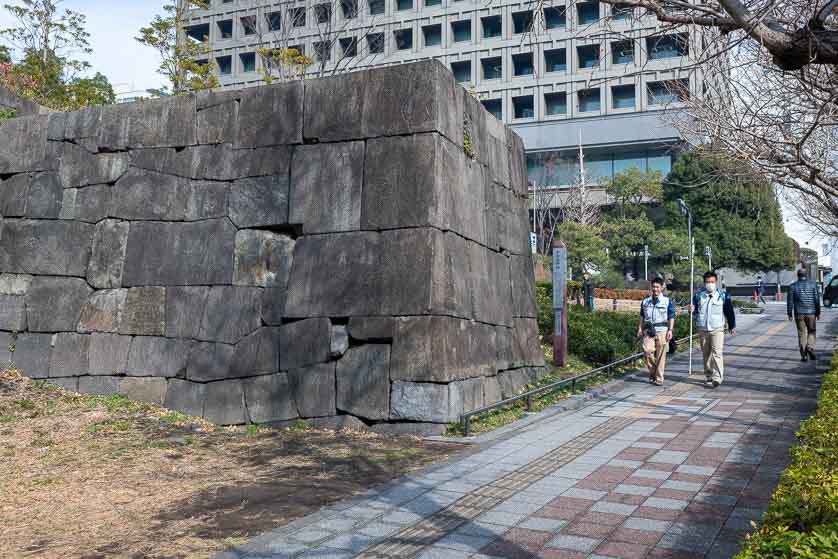 Site of the old Akasaka-mitsuke gateway to Edo Castle
Akasaka-Mitsuke Entertainment
The main eating and drinking streets stretch from Akasaka-Mitsuke Station behind the west side of Sotobori-dori, all the way to Akasaka Station (which is on the Chiyoda Line) half a kilometer away. They are Esplanade Akasaka Shopping Street, Akasaka Misuji-dori, and Hitotsugi-dori, lined with bars, restaurants, cafes, lounges and small hotels.
These streets comes alive in the evening. There is a huge variety of cuisines to choose from, both Japanese and foreign, and pubs to visit.
The Ninja Akasaka Restaurant, across the road from Akasaka-Mitsuke Station, on the east side of Route 405 away from the main concentration, is a famous performance-cum-dining experience featuring traditional-style ninja warriors as waiters. A meal at this highly acclaimed restaurant is memorable for both the work of its remarkable chefs and waiters, and the bill at the end of the evening fully reflects it. Hours: 5 pm - 11:30 pm (last orders 10 pm, but 9:45 pm on Sundays and public holidays). On the 1F of Akasaka Tokyu Plaza. Tel. 03 5157 3936.
Akasaka-Mitsuke Shopping
BIC Camera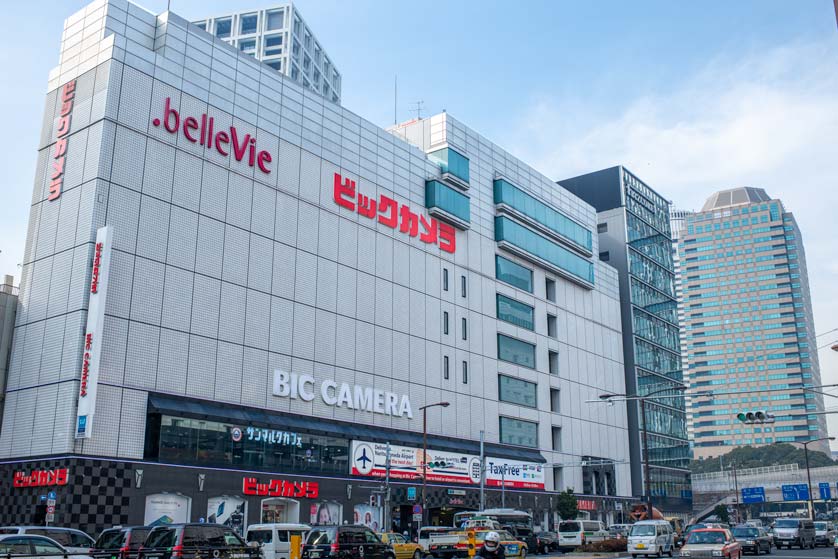 BIC Camera Akasaka Mitsuke, above Akasaka-mitsuke Station
The Akasaka-Mitsuke BIC Camera store connects directly to Exit 10 of Akasaka-Mitsuke Station (without having to even go out onto the street). BIC Camera Akasaka-Mitsuke is a branch of the BIC electronic megastore chain, and stocks mainly electronic goods and home appliances throughout its 8 floors, but also has sporting goods, contact lens, and watches. Japan SIM cards for tourists are sold on the 1F. BIC Drug, on the B1 floor, is a comprehensive drugstore open from 7 am on weekdays, and from 10 am on weekends and public holidays. BIC Camera offers tax-free shopping, and airport delivery. Helpful, friendly staff. Hours: 10 am - 10 pm.
Picasso Akasaka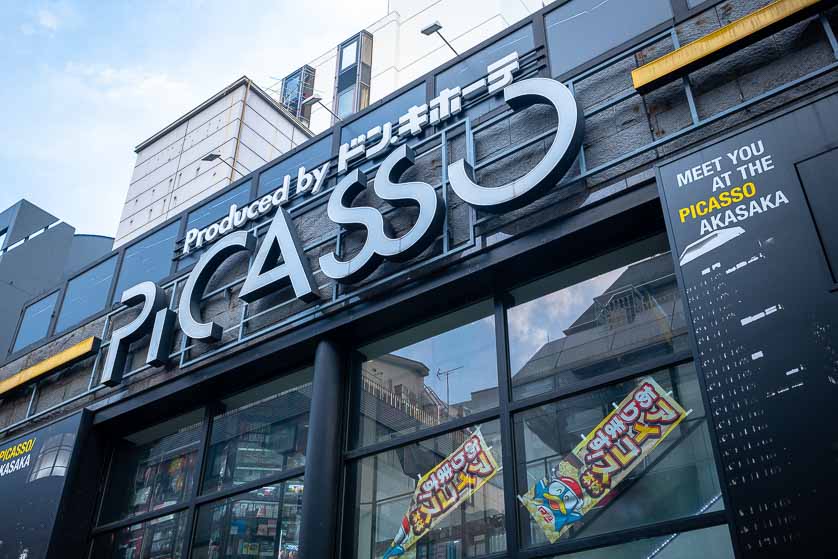 Picasso Akasaka, a variety store in Akasaka-mitsuke
Picasso Akasaka is a two-floor emporium run by the Don Quijote retail chain, but is decidedly more up-market. Subtle lighting, polite staff, and a much fuller range of expensive overseas brands distinguish Picasso Akasaka from run-of-the-mill Don Quijote stores, yet it retains that element of "what's-round-the-corner?" surprise.
Hours: 8 am - 2 am weekdays Monday to Saturday; 9 am - 2 am Sundays and public holidays.
Nearby Akasaka-Mitsuke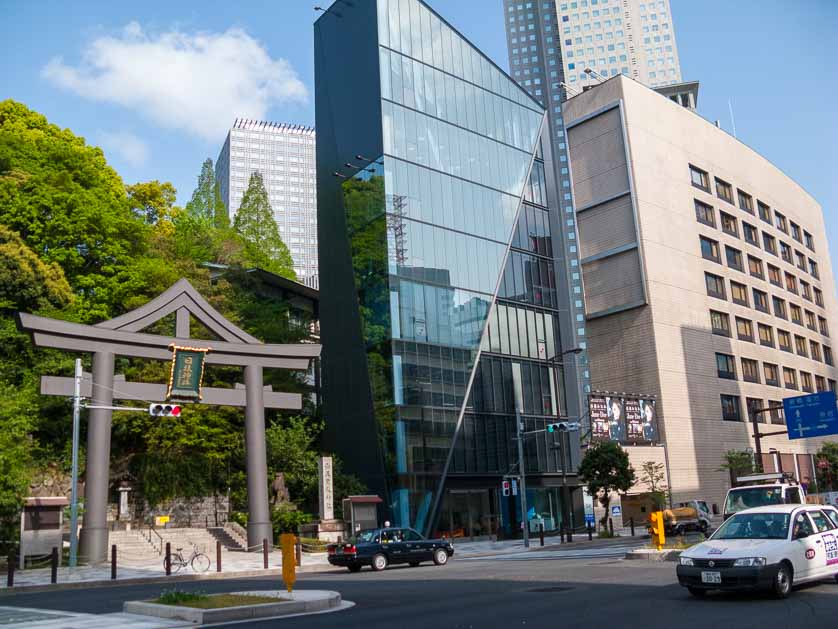 Hie Shrine entrance, Nagatacho, just across the road from Akasaka-mitsuke on Sotobori-dori Avenue
Hie Shrine
Hie Shrine is an imposing and photogenic Shinto place of worship 200 meters on from Prudential Tower if you are walking away from Akasaka-Mitsuke Station. It is therefore actually in the neighboring Nagatacho district, but as just as accessible from Akasaka-Mitsuke Station as from any of the stations in Nagatacho proper (Tameikesanno & Kokkaigijidomae stations). Hie Shrine, established many centuries ago, enshrines the guardian deity of Edo Castle, Ohyamakui-no-kami. (Edo Castle occupied what is now the Imperial Palace Tokyo. Hie Shrine was destroyed in World War II, and rebuilt in 1958. Its Sanno Matsuri festival is an early-to-mid June festival, and is one of the big three festivals of old Edo (i.e. pre-1868 Tokyo).
Akasaka Station
Nearby Akasaka Station is on a different subway line from Akasaka-Mitsuke Station, but is less than a 10-minute walk away. Akasaka-Mitsuke is part of the same Akasaka district, but Akasaka Station is in the more up-market end with the large-scale developments. Read more about Akasaka.
Toyokawa Inari Akasaka Temple
Toyokawa Inari Akasaka Temple in the nearby Moto-Akasaka district is a short walk west of Akasaka-Mitsuke. Toyokawa Inari Akasaka Temple is a unique Japanese religious establishment in that it is a Buddhist temple that has many of the characteristics of a Shinto shrine, specifically an inari fox shrine.
Nagatacho
Nagatacho is the seat of Japan's national government. The National Diet Building is 15 - 20 minutes walk up the slope east of Akasaka-Mitsuke station.
Akasaka-Mitsuke Map
See a map of Akasaka, including the Akasaka-Mitsuke district, with attractions, shopping, and accommodation.
Accommodation in Akasaka-Mitsuke
The following is a selection of hotels in Akasaka-Mitsuke, arranged by budget, from less to more expensive.
Akasaka Crystal Hotel is right beside Akasaka-Mitsuke Station and provides reasonable accommodation for a very reasonable price. All the basics are on hand for a comfortable night's stay, with the unbeatable convenience of being right in the middle of the bustling bar/restaurant area. 24-hour front desk with free free luggage storage.
The Hotel Risveglio Akasaka is a stylish hotel just two minutes' walk from Akasaka-Mitsuke Station. It gets rave reviews for its cleanliness, convenient location, comfortable beds, and professional, helpful staff. Lots of dining options, for all budgets, all around.
The Prince Gallery Tokyo Kioicho, a Luxury Collection Hotel is 5 minutes walk north of Akasaka-Mitsuke Station, just over Benkei Bridge across the old moat. This superb tower hotel boasts unforgettable views of Tokyo, beautiful appointed and spacious rooms that are fully equipped, a full array of on-site rest and recreation facilities, and a quiet, elegant location in nearby Kioicho.
Japan Auction Service
Book Hotel Accommodation in Japan
Akasaka-Mitsuke at the northern end of the Akasaka district in Tokyo is a lively district next to the political district of Nagatacho and has lots of small bars, restaurants, and live music venues.
All the themes of the city