JCII Camera Museum
JCII Camera Museum 日本カメラ博物館
The JCII Camera Museum is a smallish downstairs space in the Ichibancho district of Chiyoda ward, Tokyo, that exhibits an astonishingly broad range of cameras and camera-related items, belying the size of the premises.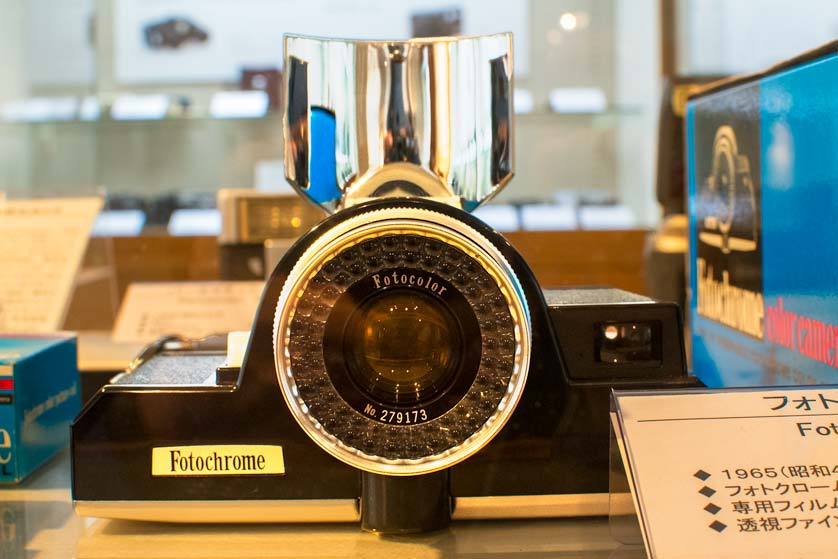 Fotochrome Camera, an oddity from the 1960's, at the JCII Camera Museum, Tokyo
Museum History
The museum is run by the Japan Camera Industry Institute, which is dedicated to camera-related research, education and archiving. Founded in 1954 as the Japan Camera Inspection Institute (the name change happening in 1999), it opened the JCII Camera Museum in 1989.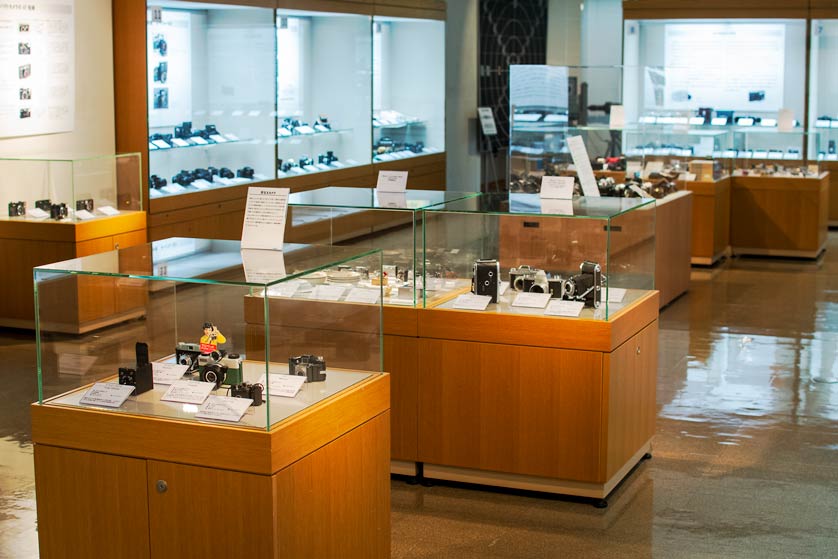 Main display area, JCII Camera Museum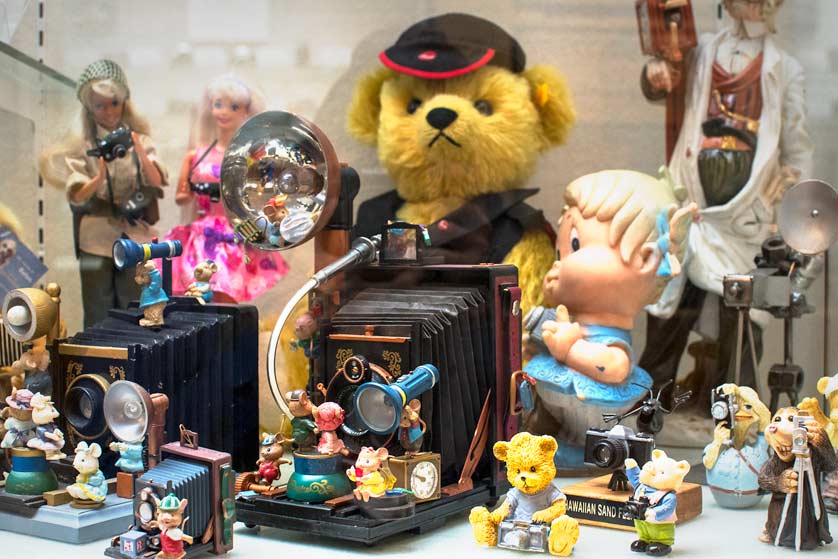 Fun camera-related toys on display at the JCII Camera Museum, Tokyo
Displays
The core exhibit at the JCII Camera Museum comprises about 300 cameras that tell the history of camera development in Japan right up to the present day, and is rotated from among the museum's massive collection. In pride of place is the world's first commercially available camera, the 1839 Giroux, which used daguerreotype technology requiring the use of mercury vapor. You can also see Japan's first commercially available camera, the beautifully decorative Tsuikin, from 1854. One corner of the museum recreates a Victorian era photography set-up, with a wooden studio camera the size of a drinks cabinet, and a portable darkroom.
Other, secondary, displays include novelty cameras such as wristwatch cameras, classic old pastel plastic-bodied Polaroid cameras, an early colonoscopy camera, massive vintage professional news photographers' DSLR cameras (some of which cost millions of yen for resolutions in the merely hundreds of thousands of pixels!), industrial cameras, and even spy cameras disguised as Coke cans, wristwatches or walking sticks. Video cameras are also represented in a section of their own.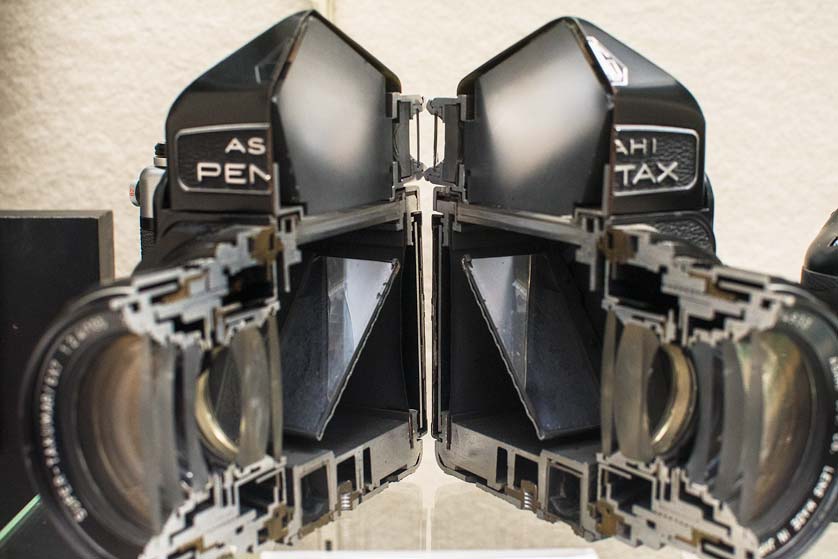 Cut-away camera showing the internal structure, JCII Camera Museum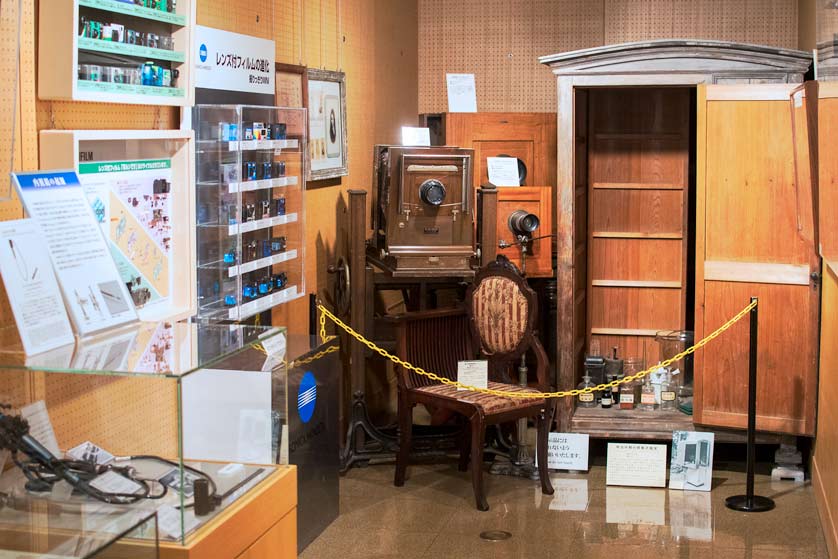 Antique cameras and photographic equipment, JCII Camera Museum, Tokyo
Many exhibits are organized by manufacturer, with cases showing successive generations of camera models by big names like Nikon, Canon, Sony, Kodak, Minolta, Leica, and Pentax. On the walls are numerous posters from past promotions by numerous camera makers.
The inner workings of cameras are thoroughly explicated with cut-open cameras and lenses that provide a unique opportunity to view their intricate anatomy. A massively blown-up model of an SLR camera demonstrates in slow motion, at the press of a button, the steps and mechanism by which a picture is taken.
Kids and adults alike will enjoy the very realistic 3D photo gallery, and the big colorful cabinet of titillating novelty cameras, camera-related trinkets and mascots associated with the promotion of cameras in past decades.
A large section of the Museum features a short-term special exhibition dedicated to a particular camera theme. This is the only section in which photography is permitted! See what's on now at the JCII Camera Museum.
Exhibits are signposted in Japanese only, but with little loss of intrinsic interest value for the English speaking visitor.
The small shop sells a large range of publications (in Japanese, but with plenty of photos), and some fun camera-related decorative and handy goods.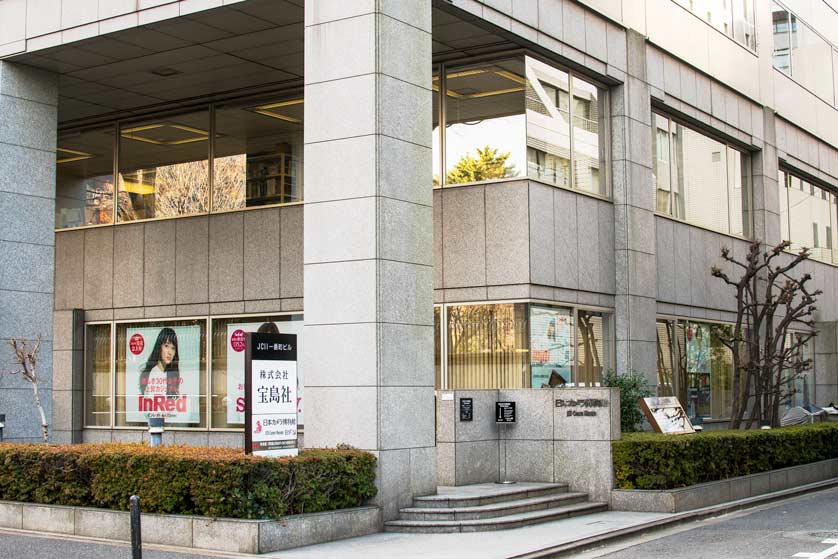 Entrance to the JCII Camera Museum, Ichibancho, Chiyoda-ku, Tokyo
Hours and Admission
The JCII Camera Museum is open 10 am - 5 pm (last entry 4.30 pm). Closed Mondays, but open if Monday falls on a national holiday, in which case closed the next day, Tuesday. Closed over the year-end/New Year period.
300 yen for adults. Free for junior high school age and under.
Access
1 minute's walk from Exit 4 of Hanzomon Station
8 minutes' walk from Exit 3 of Kojimachi Station
14 minutes' walk from Ichigaya Station, on the JR Chuo-Sobu Line and Shinjuku Subway Line.
B1 floor, JCII Ichiban-cho Buiding, 25 Ichiban-cho, Chiyoda-ku, Tokyo 102-0082 Japan
Tel. 03 3263 7110
Nearby Accommodation
The Nest Hotel Tokyo Hanzomon is a new hotel very near Hanzomon Station that offers very good value for the center of Tokyo, with clean, compact, modern facilities that ensure a good night's sleep, refreshed and ready for a day of Tokyo sightseeing - most of it very nearby. Great value matched by great location.
Toshi Center Hotel is less than 5 minutes' walk away from the museum. This highrise hotel starts on the 14th floor, and offers affordable accommodation in the heart of Tokyo. There is a choice of traditional Japanese (with futon) or standard Western-style (with bed) rooms. The Toshi Center Hotel is part of the reputable Rihga Royal chain, so offers all the standard amenities and conveniences. Couple-friendly.
The Hotel Grand Arc Hanzomon is a mid-to-upper range hotel a short walk from Hanzomon Station. With a view over the Imperial Palace moat and grounds, this hotel is very centrally located to central Tokyo tourist highlights, and its boutique service adds a sheen of luxury to your Tokyo stay. Three restaurants, a lounge, a gorgeous lobby, and reasonable room rates.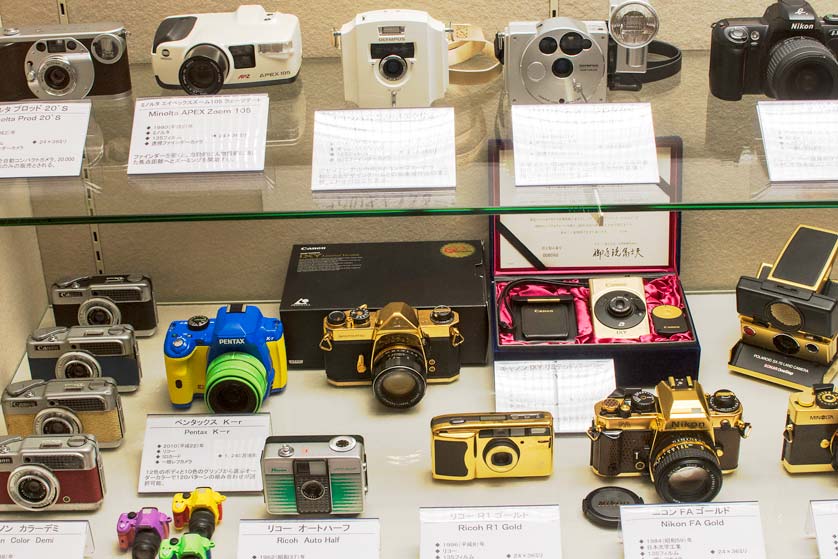 Colorful vintage camera models, JCII Camera Museum, Tokyo
Nearby Attractions
The JCII also operates the free-entry JCII Photo Salon next door to the JCII Camera Museum, hours 10 am - 5 pm. The JCII Library (10 am-5 pm) is also in the same building, and is freely accessible to those 18 years of age and over.
The JCII Camera Museum is right behind the British Embassy and near the Paraguay Embassy. The Hanzomon Museum is right at Exit 4 of Hanzomon Station. See the Kojimachi area guide for more information about nearby attractions.
The JCII Camera Museum in Tokyo is a comprehensive museum run by the Japan Camera Industry Institute that covers the history of camera-making in Japan by all Japanese camera manufacturers, and exhibits many foreign-made cameras imported to Japan.
All the themes of the city