When photography invites itself into dessert plates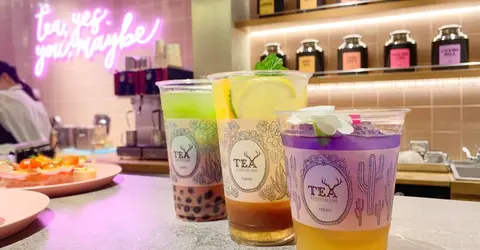 Coffees as good as they are beautiful
The coffee/tea break is of utmost importance in Japan as in the West!. With its hundreds of cafes scattered all over the country, Japan is a delight for coffee/tea lovers... Especially in Tokyo, since the capital boasts countless cafes that offer an unforgettable experience! Fans of the #foodporn hashtag on Instagram ? Our selection of trendy cafes is made for you!
1. Aoyama Flower Market Tea House
With three cafes in Tokyo (Omotesando, Akasaka, and Kichijoji), Aoyama Flower Market Tea House is certainly one of the most popular coffee chains in the capital. Its cozy atmosphere is very pleasant for anyone who wants to wind down and appreciate nature in hectic Tokyo, and its pastries and teas will delight the taste buds of foodies and Instagram users!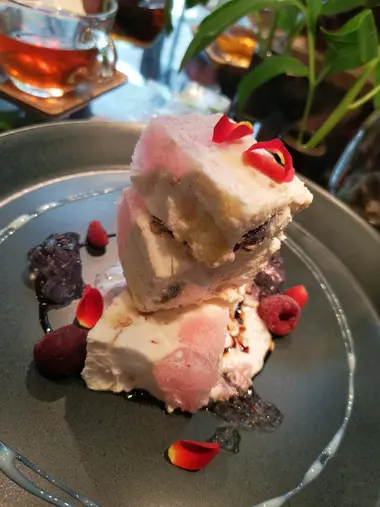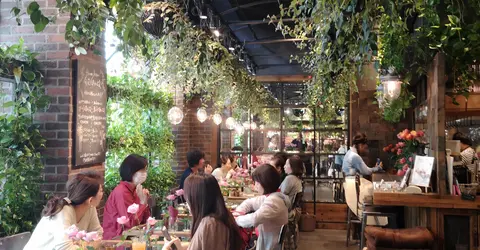 Addresses:
Omotesando: 5 Chome−1−2, Minamiaoyama, Minato, 107-0062 Tokyo
Kichijoji: 1 Chome-1-24 Kichijoji Minamicho, Musashino, 180-0003 Tokyo
Akasaka: 5 Chome−3−1, Akasaka, Minato, 107-6901 Tokyo
Schedule:
Omotesando: 11 am to 8 pm weekdays, 11 am to 7 pm weekends
Kichijoji: daily from 10 am to 9 pm.
Akasaka: daily from 11 am to 11 pm.
Routes: a few minutes from Akasaka-Mitsuke (Marunouchi, Ginza lines) and Gaiemmae (Ginza line) stations. And in the Atre of Kichijoji Station (Chuo Line)
2. Alfred Tea Room
Straight from Los Angeles, AlfredTea Room opened its doors in Tokyo in 2017. Specializing in cold teas and bubble tea, this all-pink cafe is now all the rage on Instagram thanks to its very feminine decor and its humorous slogan  "Tea Yes, You Maybe 'There are now two AlfredTea Room cafes in Tokyo: one in Shinjuku and the other in Omotesando.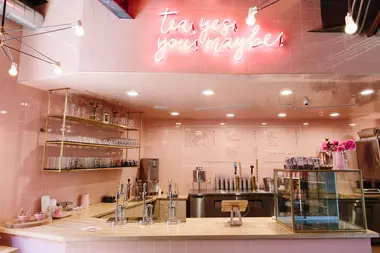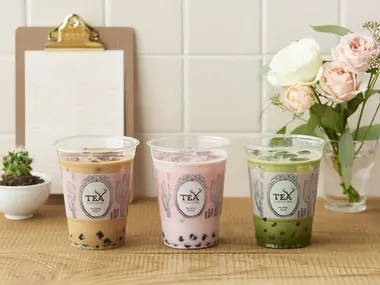 Addresses:
Shinjuku: 3 Chome−38−1, Shinjuku, 160-0022 Tokyo
Aoyama: 5 Chome−51−8, Jingumae, Shibuya, 150-0001 Tokyo
Schedule :
Shinjuku: daily from 10 am to 10 pm.
Aoyama: daily from 9 am to 9 pm.
Routes: 5 min walk from Omotesando station (Chuo, Ginza, Chiyoda lines). And in Lumine East of Shinjuku station (Yamanote, Chuo, Keio, Marunouchi, Oedo, Saikyo line)
3. Shirohige's Cream PuffFactory
In Setagaya, the Shirohige's Cream Puff Factory will seduce the fans of the Ghibli universe with its cream puffs in the shape of Totoro (from the eponymous film ' 'My Neighbor Totoro '') and its lunch menus at reasonable prices, the cafe will win the hearts of young and old alike. In particular, its wooden decor will remind Miyazaki fans of the country atmosphere of his flagship film.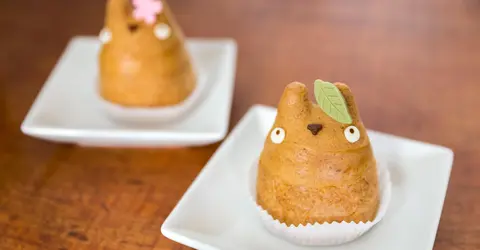 Also note that the choux are available in four flavors: pastry cream, chocolate, strawberry, and mango.
Address: 5 Chome−3-1 Daita, Setagaya, 155-0033 Tokyo
Opening hours: 10:30 am to 7 pm, closed on Tuesdays
Directions : 2 min walk from Setagaya-Daita Station (Odakyu Line)
4. Bake&Tea Lounge
Hugely popular on social media for its colorful parfaits, Salon Bake&Tea is a cute cafe located in Shinjuku's NEW WoMan mall. Presented in long glasses, the parfaits are indeed the hallmark of the franchise. They come in several flavors and go wonderfully with the 11 house teas in the salon.
Not trendy type? No worries! The cafe also offers several desserts such as pastries, macaroons, Mont-Blanc, and even the Tropézienne!
Address : 4 Chome−1-6, NEWWoMan, Shinjuku, 60-0022 Tokyo
Opening hours: every day from 11 am to 9 pm.
Route: in front of Shinjuku station (Yamanote, Chuo, Keio, Marunouchi, Oedo, Saikyo line)
5. Q-POT Cafe
Created by the fashion brand of the same name, Q-POT Cafe draws its inspiration directly from its clothing line: a refined and colorful style, like the dollhouses from our childhood!
Sweets in the shape of jewels, teapots straight out of a children's story, the Q-POTCafe is betting on bringing kawaii to the table! A successful bet, since dozens of customers crowd every day in front of its door, located a stone's throw from the bustling Harajuku district. Especially when the cafe sets up special menus in collaboration with Sailor Moon, Pokemon, and during Halloween.
Address: 3 Chome-4-8 Jingumae, Shibuya City, 150-0001 Tokyo
Opening hours: every day from 11 am to 7:30 pm.
Directions: 5 min on foot from Omotesando station (Chuo, Ginza, Chiyoda lines).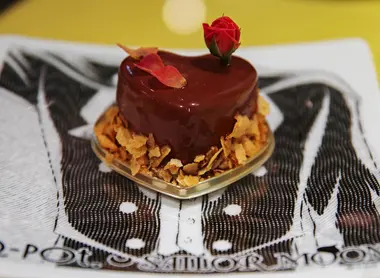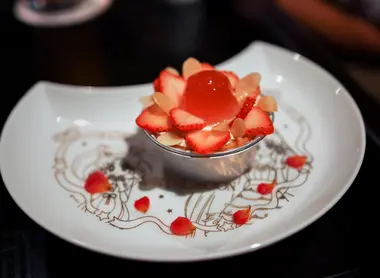 All the themes of the city