Rainbow Bridge
レインボーブリッジ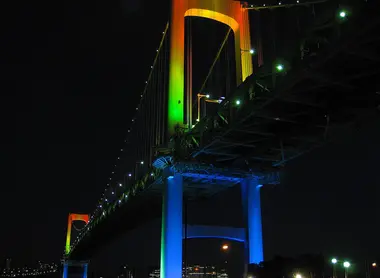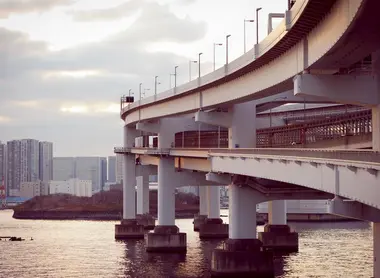 Suspended views
At dusk, the white pillars are dressed in red, blue and green light. Hence the name Rainbow Bridge. 798m long, 127m high, traffic flow on two floors, it is one of the symbols of Tokyo.
Connecting the neighborhoods of Odaiba and Shibauro, the Rainbow Bridge offers a unique view of Tokyo. Perched over 50 feet above the Sumida River, you can cross it in several ways, and find the different faces of the Japanese capital.
Although it is accessible in the daytime, the best time to enjoy this unique view is dusk when the sky is painted orange by the lights of the city. You can take the Rainbow Bridge by metro with the Yurikamome Line. This aerial metro goes across the inside of the bridge, a quick way to see the building and discover its views.
But to enjoy these spots more calmly, the best way is the Rainbow Promenade. A pedestrian walk divided into two on either side of the bridge. To the north it offers a unique view on both the Sky Tree and Tokyo Tower. On the south side, you can see the Fuji TV building and Tokyo Bay. On a clear day, Mount Fuji appears in the distance.
Here is an overview of the voyage aboard the Yurikamome line, Anirban Basu video.
All the themes of the city