The best places to drink whiskey in Tokyo
東京でウイスキーを楽しむのに最高のバー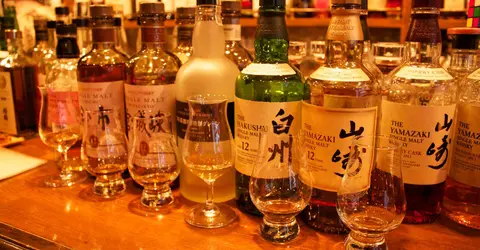 Where to go to taste Japanese whiskey in Tokyo?
Japanese whiskeys are known and recognized throughout the world. Enthusiasts, amateurs, or curious visitors will find what they are looking for in Tokyo, where there are many specialized bars. Discover our 5 best bars to taste the best whiskies!
Japanese Scotch
The history of Japanese whiskey begins at the beginning of the 20th century: the country's first distillery opened its doors in 1924. It was thanks to Masataka Taketsuru, a businessman considered to be the founder of the whiskey industry in Japan, that this alcohol develops on Japanese soil. Whiskey became particularly popular after World War II. Nikka and Suntory are historically the two largest distilleries in the country.
We still observe the Scottish imprint on Japanese production with barley imported from the region and double distillation, a typically Scottish touch. Today, Japan produces some of the finest single malts and blends. With their very high-quality scotches, the Japanese now systematically win the best awards in international competitions...
While in Tokyo, do not hesitate to push the door of one of the many whiskey bars in the city to discover hundreds of references and enjoy the best Japanese scotches.
Apollo
The Apollo bar offers a quiet sip of the best Japanese whiskeys, in a calm atmosphere while listening to a few notes of jazz. The owner, Hidenori Komatsu, knows his job like the back of his hand and the service there is exceptional.
Located between Ginza and Shimbashi, it offers a nice selection of Japanese whiskies, including Suntory distilleries. Relax at the bar or on one of the leather benches, in this cozy atmosphere straight from Scotland. A reference address is not to be missed if you spend the evening in Ginza.
Address: B1F, 8-2-15 Ginza, Chuo-ku, Tokyo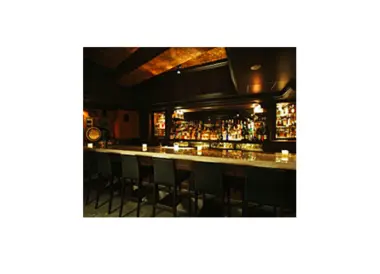 Zoetrope
Located north of Shinjuku, this bar offers more than 300 whiskey references, including very rare bottles. The boss is another reason for his popularity - a little more, he speaks English, which is easier to take advantage of his advice.
The atmosphere of the bar is relaxed (sometimes you will see a projection of old films there): do not hesitate to sit at the counter facing the bottles. To find the bar, look for a red sign, on the 3rd floor of the building.
Address: 3F, 7-10-14 Nishi-Shinjuku, Shinjuku-ku, Tokyo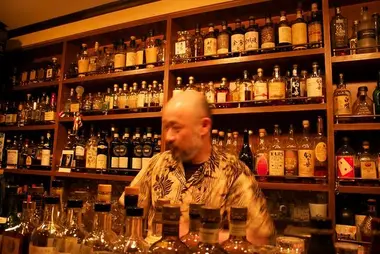 Tsurukame
A whiskey bar at affordable prices (and no cover charge !), which offers amateurs a selection of 250 whiskies, mainly single malts. Another strong point: Happy Hour from 5 pm to 7:30 pm, where certain drinks are available for 500 yen ($5.50/4.75€) or 1000 yen ($11/9.50€).
Take a seat at the bar or one of the high tables between the four simply decorated walls, showcasing the bottles of whiskey, the stars of the place.
Address: 1-12-11 Nihonbashi-Ningyocho, Chuo-ku, Tokyo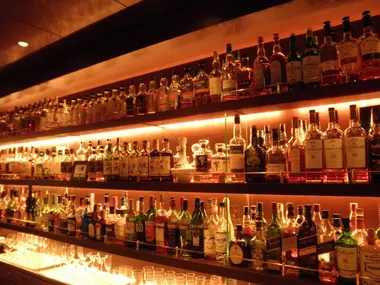 Brilliant Bar (Keio Plaza Hotel)
The Brillant is the more chic option in this selection. It is part of the Keio Plaza Hotel in Nishi-Shinjuku . The place also has the advantage of offering a large room with many seats (more than 80), unlike many Tokyo whiskey bars.
Take a seat in one of the comfortable leather armchairs to taste one of the references their Japanese whiskey reference, or even a cocktail...
Address: Keio Plaza Hotel South Wing, 2F, 2-2-1 Nishi-Shinjuku, Shinjuku-ku, Tokyo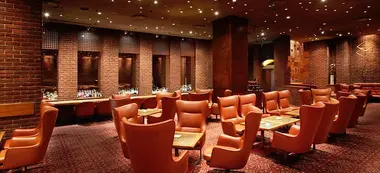 Tokyo whiskey library
An enchanting address with a unique atmosphere. Located right in the heart of Omotesando, this large lounge bar is arguably what one would expect of a distinguished whiskey bar. Club chairs, crystal chandelier, hunting trophies... the bar exudes a delicious British atmosphere that lends itself well to whiskey tasting.
This refined address offers more than 1,000 varieties of whiskey from all over the world, as well as delicious Scotch-based cocktails.
Address: Minamiaoyama santakiarakyoukai 2F, 5-5-24, Minamiaoyama, Minato-ku, Tokyo, 107-0062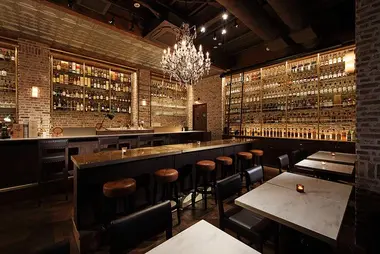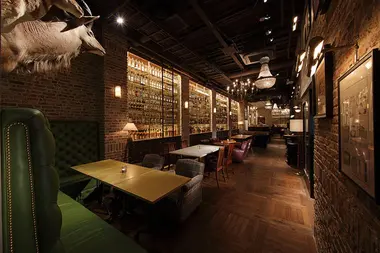 Finally, to avoid any unpleasant surprises, don't forget that the vast majority of these bars charge what is called a cover charge, an entry fee, to be paid in addition to your drinks. It generally varies between 300 and 1000 yen (from $3.75-11.50/3-9€) per person depending on the establishment.
All the themes of the city