Kasai Rinkai Park
葛西臨海公園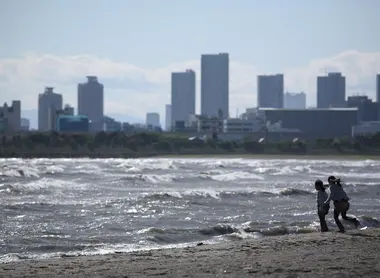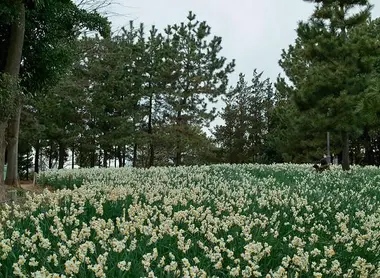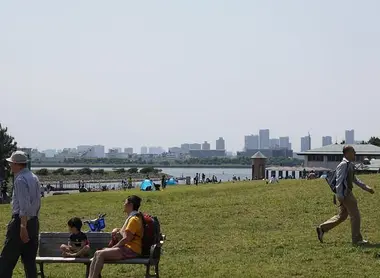 Tokyo Bay Grand Park
Kasai Rinkai Park is located on the shores of Tokyo Bay, across from Odaiba and Disneyland. Picnic, aquarium, and Ferris wheel await you for a fun-filled afternoon!
A place of relaxation within Tokyo
The large Kasai Rinkai Park (Kasai Rinkai Koen) is immense and is even the second largest in the Tokyo metropolitan area, after Mizumoto Park. It is located just opposite Disneyland, on the other side of the Edogawa River. Like Odaiba, it was built on a polder to give back a place to nature, to restore the ecosystem of Tokyo Bay, damaged by industrialization. Kasai Rinkai koen opened on June 1, 1989.
The places allow you to relax and take a long break, staying away from the urban bustle. From the park, however, you can enjoy a beautiful view of the buildings of Tokyo Bay, and even of Mount Fuji on a clear day. Large lawns, foliage, fields of multicolored flowers ... the park is ideal for indulging in a picnic. The places are also quickly invaded by the Japanese fond of the exercise, during the hanami. In good weather, it is possible to cool off with your feet in the water of the bay on one of the two beaches, even if swimming is too dangerous due to the tides.
The park has many other assets: first, a large aquarium, the Tokyo Sea Life Park, and its famous glass dome surrounded by the penguin basin. A large part of the park (almost a third) also houses a sanctuary for seabirds native to the area, as well as wildlife observation and information building. A small part of the reserve is also closed to the public.
The biggest Ferris Wheel in Japan
The other major attraction of the park is the big wheel, named "Diamond and Flower Ferris Wheel". This is the tallest Ferris wheel in Japan, which rises to 117 meters, so two meters more than that of Odaiba. Built in 2001, it was surpassed in 2002 by the Sky Dream Ferris wheel in Fukuoka, which however had to close in 2009, allowing the Kasai Rinkai Ferris Wheel to recover its title.
It has 68 cabins and you can enjoy the view of Tokyo and its bay, Disney Land, and Mount Fuji during the 17min ride. At nightfall, the Ferris wheel lights up, evoking the famous "diamonds and flowers" of its name...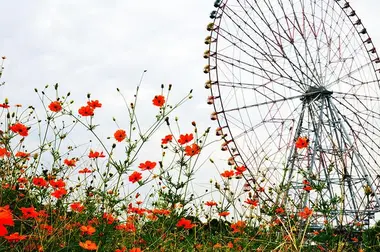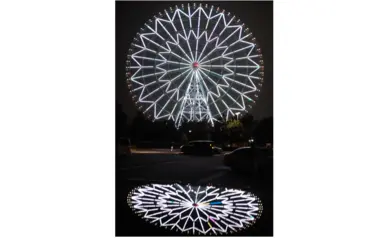 ---
Address, timetable & access
Address

Phone

+81 (0)3-5696-1331

Timetable

Kasai Rinkai Koen Station on the JR Keiyo and JR Musushino Lines

Price

Free, Ferris wheel 700 yen ($7.75/7€)

Access

Open Thursday to Tuesday, 9:30 am to 5 pm.
All the themes of the city