Tokyo Sea Life Park
葛西臨海水族園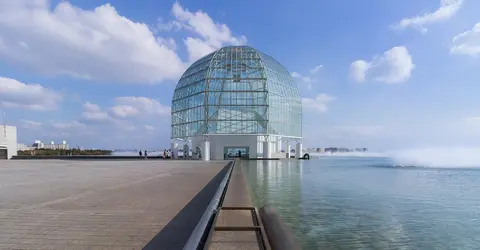 An aquarium under the ocean in Tokyo
Located not far from the large Disney Land park in the Japanese capital, the Tokyo Sea Life Park aquarium is one of the largest in the country. Hidden under the large glass dome on the edge of Tokyo Bay, the aquarium invites you to dive into the depths of the oceans...
The aquarium named Tokyo Sea Life Park is one of Kasai Rinkai park 's star attractions. The latter is located east of the capital and directly overlooks Tokyo Bay . Directly across the Kyuedo River is the entire Disneyland complex, Disney Resort and Disney Sea . The places are therefore conducive to a day of family entertainment, to the delight of children...
The aquarium is home to small and medium sized fish. Visitors can admire hundreds of species of sea creatures from tropical, temperate and frozen habitats. Bluefin tuna and penguins are the stars of the place.
The penguin enclosure, which houses three different species, is one of the largest in the country. Other seabirds such as puffins are also seen. The other highlight of the visit happens during the discovery of the huge circular aquarium - in the shape of a donut - where hundreds of tuna swim , sometimes of impressive size. Penguins and tuna are fed at fixed times, which gives rise to a typical Japanese show.
The aquarium was noticed in 2012 when one of the penguins escaped from the basin . It took almost three months to capture the animal, which had quietly continued its life in Tokyo Bay...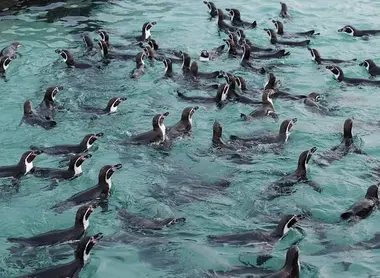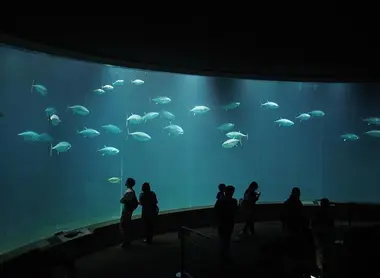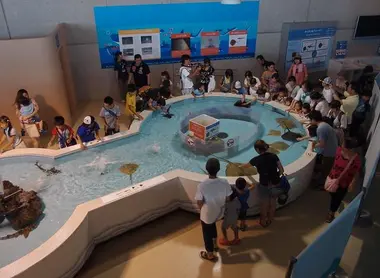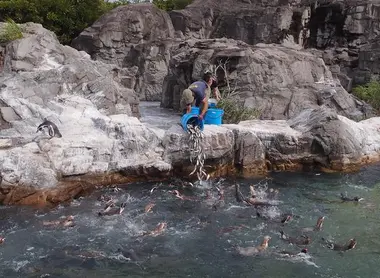 The rest of the visit is divided into two main parts: first the waters of Tokyo and the species that live there, then the "Seas of the World" , where species from tropical, deep, temperate, arctic and even fresh water evolve. Young and old alike will undoubtedly be amazed by the schools of colorful fish that quietly evolve in aquariums designed to reproduce their natural habitat. Explanations in English are provided.
A specific aquarium is also dedicated to sharks . Bluefin tuna, yellowfin tuna, scalloped hammerhead shark, ray, surgeonfish, yellow butterflyfish, king angelfish, starfish, gobies, krill, sea urchin... and hundreds of other species are represented in the aquarium, for a beautiful diversity.
As in other aquariums in the country, it is even possible to touch certain species (such as rays) in a small dedicated basin.
This aquarium suitable for small budgets obviously offers all the usual services, from corner lockers to the restaurant where you can take a break.
How to get to Tokyo Sea Life Park? It is very easily accessible from JR Kasai Rinkai Koen station . Note that admission to the aquarium is completely free on October 10, May 4 and October 1 .
---
Address, timetable & access
Address

Phone

+81 (0)3-3869-5152

Price

Adult: 700 yen (€5.80) Student: 250 yen (€1.20) Free for children under 12

Access

Open Thursday to Tuesday, 9:30 a.m. to 5 p.m.
All the themes of the city