Shinagawa Kumin Park
Read a guide to Shinagawa Kumin Park, Tokyo. Shinagawa Kumin Park is a woodland getaway with a wealth of things to do, especially for families.
Shinagawa Kumin Koen Tokyo 品川区民公園
Shinagawa Kumin Koen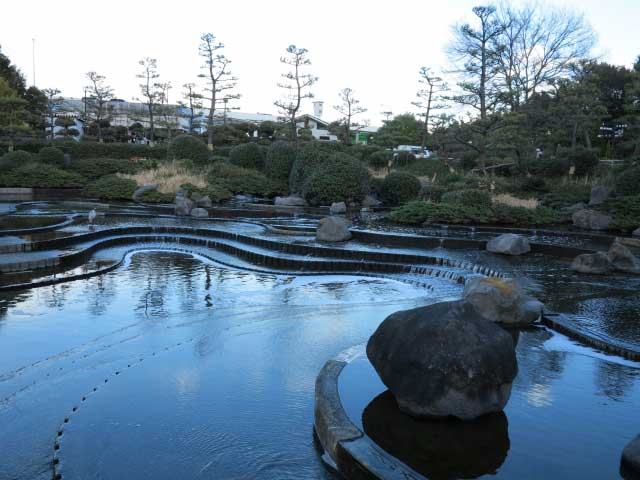 Large natural-style park with multiple types of scenery and facilities.
In Tokyo's southern Shinagawa ward.
A park with some of the best facilities (restaurants, parking, etc.) in central Tokyo
Variegated: plenty to see and do
Home to the Shinagawa Aquarium.
Bicycle-friendly
Shinagawa Kumin Park (Shinagawa Ward Citizens' Park) is a large, naturally landscaped retreat from the city bustle. The park runs north-south, over a kilometer in length, and is almost 13 hectares (31 acres) in area.
Parks closer to the center of Tokyo may be equally as beautiful, but the size, diversity, natural landscaping, and multifarious facilities of Shinagawa Kumin Park make for a more liberating feel of getting away from it all, and offer more to do, especially for children.
Shinagawa Kumin Park is packed with places to hang out, have a picnic, cycle, play baseball and tennis, swim, and relax - even dine. Wander through and enjoy the variety of landscapes: floral, sylvan, aquatic, and more, that have been beautifully created here.
With an aquarium, a restaurant, a shop, two swimming pools, and cycling permitted throughout (hired or BYO), the Park makes for a very pleasant day out - especially for families.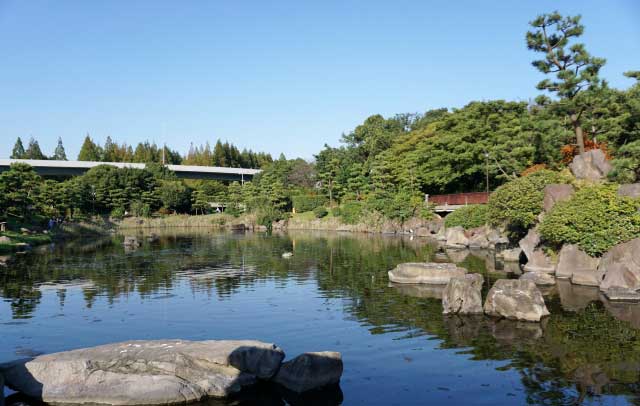 Shinagawa Kumin Park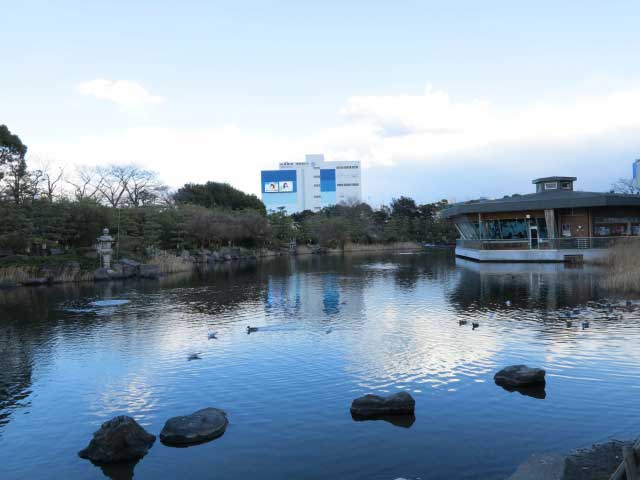 Shinagawa Kumin Park
Shinagawa Kumin Park boasts hundreds of species of trees and flowers, including cherry trees, plum trees, pines. Its artificial saltwater lake, Katsushima-no Umi, is, like the rest of the park, a masterpiece of naturalistic landscaping. Studded with groves and woods, flowers bloom all year round. Most spectacular, of course, is the beginning of spring (early April) with the sakura (cherry) and ume (plum) blossom.
History
Shinagawa Kumin Park was established in 1987 by filling in part of the Katsushima Canal, the water of which still feeds the Park's main lake. Katsushima Canal makes for a pleasant walk in spring, along its 2 km "Shinagawa Flower Road" embankments.The Shinagawa Aquarium and Seal House date from 1991.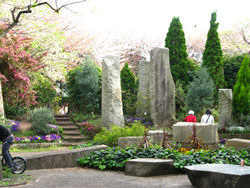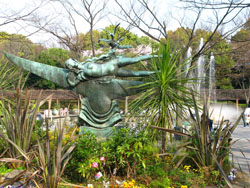 Layout
Shinagawa Kumin Park has a multiplicity of different landscapes roughly according to the five utility zones it is divided into.
Sakura (Cherry Blossom) Plaza, enclosing the Herb Garden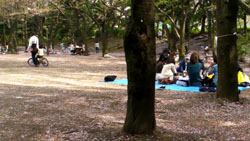 This is where you enter the park from, and features a beautifully arranged entrance, behind which lies a large grassy area surrounded with cherry blossom (sakura) trees. It comes alive most at cherry blossom time (early April) with crowds of people sitting under the trees eating and drinking.
Sports Area
The Sports Area consists of baseball field for young people, two swimming pools, club house, tennis courts. The baseball field and tennis courts must be rented in advance. One pool is pear-shaped, one Olympic-style. The Olympic-style pool becomes a fishing pool stocking goldfish(!) and silver crucian carp out of swimming season.
Swimming season is from July 7 to the second Sunday in September. Fishing season is from October 1 to November 30 (said to be more rewarding in November than October), then March 1 to May 8. From December 1 to February 28 it is open for fishing on weekends and public holidays only. It is closed, also, from December 29 to January 3.
Fountain Plaza
Fountain Plaza is distinguished by the large Whale Fountain (named after its distinctive jets) that is both visually attractive with its spacious contemporary design, and is a great place for the kids to play in in the heat of summer. It is surrounding by an expansive plaza surrounded by seating, and with a dramatic lawn statue installation not far away.
Camping Ground
The camping/barbecue ground is tucked away amidst a grove of towering trees and features a children's playground, blossom tree grove, "Dream Forest," and (free!) bicycle hire (details below). The camping/barbecue area comes with toilets and cooking equipment, free for residents of Shinagawa ward. Use of the cooking facilities is limited to residents of Shinagawa ward and requires reservations made two months in advance.
Highway 316 bisects the Park overhead, between the Camping Plaza and the Tidal Plaza, but is scarcely noticeable. Access between the plazas is via a short tunnel charmingly decorated with large murals by students of nearby Suzugamori Junior High School.
Tidal Plaza
The Tidal Plaza is dominated by the Katsushima no Umi lake, which is actually a tidal body of seawater. The biggest lakeside features are the Shinagawa Aquarium and Seal House, as well as the Dolphin Restaurant next to them, built over water.
Shinagawa Aquarium
Shinagawa Aquarium is the main feature of the Tidal Plaza zone of Shinagawa Kumin Park. This two-floor aquarium features a 22-meter Tunnel Water Tank where the visitor stands "underwater" amid hundreds of varied marine organisms representing over sixty different species. There are four different shows here:- Dolphin Show (15 minutes) at 11am (10:45am on weekends/public holidays), 1:30pm, 3:30pm;- Sea Lion Show (10 minutes) at 2:30 weekdays, and 11:45am and 2:30pm weekends/public holidays;- Seal Show (10 minutes) at 11:30am (11:15am on weekends/public holidays), and 4pm;- Underwater Show (10 minutes) featuring a diver interacting with the sealife, at 11am (weekends/public holidays only), 1pm, 2pm, 3pm.
Shinagawa Aquarium Hours: 10am-5pm (last entry at 4:30pm). Admission: 1,350 yen for adults, 600 yen for school age.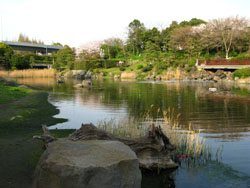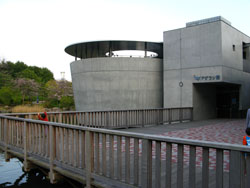 Hours
Open 6 am - 8:30 pm April-November, 6 am - 6 pm December-March.
Admission
Free
Hours: 6 am - 8:30 pm April - November; 6 am - 6 pm December - March.Parking for about 130 cars, 200 yen per 20 minutes.Free bicycle hire, 10 am - 4 pm for 1 hour maximum: March - November, daily; December - February, weekends and public holidays only; December 29 - January 3, unavailable.
Access To Shinagawa Kumin Park
From Tachiaikawa station or Omori-kaigan Station (Keihin Kyuko Line), 8 minutes' walk.
From Omori station (JR Keihin Tohoku Line), 15 minutes' walk from the North Exit.
Also, a free bus to the Shinagawa Aquarium leaves from the No.6 East Exit of JR Oimachi Station
50 mins by Water Bus from Hinode Asabashi.
3-2-2 Katsushima, Shinagawa-ku, Tokyo東京都品川区勝島3-2-2
Book Hotel Accommodation in Tokyo Near Shinagawa Kumin Park
All the themes of the city