The Rikugi-en garden
六義園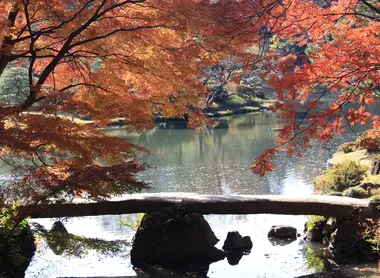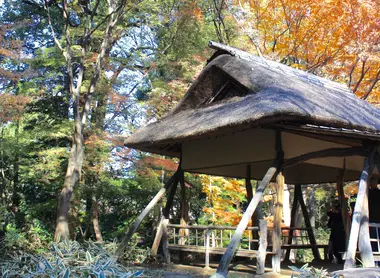 The poetry of the landscape
Dating from the Edo period, the Rikugi-en garden still exudes a powerful serenity today. Composed like a poem, the site reveals splendid panoramas from the top of the hills and the small bridges.
The Rikugi-en Garden is among the ancient gardens of Tokyo that belonged to the Daimyo, the feudal lords of the Edo period (1603-1867).
In the time of the shogun
At that time, the system of alternate residence of the shogun required them to have a residence in the capital. The gardens are then arranged for aesthetic reasons but also practical, for example to receive guests in a tea house or to train in the arts of war.
Here, it took Lord Yanagisawa Yoshiyasu five years to develop a garden on land granted by the 5th shogun Tokugawa Tsunayoshi in 1695.
The rules of poetry
Yanagisawa built a body of water and created an island there, Naka-no-shima, made up of two hills, Imoyama and Seyama. All according to the six principles from Japanese poetry, which itself draws its source from Chinese poetry. Roku , "six" in Japanese, is pronounced here riku in the Chinese manner.
Stelae indicate the most beautiful points of view in the garden (32 today for 88 initially). Several paths and a promontory allow you to appreciate it from different angles.
This set forms a memorable picture in any season. In spring and autumn, the spectacle becomes particularly impressive and the park is then very busy. On autumn evenings , when the park is illuminated, a specific device is put in place.
Tea pavilions
The former Takimi-no-chaya tea pavilion is a good place to take a break, even if it no longer serves its purpose. The sound of the nearby waterfall and the very picturesque view will not leave you indifferent.
The Tsutsuji-chaya pavilion is ideally placed when the colors of the maple leaves turn orange-red.
Finally, to extend the visit and before returning to today's Tokyo, yet so close, the Fukiage tea pavilion offers to taste a cup of Japanese tea while admiring the landscape .
Interested in gardens? Do not hesitate to book our activity dedicated to the historic garden of Tokyo.
---
Address, timetable & access
Address

Phone

+81 (0)3-3941-2222

Timetable

JR Komagome Station

Price

300 yen

Access

9 am-5pm (closing later during nighttime illuminations)
All the themes of the city