The green side of Tokyo
東京園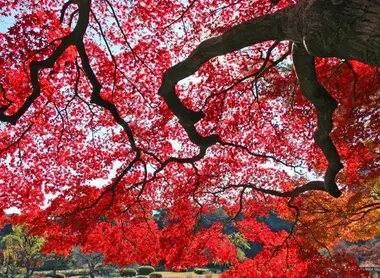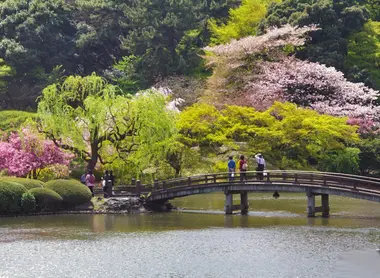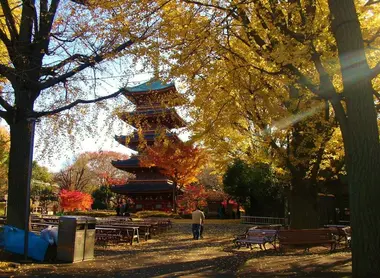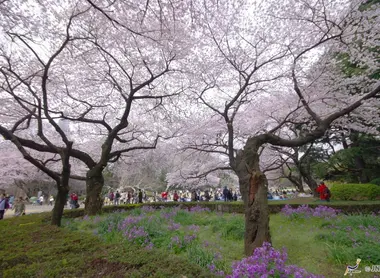 Green Giants
Where to find a little peace in the heart of the concrete and steel jungle that is Tokyo? Follow our guide to the green spaces of the Japanese capital and discover the charms of these essential places to meet and relax.
Smile at the Yoyogi Koen
The Yoyogi Koen is the ideal stop after a studious morning spent visiting temples and shrines. You will feel carefree upon leaving this park, which has a festive atmosphere and which is located in the Shibuya district.
Every Sunday, the talents of the capital meet near the east entrance. Japanese Elvises and horn players reinterpret the classics of the 1950s while hip-hop dancers and gangs of rockabillies engage in lively jam sessions to the delight of passersby.
The Northwest of Yoyogi offers a more tranquil setting. There is a bike hire, which for 100 yen will let you take a bicycles or tandem along the shaded paths of the park. You will certainly cross paths with a Scottish terrier wearing a glittery hat or a Chihuahua wearing neon butterfly wings: Yoyogi Park never lets you take yourself too seriously.
Lunch on the Grass at Ueno Park
The huge Ueno Park, the lung of eastern Tokyo, proves to be a pleasant refuge from the stifling Japanese summer heat. Some Japanese visitors reconnect with their "Japaneseness" and sport traditional clothing including the yukata, summer kimono.
The Shinobazu Pond, located in the southwest, offers a show, which can only be seen in this season, the flowering of the lotuses who's giant petals cover the whole surface of the water.
Dreaming along the paths of Happo-en
To get married, Tokyoites choose Happo-en without hesitation. Its traditional houses and romantic pond make an ideal setting for the exchange of vows. A vegetal getaway in the heart of the "Little Milan" of Tokyo, the Shirokanedai neighborhood of a thousand fashion-addicts, Happo-en captivates through its esthetic appeal. Whether it is in summer or in winter, for the cherry blossoms or for the autumnal colors of the maple trees, it never loses its serene charm.
Enjoy a matcha tea (green tea powder), contemplating the bonsais, which are more than five hundred years, inspires humility. For lovers of traditional Japanese weddings, weekends provide the opportunity for you to indulge your curiosity and to watch ceremonies from a distance.
Marvel at Shinjuku-gyoen
Nicknamed "the urban oasis" Shinjuku Garden is one of the largest parks in the capital. Its fifty-eight hectares and two thousand trees make Shinjuku-gyoen a real breath of fresh air, just minutes from the bustling district of Shinjuku Station.
Next to the French and English areas, a Japanese garden with its cherry trees, cypresses and Himalayan cedars invites visitors to continue their walk. Go a little further, to discover a pond and its huge carp, on the other side of which stands a house, which guards over Shinjuku-gyoen.
All the themes of the city