Tsukuba Parks & Gardens
Tsukuba parks & gardens: Tsukuba in Ibaraki Prefecture has several interesting green spaces including its Botanical Garden, Doho Park and Chuo Park.
Tsukuba Gardens & Parks, Ibaraki Prefecture 筑波の公園
Tsukuba, in Ibaraki Prefecture has several pleasant gardens and parks.
A planned city in a fairly non-industrialized, mainly semi-rural prefecture, Tsukuba city and Ibaraki as a whole afford the visitor and resident a variety of open, green spaces.
See a listing of parks and gardens in Tsukuba, Ibaraki Prefecture.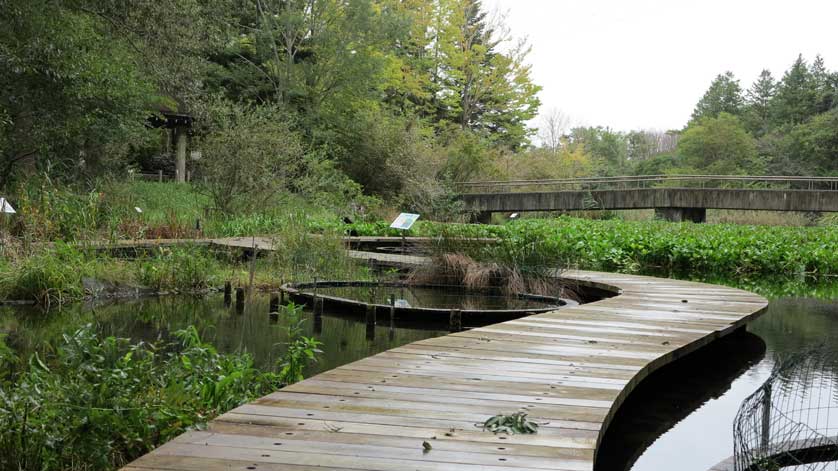 Wetlands area and boardwalk in the Botanical Garden, Tsukuba

Tsukuba Botanical Garden
The large Tsukuba Botanical Garden opened in 1983. It is the botanical research center of the National Museum of Nature and Science in Ueno Park, Tokyo.
The Garden both researches and conserves plant diversity, not just species native to Japan but also those overseas.
The Botanical Garden draws visitors throughout the year in any season.
Altogether the garden covers 36 acres and has around 5000 taxa of domestic and exotic plants. These come from both temperate and tropical regions around the world.
There are three glasshouses, a lake and several other green houses with both common and rare plants growing within.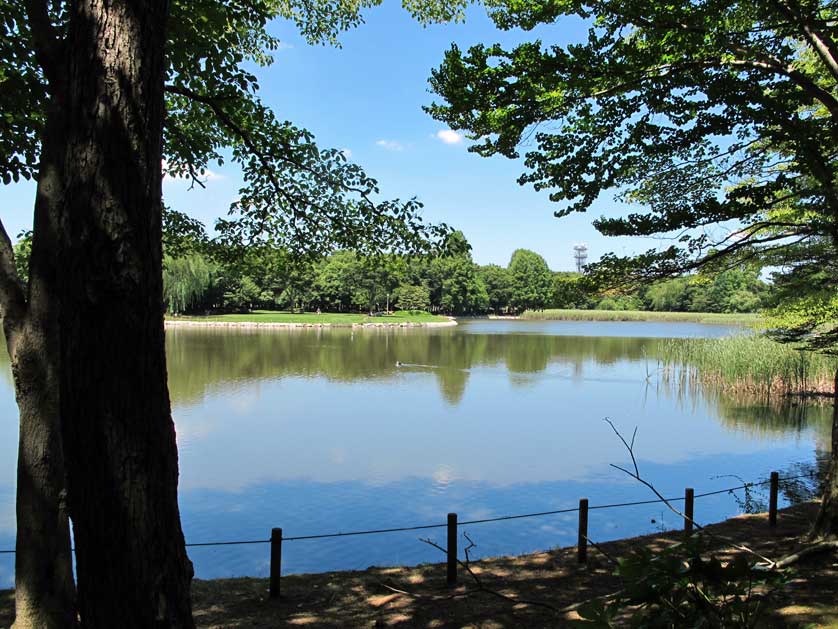 Doho Park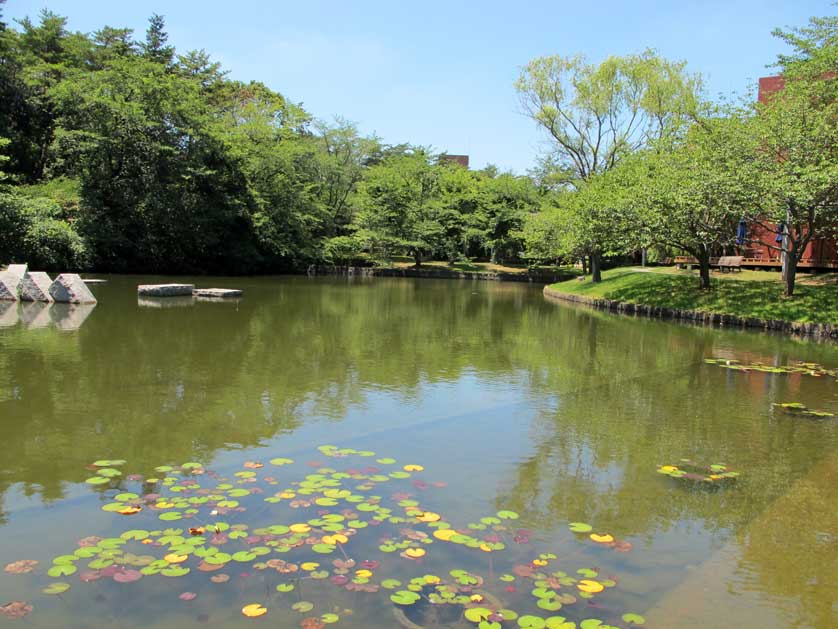 Doho Park

Doho Park
Doho Park is laid out around a large lake with a soccer ground, baseball field, tennis courts and a swimming pool as well as a cafeteria within the park.
On the north side of the park is the delicious German-style Morgen bakery and next door the Sieger cake and dessert specialists. Sieger also has a konditorei or cafe on its premises.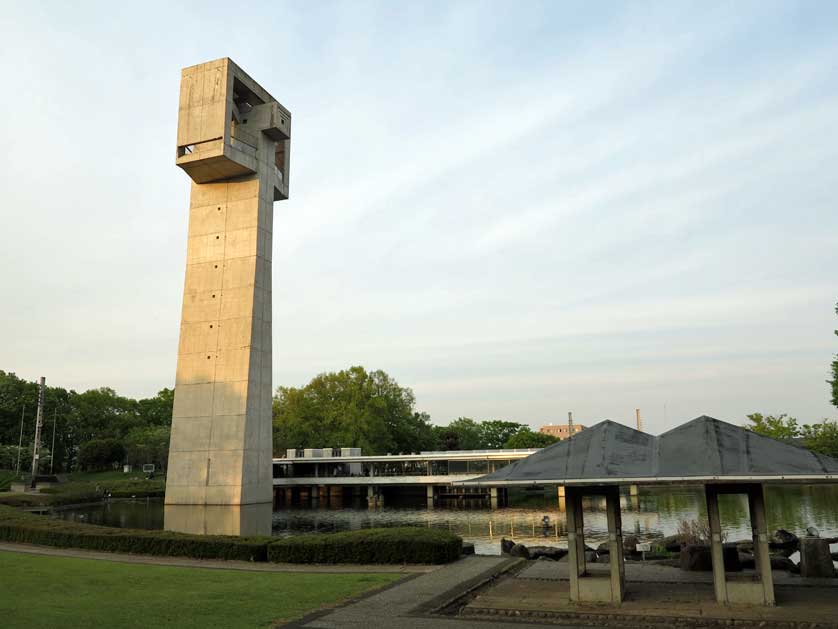 Matsumi Park, Tsukuba

Matsumi Park
Matsumi Park has a lovely Japanese strolling garden with carp-filled lake, flower beds and a 45 meter-tall viewing tower set in water.
It is a short walk north of Chuo Park and just east of Tsukuba University, Kasuga area.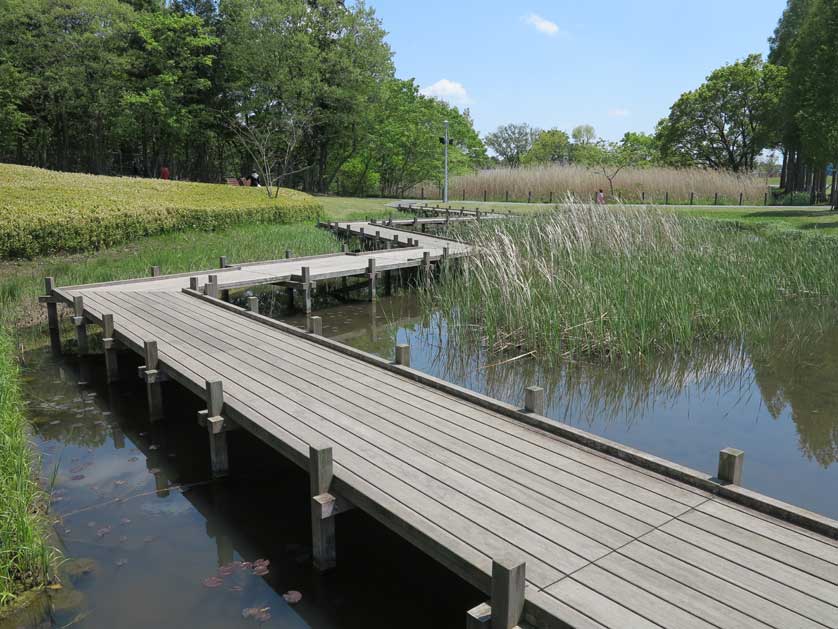 Kenkyugakuen Eki-mae Koen
Kenkyugakuen Eki-mae Koen
Kenkyugakuen Eki-mae Koen just south of Kenkyugakuen Station on the Tsukuba Express Line from Akihabara in Tokyo is a lovely space ideal for family picnics.
There is a wetland area with tall reeds and wooden zig-zag bridges, lawns, a Tsukuba-style farm house and a variety of plants and trees to enjoy.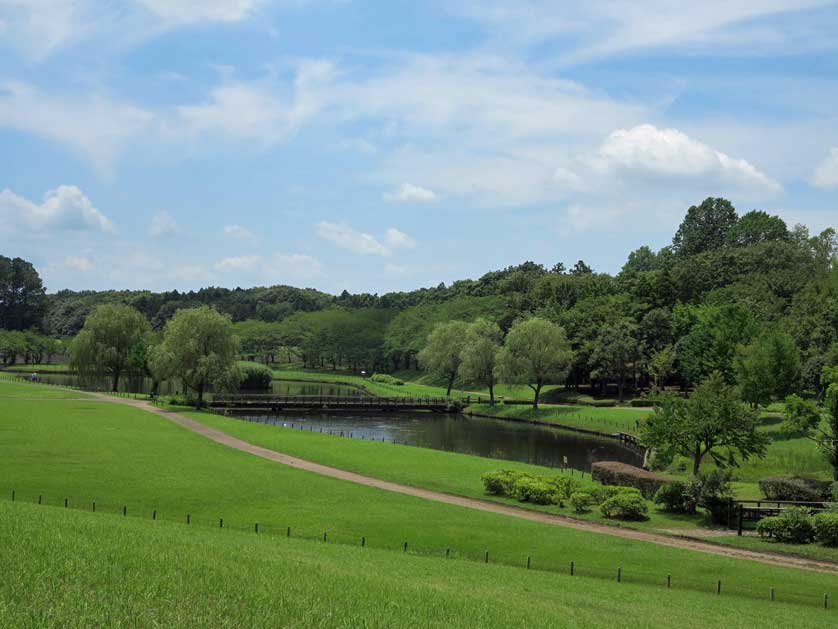 Kagaku Banpaku Kinen Koen

Kagaku Banpaku Kinen Koen
Kagaku Banpaku Kinen Koen (Expo '85 Memorial Park) was laid out for the 1985 Science Expo held in the city.
There is a lake, spacious lawns, tennis courts and the 10 meter-tall Kagaku-no-mon (Science Gate).
This is one of the largest open spaces in the city.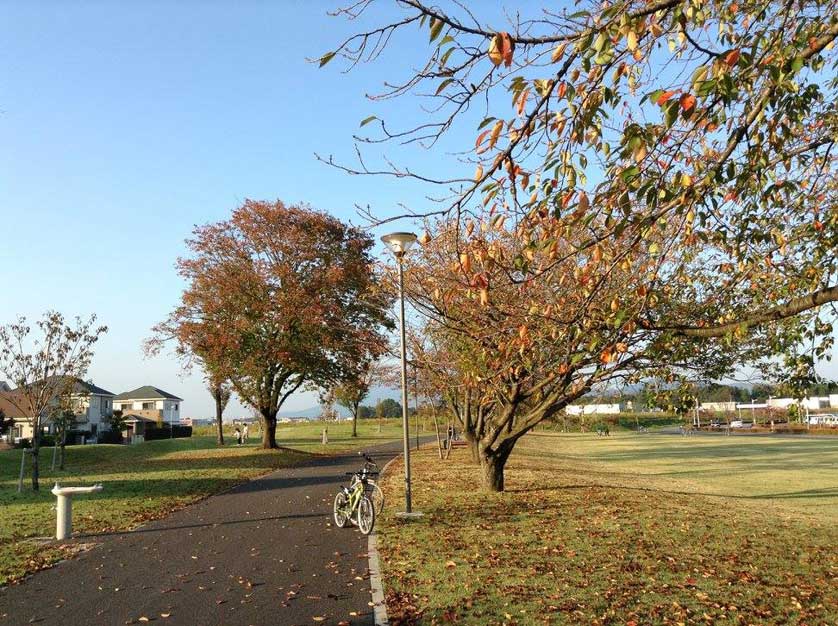 © Gakuen no Mori Park

Gakuen no Mori Park
Adjacent to the Iias shopping mall is the new, English-style Gakuen no Mori Park with lawns and large deciduous trees.
There is a Dutch-style, wooden windmill, a children's playground and numerous cherry trees.
Incinerator at Wellness Park, Tsukuba
Tsukuba Wellness Park
Tsukuba Wellness Park is a health and leisure center with swimming pool, onsen, soccer fields and a running/jogging track powered by the adjacent incinerator north of the center.
The main sports center, which includes the pool and onsen also has a gymnasium where residents can take a variety of fitness courses including stretching, yoga, weight-lifting and aerobics. The pool also has regular swimming classes.
There is also a large lawn area, running track, mini golf course and dog run.
Wellness Park is north of Tsukuba Station and can be reached by regular buses from the Tsukuba Bus Station adjacent to the Tsukuba Express station in just over 20 minutes.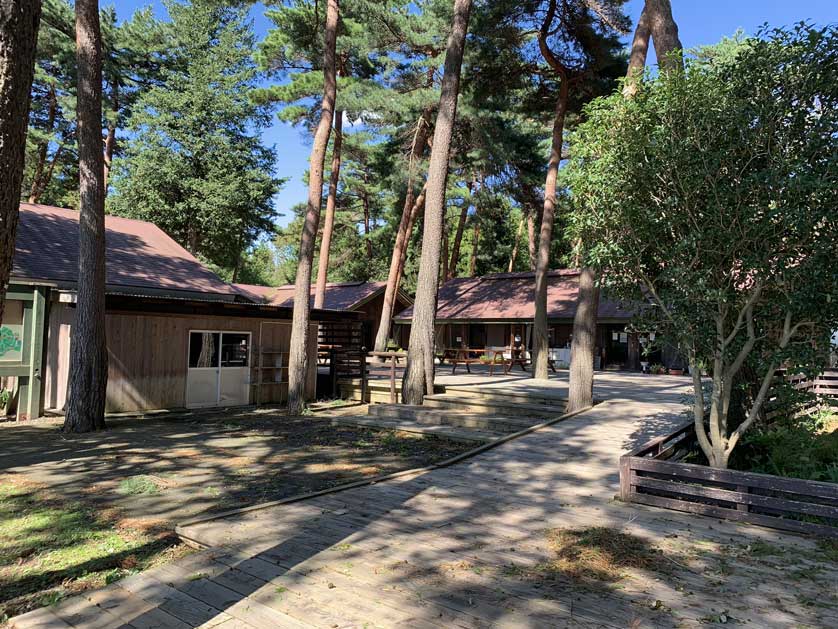 Yukari-no-Mori Nature Park, Tsukuba

Yukari-no-Mori Nature Park
Yukari-no-Mori Nature Park is a small, green oasis near Kenkyugakuen Station. The park's facilities include a Craft Hall, an interesting Insect Museum and tennis courts. There are woods to explore, a small pond and Canadian-style wooden cabins and BBQ facilities to rent for visitors.
Chuo Park
Chuo Park is just north of Tsukuba Station. In and around the park are the Tsukuba Museum of Art Ibaraki, the Tsukuba Cultural Center Als, which also holds the city library building, Tsukuba Expo Center and the Sakura Minka-en.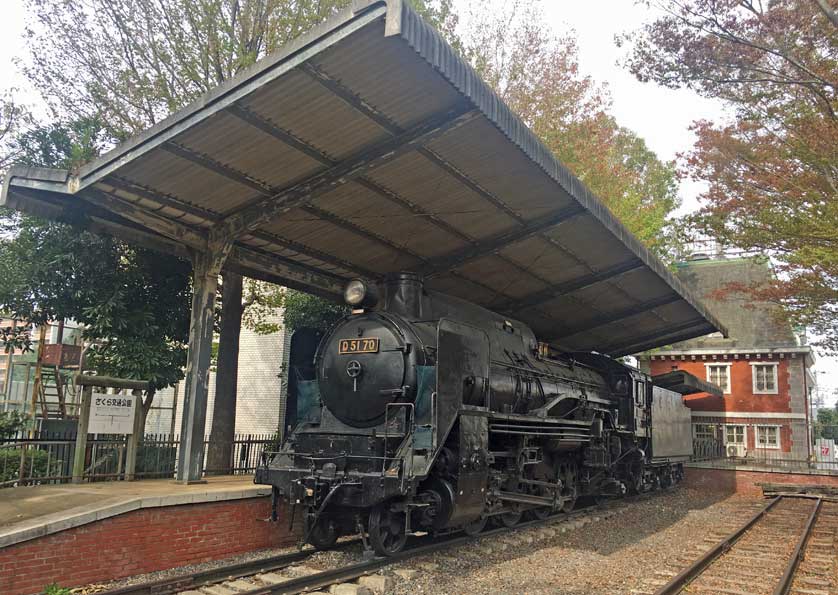 Sakura Kotsu Park, Tsukuba
Sakura Kotsu Park
Sakura Kotsu Park, close to Tsukuba Station, is a small park with a transport theme. There is a Showa era Tokyo-Tsukuba bus and steam locomotive on display. The park is popular with parents and their young children.
Tsukuba Related
Other places of interest in Tsukuba include the Science Museum of Map & Survey, the Geological Museum & Science Square, the Tsukuba Expo Center and the Tsukuba Space Center (TKSC).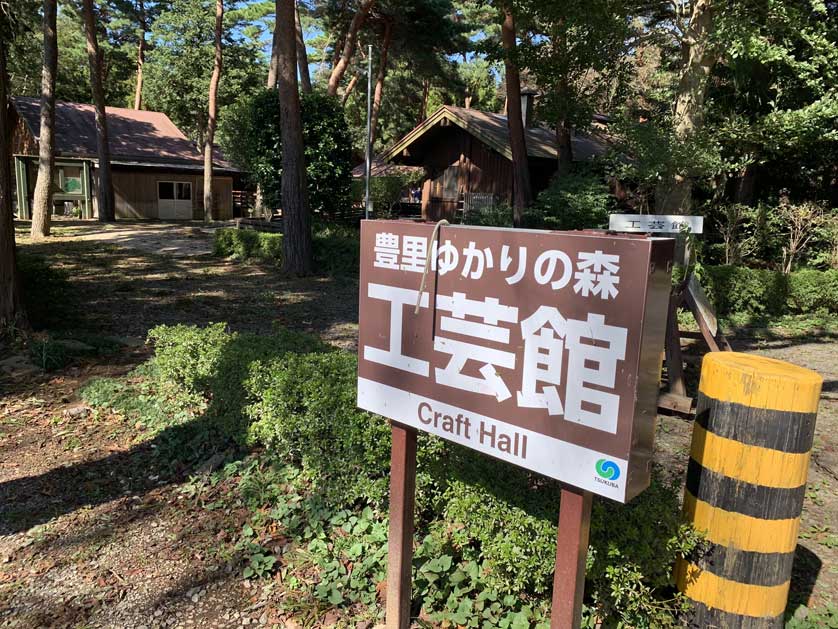 Craft Hall, Yukari-no-Mori Nature Park, Tsukuba
Book Hotel Accommodation in Tsukuba
All the themes of the city