Keitakuen Garden
慶沢園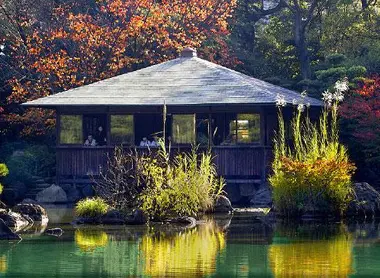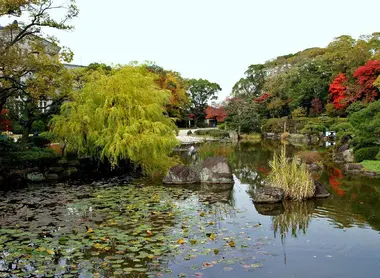 Unepromenade chinoise à Osaka
Lejardin Keitakuen du parc de Tennoji propose une invitation auvoyage. Méconnu des touristes, ce petit sanctuaire de verdure abrite pourtantl'un des plus beaux spécimens de jardin. Embarquez pour une balade autour d'unétang.
The words are not chosen at random. Walk around a pond or chisen kaiyu-shiki presents a particular style of garden. Of Chinese inspiration, this green hamlet brings together all the classics that create the beauty of these landscapes: a pond, water lilies, century old shrubs trimmed with precision and delicacy, bridges and even a tea house. The Keitakuen calls for contemplation.
Entering this garden, time seems to stand still, just a few steps away from the buildings of the city. There are no worries, the inhabitants, turtles and carp are not likely to disturb the tranquility of your walk.
Located in the large grounds of Tennoji  Park, south of Osaka, the Keitakuen has an ideal location among other cultural and tourist attractions such as the zoo and the City Museum of Art.
---
Address, timetable & access
All the themes of the city