Masuhogaura Beach
増穂浦海岸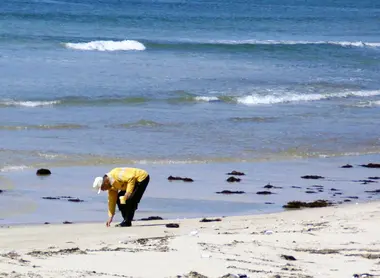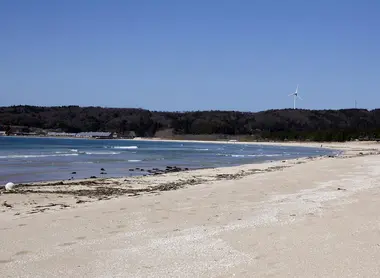 Shell hunting
White sand and crystal clear water, it was enough to make Masuhogaura beach, in the Noto peninsula, one of the most beautiful beaches in Japan.
A stone's throw from the city of Shika in Ishikawa Prefecture is Masuhogaura Beach. As the mild spring sun has peeked out, the Japanese are gradually finding their way back to the beaches.
If it is not yet time for sunbathing and swimming, many people have come to collect the little treasures of which Masuhogaura beach has the secret. Tiny little multicolored shells wash up on this strip of white sand stretching several kilometers all year round, which the inhabitants of the region like to come and pick up and which make this Japanese beach famous.
Our file: Beaches in Japan
A beach between dune and pine forest
When the fine weather returns and the heat returns, these nature hunters and holidaymakers come together to enjoy the soft sand of this hanse-shaped beach . Bordered on one side by a pine forest and on the other by dunes which form a protective cordon, it offers visitors a perfect setting in which to enjoy the summer sun.
But that's not all. Because in addition to having white sand that almost gives the impression of being on one of the beaches of Okinawa, this beach on the Noto Peninsula has one of the clearest and purest waters in the archipelago . Perfect for swimming with a mask and snorkel and why not try snorkeling!
See also: Diving in Japan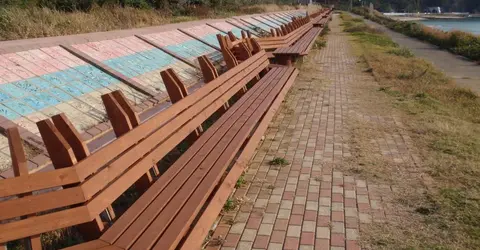 An extraordinary bench
Finally, for those who like to visit out-of-the-ordinary places, Masuhogaura beach holds a record and not the least. Indeed, it is on its heights that there is extraordinary street furniture: the bench designated in 1989 as the longest in the world by the Guinness Book of Records. With its 460.9 meters long , you will have plenty of time to choose the best place to watch the sun set on the horizon of Masuhogaura beach!
Shika is also home to Japan's oldest wooden lighthouse , so be sure to check it out.
---
Address, timetable & access
All the themes of the city