Hirayu Waterfall
平湯大滝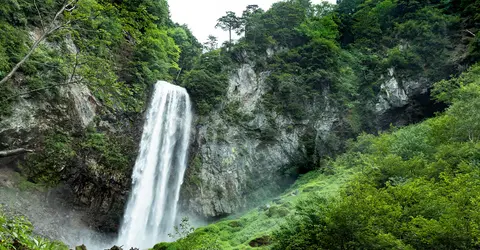 The waterfall of the Japanese Alps
In Gifu Prefecture, Hirayu Waterfall (Hirayu Otaki) is nestled in the heart of the Japanese Alps . Particularly impressive, it is a beautiful excursion linked to the spa town of Takayama.
A nice nature walk
Until 2016, the waterfall was part of a park with the same name, which offered other attractions like soba noodle making. It was, however, eventually closed, and the waterfall is now accessible on its own.
The latter can be discovered at the bend of a path, nestled in the middle of greenery in lush vegetation typical of Japan. The Hirayu waterfall pours the water of the Otakigawa River with a crash, and impresses with its dimensions: with its 64 meters high and 6 meters wide, it is well placed in the ranking of the 100 most beautiful waterfalls in Japan . It is easily and quickly accessible from the village of Hirayu, via an easy and well marked path in the middle of nature.
Discover the city of Takayama in one day with our Travel Angel.
The waterfall has its own charm for all seasons: in spring and summer, people come to cool off by sitting on the edges of the rocks. In autumn, the waterfall is set in a flamboyant setting , surrounded by the ocher, golden and vermilion leaves of the surrounding trees. It is then particularly impressive and poetic. But winter also offers a unique spectacle: indeed, the waterfall freezes , and visitors can then admire its ice peaks suspended from the cliff. The view is of course even more beautiful when it snows! Not to mention that every year, for ten days in February, the "Hirayu Waterfall Ice Festival" is held. On this occasion, the frozen waterfall is illuminated in blue and green, offering a new and magical vision...
Finally, a local legend tells that during the Warring States period (XV th - XVI th century), the village of Hirayu was discovered thanks to soldiers who followed a white monkey, which they saw emerging from behind the waterfall to bathe in the nearby hot springs...
To discover : Best Hikes from Takayama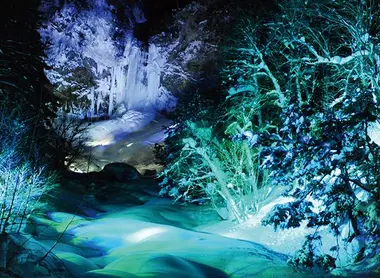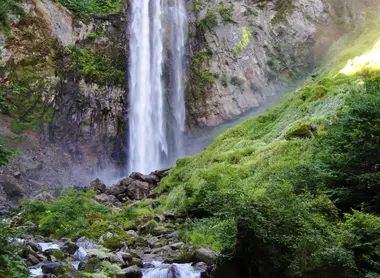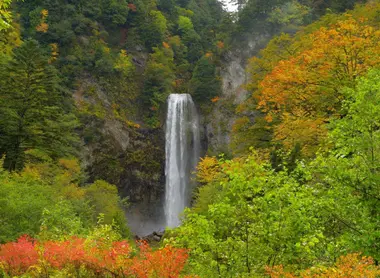 Enjoy an onsen
If you choose to pay a visit to Hirayu Waterfall, you will necessarily pass through Hirayu Village , which is nearby. However, this village is full of thermal springs that have made it famous. We therefore advise you to give yourself a moment of relaxation after the short hike around the waterfall, and to bask in one of the many onsen in this town. To prolong the experience, you can even spend the night in a traditional ryokan !
To read: A short guide to the onsen
---
Address, timetable & access
Address

Phone

+81 (0)578-86-2111

Timetable

From Takayama, take a bus from Takayama Nohi Center and get off at Hirayu.
All the themes of the city