Saigoku Kannon Pilgrimage
The Saigoku Kannon Pilgrimage is an ancient pilgrimage route of 33 Buddhist temples, centered on Kyoto. It is most probably the oldest pilgrimage in Japan.
Saigoku Kannon Pilgrimage 西国三十三所
Jake Davies
The Saigoku Kannon Pilgrimage is an ancient pilgrimage route of 33 Buddhist temples, centered on Kyoto but that covers the surrounding region. It is most probably the oldest pilgrimage in Japan and many copies of it have been established throughout the country.
The focus of the pilgrimage are the statues of Kannon Bosatsu worshiped at each of the temples. Kannon is one of the most popular deities in Japan and is often represented in female form so giving her the nickname of the Goddess of Mercy. Kannon takes on many forms, a popular one being with one thousand arms. For more details of Kannon and some of the giant statues around Japan, please see our feature article on Kannon.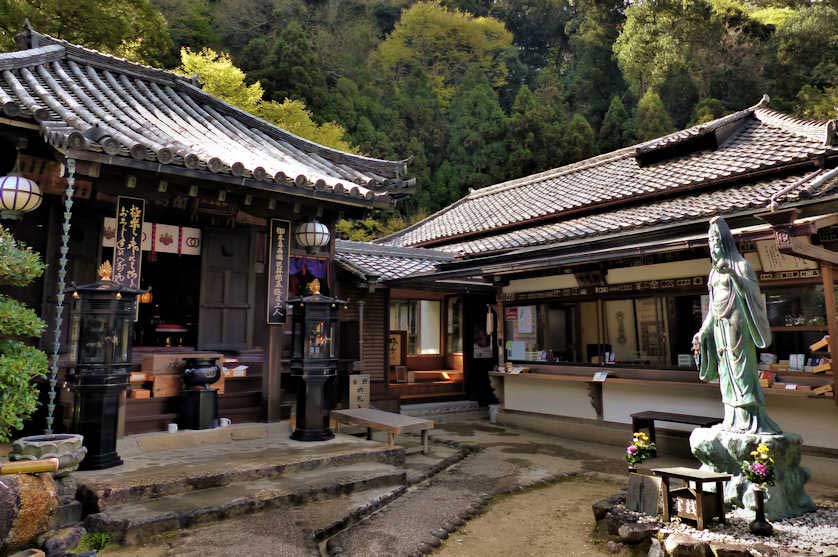 Across from the entrance to Hasedera Temple in Nara, a small temple, Hoki-in, memorializes Tokudo, the monk who founded the Saigoku Pilgrimage in 718
History
According to the legend the Saigoku Pilgrimage was founded by a monk named Tokudo who was in charge of Hase-dera Temple near Nara in the early 8th century.
In a vision he was instructed to set up the pilgrimage, however it never really became popular. In the 10th century Emperor Kazan discovered documents about the pilgrimage in Nakayamadera Temple and went on the pilgrimage.
For centuries it was only used by royalty and aristocrats, but eventually became popular among the main population as pilgrimages boomed in the Edo Period.
It is not necessary to visit the temples in order, nor visit them all in one trip. Many people make multiple journeys when their free time allows. There are group tours by bus, and many people use their own cars, but it is possible to visit all the temples by a combination of bus and train. For those who cannot do much walking a taxi may sometimes be needed.
You do not need to be a Buddhist to follow the pilgrimage, nor do you need to perform any religious practices, however most people purchase a book called a nokyocho and at each temple you visit you receive a large stamp and some calligraphy in it. This makes for a unique memento.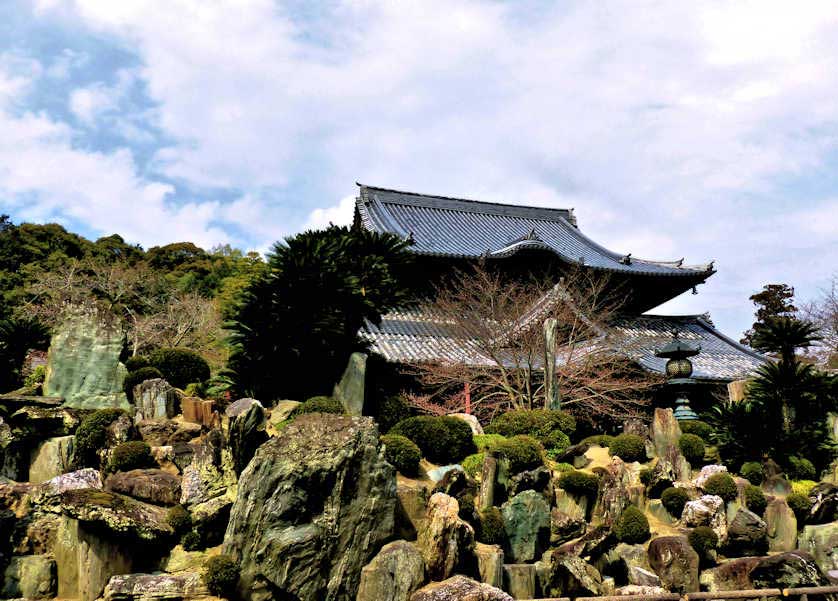 The unusual rock garden in front of the main hall at Kokawa-dera Temple
Temples
Seiganto-ji, Nachikatsuura, Wakayama
Seiganto-ji became temple number 1 of the pilgrimage in the Edo Period when millions of Japanese made the pilgrimage to the shrines at Ise.
By making Seiganto-ji the first temple it made it easier for the pilgrims to go directly from Ise to Nachi. It is located near the tallest waterfall in Japan and is also a part of the Kumano Kodo World Heritage Sites.
Kimii-dera, Wakayama City, Wakayama.
Located on a hillside overlooking Wakayama city, the cherry trees at Kimii-dera Temple are used to determine the official start of the cherry blossom viewing season for the region of Kansai. Worth seeing is an 11 meter tall golden statue of Kannon.
Kokawa-dera, Kinokawa, Wakayama
This is one of the biggest temples on the pilgrimage with many shrines, sub-temples, gardens, and statues within its grounds. The main gate, Daimon, middle gate, Chumon, and main hall, Hondo, are particularly impressive, though perhaps the most noteworthy feature is the very unusual rock garden. Made before the Edo Period, it is a "dry" garden, though there is no raked gravel. It is composed of a large number of big rocks of different colors brought from three different areas and arranged to represent mountain ranges.
2787 Kokawa, Kinokawa, Wakayama 649-6531Tel: 0736 73 4830
A 15 minute walk (1.3 km) from Kokawa Station on the JR Wakayama Line.
Sefuku-ji, Izumi, Osaka
Commonly known as Makino-dera, this small, mountain temple located in the mountains between Osaka and Wakayama is one of the harder temple on the pilgrimage to reach. It is particularly beautiful when the plum and cherry trees are blooming. Interestingly, Kobo Daishi, one of the most well known religious figures in Japanese history, was ordained here. He had been a practicing monk for a decade without actually being ordained, but when he was chosen to make an official visit to China he had to quickly arrange an ordination.
136 Makiosancho, Izumi, Osaka 594-1131Tel: 0725 92 2332
Stations nearest the temple are Izumiotsu on the Nankai Line, JR Izumi-fuchu, and Izumi-chuo.
From all those station a Nankai bus will take you to Makio Chugakko-mae, and from there a mini-bus runs up to the entrance. However it is still a 1 kilometer walk uphill from there.
Fujii-dera, Fujiidera, Osaka
Fujii means wisteria, so it is no surprise that the temple has wisteria growing and holds a festival in April and May when they are in bloom. The temple is in a highly built-up area of the city. Nearby are several large, keyhole-moated tombs of ancient emperors which underscores the areas importance in ancient times. The statue of cannon is believed to be the oldest statues extant in all of Osaka.
1-Chome-16-21 Fujiidera, Osaka 583-0024Tel: 072 938 0005
The temple is a few minutes' walk from Kintetsu Fujiidera Station.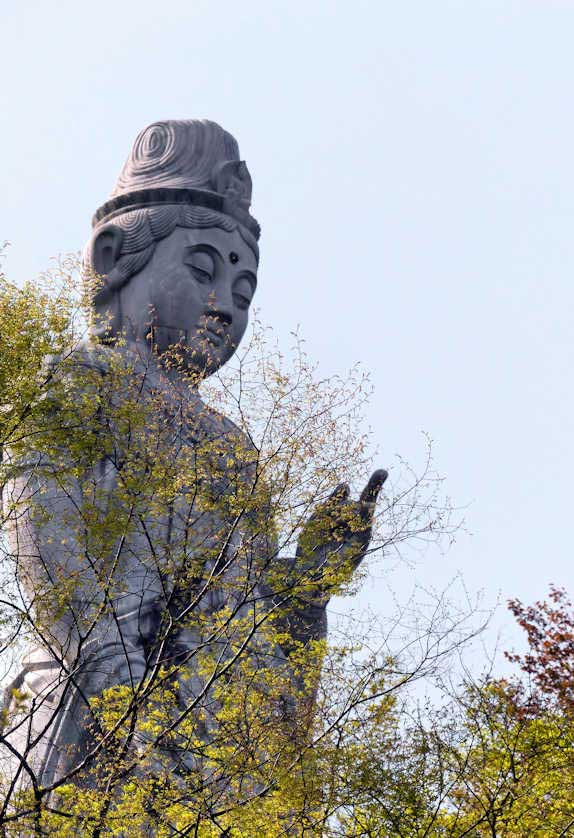 20 meter tall stone statue of Kannon at Tsubosaka-Dera Temple
Minamihokke-ji (Tsubosaka-dera), Takatori, Nara
Tsubosaka-dera is another mountain temple in a quite remote location. It is a massive complex with many different structure including a 15th century pagoda, and a  hall built in the style of an Indian temple with stone imported from India. There are many legends and stories connected to the temple and among the statuary is a 20 meter tall stone statue of Kannon. There are great views down towards Asuka. The old pilgrimage footpath still runs from the bottom of the mountain.
3 Tsubosaka, Takatori, Takaichi-gun, Nara 635-0102Tel: 0744 52 206
The closest station is Tsubosakayama on the Kintetsu Railway. From there a bus runs 3.4 kilometers up to the temple.
Oka-dera, Asuka, Nara
Established in the 7th century before the capital was established in Nara, this mountainside temple is one of the oldest in Japan. Read more on Okadera.
Hase-dera, Sakurai, Nara
This was the temple where Tokudo, the founder of the Saigoku Pilgrimage was head priest. Hase-dera was long a stop for royalty and aristocrats on their way to the Ise shrines. Full details and access information can be found on our guide to Hasedera.
Nan'endo (Kofuku-ji), Nara City, Nara
Nan'endo is an 8-sided hall within the massive temple complex of Kofukuji. One of the most important temples in early Japan, it is now a World Heritage Site and very popular tourist destination. Full details and access information.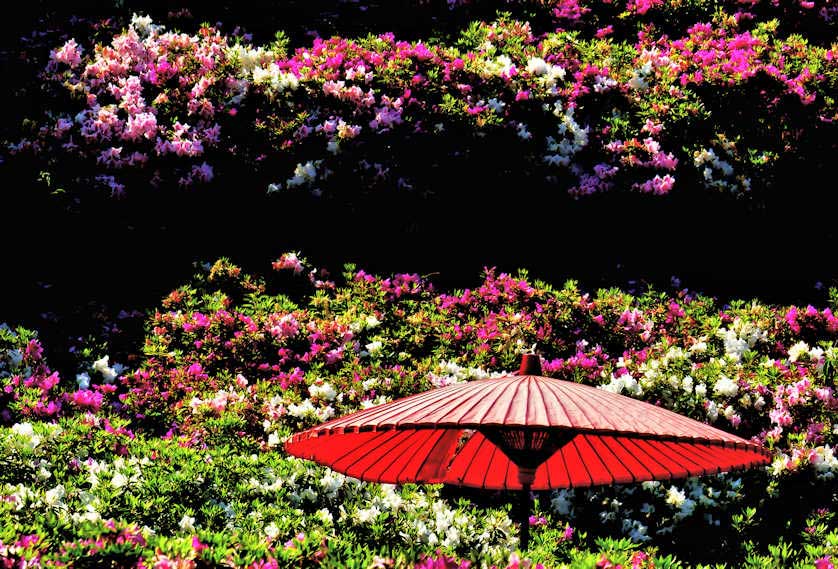 Mimuroto-ji Temple is nicknamed "Flower Temple" because of its wide range of flowers including azaleas

Mimuroto-ji, Uji, Kyoto
With acres and acres of Hydrangeas, Mimuroto-ji is most  crowded in June, but also popular when azaleas, cherry blossoms, and Lotus are blooming. The temple is not far from the famous Byodo-in.
Kami Daigo-ji, Fushimi-ku, Kyoto
Daigo-ji is a large and very popular temple complex associated with Japanese rulers since ancient times, however the pilgrimage destination is Kami-Daigo-ji, a complex of very old buildings on top of the mountain and only accessible by a 2.5 kilometer walk uphill.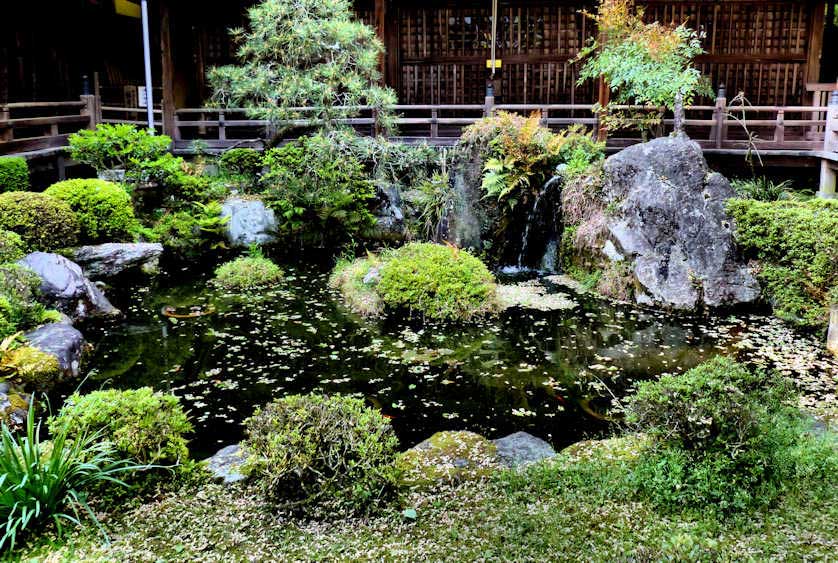 This small pond at Iwama-dera temple is believed to be the inspiration for one of Basho's most famous haiku
Shoho-ji (Iwama-dera), Otsu, Shiga
Iwama-dera is a relatively small mountain temple and is hard to get to to. The most interesting feature is a very small pond. It is believed that what is probably the most famous Haiku by Basho was written here.
The old ponda frog jumps insound of water
82 Ishiyamauchihata-cho, Otsu, Shiga 520-0869Tel: 077 534 2412
The closest station is Ishiyamadera on the Keihan Railway. The temple is about 7 kilometers away. A local bus can get you a bit less than half way but that still leaves an hour's walk uphill. On some days there is a free shuttle bus from the station to the temple.
Ishiyama-dera
A large temple with several gardens and many ancient buildings and structures. The main hall was built 1,000 years ago and is the oldest building in all of Shiga. The temple is famous for being where Murasaki Shikibu started to write The Tale of Genji.
1-chome-1-1 Ishiyamadera, Otsu, Shiga 520-0861Tel: 077 537 0013
The temple is about a ten minute walk south of Keihan Ishiyamadera Station
Mii-dera, Otsu, Shiga
Another huge temple complex with many buildings, structures, statues, and legends.
Miidera was in conflict with nearby Enryakuji on Mt. Hiei for most of its history.
Imakumano Kannon-ji, Higashiyama-ku, Kyoto
A relatively small temple in the foothills south of Kyoto. It is immediately adjacent to the much larger Sennyu-ji and not far from the famous Tofuku-ji. Like some of the other temples on the pilgrimage there is a forest path to follow that has statues representing all of the 33 temples on the pilgrimage.
32 Sennyuji Yamanouchicho, Higashiyama-ku, Kyoto 605-0977Tel: 075 561 5511
The temple is a 20 minute walk from Tofukuji Station on the Keihan Line.
Kiyomizu-dera, Higashiyama-ku, Kyoto
One of the iconic sites of Kyoto and visited by most visitors to the city. Full details and access information are on or Kiyomizu Temple guide.
Rokuharamitsu-ji, Higashiyama-ku, Kyoto
Famous for being the headquarters of the Taira Clan, this small temple is situated in the middle of Kyoto. Its Treasure House has some excellent pieces of art. Full  details and access information are on our Rokuharamitsu-ji Temple guide.
Choho-ji (Rokkaku-do), Nakagyo-ku, Kyoto
Another smallish temple right in central Kyoto, a very popular temple due to its reputation as the birthplace of Ikebana.  Full details and access information are on our Rokkakudo Temple guide.
Gyogan-ji (Kodo). Nakagyo-ku, Kyoto
Gyogan-ji is a very small temple in the middle of Kyoto at the south east corner of the Imperial Palace. It was originally much larger. Interestingly the temple is the only temple on the pilgrimage run by nuns rather than monks.
17 Gyoganjimonzen-cho, Nakagyo-ku, Kyoto The nearest station is Jingu Marutamachi on the Keihan Line.
Yoshimine-dera, Nishikyo-ku, Kyoto
Situated in the mountains with great views down over Kyoto, Yoshimine-dera is famous for its Hydrangea gardens and for an unusual pine tree called Yuryumatsu which is thought to be at least 600 years old and has been trained to grow horizontally for about 37 meters.  For full details and access information see our Yoshiminedera guide.
Anao-ji, Kameoka, Kyoto
A small temple that is hard to access, not because it is high in the mountains, but because it is a rural area outside the small town of Kameoka west of Kyoto. It is one of the oldest temples in the Kameoka area and has a nice garden and numerous legends and stories.
Higashinotsuji-46 Sogabecho Anao, Kameoka, Kyoto 621-0029Tel: 0771 24 0809
The nearest station is JR Kameoka. The temple is about 4 kilometers away, 20 minutes by bus of which there are several.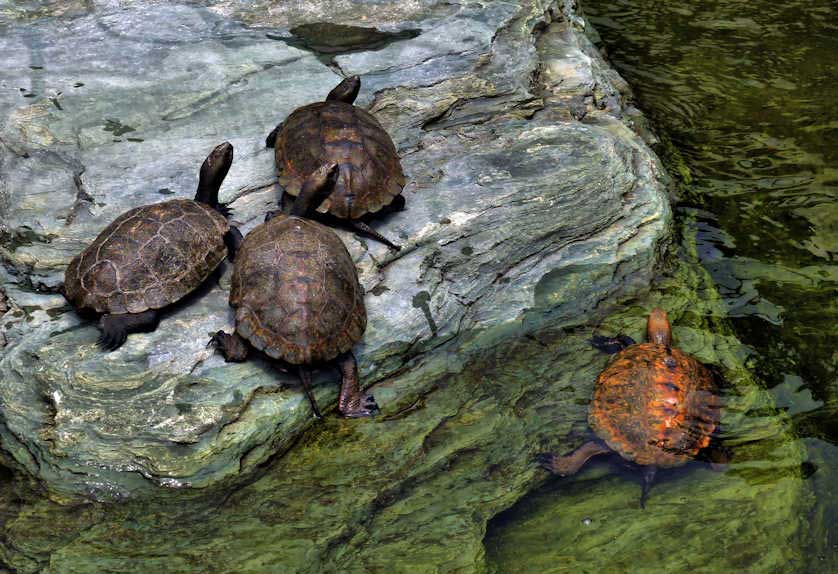 Turtles basking in the sun at Sojiji Temple
Soji-ji, Ibaraki, Osaka
Located in a residential district in Ibaraki between Kyoto and Osaka, the temple is very popular with Japanese but is almost unknown among international visitors. It has an impressive, but new, main gate and the grounds are landscaped with different type of garden. You will also see many turtles as a legend involving a turtle is set in the temple.
1 chome-6-1 Sojiji, Ibaraki, Osaka 567-0801Tel: 072 622 3209
The temple is just a 5 minute walk from either JR Sojiji Station or Hankyu Sojiji Station.
Katsuo-ji, Mino, Osaka
A large and very scenic temple complex in the mountains north of Osaka. With large ponds and gardens as well as may temple structures, the most noticeable feature are the thousands of miniature Daruma dolls scattered everywhere. For full details and access information see our Katsuo-ji Temple guide.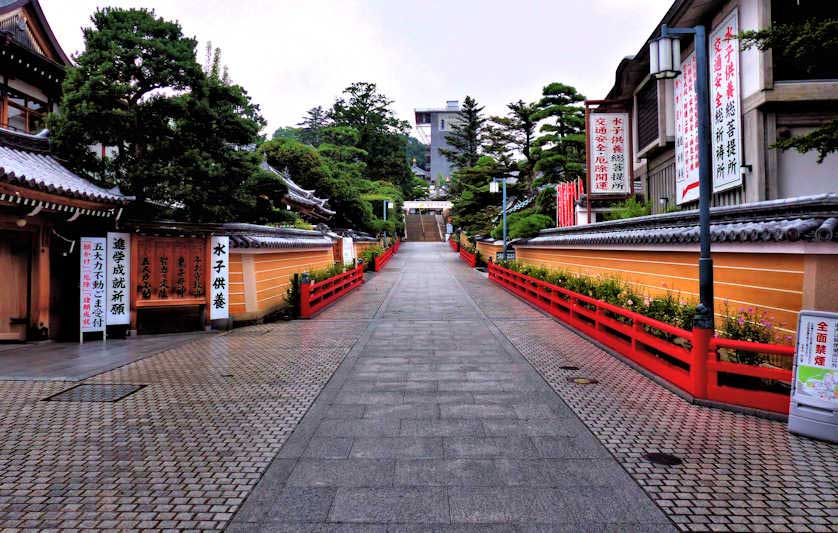 The wide approach to Nakayamdera Temple, lined with numerous sub-temples and shrines
Nakayama-dera, Takarazuka, Hyogo
Nakayamadera is a very popular temple though not so well known among foreign visitors as it is not near any of the major tourist enclaves. A large complex with many structures, some new but some more than 400 years old. With 1,000 plum trees is is popular in early spring. It was at Nakayamadera that Emperor Kazan (968 - 1008) discovered documents left by the monk Tokudo who had founded the Saigoku Pilgrimage, and Kazan then re-established it after it had fallen into disuse.
2 chome-11-1 Nakayamadera, Takarazuka, Hyogo 665-8588Tel: 0797 87 0024
A 5 minute walk from Nakayama-Kannon Station on the Hankyu Railway, or a 15 minute walk from JR Nakayamdera Station.
Kiyomizu-dera, Kato, Hyogo
The full name of this temple is Mt. Ontake Banshu  Kiyomizu Temple, and it is a very difficult temple to reach. Located  in the mountains in a very remote and rural part of Hyogo Prefecture, it is particularly popular in the autumn when the leaves change color. It is said to be very old, being founded by a monk from India in 625. Most of the structures are not very old as fires and other natural disasters have ravaged the temple over the centuries. The old pilgrim footpath from the bottom of the mountain is still in use.
1194 Hiraki, Kato, Hyogo 673-1402Tel: 0795 45 0025
The temple is 12 kilometers from the nearest station, Aino on the JR Fukuchiyama Line. A bus runs to the temple, but only twice a day.
Ichijo-ji, Kasai, Hyogo
Another mountain temple situated in a rural part of Hyogo, though not  too far from Himeji city. It is home to a pagoda that dates back to the 12th century that is a registered National Treasure as are several of the temple's statues. Visitors flock here in spring for cherry blossoms and in the autumn for the colored leaves.
821-17  Sakamotocho, Kasai, Hyogo 675-2222Tel: 0790 48 2006
The closest station is Hokkeguchi on the Shintetsu Railway. Buses run directly to the temple. The same bus route starts in Himeji city and takes 45 mins to reach the temple.
Engyo-ji, Himeji, Hyogo
Engyo-ji is a temple among a massive monastery complex on a mountaintop in the outskirts of Himeji. It is accessible via a rope-way. It has become famous as a location where some scenes of Tom Cruise's blockbuster The Last Samurai were filmed.  For full details and access information see our Engyoji guide.
Nariai-ji, Miyazu, Kyoto
Located on a mountaintop with views over Amanohashidate, the pine covered sandbar across Miyazu Bay on the north coast of Kyoto that is considered one of the Three Great Views of Japan. In fact, the easiest way to get to Nariaiji is to walk or cycle across the sandbar and then take the cable car located next to Kono Shrine. At the top a shuttle bus runs the 5 kilometers to the temple.
339 Nariaiji, Miyazu, Kyoto 629-2241Tel: 0772 27 0018
The closest station is Amanohashidate. From here a bus runs around the bay and stops near the cable car station.
Matsuno-dera, Maizuru, Kyoto
Located in the mountains near Maizuru, this is a relatively small temple complex in one of the hard to reach locations of the pilgrimage. Founded by a monk from China, the principal deity is a "Horse-head Kannon", one of the rarer forms of Kannon on the pilgrimage.
532 Matsunoo, Maizuru, Kyoto 625-0010Tel: 0773 62 2900
The nearest station is Matsuno Odera Station on the JR Obama Line. Trains are not frequent and there is no bus service for the 4 kilometers to the temple.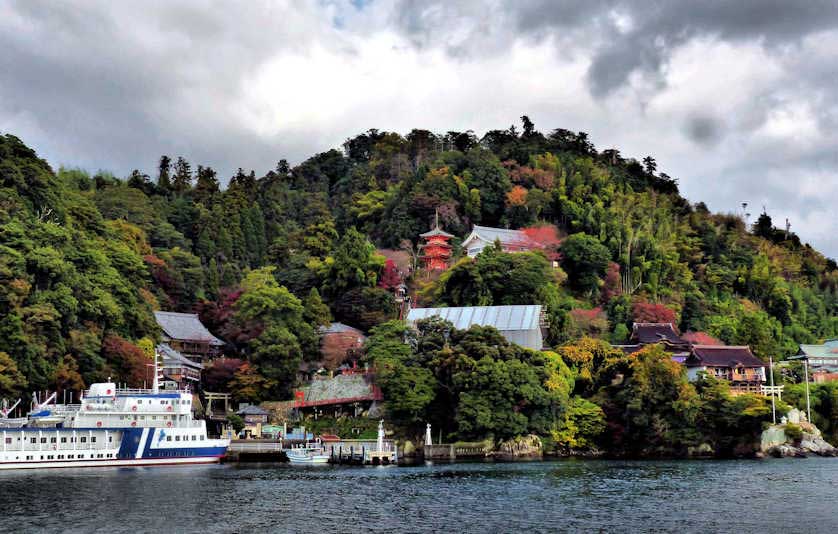 Chikubu, a sacred island in Lake Biwa is most famous for being one of the three important sites of Benzaiten in Japan

Hogon-ji, Nagahama, Shiga
The temple can only be reached by boat as it is located on Chikubu, a sacred island in the middle of Lake Biwa. Setting for many famous stories, legends, and plays, the tiny island has a cluster of shrines and temples primarily focusing on Benzaiten, a very popular Shinto-Buddhist Goddess.
1664-1 Chikubushima, Nagahama, Shiga 526-0124Tel: 0749 63 4410
A ferry runs between Imazu on Lake Biwa's western shore and Nagahama on its eastern shore making a stop at Chikubushima. There is also a very service from Hikone.
Chomei-ji, Omihachiman, Shiga
A small but picturesque temple on top of a small mountain overlooking Lake Biwa. Reputedly founded by Shotoku Taishi in 619, the temple structures include some dating back to the 17th century.
157 Chomeijicho, Omihachiman, Shiga 523-0808Tel: 0748 33 0031
About 9 kilometers from Omihachiman Station. A bus from the station stops at the stairs up to the temple and it takes about 20 mins to climb up.
Kannonsho-ji, Omihachiman, Shiga
A mountaintop temple also reputedly founded by Shotoku Taishi who was begged by a merman in lake Biwa to provide a Kannon statue. In the unusual rock landscaping behind the main hall are statues depicting this legend. From the temple you can look down on where Oda Nobunaga built his famous Azuchi Castle. The statue of Kannon, which is viewable by the public, is an unusual Thousand-Armed Kannon carved out of 23 tons of Indian Sandalwood
2-Ishidera, Azuchicho, Omihachiman, Shiga 521-1331Tel: 0748 46 2549
The only public transport for the temple is a bus from Notogawa Station. This drops you at the base of the mountain on its western side and still entails a 4 kilometers hike uphill. If you want to walk there are several routes up from the more populous eastern side of the mountain.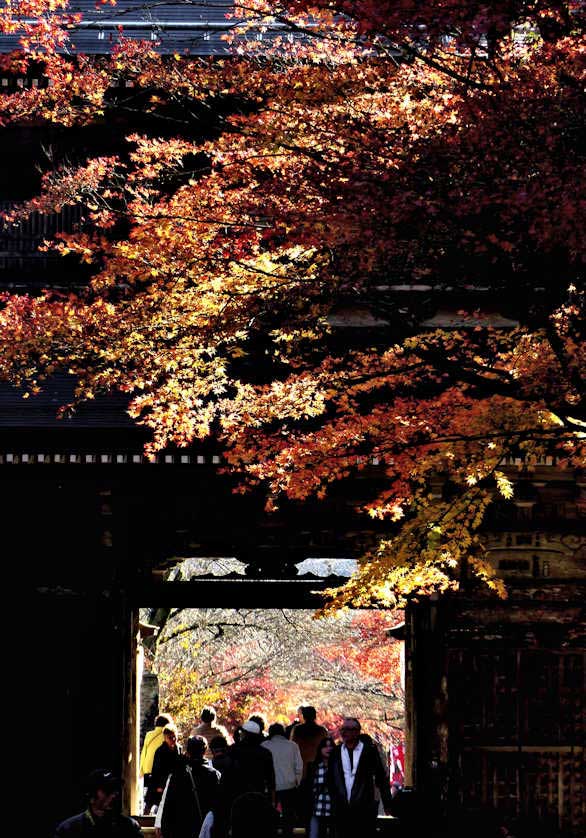 The main gate at Kegonji Temple in Gifu, the last temple on the Saigoku Pilgrimage
Kegon-ji, Ibigawa, Gifu
The final temple is in the mountains of Gifu. Approached up a street lined with souvenir shops, eateries,  pilgrimage suppliers, and guest houses. It is a fairly large complex particularly popular in the time of autumn colors and also cherry blossoms.
23 Tanigumitokuzumi, Ibigawa, Gifu 501-1311Tel: 0585 55 2033
The closest station is Tanigumiguchi on the Tarumi Railway. Buses run the 5 kilometers to the temple. Buses also run to the temple from Ibi Station, the terminal of the Yoro Railway. This is further away, but may be a more convenient route depending on where you are coming from.
All the themes of the city