Aonami Line Nagoya
Aonami Line あおなみ線
The Aonami Line in Nagoya connects Nagoya Station with the Nagoya Port district.
Previously a freight line, the Aonami Line opened for passenger traffic in 2004.
The 15.2 km-long Aonami Line has 11 stations: Nagoya Station, Sasashima-raibu, Komoto, Arako, Minami-Arako, Nakajima, Nagoya Keibajo-mae, Arakogawakoen, Inaei, Noseki and Kinjo-Futo.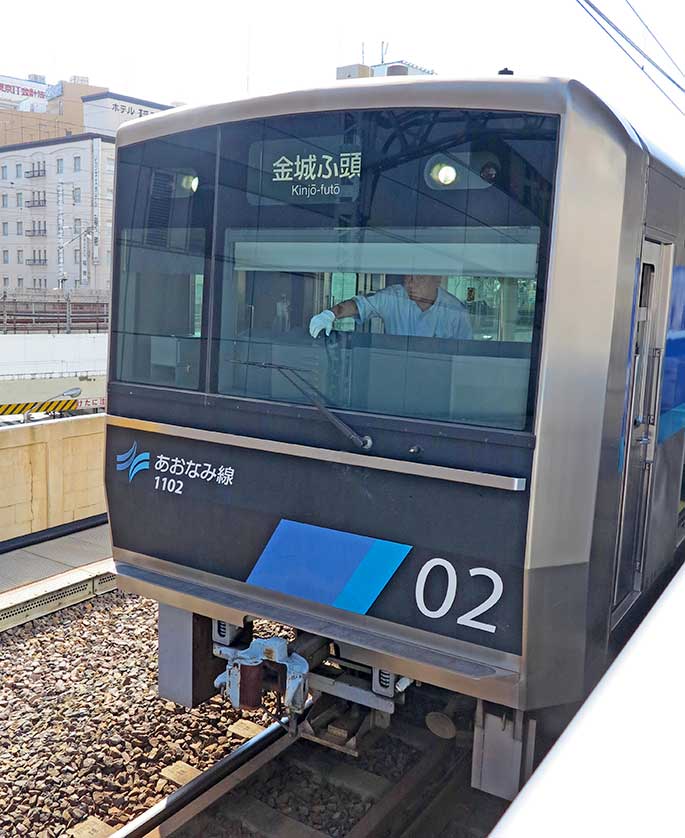 Aonami Line Train, Nagoya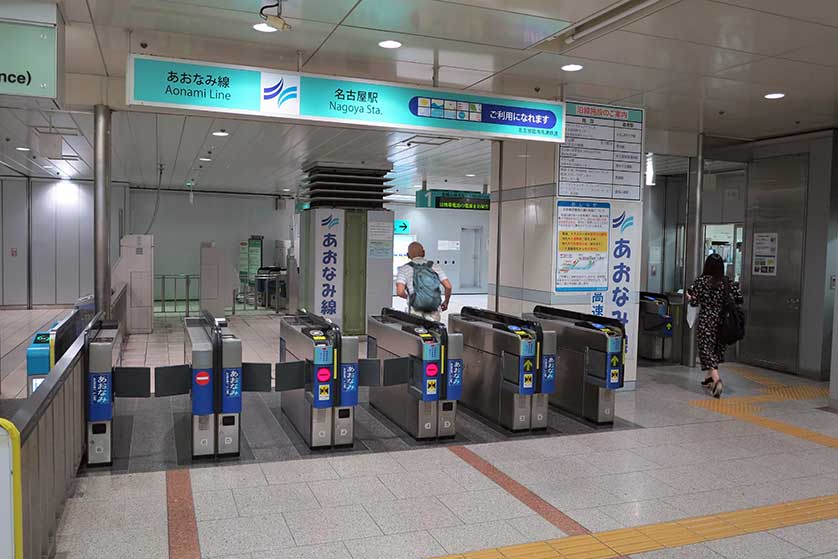 Entrance to the Aonami Line, Nagoya Station
IC cards such as the local Chubu area Manaca as well as such cards as the PASMO & SUICA can be used on the Aonami Line. The full fare from Nagoya Station to Kinjo-Futo is presently 350 yen (180 yen for children) and takes 24 minutes.
The Do-nichi Eco Kippu (a pre-paid card for 600 yen available on Saturdays and Sundays which gives unlimited travel for the day on subways and buses and reductions on admission to Nagoya's Science Museum, Higashiyama Zoo and Nagoya Castle) is NOT valid on the Aonami Line.
The Aonami Line is useful for getting to the Nagoya Immigration Office which is at Nagoya Keibajo-mae and Nagoya Ferry Terminal for ferries to Sendai and Tomakomai. Take a local bus from Noseki Station 7 minutes to the ferry port.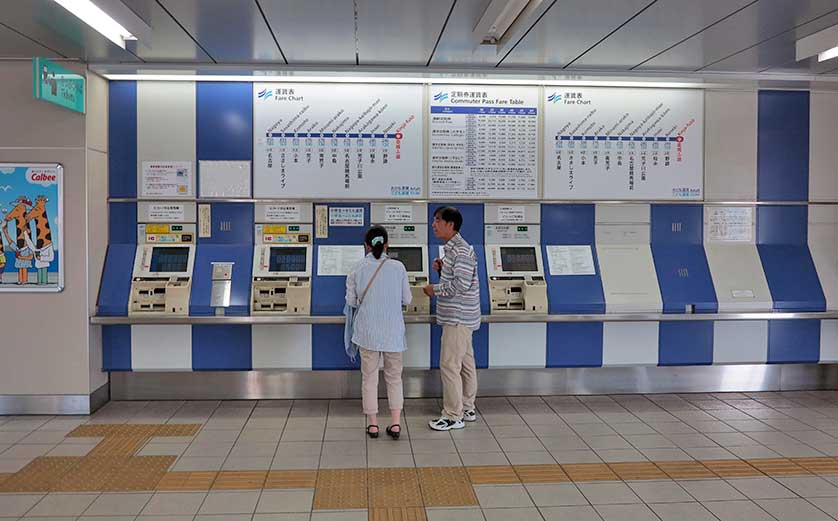 Aonami Line ticket machines at Kinjo-Futo Station, Nagoya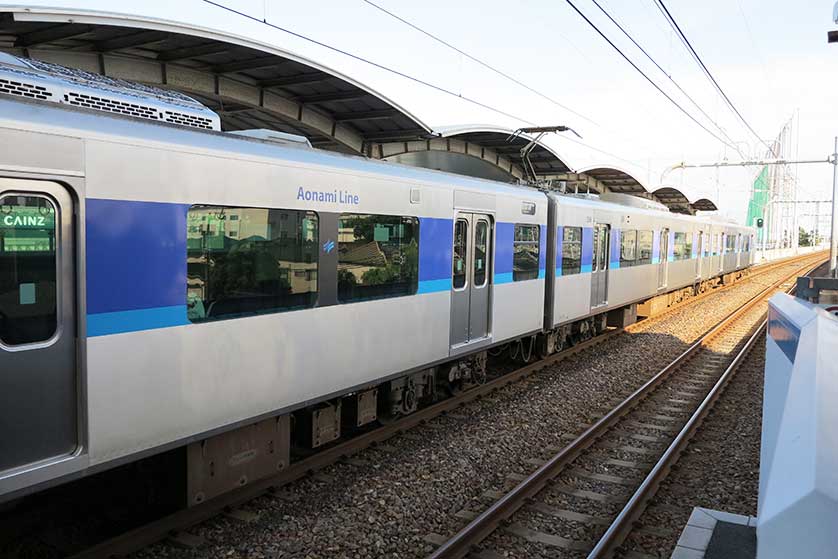 Aonami Line train at Inaei Station, Nagoya, Aichi
Aonami Line Stations
Nagoya Station
JR Nagoya Station has Tokaido Shinkansen to Osaka (51 minutes), Kyoto (36 minutes) and Tokyo (1 hour, 50 minutes), Yokohama and Shinagawa. JR trains from Nagoya Station run to Okazaki, Gamagori, Toyohashi, Gifu, Maibara, Ogaki and Tajimi. The JR Hida Express runs from Nagoya to Takayama (2 hours, 17 minutes) and Toyama (4 hours) via Gero Onsen (95 minutes). The JR Shinano Express goes to Nagano (2 hours, 55 minutes). The Shirasagi Express service (approx 3 hours) runs to Kanazawa.
The Higashiyama Line and Sakuradori Line of the Nagoya subway also intersect at Nagoya Station.
Meitetsu Nagoya Station connects Nagoya with Inuyama, Gifu, Mitake, Okazaki, Toyokawa Inari, Gamagori, Toyohashi, the Chita Peninsula and Chubu International Airport via Kanayama Station. The Meitetsu Airport Rapid Limited Express "μ-SKY" runs between Chubu International Airport south of Nagoya and Nagoya Meitetsu Station, Gifu, Shin-Unama and Gifu. The journey takes 28 minutes and costs 850 yen plus 350 yen for the μ-ticket, total 1200 yen. Meitetsu also runs trains to various suburbs of Nagoya including Arimatsu, Chiryu, Tsushima, Hekinan and Toyota city.
From Kintetsu Nagoya Station there are Kintetsu trains to Osaka Namba Station, Tsuruhashi and Uehommachi in the Kansai, Kintetsu Nara Station in Nara (with changes as Yamato-Yagi and Yamato-Saidaiji stations), Tenri and Kyoto as well as Kuwana, Yokkaichi and further south Toba and Kashikojima in the Ise Shima region of Mie Prefecture.
Sasashima-raibu Station
The 109 Cinemas multiplex is at Sasashima-raibu close to Meitetsu Nagoya Station.
Komoto Station
Komoto Station is a short walk south of Kasumori Station on the Kintetsu Nagoya Line and not far east of both Hatta Station on the JR Kansai Main Line and and Kintetsu-Hatta on the Kintetsu Line.
The Nagoya City Wild Bird Observation Center is also close to Noseki Station. During spring and autumn thousands of migratory shorebirds rest and feed in the area, which is protected under the 1971 Ramsar Convention on wetlands.
Arako Station
Arako Station is close to Arako Kannon and is home to a two story pagoda which is one of the oldest wooden buildings in Nagoya dating from 1536. Outside the station is an equestrian statue of local hero Maeda Toshiie.
Minami-Arako Station
Minami-Arako Station is just south of Daisanjuhachigo Yamajio Ryokuchi Park.
Nakajima Station
Nakajima Station is located on National Highway Route 1, west of Rokuban-cho Station on the Meiko Line with which it is connected by Nagoya city bus.
Nagoya Keibajo-mae Station
Nagoya Keibajo-mae Station is adjacent to Nagoya Immigration Office and close to Nagoya Racecourse.
Arakogawakoen Station
Arakogawakoen is adjacent to the large Arakogawa Park.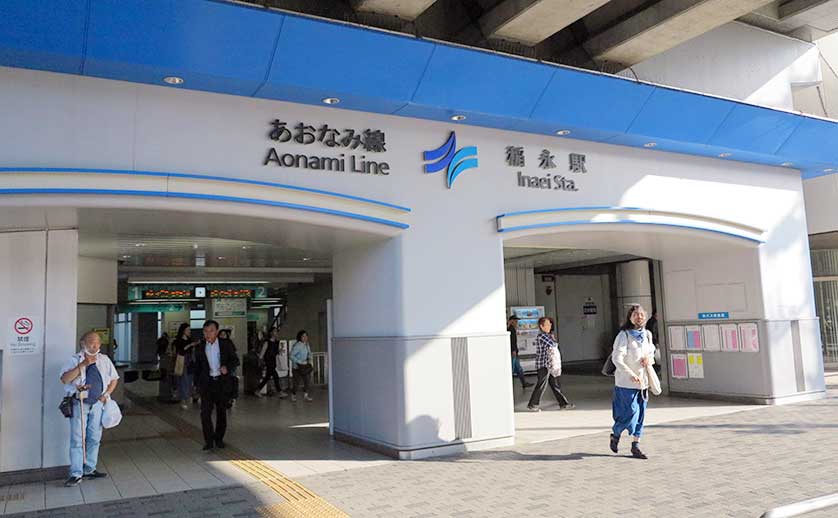 Inaei Station, Aonami Line
Inaei Station
Inaei Station is about 1km west of the quirky Nihonkoma Museum with its large collection of spinning tops (koma).
Noseki Station
Noseki Station is convenient for Nagoya Ferry Terminal which has ferries to Sendai and Tomakomai in Hokkaido. Take a local Nagoya city bus from Noseki Station 7 minutes to the ferry port.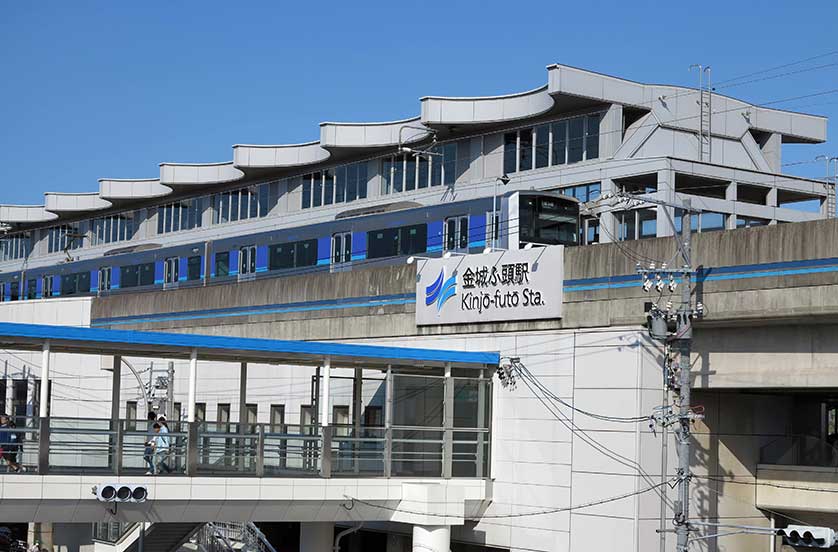 Kinjo-Futo Station, Aonami Line
Kinjo-Futo Station
The terminus at Kinjo-Futo is close to the Port Messe Nagoya convention and exhibition center, the European-style Maker's Pier outside mall, Legoland Japan and the SCMaglev & Railway Park.
From 2018 the four star Legoland Hotel and Sealife Legoland have opened at the site.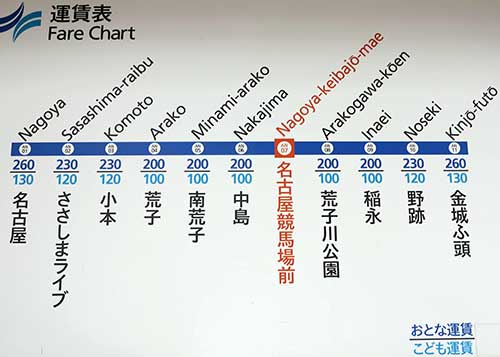 Aonami Line Nagoya - fares from Nagoya Keibajo-mae Station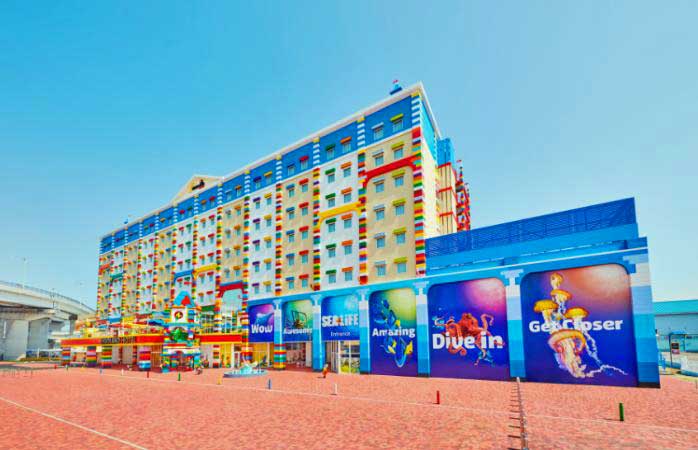 The four star Legoland Japan Hotel, Nagoya, Aichi Prefecture
The first train from Nagoya Station is at 5.30 am daily with the last train at 11.36 pm to Kinjo-Futo Station and at 11.57 pm to Inaei Station.
Aonami Line (official page)
Aonami Line Video
The Aonami Line in Nagoya runs from Nagoya Station to Kinjo-Futo Station for Port Messe Nagoya convention center and the SCMaglev & Railway Park.
All the themes of the city