Matsuda Wagasa-ten
松田和傘店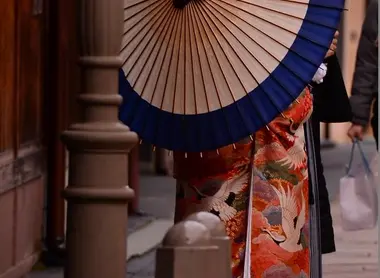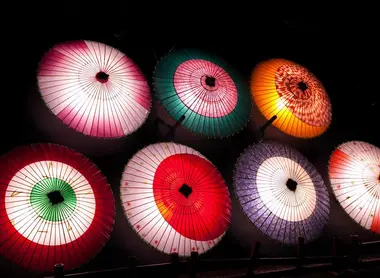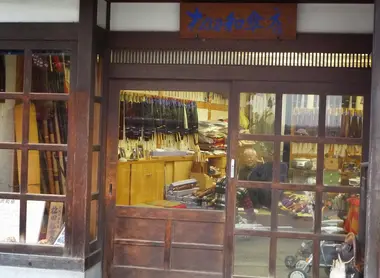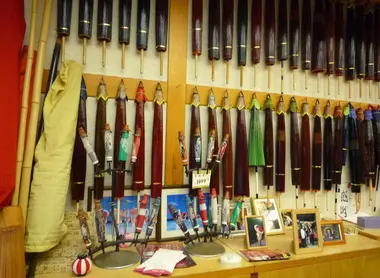 The wagasa resists
During the Meiji (1868-1912) and Taisho (1912-1926) eras, the city of Kanazawa had 118 wagasa shops in which no less than 500 experienced artisans worked with patience and meticulousness. More than a century later, all have disappeared. All? Nope ! The Matsuda Wagasa-ten store resists again and again; carrying on the long tradition of Kanazawa wagasa.
Praised be the rain
Like their counterparts in Kyoto or Gifu, the wagasa of Kanazawa are traditional umbrellas, made of oiled washi paper and with a bamboo frame, handcrafted by highly skilled master craftsmen since the Edo period (1603 -1868).
But the Kanazawa glitch has an additional advantage: its great robustness. This extraordinary resistance has been praised throughout the Japanese archipelago for decades, and the wagasa of Kanazawa owe it to the climate of the region . Indeed, Kanazawa's rainy reputation is unfortunately not a legend. But it is a chance for the craftsmen of the region because without this strong rainfall and this abundant snowfall, they would perhaps not have developed such a high quality umbrella covering technique .
In its central part, each wagasa is thus covered with four sheets of washi paper . This quadruple thickness allows its owner to stay dry in all circumstances. In this regard, a popular maxim from the region recalls how the wagasa is an essential accessory for anyone living and walking in Kanazawa: " Forgetting your bento is an inconvenience; forgetting your umbrella is disastrous! "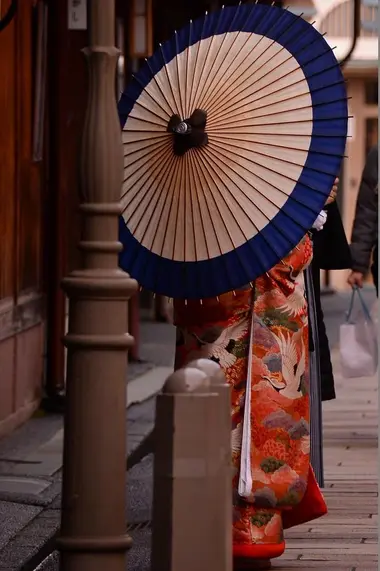 The irreducible Hiroshi Matsuda
The Matsuda Wagasa-ten workshop-boutique is the ultimate wagasa workshop in the city and as such enjoys an international reputation . Since its opening in 1896, Matsuda Wagasa-ten has continued Kanazawa's long tradition of wagasa craftsmanship.
Until very recently, the workshop was run by Hiroshi Matsuda , a craftsman, locally erected to the rank of legend as he took care to keep this centuries-old craft intact . Originally from Kanazawa, the man, born in 1924, began an apprenticeship in the family shop at the age of 12. Faced with the growing popularity of Western umbrellas to the detriment of wagasa in the 1950s, the craftsman managed to maintain his activity by adopting a new working method over the years.
In ancient times, the manufacture of a wagasa required the intervention of about twenty different craftsmen; each one being in charge of a precise stage of the meticulous and complex manufacturing process (assembly of the frame, cutting of the paper, application of washi, decoration, oiling, etc.). Faced with the continued decline in sales and the shortage of skilled labor, Hiroshi Matsuda decided to carry out all 40 manufacturing steps himself . A winning operation that allows it to regularly receive orders from all regions of the world.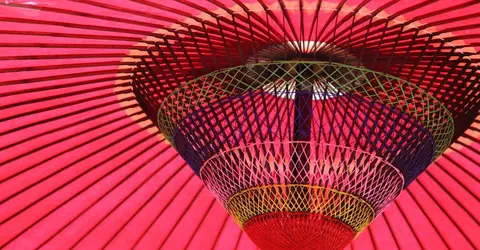 Such a nice memory
At the age of 92, Hiroshi Matsuda decided to leave the workshop-boutique to the best successor there was: his son Shigeki . It is now the latter who makes the latest wagasa of Kanazawa and welcomes you to the Matsuda shop.
Inside, the gaze can only be dazzled by so much beauty and virtuosity . The exposed open umbrellas are like flowers just blooming, as colorful as they are delicate. The shop offers a wide selection of wagasa for sale.
However, if you do not find what you are looking for among the models on display or if you want specific patterns, it is possible to design your own umbrella in collaboration with Shigeki Matsuda and thus place an order. Be aware, however, that you will still have to pay a tidy sum and be patient. The wait can vary from four months to just over a year!
If your budget doesn't allow it, the shop also sells miniature wagasa . Much less expensive, these are nice souvenirs from Kanazawa . Finally, if you are hesitant about the expense, remember that each wagasa has a lifespan of more than half a century . A long-term investment!
---
Address, timetable & access
Address

Phone

+81 76-241-2853

Timetable

From Kanazawa station, take bus 54 or 9, get off at Katamachichuodori stop and then walk 5 min.

Access

Open from 9 a.m. to 5 p.m.
All the themes of the city