Nene no Michi
Nene no Michi, Kyoto. Read a guide to perhaps the most beautiful street in Kyoto, Nene no Michi. Nene no Michi is located in eastern Kyoto.
Kyoto Area Guide: Nene no Michi ねねの道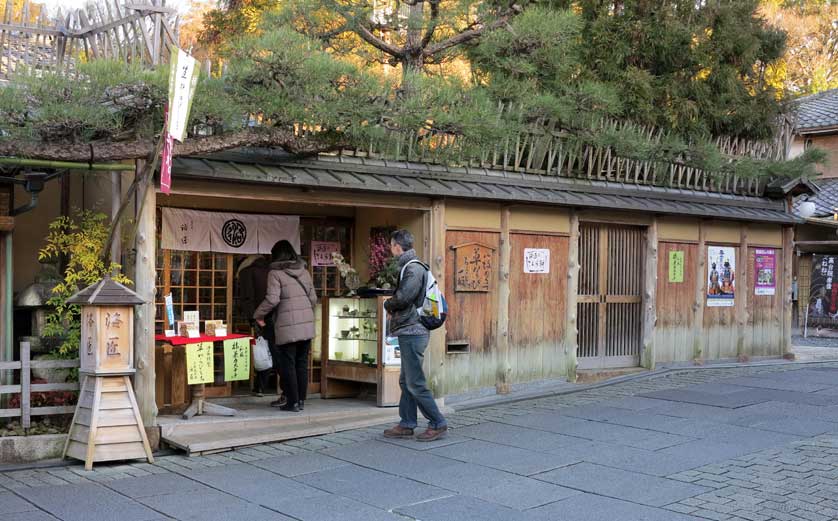 Nene-no-michi, Kyoto
Nene no Michi (The Path of Nene, pictured below) is one of the reasons to make the trip to Kyoto. Located in Higashiyama Ward, along one of the main tourist corridors in eastern Kyoto, Nene no Michi retains the look of a Kyoto that for the most part no longer exists.
Nene no Michi stretches from just east of Maruyama Park, in Gion, to close to the foot of the quaint sloped shopping street Sannenzaka.
Moreover, the street scape of Nene no Michi is unique in that it adheres to Kyoto building codes: there are no garish signs and telephone wires have been buried. In Kyoto, that makes it both beautiful and very unusual.
Approaching from Maruyama Park and Yasaka Shrine, you walk down a gentle slope towards Kodaiji Temple on the left and Entokuin Temple on the right. There are a number of specialist shops and cafes in this area including the Kodaiji Rakusho cafe with its small koi carp pond famous for its delicious warabimochi.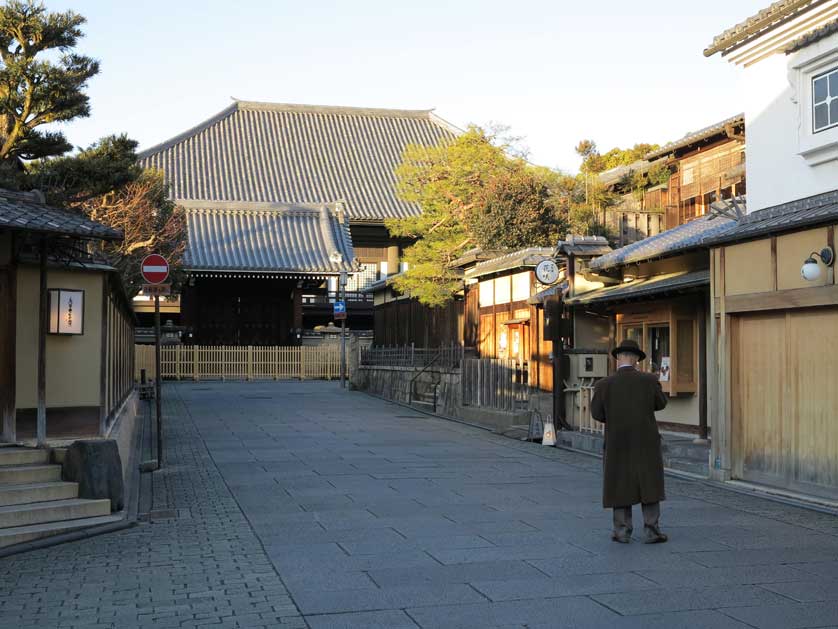 Nene-no-michi, Kyoto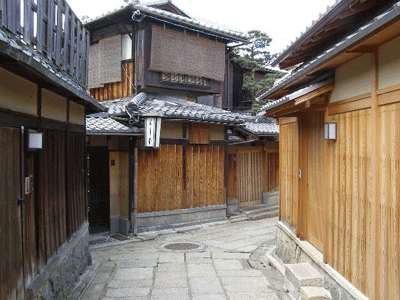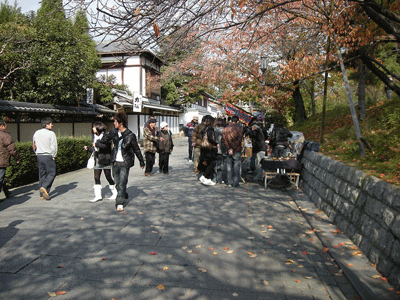 History of Nene no Michi
Kodaiji Temple was built in 1605 at the behest of Nene, for whom the street was later named. She was a noblewoman who was married to the warlord Toyotomi Hideyoshi, taking the title of "Kita no mandokoro". Following his death in 1598, Nene decided to become a nun and founded the Buddhist temple Kodaiji. She, her husband, and his mother are all buried there, along with Toyotomi Hideyori, the son of Hideyoshi by his concubine, Yodogimi.
Perched atop a hill above Nene no Michi, Kodaiji Temple has a panoramic view of the street and of Kyoto below in the distance.
Back down on Nene, on the opposite side of the street from Kodaiji is Ishibei Koji Street (pictured above left). This is a beautiful alley with picture perfect wooden homes, restaurants, and ryokan (Japanese style inns). It embodies the slightly dilapidated refinement that is wabi sabi: a style that, at times and in some places, characterizes Kyoto.
Walking south on Nene no Michi, you will ultimately arrive at Ninenzaka and Sannenzaka. These are narrow sloped streets that have tasteful shops filled with Japanese goods. If you continue up to the top, the street comes to the path that leads to Kiyomizu Temple, the most visited temple in Kyoto.
A wonderful walk is to go from Keihan Railways's Gion Shijo Station, through Gion, up to Nene to Michi for a slow stroll and a few temples, and finally up Sannenzaka to Kiyomizu Temple.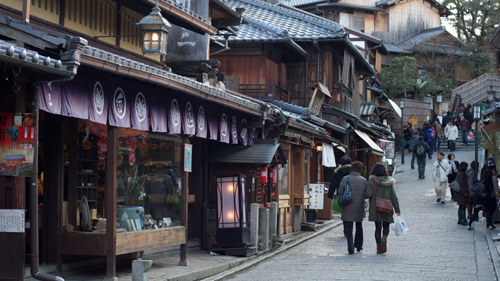 Approach to Kiyomizudera Temple, Kyoto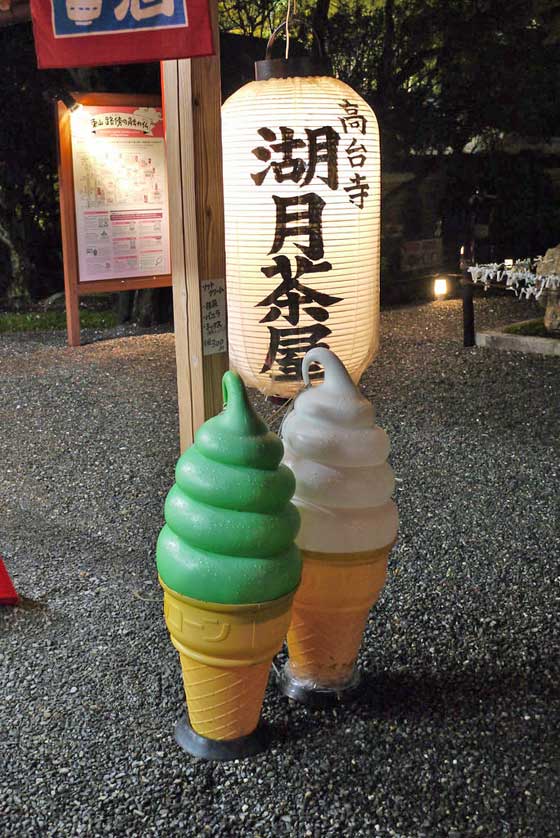 Nene-no-michi, Kyoto
Kodaiji TempleTel: 075 561 9966 (General inquiries)
Access - Getting to Nene no michi
From Gion, it is a 15 minute walk. You can either go through Yasaka Shrine, exiting on the south side or alight at the Higashiyama bus stop. Bus #206 from Kyoto Station.
For a full listing of Kyoto Museums & Art Galleries click here
Book Hotel Accommodation in Kyoto Japan
All the themes of the city