Higashiyama Walk Kyoto
Kyoto Area Guide: Northern Higashiyama 東山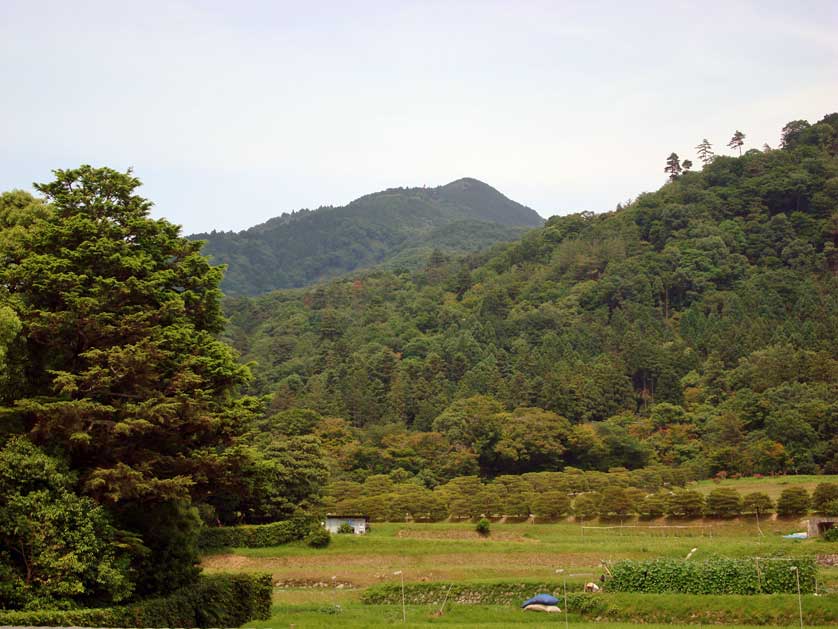 Higashiyama (eastern mountains) is one of Kyoto's most pleasant areas, retaining an almost semi-rural feel, free from tour buses and traffic jams, in the area around Shugakuin and Ichijoji.
Northern Higashiyama is an area rich in Buddhist temples and traditional gardens and makes for an ideal half-day stroll. There are wonderful views of Mount Hiei throughout the walk.
Set out from Shugakuin Station on the Eizan Line from Demachiyanagi Station on the Keihan Line from Sanjo Keihan Station or take bus no#5 from Kyoto Station to Shugakuin Rikyu-michi bus stop.
Walk north east along the side of the small Otowa River and turn left to enter Sekizanzenin Temple up the hill from the concrete torii gate. This free-admission temple dates from the 9th century and has a pleasant carp pond and even an Edo-period fire-engine on display.
From Sekizanzenin, walk back the way you came and then turn left up to the gates of Shugakuin-rikyu Palace. Turning right past the entrance to the palace, you will see some beautiful old houses with wooden entry gates and gardens on your right. Look out for the Chinese characters 山脱解 above the gate. The small Japanese garden contains stone Buddhist images.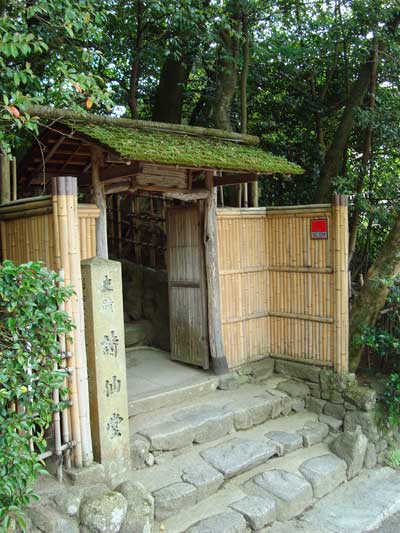 Shisendo Temple, Higashiyama, Kyoto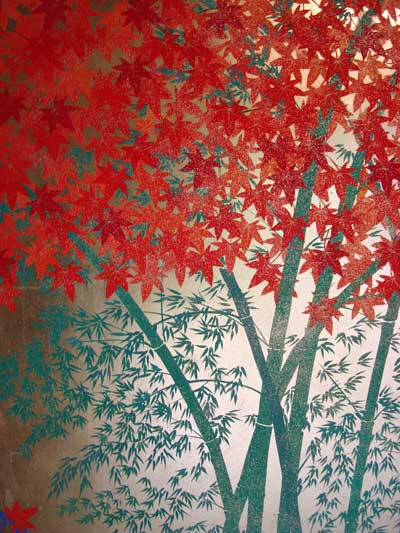 Screen by Maruyama Okyo, Enkoji Temple, Kyoto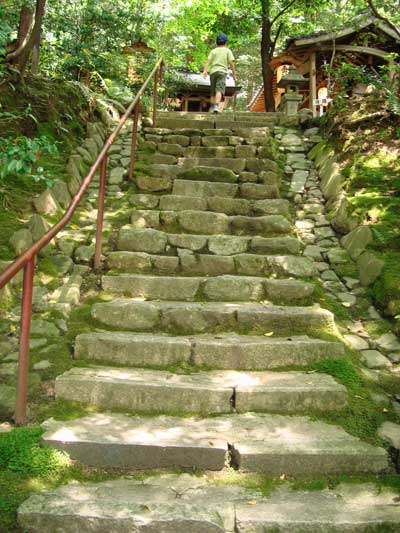 Sekizanzenin Temple, Kyoto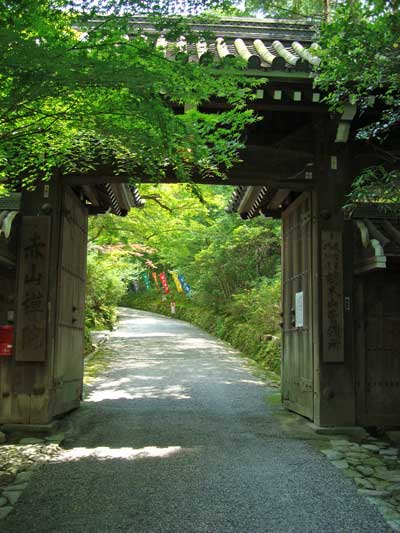 Sekizanzenin Temple, Kyoto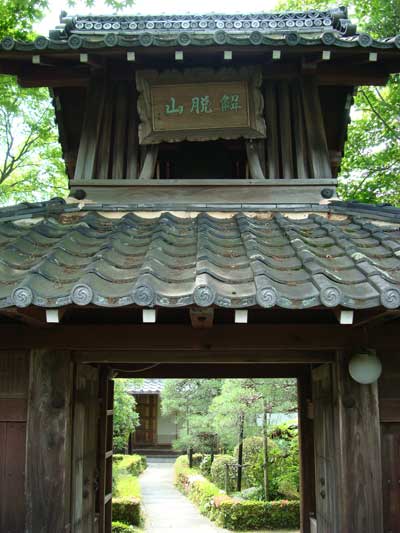 Higashiyama, Kyoto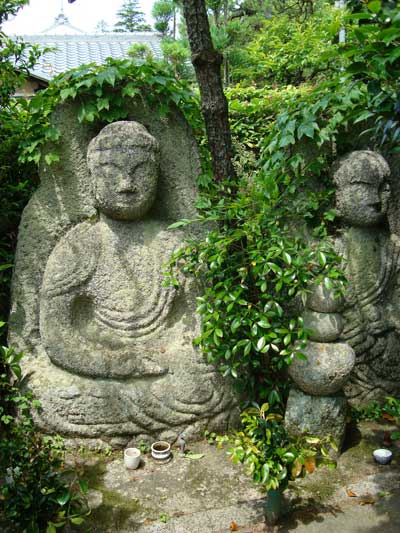 Higashiyama, Kyoto
Walking straight along this lane affords great vistas of Mount Hiei to your left and brings you out at Saginomori Shrine - a pleasant Shinto shrine with towering cypress trees and plum and cherry blossoms in spring.
Turning left here and up the hill is Manshuin Temple, which was founded by Saicho (767-822) and originally stood on Mount Hiei. The Tendai sect temple moved here in 1656 and contains a lovely Japanese rock garden and original teahouses.
Walking back down the hill, bearing south brings you to an area still containing a number of Edo and Meiji Period walled farm houses, still owned by their original and wealthy families.
A 15-minute stroll south will bring you to Enkoji Temple, a Rinzai sect temple that has stood here since the 17th century. Enkoji has a small garden and a beautiful screen painted by the artist Maruyama Okyo. Tokugawa Ieyasu ordered the priests of Enkoji to study Confucianism and their ancient wooden type sets are preserved in the temple.
A further 5-minute walk to the south is Shisendo Temple, which was established as a Soto sect temple in 1966 on the grounds of a retreat built Jozen Ishikawa (1582-1672), a scholar, warrior, master of the tea ceremony and landscape architect.
Virtually next door to Shisendo is the Hachidai Shrine, now dedicated to the legendary Japanese swordsman Musashi Miyamoto (1584-1645), and the author of The Book of Five Rings, who fought one of his famous, deadly duels here.
Walking along the road up the mountain leads to Tanukidani Fudoin, a Shingon sect temple, noted for its popular car blessing ceremonies and sales of lucky charms for safe driving. On the evening of July 28 from 7pm, Tanukidani Fudoin hosts a fire festival, where yamabushi mountain priests blow conches and walk across the hot ashes of burnt pine branches. Spectators can hot foot it across too. The main hall of the temple is built on pillars and from the veranda there are good views over Kyoto.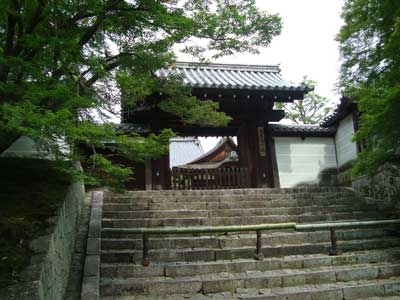 Manshuin Temple, Higashiyama, Kyoto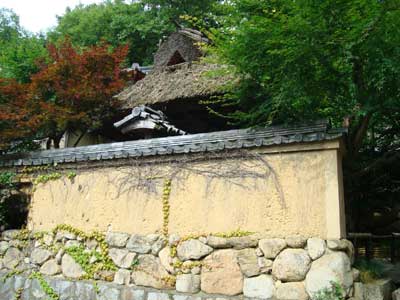 Manshuin Temple, Higashiyama, Kyoto
Walking down the road from hachidai Shrine brings you to Shirakawa Dori and the Ichijoji-sagarimatsu-cho bus stop or continue across Shirakawa Dori to reach Ichijoji Station back on the Eizan Line for Demachiyanagi Station, central Kyoto and eventually Osaka via a change of trains to the Keihan Line at Demachiyanagi. Alternatively, retrace your route back to Shugakuin Station where there are a number of reasonable places to eat (some of them international, foreigner-friendly hang-outs) and a fine public bath, Daikokuyu, just south of the station.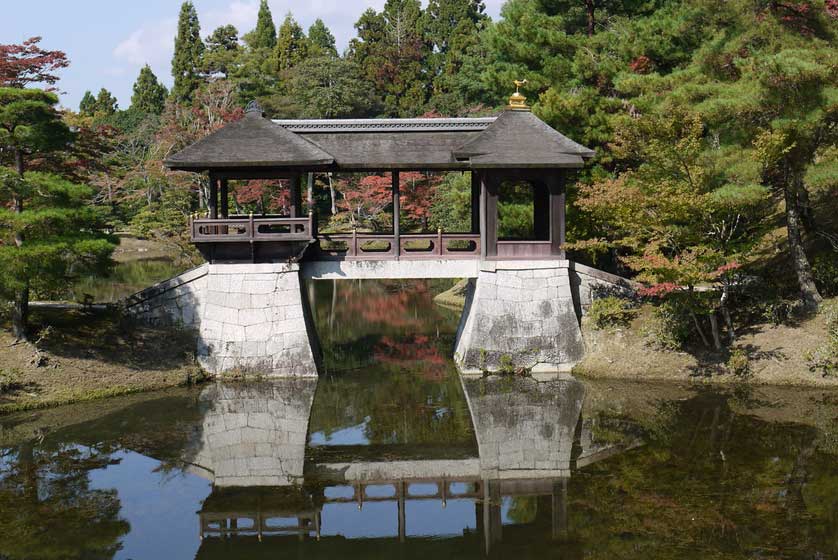 Shugakuin Rikyu Imperial Villa, Kyoto
For a full listing of Kyoto Museums & Art Galleries click here
Enjoy a walk in south Higashiyama.
Book Hotel Accommodation in Kyoto Japan
A Walk In northern Higashiyama Kyoto: take a stroll from Shugakuin to see the Kyoto temples of Manshuin, Shisendo and Enkoji.
All the themes of the city