The Fleamarket at Kitano Tenmangu
北野天満宮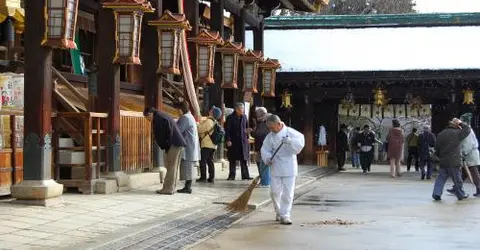 Paradise for bargain hunters <br>
On the twenty-fifth of each month, the second largest flea market in Kyoto is held in the enclosure around the shrine Kitano Tenmangû. A good opportunity to buy some souvenirs, especially if you missed the Toji market, which takes place four days earlier.
The bargains start at about nine o'clock in the morning, when sellers finally unpack everything. Piles of old kimonos and fabric rolls with refined motifs are piled up on some specialized stands. Vinyl records (jazz lovers can unearth some musical treasures), toys, fans, small furniture, ornaments and household items are also standard wares, and no two are alike. This giant rummage sale is a delight for bargain hunters, who will be spoiled for choice at a range of all prices. It takes time to browse the aisles of this large outdoor attic.
At lunchtime, or whenever you get hungry hungry, a few hawkers serve a fuss-free hot oden dish  in a sort of makeshift canteen consisting of fish pie, boiled eggs, daikon (large Japanese white radish), and tofu, all cooked in a fish broth. Moreover, the tofu comes from the specialty shops in the area, who have many small stalls open. There is even a café that specializes in preparing tofu to the southwest of the temple.
---
Address, timetable & access
All the themes of the city