The streets of Shinmonzen, Furumonzen and Shinbashi
新門前通、古門前通、新橋通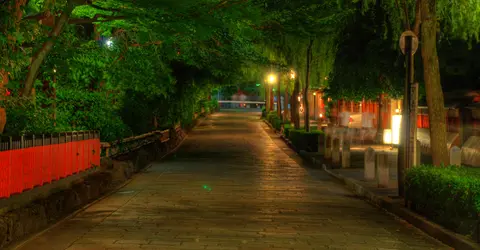 The streets of art
Right next to Gion, the famous geisha district, a paradise for collectors can be found: several quiet streets which are full of traditional Japanese arts and crafts boutiques.
Here, there are no neon lights or even tempting window displays. The streets of Shinmonzen, Furumonzen and Shinbashi have remained loyal to the purest Japanese traditions: a succession of small wooden households without so much as an electrical wire on show! Although it can perhaps be a bit intimidating to go into one of these boutiques, it's also the only way to discover the treasures they contain! And you'll be welcomed with a mischievous grin by one of these guardians of Japanese crafts.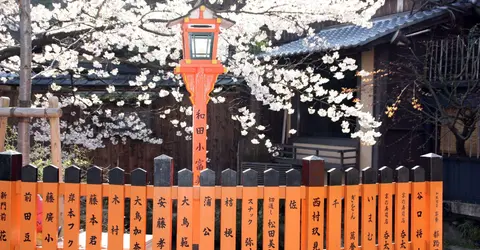 A collectors' paradise
If you're looking for traditional Japanese products, these are the streets for you. They are nicknamed "the art streets", and both tourists and locals flock there because of the art galleries and their craft boutiques. Although the store holders and gallery owners tend to specialize in more traditional arts, you will also find more modern works and articles there too. Collectors of etchings will notably find plenty to occupy themselves because there are several Ukiyo-e (or "pictures of the floating world" in English) galleries. Even casual buyers can go there, because prices start at just 4,000 yen. If you're interested in Japanese pottery, this is also the place to be: the imari style takes pride of place. You will perhaps cross the path of the owner of one of the many ryokan which can be found in Kyoto, because this is where they come to buy traditional crockery. Among the twenty boutiques, you're bound to find something you love: all the different elements of Japanese crafts are represented, from painted screens to teaspoons, available at a wide range of prices.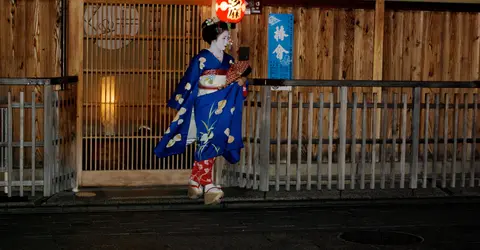 A foot in the past
If you're not a big fan of antiques, there's no need to panic -  these three streets have plenty of other things to offer. You can head into the kimono, incense, dye or even tile boutiques to find some authentic and unusual souvenirs! There are also several tea rooms where you can attend a traditional tea ceremony. Stop off at one of the gourmet restaurants to sample cuisine in the purest Japanese tradition. Certains houses are the residences of geisha and maiko, and maybe you will be lucky enough to see one of them outside or even spot them through their windows: a fine way to catch a glimpse of what Japan, and particularly Kyoto, used to be a few centuries ago.
So, this small district full of old-fashioned charm is ideal for a walk to discover the Japan of old. Calmer, and perhaps even more authentic than Gion itself, don't hesitate to visit and pick up a few bargains!
All the themes of the city