Shinsekai district tour
新世界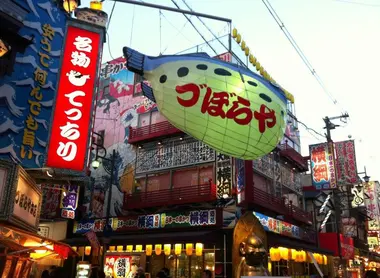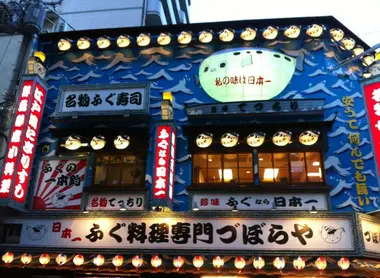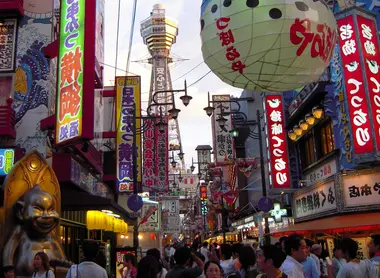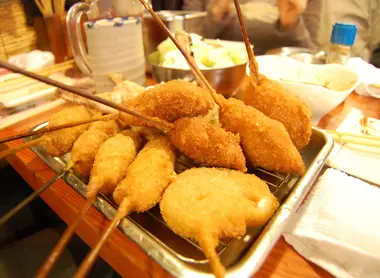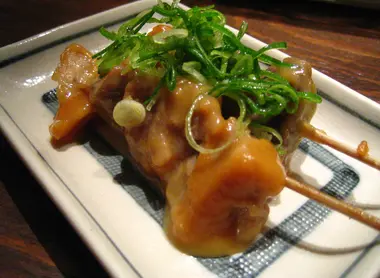 Our guide to the Shinsekai district, a must visit in Osaka
Although its name means New World, Shinsekai Quarter is the unmistakably retro charm of Osaka that you absolutely must visit. Located a stone's throw from Tennoji Park, this district in the south of the city is also a hotspot for a popular culinary experience in Osaka.
Osaka's New World
The Shinsekai district officially came into being in July 1912. Until the end of the 19th century, this area was occupied by fields belonging to the village of Imamiya. It was the organization of a major national industrial exhibition in 1903 that triggered the urbanization of this site and its attachment to the city of Osaka. The resounding success of this exhibition touting the latest industrial developments in the country then gave the authorities the idea of transforming the exhibition site into a place dedicated to entertainment. Funded by wealthy businessmen from the city, this newly developed district is called Shinsekai or New World.
A vast theme park with Western inspirations, the main asset of the new district is its Luna Park, an amusement park similar to that of Coney Island in New York. Inside the park, stands a metal tower inspired by both the Eiffel Tower and the Arc de Triomphe. It is then possible to take the first cable car in the archipelago, a truly breathtaking attraction! Theaters, cinemas, and restaurants are also opening their doors in this New World of Osaka. But unfortunately for Luna Park (amusement park), due to poor attendance, closed its doors for good in 1923.
During the Second World War, the district was severely affected by air raids. The tower was dismantled for the recovery of its materials in 1943. Shinsekai continued its slow decline over the following decades. The district then suffered from a bad reputation, associated with the Yakuza, as the latter was frequently seen roaming the area...
However, the dark image faded in the early 1990s thanks to novels, mangas, and films that depicted the neighborhood with a popular and retro vibe at the heart of their plots. Shinsekai has since returned to center stage and has established itself as a must-see tourist destination while in Osaka.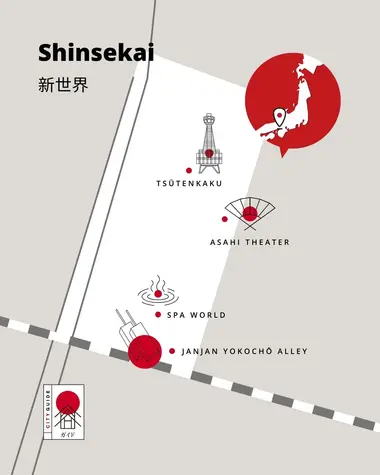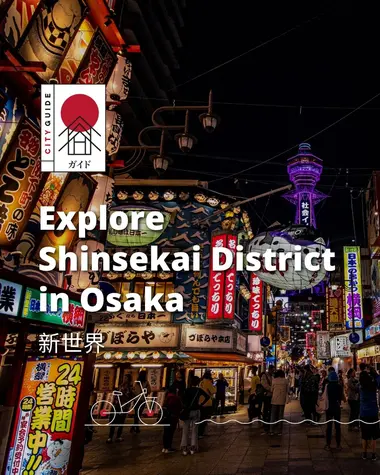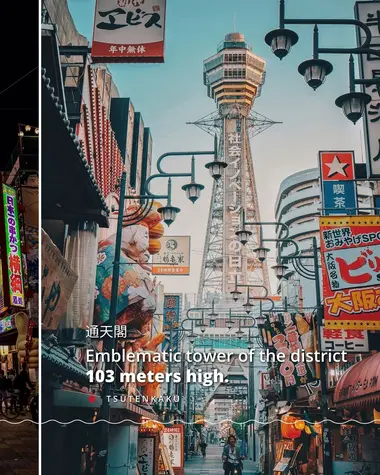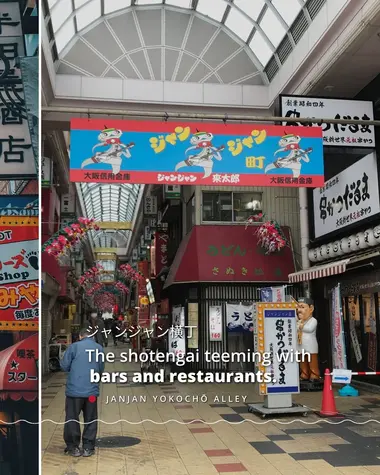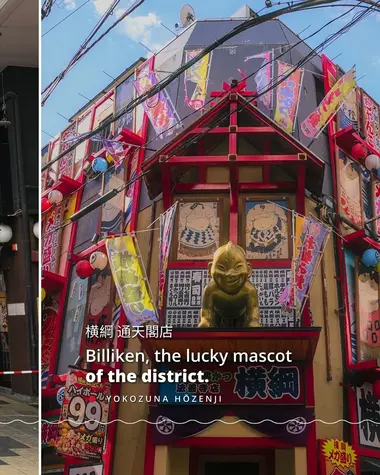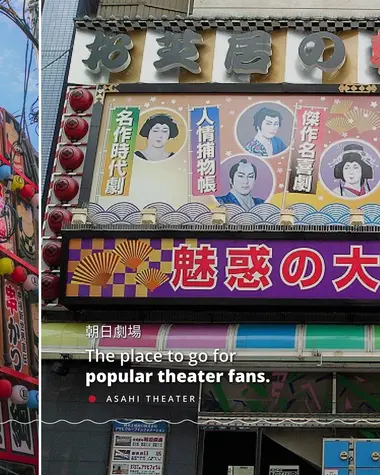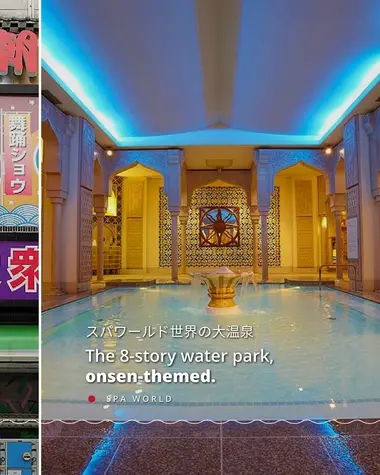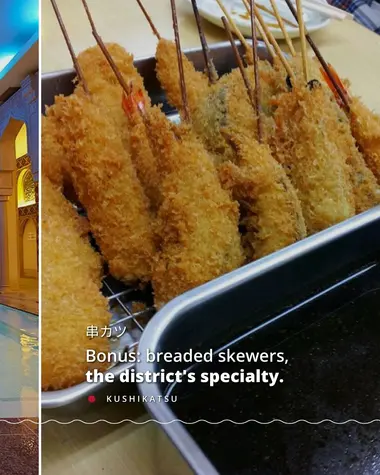 Visits to do in Shinsekai
Originally conceived as a place of modern entertainment, Shinsekai today presents a different face; that of the retro charm of the post-war period. Its shotengai, arcade, pachinko parlors, and a large number of colorful illuminating signs will delight even the casual observers. But beyond the general retro atmosphere, there's plenty more to see...
Tsutenkaku tower
The Tsutenkaku tower is the iconic monument of Shinsekai overlooking the shopping streets in the vicinity. Inaugurated in 1956, this second tower is the work of architect Tachu Naito. 103 meters high, it is no longer the attraction of an entertainment park but an observation tower offering a view of the city to its visitors. When you pass under it, remember to look up to enjoy its magnificent fresco composed of floral motifs and peacocks. At nightfall, she dresses in her finery; its neon lights lighting up varying in color.
Did you know that by looking at the top of the tower, you can judge the weather forecast for the next day? And yes, the neon color that appears each evening indicates the weather for the following day! So white announces a sunny day, blue a rainy weather and orange a cloudy day.
Address: 1-18-6 Ebisu-higashi, Naniwa-ku, Osaka-shi, Osaka-fu 556-0002
Hours: open every day from 9 am to 9 pm (last admission at 8:30 pm)
Access: Exit 1 of the Dobutsuen-mae metro station, on the Midosuji line (about 7 min on foot), exit 3 of the Ebisu-cho metro station, on the Sakaisuji line (about 5 min on foot), East exit from JR Shin-Imamiya station, on the Kanjo-sen circular line (about 9 min on foot)
Price: 700 yen for adults (from high school), 400 yen for children (over 5 years old). Reduced rates available for groups
Billiken: Shinsekai's Funny Face
A round figure, a smiling face, a pointed head and slanted almond eyes; such is the description of the funny character omnipresent in the district: Billiken. Created by an American illustrator in 1908, Billiken is now present on signs, in front of shops and even inside the Tsûtenkaku tower.
The people of Osaka consider him to be a real lucky charm. So when you come face to face with him, don't forget to pat his feet for good luck!
Janjan Yokocho Alley
This particularly narrow shotengai is home to many restaurants, cafes and bars.
Address : 556-0002 3 Ebisuhigashi, Naniwa-ku, Osaka
Access: 5 minute walk from Shin-Imamiya station on the Osaka Loop (Osaka ring line) and 5 min walk from Dobutsuen-mae station on the Sakaisuji and Midosuji subway lines
The Asahi theater
With a capacity of 300 seats, the Asahi Theater is the meeting place for fans of popular theater and offers performances all year round.
Address : 2 Chome-1-26 Ebisuhigashi, Naniwa Ward, Osaka, 556-0002
Access: 5-minute walk from Dobutsuen-mae station on the Midosuji and Sakaisuji subway lines
Prices: Adults 2000 yen, children 1200 yen
Telephone : +81 (0) 66-633-4553
Spa World
Spa World is an onsen-themed water park that offers different types of baths over 8 floors!
Address : 3-4-24 Ebisu Higashi, Naniwa-ku, Osaka
Telephone : +81 (0) 66 631 0001
Hours: open every day and 24 hours a day for the Asia and Europe zones (cleaning from 8.45 a.m. to 10 a.m.); swimming pools open from 10 a.m. to 7 p.m. (10 p.m. on weekends). Saunas: 10 am-10pm
Prices : 2,400 yen for 3 hours (1,300 yen for children under 12); 2,700 yen for the day (1,500 yen for under 12s). Weekend: 2,700 and 3,000 yen for adults, 1,500 and 1,700 yen for children under 12. Toboggans with extra charge (around 300 yen one descent)
Access : Midosuji or Sakaisuj metro lines, Dobutsue stop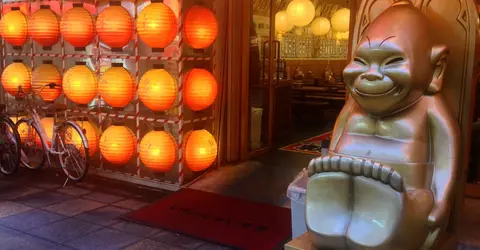 Shinsekai: a hotspot for popular gastronomy
The district is particularly famous for its simple and inexpensive cuisine but above all delicious! In particular, you can taste two famous popular dishes: kushikatsu and doteyaki.
Kushikatsu is skewers of fried meat, vegetables, or seafood. This is Shinsekai's iconic dish! But before enjoying kushikatsu, there is one important rule to be aware of. Accompanied by cabbage leaves, these skewers are to be dipped in a sauce placed in small trays used by all customers. It is therefore strictly forbidden to immerse your kushikatsu a second time so no double-dipping! The Kushikatsu Daruma restaurant chain was born in Shinsekai in 1929. Today it has four restaurants in the neighborhood: Shinsekai Honten, Janjan, Tsutenkaku, and Dobutsuenmae.
The second specialty is doteyaki; beef tendons simmered in mirin or miso.
Where to eat in the Shinsekai district?
Restaurants and izakaya are plentiful in the area. Here are the restaurants that will allow you to taste the local specialties.
Yaekatsu
Address : 3-4-13, Ebisu-higashi, Naniwa-ku, Osaka-shi, Osaka-fu 556-0002
Hours : 10:30 am to 9:30 pm
Closing days: Thursday and every 3rd Wednesday of the month
Tsurukameya
Address : 2-5-2 Ebisu-higashi, Naniwa-ku, Osaka-shi, Osaka-fu 556-0002
Hours: 10 am to 5 am Sunday to Thursday. Open 24 hours a day on Friday, Saturday, and the eve of public holidays
Kankan
Address : 3-5-16 Ebisu-higashi, Naniwa-ku, Osaka-shi, Osaka-fu 556-0002
Hours: 10 am to 7:30 pm Closing days: Monday and Tuesday
When to visit Shinsekai?
It is at nightfall when the Tsûtenkaku tower and the signs of restaurants and shops light up that we advise you to visit the district. The multicolored storefronts decorated with lanterns add to the retro atmosphere and make the place a particularly popular photo spot.
How do I get to Shinsekai?
By metro: from Dobutsuen-mae station on the Sakaisuji and Midosuji lines, Ebisucho station on the Sakaisuji line.

By Train: From Shin Imamiya Station on the JR Osaka Circular Line.
Visit Osaka with a Suica Transport Card!
---
Address, timetable & access
Address

Timetable

a 3 min walk from Ebisucholigne Saikasuji station, exit 3; ten minutes walk from Dobutsuen-mae station Midosuji line exit 5; 10 min walk from Shin-Imamiya Station on the Osaka JR Loop and Yamatoji lines.
All the themes of the city