Tsuruhashi Koreatown
コリアタウン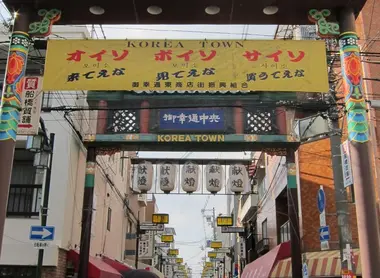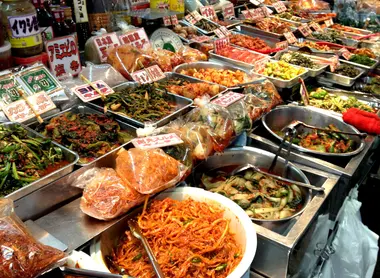 La petite Corée
C'est le plus ancien et le plus peuplé des quartiers coréens du Japon. Bienvenue à Tsuruhashi, où l'on trouve plus de kimchi que de sushis.
With more than 150,000 citizens, Osaka has the largest Korean community in Japan.
Deported during World War II to address the shortage of labor in nearby Kansai factories, numerous Koreans, known as Zainichi, found themselves on Japanese soil. But in this area of ​​Osaka, the Korean presence dates back to the fifth century, when the Japanese Emperor Nintoku increased trade with the Korean kingdom of Baekje. In the 20th century, as victims of a difficult integration, Osaka Koreans regrouped in this Koreatown of Tsuruhashi, where today both descendants of deportees and newcomers work and reside.
Passing through Miyuki-dori, a narrow street saturated with Korean shops, is like crossing the Sea of Japan, into South Korean territory. It is even accessed by passing under a large doorway that says "Korea Town."
Kimchi & hanbok
The 150 restaurants, as well as vendors of pickles, fish and spices, attract lovers of Korean food. The smell of kimchi - spicy pickled cabbage - wafting from the many stalls gives the district an air of Seoul. It's a great place to visit to enjoy Korean barbecue! The restaurant Hakuundai offers some of the best in the region.
Miyuki-dori is also a good place to take home a little Korean tradition. In addition to conventional souvenir shopping, there is also the famous hanbok, the colorful traditional costume of Korea, especially worn at weddings.
---
Address, timetable & access
All the themes of the city