World Expo Park
大阪万博記念公園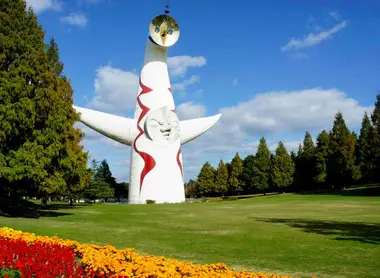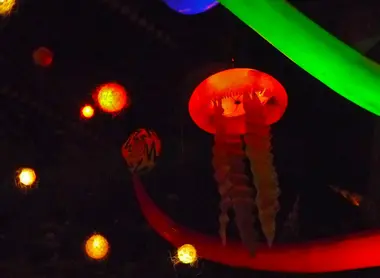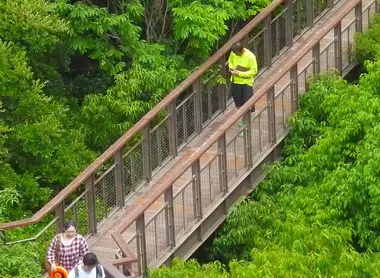 The walk with a thousand faces
Three faces dominate and overlook. They watch and greatly disturb people, with a fascinating strangeness. The Tower of the Sun, a monumental sculpture by Japanese artist Taro Okamoto (1911-1996), remains the only vestige of the 1970 Universal Exhibition, that can be seen in this memorial park.
Located in the northern suburbs of Osaka, after the exhibition, the park was transformed into a recreation area for the whole family. A wide range of activities are available to keep everyone happy: sports fields, playgrounds for children and walking areas. The grounds of Bampaku - koen are home to the National Museum of Ethnology and the "Expo 70 Pavilion", which recreates some of the interiors of the ephemeral infrastructure. In a cosy atmosphere, visitors walk around under the red lights and discover the history of the exhibition, from its beginnings to its closure. North of the park is also a huge Japanese garden where it is pleasant to stroll among the seasonal flowers, taking cover from the sun or the cold in the tea house hidden there. Composed of several spaces, it is structured chronologically around the history of the art of the arrangement of gardens in Japan.
Several restaurants and shops offer meals and refreshments in the park, to accompany a day of exploring. A small wood, populated by the occasional work of art, also covers a part of the park in which an "aerial course" has been set up. It is thus possible to walk about ten meters above the ground on long walkways, and discover nature from a new perspective.
After a long day of walking, your very tired feet deserve a relaxing bath. A charming building on the edge of the wood offers a free moment of relaxation for us bipeds. This original outing will let you discover a place often overlooked by tourists and yet is worth it for the change of scenery.
All the themes of the city