Tachibana-dori / Orange Street
立花通り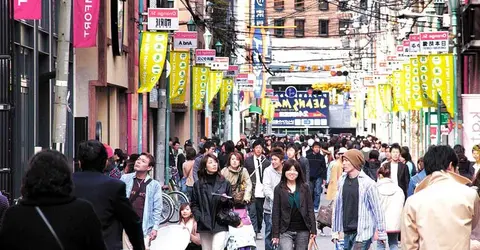 The path of joy
Tachibana-dori shopping street is the most hype Osaka artery. Designer shops, lounge restaurants and fashionable bars, it is a Cornelian choice.
The royal road to Osaka inevitably pass through Orange Street. Traditionally called Tachibana-dori, this eight-hundred-meter long street makes fashion victims lose their heads.
Retailers jostle to integrate the closed circle of brands present here. Young designers, fashionable brands, and also trendy cafes and bars are all arranged on both sides of the artery, formerly specialized in furniture under the Meiji era.
And the customers are not mistaken. A predominantly young population invades the area at weekends. On sunny days or during the sales you will have to push your way through the crowds.
The street can be seen from far away thanks to its huge torii and stamped Tachibana. Its name refers to a variety of citrus fruit. Hence the nickname of Orange Street.
All the themes of the city