Attraction on Japan's tallest building, Abeno Harukas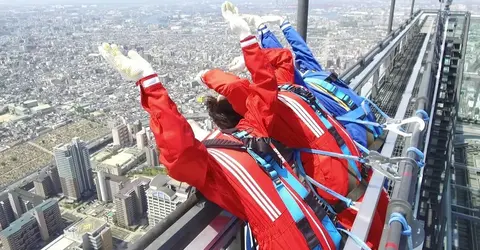 A view of Osaka from 300 meters in the sky
Three hundred meters in height, Abeno Harukas Building is the tallest building in Japan. Located in the heart of Osaka, the shopping complex offers a brand new attraction: strolling on the edges of its roof above 300 m in the sky with a panoramic view! 
Walk on the edges of the tallest building in Japan.
With its 300 meters high and 60 floors, the Abeno Harukas shopping complex is the tallest building in the country.
Including an observatory, a luxury restaurant, a hotel, and 160,000 m² of shops spread over its first sixteen floors, it is also the most imposing shopping center in Japan!
Records then pushed its owners to think bigger and offer a brand new attraction to visitors on March 7th. Indeed, it is now possible to walk on the edges of the roof of the building!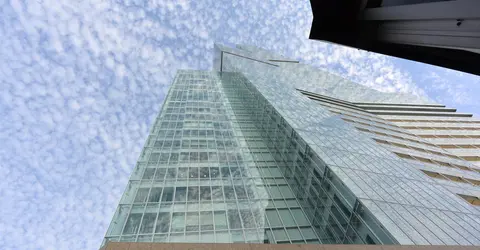 Named "Edge of the Harukas," the attraction offers participants a breathtaking view of Osaka 300 meters above the void. An incredible experience mimicked to provide an experience of jumping off the edge!
See also: Abeno Harukas
A thrilling attraction
The concept of attraction is simple. On a footbridge 20 meters long by 60 centimeters wide located at the roof's edge, the participants advance in single file to come and admire the panoramic view offered to them.
The experience is then supervised by a tourist guide who presents the city of Osaka as seen from the sky and encourages participants to take ever more original selfies.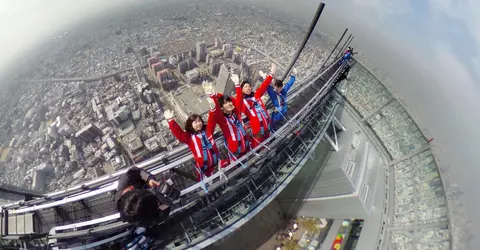 Of course, security measures must be observed. And the equipment is even provided to participants so that no one gets hurt. The waterproof suit, spiked shoes, harness, and carabiners are done to ensure that the experience takes place in the best possible conditions.
Before climbing onto the platform, the guide also gives a final reminder of the safety instructions: make sure that the carabiner is correctly attached to the thin iron bar, separating the participants from the void, and step one foot in front of the other bridge.
Under conditions
In addition to the security measures to be observed, there are also two or three things to consider before attempting the adventure.
Participants must be between 1.45m and 1.99m tall, there can only be seven people on the catwalk at a time, and quickly dizzy people are asked not to participate in the experience.
Also, note that the attraction is only open when the weather conditions are good (i.e., when it is not snowing and there is no bad weather). 
Read: Osaka Ferris Wheels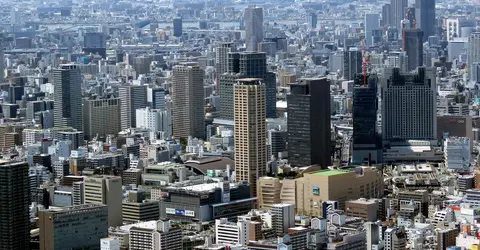 ---
Address, timetable & access
Address

Timetable

2 min walk from Tennoji station (Osaka Loop, Hanwa, Haruka, Kuroshio lines).

Price

1,000 yen ($8.50/8€), ''observatory + Edge of the Harukas'' pass 1,500 yen ($12.50/12€).

Access

Three daily sessions - 10 am-12 pm, 1 pm-5 pm, 6 pm-8 pm.
All the themes of the city