Naguri Valley
Naguri Valley, Hanno, Saitama Prefecture 名栗 飯能市 埼玉県
by Johannes Schonherr
Naguri Village, located about halfway between the cities of Hanno and Chichibu in mountainous western Saitama, is a popular destination for Tokyo day trippers. Stretching along the Iruma River, here called the Naguri River, Naguri Village offers an unusual density of attractions, all of them related to nature and / or traditional Japanese culture.
Naguri Village consists of several areas. The part of the village most relevant to visitors is Kami Naguri (on road signs often spelled Kaminaguri), situated right at the foot of Mount Hakuun.
The central visitor stop in Naguri is the rest house in front of Sawarabi Onsen (off Route 53 towards the Arima Reservoir). The bus stops right outside, it offers plenty of parking, local maps and brochures and a limited supply of food. Onigiri rice balls and the like, it's not a restaurant. It does have a nice terrace with tables and benches to sit down with a snack or a can of coffee.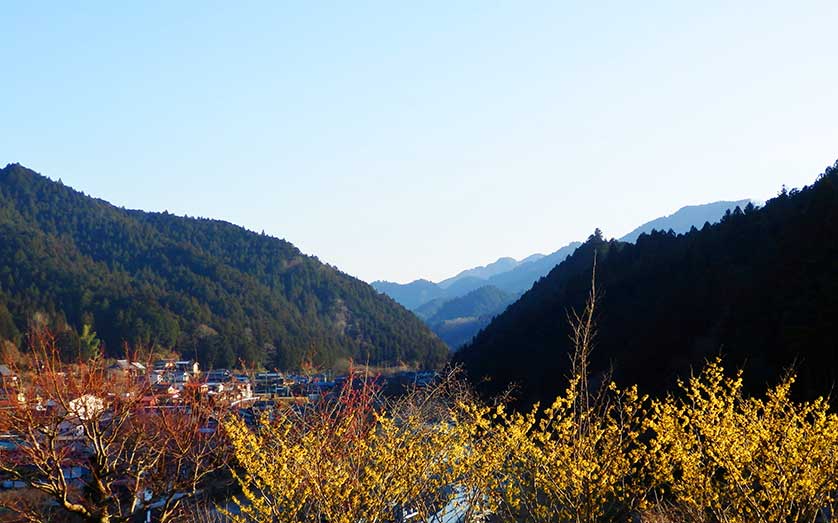 Naguri Valley, Hanno, Saitama Prefecture
Kannon statues at Mount Hakuun, Naguri, Hanno, Saitama Prefecture
Hakuun-san Torii Kannon
From the rest house, it's a short walk to the most famous attraction of Naguri, the Hakuun-san Torii Kannon site.
A great number of Buddhist statues and structures have been privately erected on the slopes and on the top of Mount Hakuun, including a 33m high statue of Kannon, the Buddhist goddess of mercy, which can be entered on weekends and public holidays from April through November.
It is possible to climb up into the head of the statue, named the Guze Dai Kannon, on a narrow spiral staircase. A viewing platform on the back of the head of the statue offers a great view over the mountains towards Chichibu.
In November, the whole Hakuun-san Torii Kannon site explodes into a riot of autumn colors.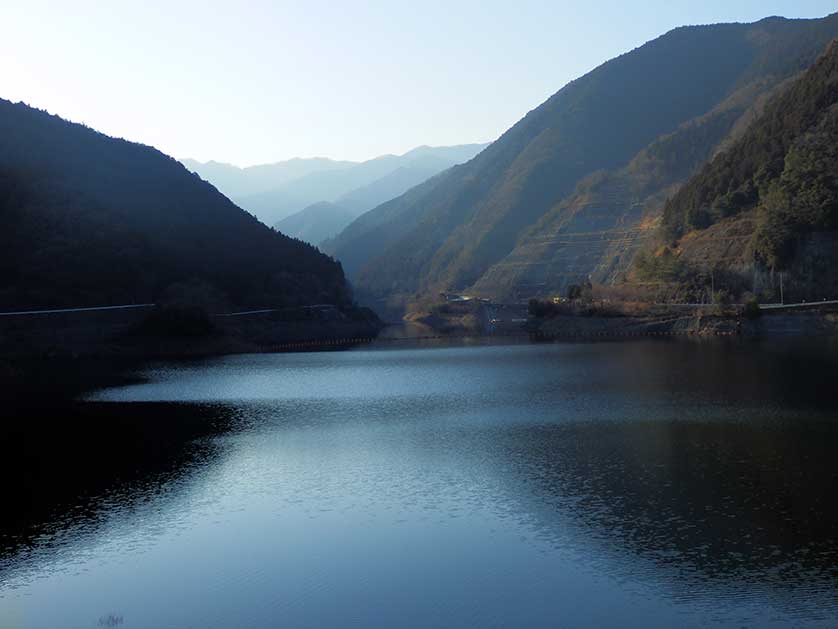 Naguri Lake aka the Arima Reservoir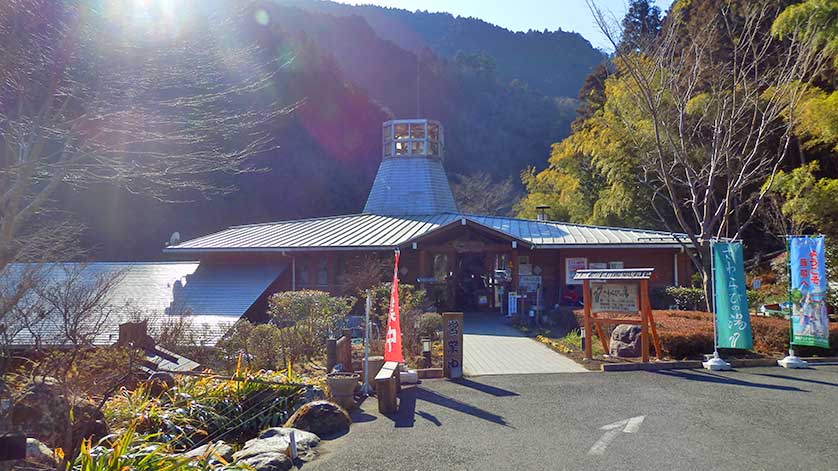 Sawarabi Onsen, Naguri, Hanno, Saitama Prefecture
Naguri Lake (Arima Reservoir)
A short drive or a not-very-long walk from the rest house is the Naguri Lake, aka the Arima Reservoir. A huge dam blocks off a variety of mountain streams here, filling a valley with water.
A narrow road leads all around the lake, offering stunning mountain views. Along the road, signs point out hiking paths up into the mountains and to nearby waterfalls.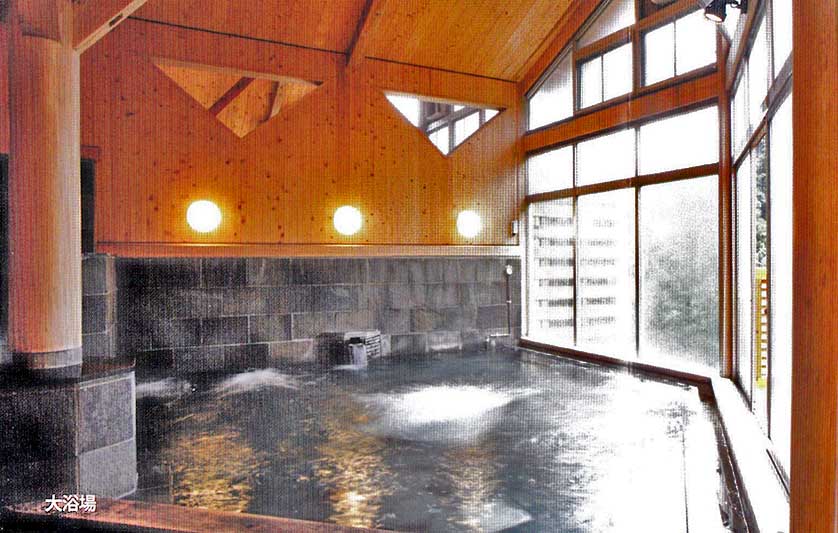 The Big Bath at Sawarabi Onsen, Naguri, Hanno, Saitama Prefecture (image courtesy of Sawarabi Onsen)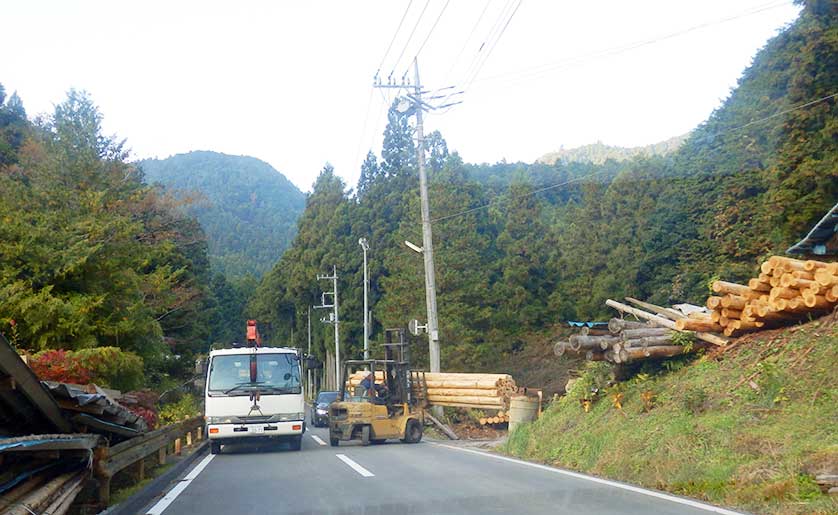 Life is slow in Naguri. Wood transport blocking Route 53 towards the Yamabushi Pass
Sawarabi Onsen
Sawarabi Onsen, a short walk behind the rest house, can get crowded on autumn afternoons when the hikers seeking out the autumn color views in the mountains return and take a bath to relax before heading back home.
Sawarabi Onsen is a modern natural hot spring facility, offering a variety of baths, both indoor and under the open sky. Both offer good mountain views while sitting or floating in the hot spring water.
There are relaxation rooms to wind down from the hot spring experience. There is also a shop selling souvenirs and local farm products, sweets, dried mushrooms, fruit jam and so on.
Unfortunately, the bathing at Swarabi Onsen is strictly gender-divided. There is a bathing area for men, there is a bathing area for women. There is no private family bathing (kazoku onsen), nor mixed bathing area (konyoku onsen).
Still, Sawarabi Onsen offers a very authentic countryside hot spring experience in close vicinity to Tokyo.
Naguri Village
Naguri Village itself is a rather quiet mountain village, hanging on to its traditions as a remote lumberjack village. Don't be surprised when a forklift truck slowly unloading timber coming from the mountains blocks Route 53. That's just the way of life out in the mountains.
Naguri Village offers a number of restaurants, mostly traditional soba and udon noodle restaurants. Expect them to close early on, at some point in the afternoon when the noodles prepared for the day have sold out.
The Hananoyataishuukappou Restaurant however stays open until 10 pm and offers traditional Japanese dishes as well as Katsudong (pork cutlets) and soba noodles. Closed on Monday.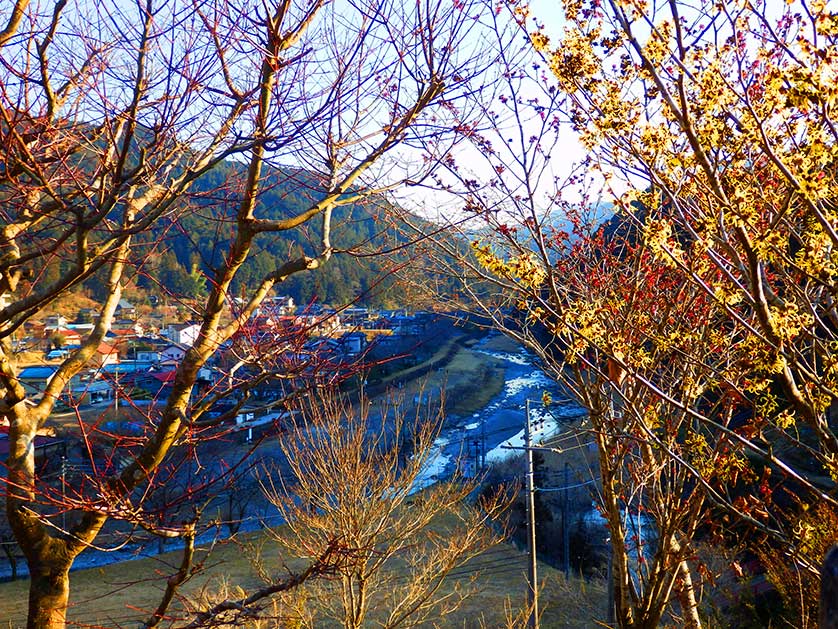 Naguri Valley with Iruma (Naguri) River, Hanno, Saitama Prefecture
Camp Grounds / Vacation Villages
Camping is very popular in Naguri and so is staying overnight in a hut in a vacation village. There are several camp grounds / vacation villages, offering barbecue facilities and fishing in the Iruma (Naguri) River. Stay in the mountains, catch your own trout and roast it for dinner - right outside of Tokyo.
The most central is Kenny's Vacation Village / Auto Camp just in front of the main entrance to the Hakuun-san Torii Kannon.
Kenny's website www.nap-camp.com/saitama/11037 (in Japanese)
Accommodation in Naguri
Places to stay in Hanno are near Hanno Station including the 3-star Hotel Heritage Hanno and the Marroad Inn Hanno, also a 3-star business hotel. Hotel Oxy is a love hotel to the north east of town in the suburbs.
Access - Getting To Naguri
From Chichibu
If you want to get to Naguri via Highway 299, the main highway connecting Chichibu with the Tokyo suburbs, turn right onto Route 53 just before the Shomaru Tunnel (when coming from Chichibu).
You have to cross the Yamabushi Pass on a narrow, curvy mountain road on your way to Naguri.
There is no bus service over the Yamabushi Pass. By bus, Naguri is only accessible from Hanno.
From Hanno
By car
Exit the Ken-O Expressway at Sayama Hidaka, drive to Hanno City, then follow Route 70, then turn onto Route 53.
By bus
Naguri belongs to the city of Hanno. From there, a convenient bus service is available.
Take a Kokusai Kogyu bus departing from bus stop 2 outside Seibu Hanno Station's North Exit towards Naguri, Yunozawa or Sawarabi Onsen. Get off at Sawarabi Onsen.
The ride takes about 50 minutes and costs 680 yen one way. Suica / Pasmo IC cards can be used on the bus.
Hanno Access
Seibu Line
Take the Seibu Ikebukuro Line from Ikebukuro Station straight to Hanno. The Seibu Red Arrow Limited Express to Chichibu stops in Hanno.
JR Hachiko Line
The JR Hachiko Line stops at Higashi Hanno Station en route from Hachioji, western Tokyo to Takasaki, Gunma Prefecture.
At Higashi Hanno Station, it is possible to change from the JR line to the Seibu Chichibu local line.
Higashi Hanno Station is a short walk from Seibu Hanno Station.
Hanno tourism website: hanno-tourism.com (in Japanese)
Hakuun-san Torii Kannon
Opening times: daily 9am to 4pm, closed on Wednesday.
Admission: adult 200 yen, children 100 yen, entry by car costs an extra 500 yen.
The Guze Dai Kannon statue is open only from April 1st to end of November, only Saturday, Sunday and public holidays. From 9 am to 3 pm. Admission: adult 200 yen, children 100 yen.
Address: 3198 Kaminaguri, Hanno, Saitama Prefecture
Tel: 042 979 0666
Website: toriikannon.org (in Japanese)
Sawarabi Onsen
Opening times: Daily from 10 am to 6 pm, closed on the first Wednesday of the month
Admission: Adult 800 yen, elementary and middle school students 400 yen, people with disabilities 400 yen, babies free.
Address: Hanno City, Shimo Naguri 685
Tel: 042 979 1212
Website sawarabino-yu.jp (in Japanese)
Saitama Map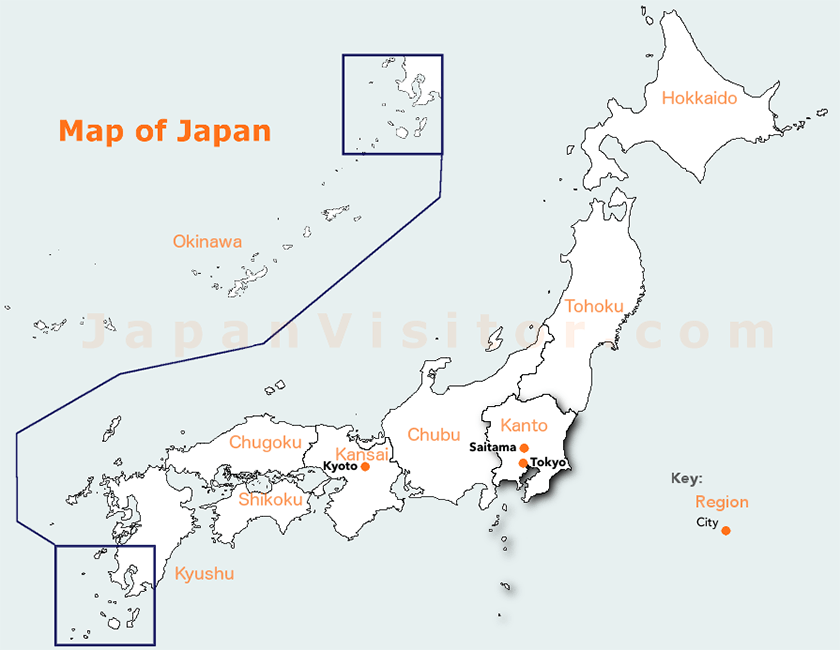 Saitama Map
Book Hotel Accommodation in Saitama Japan
The Naguri Valley (名栗) near Hanno in Saitama Prefecture is a popular destination for Tokyoites seeking hiking, camping and temples.
All the themes of the city