Asakusa district
浅草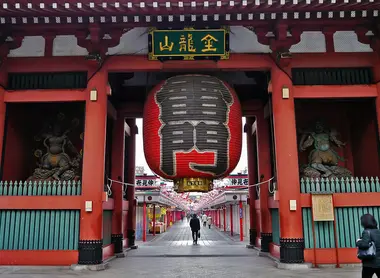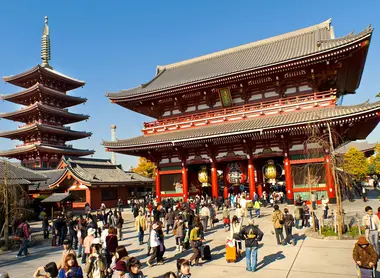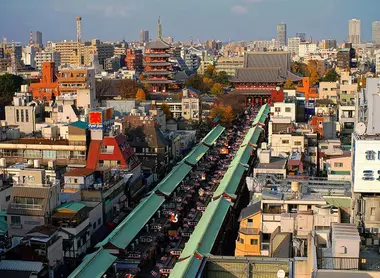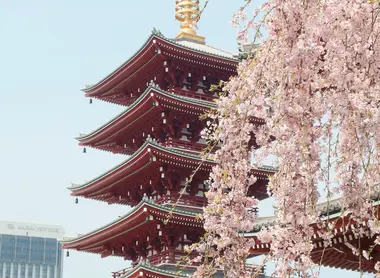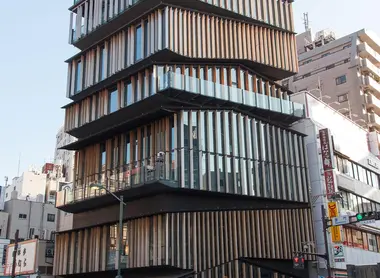 Le quartier populaire et touristique de Tokyo
Dans l'un des derniers quartiers populaires de la capitale, la foule compacte et bigarrée des touristes et des Tokyoïtes se presse autour du grand temple de Senso-ji. De ce temple vénéré depuis des siècles à la tour futuriste Tokyo Skytree, le quartier est une image parfaite de la juxtaposition de l'ancien et du moderne  qui existe à Tokyo. Bienvenue à Asakusa !
The unmissable pilgrimage place in TokyoJ
Over the centuries, a constant flow of visitors have come to pray in the main hall of the Asakusa temple. Today, these travellers come from around the world to admire the architecture.
The first unmissable place in the district is the Kaminari-mon, or "thunder door". With its huge red lantern and its wooden sculptures of the thunder and wind gods, it has become one of the emblems of Asakusa.
A word of advice: visit Kaminari-mon also at night. The crowd is less dense and the atmosphere, thanks to the illuminations, much more mystical.
From behind the door, there is an interesting view of the tourist office building (designed by the famous architect Kengo Kuma) juxtaposed. Take a look: pamphlets and maps (there are some in French) are available there. From the cafe at the top of the building there is a superb view of Nakamise Street.
After crossing it, you will be immersed in the busy street of Nakamise. It is lined with a myriad of small shops that compete with each other for the attention of onlookers. You will find shops selling traditional handicrafts as well as stalls of Dorayaki, fried manju buns, or dango dumplings.
At the end of this street is the symbol of the district: The Senso-ji temple which houses a legendary statue of the goddess Kannon. He is also known as Asakusa Kannon. Just before, on the left, you can admire the temple pagoda from the outside. Do not miss the more discreet but also pretty shrine of Asakusa, located right next to Senso-ji.
This religious complex is renowned for being a place where Buddhism and Shintoism live in harmony.
Nakamise-dori: Asakusa has kept its artisan shops and its old-fashioned atmosphere
Asakusa is part of the Taitô district, a popular district renowned for its artisans of all kinds. If you're interested in traditional items, take a look at these old shops:
Take the small parallel alley on the right of Nakamise-dori and you will find the Yatsume shop which sells hair accessories and traditional hairstyles. For 90 years, girls and young girls have been going there to shop for a traditional festival where they will wear a kimono and have their hair "old-fashioned": the shichigosan festival, the ceremony for the celebration of the majority. at 20 or their marriage… The store also sells Edo Oshie Hagoita, these typical objects that we buy at the end of the year. It is a small wooden racket-shaped board decorated with textile collages depicting Kabuki actors, sumo wrestlers or pretty women.
Every year in December and since the Edo period (1603-1868), the "Hagoita Ichi " market at Senso-ji temple has attracted crowds of visitors from all over Japan to buy an Edo Oshie Hagoita.
On the other side of Nakamise-dori, Arai Bunsendô, has been in business for over 120 years. It is a fan shop whose clientele is mainly made up of kabuki actors, rakugo storytellers and nihon buyô (Japanese dance) dancers.
Throughout the neighborhood, small shops sell traditional handicrafts: wooden combs, brushes, geta, Japanese socks, and other objects that transport visitors to another era.
A little further west of Senso-ji Temple, Hanayashiki Amusement Park has been thrilling its customers since 1949, making this kind of place the oldest in Japan. The rides and other attractions have - fortunately - been modernized, but the vibe has remained intact and the place has a delightfully old-fashioned side.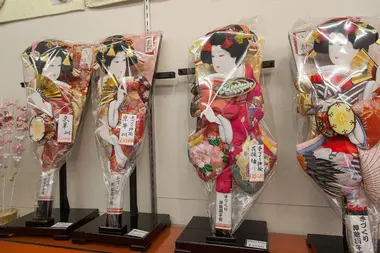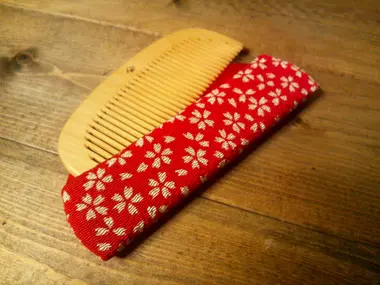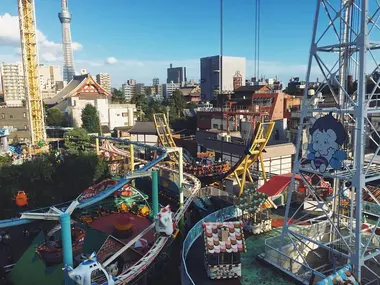 Modern Asakusa: Tokyo Skytree Tower
Visible from the Sensoji temple is the most recent attraction on the outskirts of Asakusa, the Tokyo Skytree. Rising 634 meters above sea level, this futuristic tower offers panoramic views of the city and, on a clear day, all the way to Mount Fuji.
Although this is an impressive show all year round, travellers and locals gather at Sumida Park, especially in the spring, to admire the tower surrounded by cherry blossoms.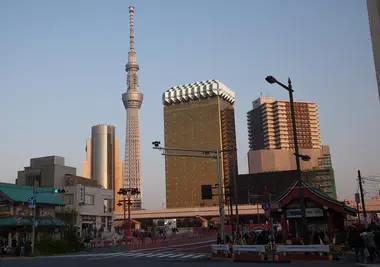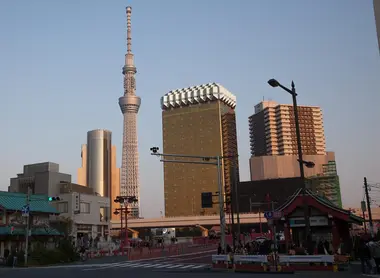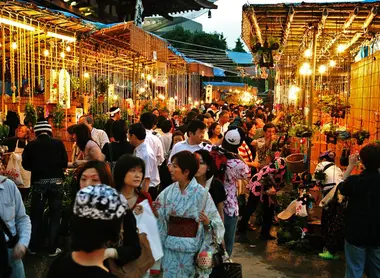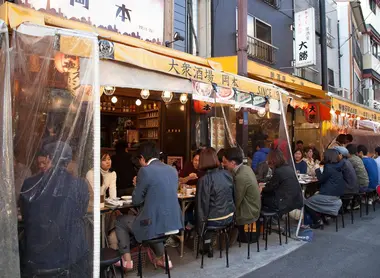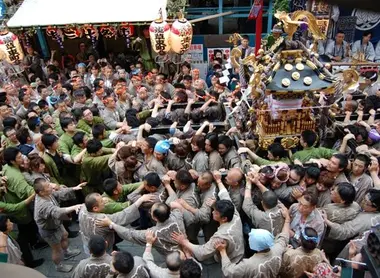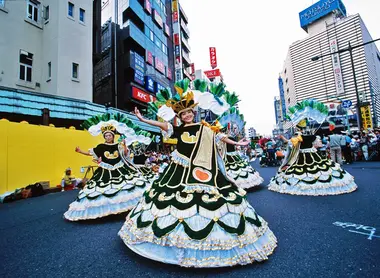 Tokyo by night: Visit Asakusa at night
Besides being very photogenic thanks to the illuminations of the Senso-ji temple complex, Asakusa has always been a place where Tokyoites gather after sunset to relax over a drink while nibbling a few dishes in the many izakaya, the Japanese-style tapas bars that dot the neighborhood. If we can not really speak of a terrace, we can still enjoy the place outdoors thanks to the many establishments that set up tables and chairs in the pedestrian streets.
In addition to countless restaurants, you will also find cinemas and traditional theaters .
Matsuri in Tokyo: The many festivals of Asakusa
On the festival side, Asakusa has no reason to envy neighbouring districts: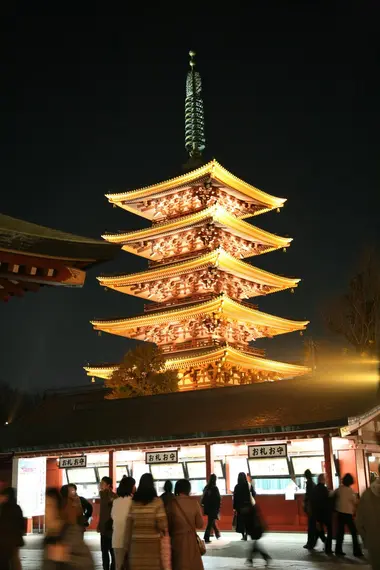 Asakusa of Kawabata
Yasunari Kawabata, (1899-1972), winner of the Nobel Literature Prise, described the neighbourhood as follows: "Asakusa! ... universal Asakusa! All sorts of living things come out of there. It shows bare, all throbbing desires. It is a huge flood of various types and classes of men. At dawn or dusk, is an unfathomable and endless stream: Asakusa is alive... A huge dense crowd parades by. This district forged in an old mould belongs to the crowd and is completely transformed."
When they want to go out in Tokyo, most visitors automatically head to Shibuya, Roppongi or Shinjuku. But Asakusa is the place where the Tokyo locals have gathered for decades, even centuries, after sunset to relax over a drink. You will also find, in addition to its countless restaurants, many traditional theatres and cinemas.
---
Address, timetable & access
Address

Timetable

Asakusa Station is served by the Ginza, Asakusa and Tobu railway lines.
All the themes of the city