Kuramae
Kuramae
Kuramae 蔵前
Kuramae in Taito ward, eastern Tokyo, is traditionally known for its wholesale toy stores but now has a growing number of trendy "hidden" cafes and small, creative, lifestyle accessory stores and artisans' workshops waiting to be explored.
Lower rents have been attracting a younger, hipper crowd to Kuramae area and, with encouragement from Taito ward, this new generation is building on and updating the area's artisanal tradition.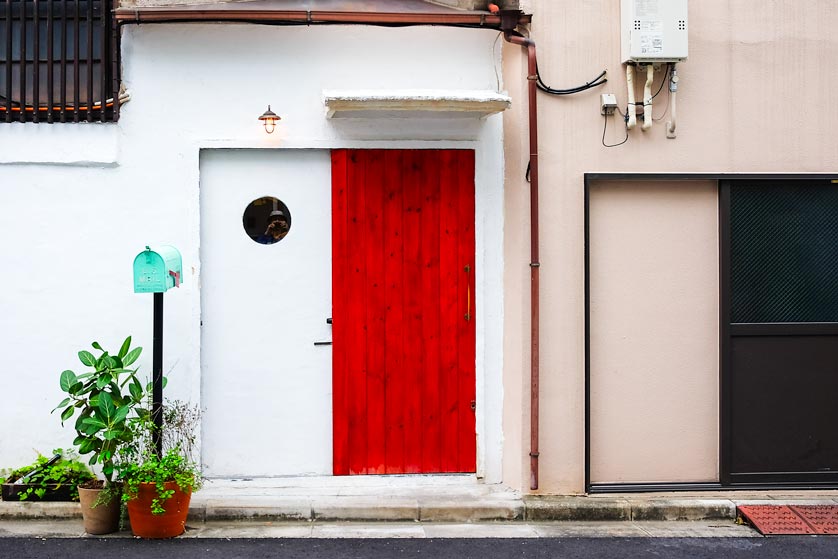 Doors on a street in Kuramae, Taito-ku, Tokyo
Kuramae provides a memorable, and easily walkable, diversion from rowdier Asakusa just north or the rather plain Asakusabashi district just south. Sample Kuramae's up-and-coming cafe culture and browse its new studios offering meticulously and lovingly fashioned goods that can add une touche japonaise to your mode de vie.
Kuramae is popular with budget travelers for its numerous reasonably-priced and conveniently located hotels and guest houses.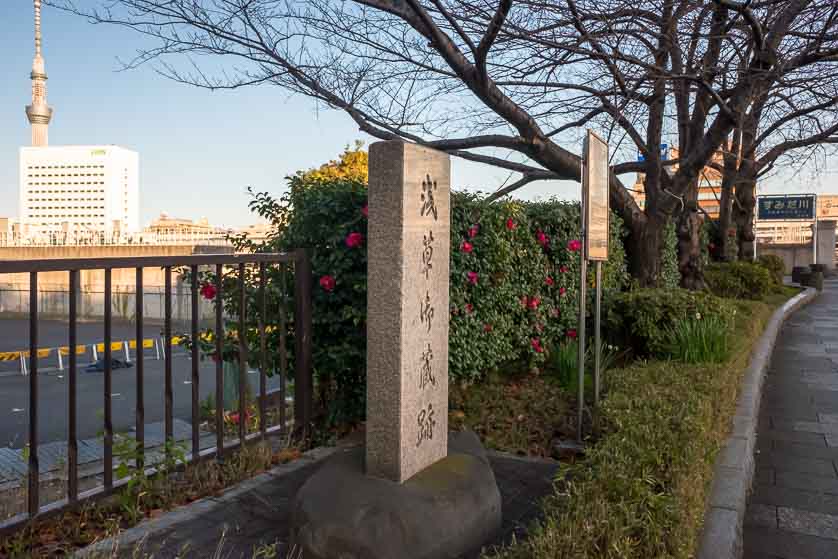 Asakusa-mikura monument, near Kuramaebashi Bridge (Tokyo Skytree in background)
Kuramae History
The name Kuramae means "in front of the storehouses," and dates back to the Edo Period of Japanese history when the Shogunate stored tax rice levied from the lands it directly controlled. Most of the area is on land reclaimed in 1620, when the hill on which Torigoe Shrine was built - just west of the district - was removed and used to fill about 12 hectares (about 30 acres) or so of the west bank of the Sumida River that until then had followed Edo-dori Avenue. The area was home to 67 rice granaries, with 8 canals at intervals for transport by boat on the Sumida River.
The granaries were known as the "Asakusa storehouses" (Asakusa-mikura)—Asakusa being the district just north of what is now Kuramae. The name "Kuramae" (literally "in front of the storehouses") came into official use only in 1934. The reclamation of land and the building of the Asakusa-mikura granaries on it are commemorated by a stone on Kuramaebashi-dori Avenue, just a few meters before Kuramaebashi Bridge.
From 1954 to 1984, Kuramae was the site of the main sumo stadium in Japan. The Kuramae Kokugikan Sumo Arena was built here as an alternative venue to the Ryogoku Kokugikan across the river, which was initially taken over by US Occupation forces. The site of the old arena is now home to the Bureau of Sewerage's Kuramae Water Reclamation Center, which contains the small Kuramae Mizu no Yakata water treatment museum (prior telephone booking required).
Kuramae Layout
Kuramae is a small area, easily traversed in a few minutes. Two main roads run in V-formation through Kuramae. The right of the "V" is Edo-dori Avenue running north-east up to eastern Asakusa, and the left is Kokusai-dori Avenue running north-west up to western Asakusa.
Kuramae has two different stations both named "Kuramae." Kuramae Station on the Asakusa Subway Line is at the base point of the V-formation and goes up the right branch of the V: Edo-dori. Kuramae Station on the Oedo Subway Line is between the top two tips of the V, running east-west.
There are no underground walkways connecting the two stations.
Kuramae extends to somewhat south of the east-west-running Kuramaebashi-dori Avenue.
The eastern side of Kuramae runs 700 meters alongside the Sumida River, with a pleasant riverside walkway offering great views of Tokyo Skytree.
The cafes, stores, workshops and studios that are getting Kuramae noticed throughout Tokyo are evenly spread throughout this small quarter.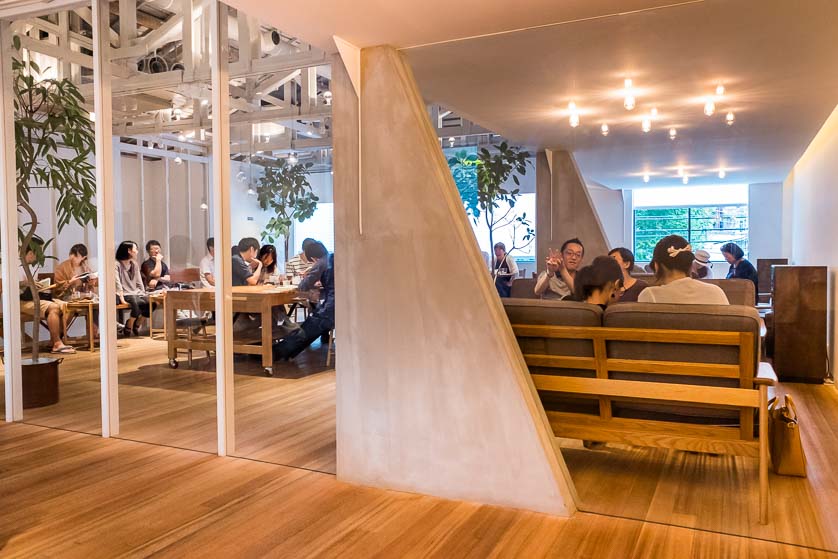 Upstairs at Dandelion Chocolate Factory, Kuramae, Taito ward, Tokyo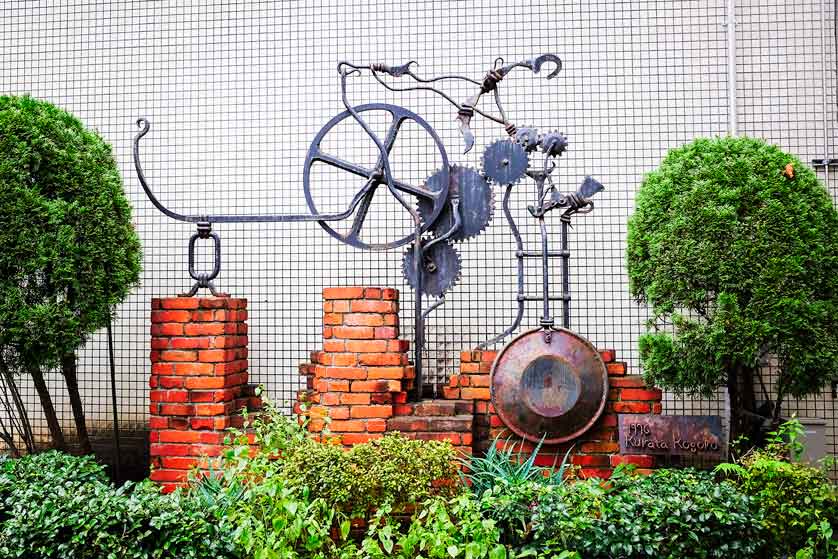 Garden sculpture, Kankyo Fureaikan Himawari, Kuramae, Taito-ku
Kuramae Stores, Studios and Cafes
The following is a selection of some stores, cafes and other places of interest in Kuramae.
Shop M+ (pronounced "M-pew") is a boutique leather wallet and purse store born in Kuramae.
Hours 11am-7pm, closed Sundays, open on public holidays (except those that fall on Sunday).
Nakao Building, 3-4-5 Kuramae, Taito-ku, Tokyo 111-0051, tel. 03 5829 9904
Koncent Kuramae is the Kuramae branch of a lifestyle goods store that originated in Kyoto, selling creative and catchy goods for all areas of living.
Hours 11am-7pm every day.
1F, 2-4-5 Kuramae, Taito-ku, Tokyo 111-0051, tel. 03 3862 6018
Dandelion Chocolate Factory & Cafe is the Kuramae branch of the San Francisco-based chocolate maker, and one of three Dandelion Chocolate branches in Japan. Overlooks the small Seika Park across the road.
Hours 10am-8pm (last order 7.30pm)every day.
4-14-6 Kuramae, Taito-ku, Tokyo 111-0051, tel. 03 5833 7270
Maito Design Works is a Kuramae-based studio selling mainly fabrics and fabric goods, as well as some leather, with a specialty in natural dyeing.
Hours 11.30am-6.30pm, closed Monday.
1F, 4-14-12 Kuramae, Taito-ku, Tokyo 111-0051, tel.03 3863 1128
Iremonya Tokyo Branch, in Kuramae, is the Tokyo branch of a maker of distinctive and very cute storage and filing boxes.
Hours 11am-7pm, closed Tuesday & Wednesday.
1F/2F Tomoya Building 1-2-5 Kuramae, Taito-ku, Tokyo 111-0051, tel. 03 5821 6800
Ambika is the retail store of an Indian cuisine ingredients wholesaler, with a full range of spices, and more, used in Indian cooking.
Hours 11am-8pm, open daily.
1F Ambika House, 3-19-2 Kuramae, Taito-ku, Tokyo 111-0051, tel. 03 6908 8077
Kayadera Temple 榧寺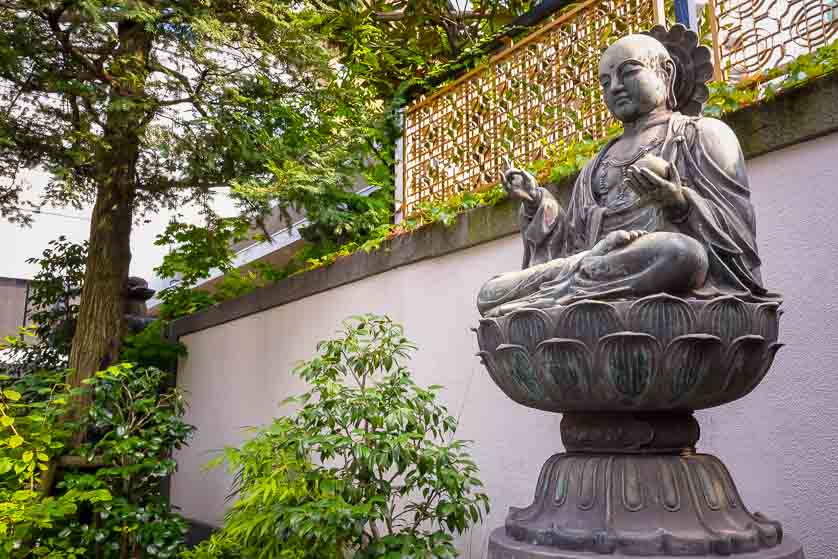 Copper Bodhisattva Kannon statue in Kayadera Temple, Kuramae
Kayadera Temple is a small Buddhist temple in Kuramae named after the ancient tree in its precincts. The kaya tree (sometimes called the Japanese nutmeg tree, part of the yew family) there is over one thousand years old. A 16th century Buddhist monk used to meditate under the tree, and from there the temple was born. Kayadera has a lot of memorable statuary, including a seated copper statue of the Bodhisattva Kannon. The statue, cast in the mid 18th century, radiates an elegant calm. Other statues here are more playful in style, making for an interesting variety.
Torigoe Shrine 鳥越神社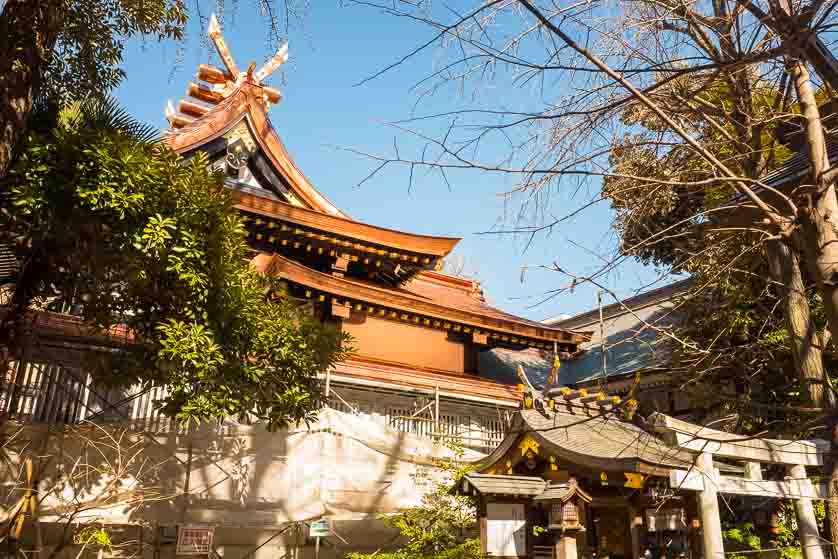 Torigoe Shrine, Kuramae, Taito ward, Tokyo
Torigoe Shrine is a large Shinto shrine just west of Kuramae proper. It is in the neighboring Torigoe district, on the big main Kuramaebashi-dori Avenue. Torigoe Shrine is one of Tokyo's - indeed, Japan's - oldest shrines, with its roots said to go back to the mid-7th century. Torigoe Shrine was built on a hill, leveled in the 1620s to help reclaim land from the Sumida River for granaries, and to fill in a lake on its northern edge.
Torigoe Shrine is most famous for its annual festival, on the weekend closest to June 9. The portable shrine (omikoshi) paraded around the streets during the festival is called a sengan-mikoshi - the biggest kind - and requires more than the usual number of bearers to support its probably 3-4 tonnes.
Torigoe Shrine's New Year celebrations are also unique, featuring a tondo-yaki bonfire fed by that year's traditional New Year decorations. Mochi rice cakes are then baked over the fire, and eating them is believed to ensure good health that year.
Okazu Yokocho おかず横丁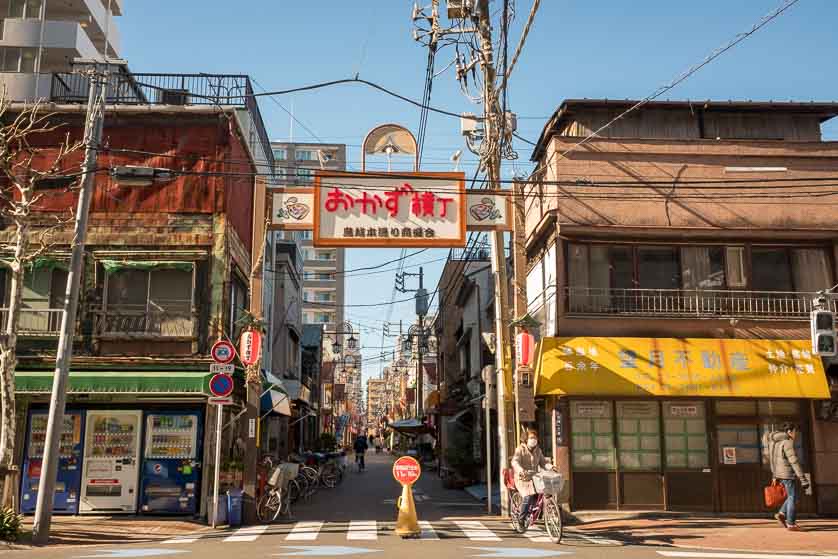 Entrance to Okazuyokocho, near Kuramae, Taito ward, Tokyo
Okazu-yokocho is a small, old-time shopping alley just a couple of blocks west of Torigoe Shrine. If you have time, you might like to spend a few minutes wandering down here. Experience a typical east-end Tokyo neighborhood atmosphere, and the numerous tiny stores - mainly for food (okazu means "snacks").
Monomachi Handicraft Event モノマチ
The Monomachi event from late September to early November every year is when the south-east corner of Taito ward showcases the handicrafts the district has such a reputation for. Craft galleries and workshops participating in the event open their doors wider than usual, giving visitors the opportunity to see craftspeople at work first-hand and letting them try their hand at making things. The Monomachi event area is most closely concentrated in Asakusabashi, immediately south, but with plenty going on in Kuramae as well.
Accommodation in Kuramae
Kuramae is a mecca for budget accommodation, with several hotels and guest houses providing rest and relaxation for less than 10,000 yen per night.
Nui. Hostel & Bar Lounge is a very stylishly converted warehouse with clean, comfortable and reasonably priced boutique hostel accommodation upstairs for travelers and a bar/cafe downstairs for travlers and locals. Great location and a great place to experience the local community vibe.
Hotel Kuramae is a budget hotel-cum-guest house with an at-home atmosphere, and in an especially good location very close to Kuramae Station (Asakusa Line).
Tokyo Hikari Guesthouse provides a warm, cosy welcome to super-budget travelers, has extra-long beds (great for taller guests), a luggage storage service, and a choice of private room or shared dormitory. Very near Kuramae Station (Asakusa Line).
K's House Tokyo - Backpackers Hostel offers comfortable rooms from very cheap prices, with bunk bed dormitory or private room (including double room) options, and shared bathroom facilities.
MyCube by MyStays Asakusa Kuramae is a clean, stylish facility providing each guest with a comfortable "cube" for relaxing and sleeping in, complete with TV and power/USB plug, shared bathroom, and 2-minute access to both Kuramae Stations (Asakusa Line and Oedo Line) for very reasonable rates. Buffet breakfast. Very popular.
See more budget accommodation and hostels in Tokyo.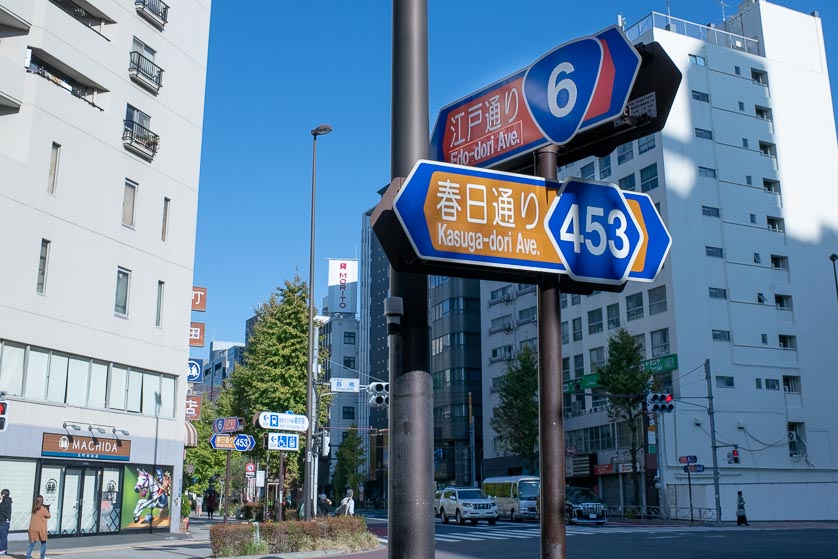 Umayabashi Intersection, connecting Kuramae Station (Oedo Line) and Kuramae Station (Asakusa Line)
Kuramae Access
Kuramae can be accessed via the north-south orientated Toei Asakusa Subway Line or the the east-west orientated Toei Oedo Subway Line, each with its own Kuramae Station within 300 meters of each other (but not connected underground). Kuramae Station on the Asakusa Line is toward the south end of the area, and Kuramae Station on the Oedo Line is at its very north.
Near Kuramae
Asakusa with its Sensoji Temple, rickshaw rides and eye-catching tourist information center, is one stop north of Kuramae on the Asakusa Subway Line (and then a further 5-minute walk north from Asakusa Station on the Asakusa Line). From Kuramae to Asakusa on foot takes about 12 minutes.
Asakusabashi, famous for its traditional Japanese doll emporiums and sewing/hobby accessories, is one stop south of Kuramae on the Asakusa Subway Line (or about 10 minutes' walk).
The Tawaramachi and Inaricho districts, a little north-west of Kuramae, have hundreds of Buddhist temples and some Shinto shrines.
Kappabashi Kitchenware Street is off the main street between Tawaramachi and Inaricho.
Book Hotel Accommodation in Japan
Kuramae in Tokyo's Taito ward is an up-and-coming area for trendy cafes and artisan's studios, and offers the traveler lots of well-located budget accommodation.
All the themes of the city