Kita-Senju Guide
Tokyo Districts: Kita-Senju 北千住
Kita-Senju is situated in Adachi-ku in north east Tokyo and is located on a number of train lines.
The narrow streets of the district have an atmospheric shitamachi feel to them completely different to such glitzy areas of Tokyo as Ginza or Roppongi.
Historically, Kita-Senju was the first post station (called Senju-shuku 千住宿) on the Edo Period Nikko Kaido from Nihonbashi to the Toshogu Shrine of Tokugawa Ieyasu in Nikko, Tochigi Prefecture.
Senju was also located on the Mito Kaido from Edo to Mito in Ibaraki Prefecture.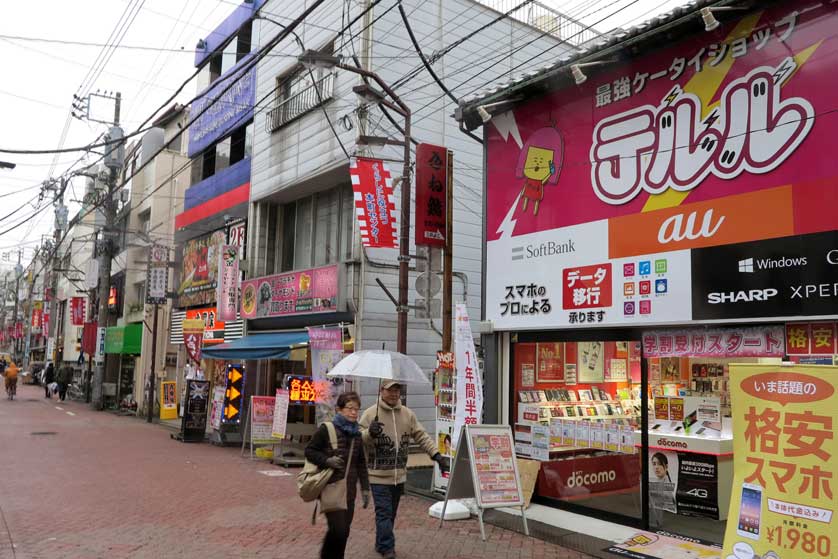 Kita-Senju Kyu-Nikko Kaido shopping street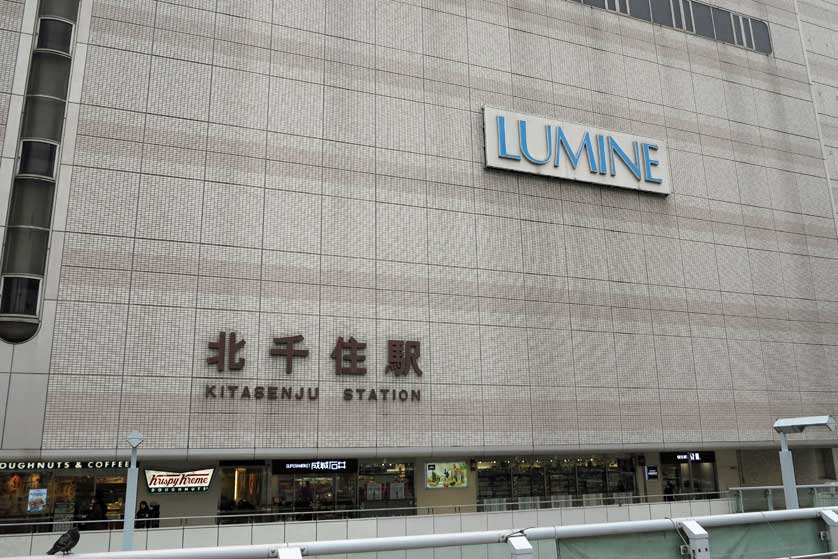 Lumine Department Store and Kita-Senju Station West Exit
Little now remains from Kita Senju's Edo Period history, though the sites of the town's former Honjin (high class residence for officials), kosatsuba notice board and ichirizuka (old distance markers for one ri, about 3.9 km) are marked.
The haiku poet Matsuo Basho is also honored as he passed this way on his travels to the far north of Japan celebrated in his epic Oku no hosomichi (The Narrow Road to the Deep North).
A number of small temples and shrines have survived from this time including Genchoji Temple, Shosenji Temple, Konzoji Temple, Myojoji Temple, Senju Jinja, Hachiman Jinja, Senju Motohikawa Jinja and Jogoji Temple.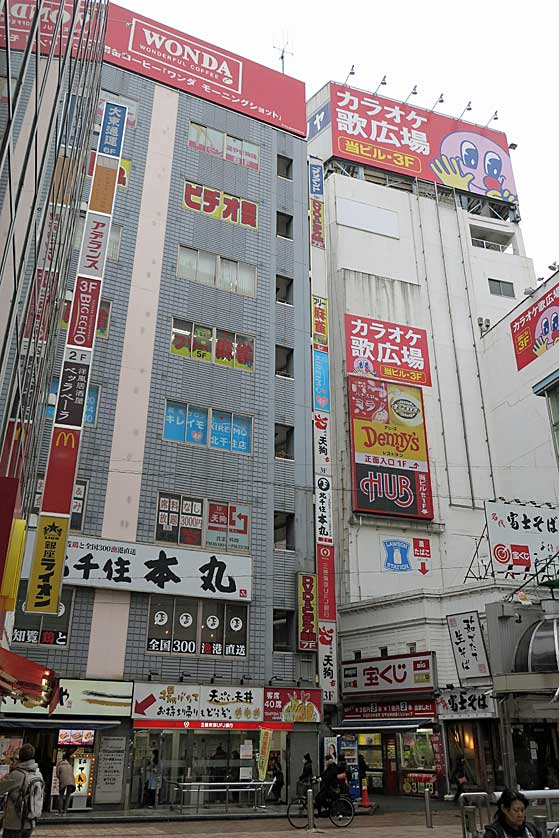 Kita-Senju Station West Exit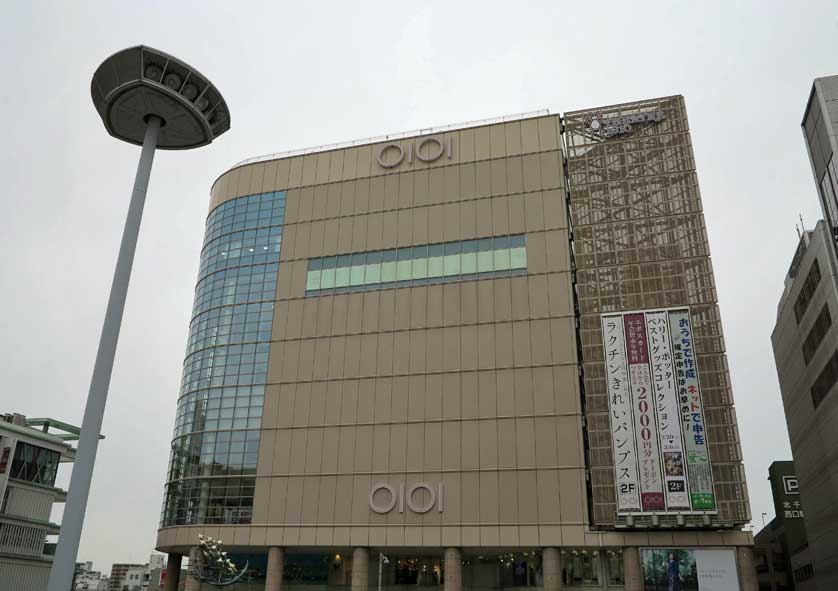 Marui Department Store, Kita-Senju Station West Exit
A few former historical residences from Edo times are preserved along the old Nikko Kaido: the Former Yokoyama House (横山家住宅), once a shop selling traditional paper products and Senju Ema Yoshida's House (千住絵馬吉田家) which is still producing ema, paper kites and chochin lanterns.
Tokyo National University of the Arts has a small campus here in Kita-Senju housing the department of Musical Creativity and the Environment. From the east exit of the station it is a short walk to Tokyo Denki University (TDU), which offers courses in engineering, architecture and computing.
Close to Senju-Ohashi Station on the Keisei Line is the Sekido Museum of Art (10am-5pm, 500 yen, closed Mondays) containing the collection of Senju Satoh (1918-2008), the former chairman of the Senju Metal Industry Company. Housed in a modern building the collection includes mainly ceramics as well as metalwork, lacquerware and sculpture.
Close by is the Tokyo Metropolitan Central Wholesale Market Adachi Market, which like its more famous cousin, Tsukiji, is a wholesale fish market.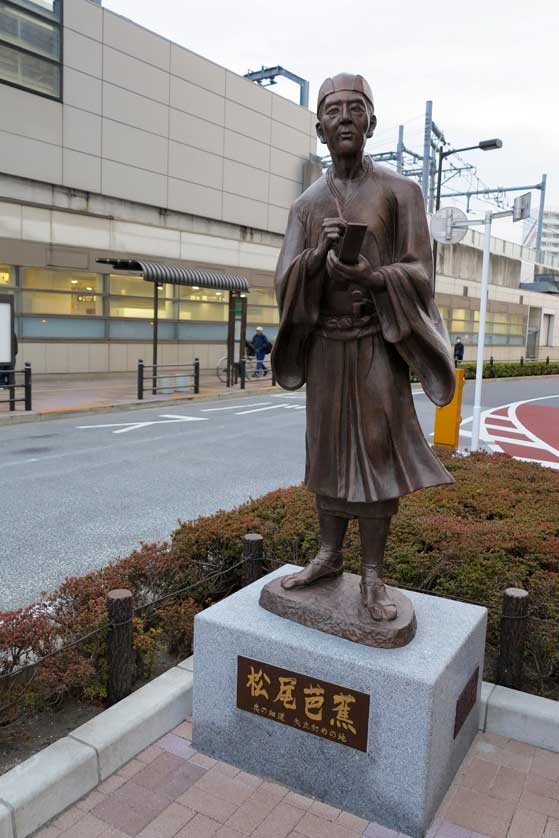 Statue of the poet Basho, Kita-Senju, Tokyo
Hotels Near Kita-Senju Station
Kita-Senju is close to the Minami-Senju district of cheap hotels that is becoming increasingly popular with young backpackers and budget travelers to Tokyo.
Close to Kita-Senju Station are the four-star Hotel Coco Grand and the budget Spa & Capsule Hotel Grandpark Inn Kitasenju
Kita-Senju Station
Kita-Senju Station is on the Hibiya and Chiyoda lines of the Tokyo metro, the Tsukuba Express linking Akihabara Station and Tsukuba in Ibaraki Prefecture, the Joban Line from Ueno Station to Sendai and the Tobu Skytree Line from Asakusa Station to Tobu-Dobutsu-Koen Station in Saitama Prefecture and handy for getting to Tokyo Skytree.
Kita-Senju Station has a number of local Tokyo bus connections with services to Kohoku Station on the Nippori-Toneri Liner, Nishiarai Station on the Tobu Skytree Line and Tobu Daishi Line, Tabata Station on the Yamanote Line and Keihin-Tohoku Line, Ogi-ohashi Station on the Nippori-Toneri Line and Takenotsuka Station on the Tobu Skytree Line.
Kita-Senju Station has two exits: the West Exit and the East Exit. The West Exit opens on to the busier part of the area.
The Kita-Senju Station building contains a Lumine department store with a large number of fashion stores and a restaurant floor (Chinese, omurice, sushi, udon, Vietnamese and a branch of Wired Cafe). There is also a Seijo Ishii import store in the station building.
Across the elevated walkway is a OIOI (aka Marui) department store with a restaurant floor on the 9th floor and a variety of brand stores.
Jumbled around the station are scores of cheap eateries, pink salons, izakaya and shopping arcades.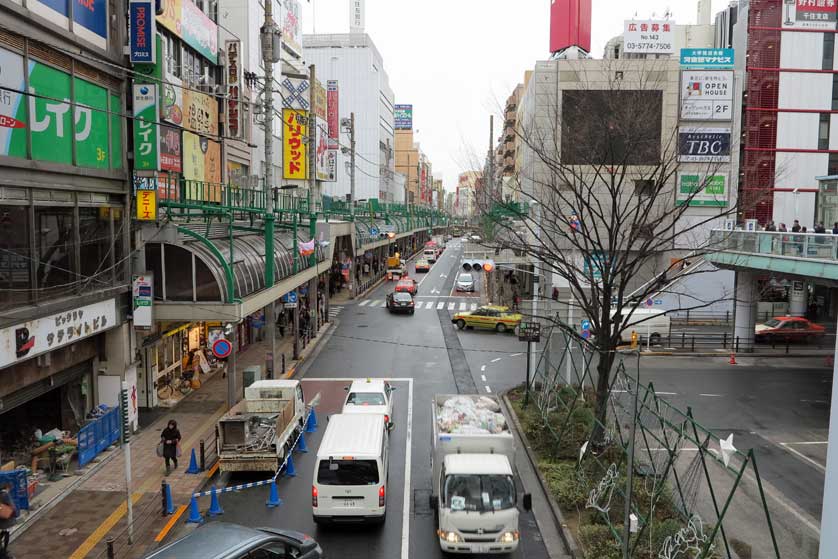 Kita-Senju, Adachi-ku, Tokyo.
Kita-Senju: read a guide to Kita-Senju in Adachi ward in the north east of Tokyo, once a post-station on the Nikko Kaido highway.
All the themes of the city