Kanda
神田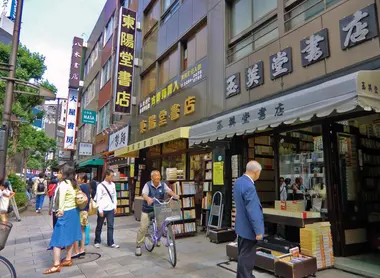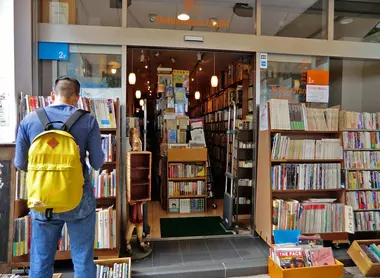 Reading for All!
With its renowned schools, its higher education institutions and Meiji University, the Kanda district concentrates more than one hundred and fifty bookstores!
In Jimbocho, the booksellers street, millions of new and used books await bookworms, students, scholars and book lovers. Displays and shelves offer all sorts of subjects, textbooks and magazines, catalogs and old prints. Used, dog-eared detective novels and manga rub shoulders in jubilant stacks. Walking on these sidewalks stimulates the mind. It is a real pleasure to rummage, to rediscover a no-longer published book or find a forgotten author. A literary exhilaration.
From page to page
Fans of old images, the famous Japanese prints, maps, cards and old papers from the Edo era inevitably call at Ohya Bookstore. Nostalgia of the anti-establishment years and counter-culture reach nirvana when they go up to Bondi Books. On the first floor of Tamura Bookstore, a prominent and scholarly bookseller seems to have stepped out of an improbable novel... Finally, a visit to Isseido Bookstore is a must for the curious, connoisseurs and aesthetes in search of emotion.
All the themes of the city