Nakagin Capsule Tower
中銀カプセルタワー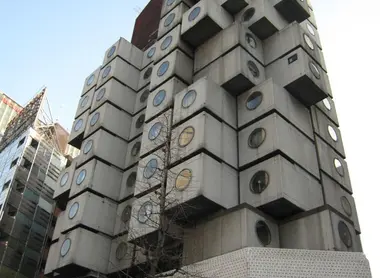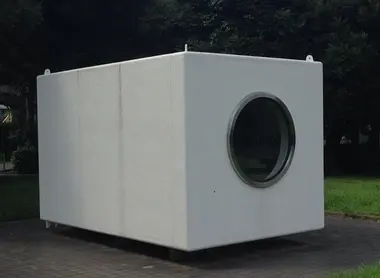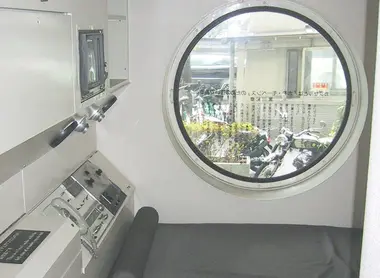 The origin of capsule hotels
South of the Ginza district, near Shinbashi, is a unique building that stands out in the landscape of Tokyo skyscrapers, the Nakagin Capsule Tower. The work of a Japanese architect, Kisho Kurokawa, founder of the Metabolist Architecture or "metaborizumu," was a post-war Japanese architectural movement that fused ideas about architectural megastructures with those of organic biological growth.
Metabolist movement.
Modern architectural project
Kisho Kurokawa (1934-2007) was one of the pioneering architects of the Metabolist movement. This criticizes traditional laws and advocates the functional transformation of futuristic cities, which are bound to expand infinitely. The Nakagin Capsule Tower is Kurokawa's first notable design, built in 1972.
Two 13-story reinforced concrete towers are fitted with 140 prefabricated capsules of around 9m 2 . Water and electricity pass through these two towers before being distributed to each capsule. The modules can be combined to create larger living spaces. The building can thus adapt to the constant evolution of society, and Japan needed it after its impressive period of growth following the Second World War.
This project was the beginning of the very first capsule hotel, also created by Kurokawa a few years later in Osaka. After these projects, the great architect notably created several museums, such as the Hiroshima Museum of Contemporary Art and the Tokyo National Art Center.
Read Capsule hotels.
Deserted Dormitory 
Shinbashi being one of the biggest business districts of the capital, the capsules of the Nakagin tower for rent or sale were intended for the employees of the surrounding companies. Thus they did not have to cross the city (or even the region) to return home in the evening. Overtime was commonplace in Japan, especially in this speculative financial bubble; employees often stayed until after midnight, when the trains were no longer running. Also, they had to come back to work very early and didn't have enough time to go home to sleep. The capsules, therefore, served as a dormitory for exhausted workers.
However, that didn't work, and capsule owners soon abandoned them. Their condition deteriorated quickly, and maintenance was too expensive. They, therefore, waited for a promoter to buy the land to build a building there that would have more place in the decor of the chic district with its modern facilities. Even the inhabitants of neighboring buildings favor the deconstruction of this architectural monument. The tower's future was darkened in 2007 after the death of its creator, but enthusiasts gradually bought back the capsules to continue to make the Nakagin Capsule Tower live. 
Attempts to secure funding for a renovation failed, and the iconic building is now being dismantled. The dismantled work is due to start in late March 2022. It is said that some of the cubic modules will be recycled, while others will be restored and donated to museums. One of them is displayed at the Museum of Modern Art in Saitama. 
Suivez les traces des plus grands architectes de Tokyo avec un guide !
---
Address, timetable & access
Address

Timetable

Shinbashi Station
All the themes of the city