Nezu Shrine Tokyo
Tokyo Shrines: Nezu Shrine 根津神社
Nezu Shrine in Tokyo's Bunkyo ward near Ueno Park is one of Japan's oldest shrines, and certainly one of its most attractive. Nezu Shrine is set in lush greenery, with ponds of carp, pathways that are tunnels of small shrine arches, and elegant, beautifully colored, wooden structures that reflect Japanese culture in all its age and beauty.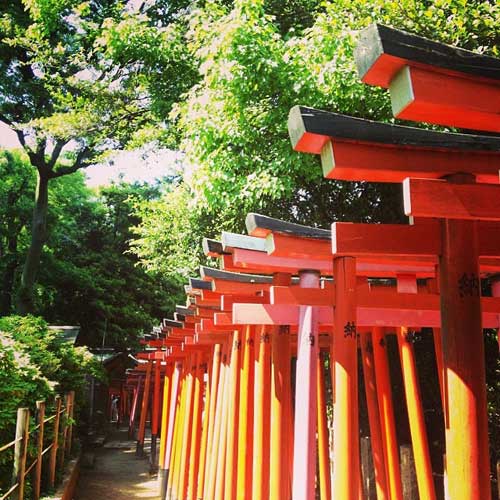 Nezu Shrine, Bunkyo-ku, Tokyo
Nezu Shrine is at the peak of its spring beauty when the Shrine's thousands of famous azalea bushes bloom pink and white on its spacious hillside garden in April. Nezu Shrine is also popular as a venue for traditional Japanese weddings.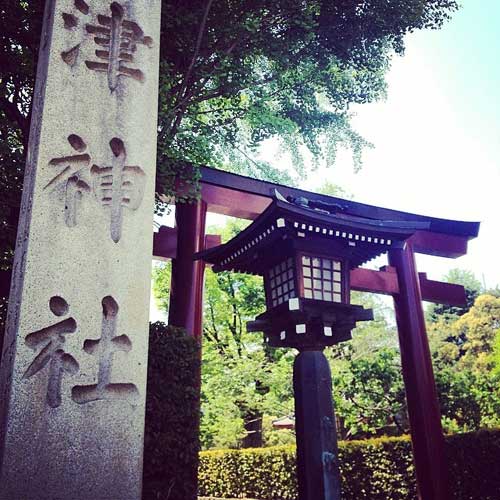 Nezu Shrine Entrance with torii gate and lantern
Nezu Shrine grounds
Nezu Shrine History
Legend has it that what later became Nezu Shrine was first founded in Sendagi, just north of its current location in Nezu, by the fearsome Prince Osu, also known as "Yamato Takeru" who is said to have lived in the first century A.D.
Nezu Shrine was relocated to the Nezu area in the mid-17th century on the occasion of Shogun Tsunayoshi Tokugawa choosing his successor. Such is Nezu Shrine's status in history that it features not only in the doings of the Shoguns but of the Imperial family too. For example, when the Emperor moved his seat from Kyoto to Tokyo in the late nineteenth century, he sent envoys to Nezu Shrine to have the Shrine intercede with the gods on his behalf.
Nezu Shrine Features
Nezu Shrine is styled after Toshogu Shrine in Nikko in what is known as Gongen, or ishinoma-zukuri, style.
Nearly all of Nezu Shrine's structures are extant from when they were built or rebuilt in 1706. For this reason, they are designated Important Cultural Properties of Japan.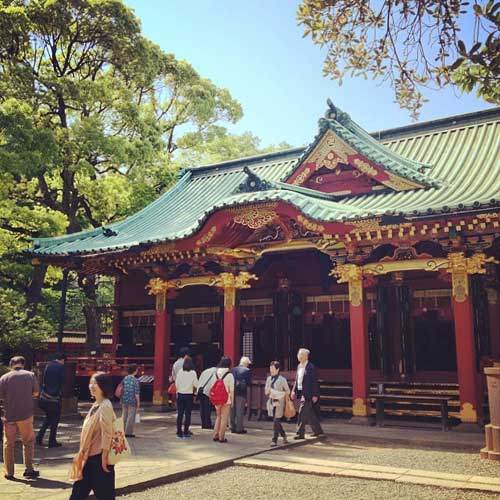 Main Hall (honden), Nezu Shrine, Bunkyo-ku, Tokyo
A particularly memorable feature of Nezu Shrine is its scores of small, vermilion torii Shinto shrine gates that cover the paths on the hillside above the main shrine, making for a tunnel effect.
The torii-lined pathways lead to and from a viewing platform that is part of the smaller Otome Inari Shrine, a shrine-within-a-shrine that overlooks the main shrine buildings, and over a sizable pond directly below.
If you take the path through the tunnel of torii that begins on your left after crossing the bridge, you will come across a pile of about half a dozen rocks placed somewhat randomly and fenced off. This is the Enazuka or "Placenta Mound" containing the afterbirth of Tokugawa Ienobu (1662 – 1712), the sixth Shogun of Japan.
A somewhat more salubrious rock is the Bungo no Ishi ("Stone of the Literary Greats") where such masters of Japanese literature as Natsume Soseki and Ogai Mori are said to have sat and received inspiration - located to your left and a little further on after entering the first gate after the bridge.
Nezu Shrine Bunkyo Azalea Festival
Nezu Shrine is the home of the Bunkyo Azalea Festival, which happens every April and is named after Tokyo's Bunkyo ward where Nezu Shrine is located. Over an acre and a half (three-quarters of a hectare) of vivid azaleas (つつじ; tsutsuji) bloom in shades of mainly pink and white, and in different shapes and sizes, in what is one of Tokyo's most spectacular spring scenes, thronged with visitors from all over Tokyo and beyond. There are over 3,000 plants in all to admire.
The many varieties of azalea (over 100), with their various characteristics, mean that the blooming period is long. The Bunkyo Azalea Festival also features stalls selling food, handicrafts, toys and clothing, as well as traditional song and dance entertainment.
The azalea gardens are open to the public only at the time of the Bunkyo Azalea Festival, and require a small entry fee.
Nezu Shrine Bunkyo Azalea Festival - You Tube Video
Join David of JapanVisitor in experiencing the sights and sounds of Nezu Shrine at its busiest and most beautiful time of the year: the Bunkyo Azalea Festival.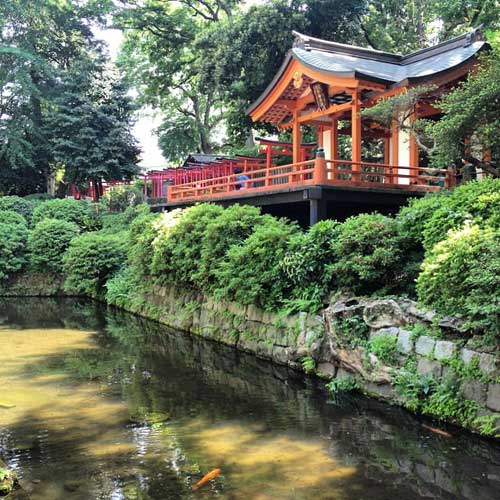 Nezu Shrine grounds with small pond and viewing platform belonging to Otome Inari Shrine
Nezu Shrine Access
-Nezu Station (Chiyoda Subway Line), left out of Exit 1, walk 3 minutes, and turn left at the second traffic lights (Nezu-Jinja-Iriguchi intersection). Walk for two minutes and Nezu Shrine is on your right. Total: 5 minutes.
-Sendagi Station (Chiyoda Subway Line), right out of Exit 1, walk 7 minutes, and turn right at the third traffic lights (Nezu-Jinja-Iriguchi intersection). Walk for two minutes and Nezu Shrine is on your right. Total: 9 minutes.
-Todaimae Station (Namboku Subway Line), left out of Exit 2, cross the pedestrian overpass across Hongo-dori Road, once on the other side of the road keep going 50 meters in the same direction as before, and take the alley on the right, at the bus stop. After two minutes, and a small right-then-left bend, the alley comes out onto a small road. Turn right out of the alley, take the second turn on your left, walk three minutes, and Nezu Shrine is on your left. Total: 6 minutes.
Nezu Shrine
1-28-9 Nezu
Bunkyo-ku, Tokyo
113-0013
Tel: 03 3822 0753
Google Map to Nezu Shrine
Attractions nearby Nezu Shrine
Just south down Shinobazu-dori Road are the Kyu-Iwasaki Teien Gardens, which is the 19th century home of the founder of the Mitsubishi Group, Yokoyama Taikan Memorial Museum, which is the old home of a famous Japanese-style artist, and, a little further south, Yushima Tenjin shrine. A short walk to the east is the quirky Daimyo Clock Museum with a collection of traditional Japanese clocks or wa-dokei.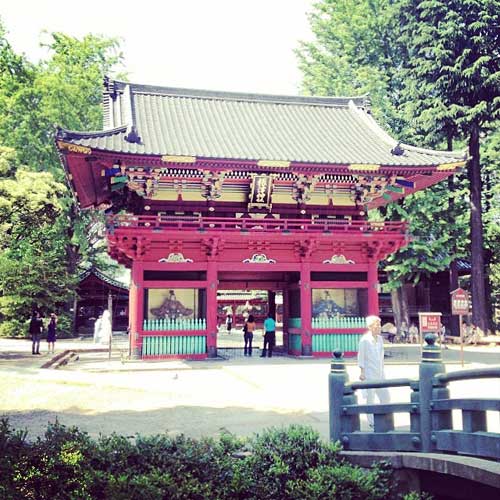 Nezu Shrine Romon Gate, Bunkyo-ku, Tokyo
Book Hotel Accommodation in Tokyo Japan near Nezu Shrine
Nezu Shrine: read a guide to Nezu Shrine in Bunkyo ward in Tokyo, an historic shrine famous for its azalea festival in May.
All the themes of the city