Daimyo Clock Museum
Daimyo Clock Museum: the Daimyo Clock Museum in the Yanaka district of Tokyo houses the lifetime collection of a Japanese ceramicist cum clock collector.
The Daimyo Clock Museum 大名時計博物館
The Daimyo Clock Museum is a large roomful of clocks in an old house on an overrun property in the picturesque Yanaka district of Taito ward, Tokyo. The Museum dates from 1974, and houses the lifetime collection of a Japanese ceramicist cum clock collector.
Pre-modern clocks were prohibitively expensive wherever you were in the world, and Japan was no exception. Only the rulers of Japan had the resources to afford a painstakingly crafted clock.
Temporal vs equal hours
Unlike in Europe where time consisted of 24 equal hours making up a day, in Edo Period Japan sunrise and sunset demarcated two periods of time divided into six daylight units and six night time units which, as sunset and sunrise times changed with the seasons, constantly changed their respective lengths. (These so-called temporal hours, as opposed to equal hours, were used not only in Japan, but by the Chinese and the ancient Greeks, Romans and Jews as well.) This made mechanical time-keeping something of a challenge, but a challenge which the clock-makers of the period rose to.
The Daimyo Clock Museum preserves the ingenuity of Edo period Japan's clockmakers in the form of about two dozen clocks, most of which, being pyramid-shaped, are more reminiscent of a dalek or R2-D2 than a clock - and quite fittingly, given the fact that they were at the cutting edge of technology at the time.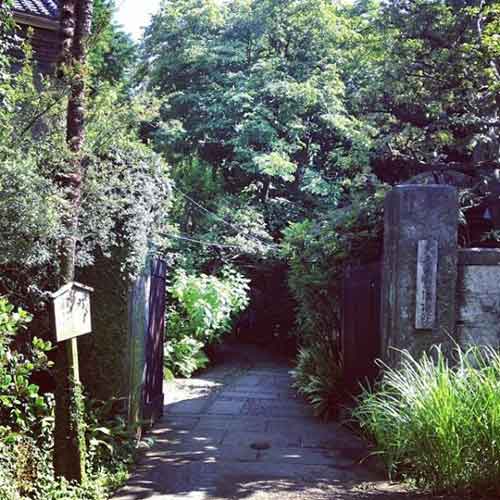 Daimyo Clock Museum entrance
Daimyo Clock Museum exhibits
The Museum
Interesting as all of this is, the Daimyo Clock Museum is such that unless you are impelled by a strong interest in old clocks, however cunningly and elegantly crafted they may be, you will find yourself in a single, largish, musty room, having just parted with 300 yen, surrounded by mainly glassed-in clocks and feeling more like you are in a forgotten antique furniture showroom than in the presence of venerable greatness. Perhaps it's those temporal hours, but 10 minutes here (if you can make it that long) feels like an hour already.
Besides the unfamiliar (for all of two minutes) temporal hour clocks, there is a familiar grandfather clock or two, and a small showcase of pocket watches.
Photography inside the museum is prohibited.
Museum grounds
The Daimyo Clock Museum is probably more worth visiting for its grounds than what is inside. Tending to overgrown and ramshackle, the property has a forlorn picturesqueness, but unfortunately perambulation is prohibited.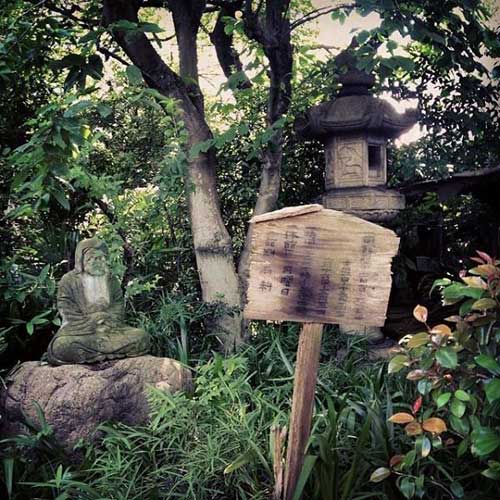 Daimyo Clock Museum grounds
Museum hours
The Daimyo Clock Museum is open 10:00 a.m. to 4:00 p.m. every day except Sunday, and is closed during summer (July 1 - September 30) and New Year (December 25 - January 14). Entry is 300 yen for adults, 200 yen for university and high school students, and 100 yen for junior high and elementary pupils.
Daimyo Clock Museum access
Yanaka 2-1-27, Taito-ku, Tokyo10 minutes walk from Nezu station on the Chiyoda subway line.
15 minutes walk from JR Nippori Station.
Google Map
Attractions nearby the Daimyo Clock Museum
Further west, on Shinobazu-dori Road, are the Kyu-Iwasaki Teien Gardens, which is the 19th century home of the founder of the Mitsubishi Group, the Yokoyama Taikan Memorial Museum, which is the old home of a famous Japanese-style artist, and Yushima Tenjin shrine. Beautiful Nezu Shrine is a short walk away.
Book Hotel Accommodation in Japan Near The Daimyo Clock Museum Tokyo
All the themes of the city