Kurobe Gorge
Kurobe Gorge (Kurobe Kyokoku) 黒部峡谷
Kurobe Gorge is one of the deepest and most beautiful gorges in Japan, famed in particular for its autumn leaves.
The 20 km-long Kurobe Gorge Railway that traverses the Gorge, from Unazuki Station to Keyakidaira Station, was built to construct the five dams on the Kurobe River, including the huge Kurobe Dam. (However, the Kurobe Gorge does not form part of the nearby Tateyama Kurobe Alpine Route).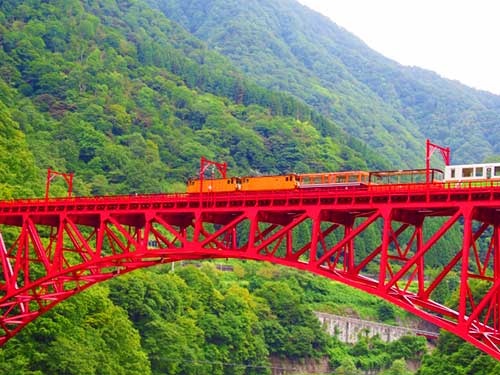 Bridge on the Kurobe Gorge Railway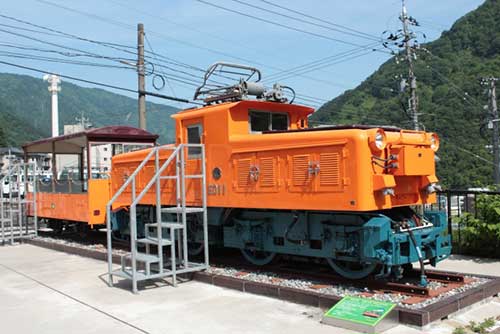 Kurobe Gorge Locomotive, Toyama Prefecture
Kurobe Gorge Railway
The 20km-long Kurobe Gorge Railway (Torokko Electric Railway) crosses 21 bridges and goes through over 20 tunnels from Unazuki to Keyakidaira. There are 10 stations on the line. The Unazuki to Nekomata section of the Kurobe Gorge Railway opened in 1926, and was extended to Keyakidaira in 1937. The passenger service on the electrified line started in 1953. The line is owned by Kansai Electric Power Company (KEPCO). Some of the carriages on the trains have open decks, allowing for superb views of the scenery as you pass through Kurobe Gorge.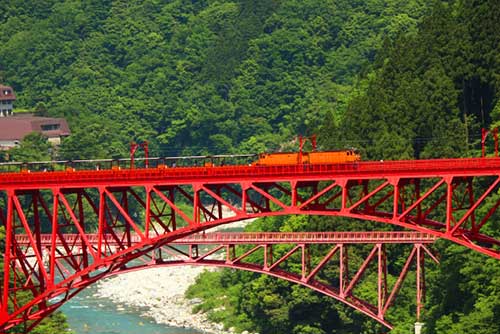 Kurobe Gorge Train Crossing Shin-Yamabiko Bridge
Kurobe Gorge, Toyama Prefecture
Unazuki Onsen
Unazuki Onsen is the starting point of the Kurobe Gorge Railway. There are a number of hotels and ryokan in this beautiful hot spring and ski resort, among numerous other attractions.
The superb Enraku ryokan is the ultimate in Japanese-style hospitality and comfort, in verdant surroundings, with guests' every need tended to, and exquisite cuisine.
The 166 meter-long Shin-Yamabiko Bridge can be viewed from the parallel pedestrian bridge or the Yamabiko Observation Deck and makes for excellent photographs.
Unazaki Museums
Kurobe River Electric Memorial Hall
The Kurobe River Electric Memorial Hall (黒部川電気記念館) run by Kansai Denryoku (KEPCO) is dedicated to the history of hydroelectric power on the Kurobe River, the various dams and the railway built to construct them.
Kurobe Kyokoku-guchi 11 Kurobe, Toyama Prefecture 938-0293 ; Tel: 0765 62 1334;  7.30 am to 6 pm (April 18-November 30); 9 am-4 pm December 1-April 17)
Closed: Tuesdays from December 1-April 17.
The Selene Museum of Art opened in 1993 explores the theme of nature in Kurobe Gorge and has works by contemporary Japanese artists such as nihonga painter Hirayama Ikuo.
6-3 Unazuki-machi, Shimoniikawa-gun, Toyama Prefecture 938-0282; Tel: 0765 62 2000; 9 am-6.30 pm (April 1 - November 30); 9 am-5.30 pm (December 1 to March 31); Closed Tuesday (unless Tuesday is a national holiday) from November - March and also the the New Year holidays.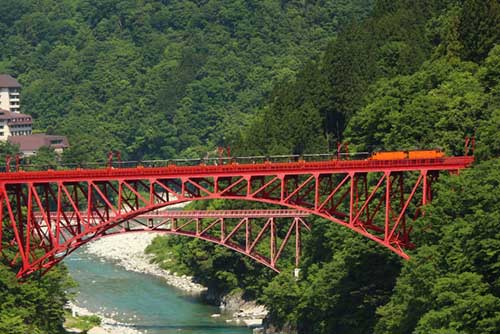 Shin-Yamabiko Bridge over Kurobe Gorge at Unazuki
Kuronagi
The mountains become progressively higher after you enter Chubu-Sangaku National Park across the Moriishi Bridge. The blue, 60 meter-tall Atobiki Bridge ("Back Away Bridge") is the tallest bridge on the line and traverses the Kuronagi River at its deepest and narrowest point (64m) as the river begins to gently wind.
Kuronagi Onsen Ryokan is a noted onsen here with a rare mixed rotemburo (outside bath), indoor baths and a ladies' only rotemburo.
Kanetsuri
Near Kanetsuri Station is a free onsen pool where visitors can enjoy bathing in the open air (until 4 pm) or use its waters as a foot bath. Mannen Yuki is a shaded hill where the snow does not (usually) melt in the summer months and can be viewed from neighboring inns or an observation point.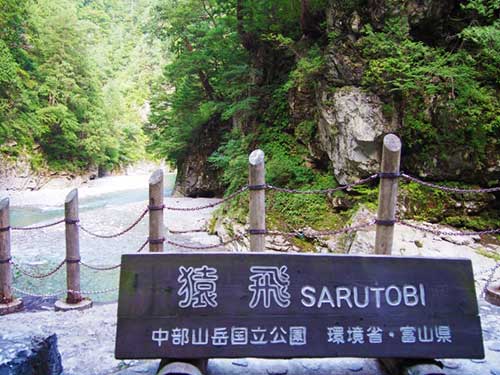 Sarutobi Gorge ("Jumping Monkey"), Chubu-Sangaku National Park
Keyakidaira
Keyakidaira is the terminus of the Kurobe Gorge Railway and from here a number of hiking trails head out into the mountains. Recommended spots include the beautiful Sarutobikyo Gorge, the Okukane Bridge (a foot bridge right at the station) and the remote Meiken and Babadani hot springs. The area is known for its wild Japanese monkeys and deer (shika).
Unazuki Accommodation
There are a number of onsen ryokan and hotels to cater to the visitors who flock ere for the combination of the hot spring waters and the amazing fall foliage. Places to stay in Unazuki include:
Green Hotel Kisen nestled into a mountainside only 3 minutes walk from the river, and with both Western and Japanese food served.
Hotel Kurobe (ホテル黒部) overlooks the iconic railway line, and provides a free shuttle service to and from Unazuki Onsen Train Station.
Enraku ryokan offers the ultimate in traditional hospitality, being a luxury option for those who want the best possible Japanese mountain stay experience.
Getting to the Kurobe Dam
From Tokyo to Kurobe Gorge (Toyama Prefecture)
Take the JR Hokuriku Shinkansen to Kurobe Unazuki Onsen (about 2 and a half hours). Then change to the Toyama Chiho Railway from nearby Shin-Kurobe Station to Unazuki Onsen Station (25 minutes). The shinkansen ride is covered by the Japan Rail Pass; the Toyama Chiho Railway is not. The Kurobe Gorge Railway starts from Unazuki Station, a short distance from Unazuki Onsen Station. For full details on the Kurobe Gorge Railway visit: www.kurotetu.co.jp
From Osaka and Kyoto to Kurobe Gorge
From Osaka Station or Kyoto Station take a Thunderbird Limited Express to Kanazawa Station in Kanazawa and then transfer to the JR Hokuriku Shinkansen to Kurobe Unazuki Onsen.
From Nagoya to Unazuki Onsen
Take the limited express train "Wide View Hida" from Nagoya Station in Nagoya to Toyama Station. Then, board a JR Hokuriku Shinkansen to Kurobe Unazuki Onsen (about 4 and a half hours).
Buses
There are overnight highway buses to Busta Shinjuku in Tokyo and regular daytime Meitetsu buses to the Meitetsu Bus Station in Nagoya from JR Toyama Station. Other express and highway buses from Toyama also run to Kyoto, Osaka, Niigata, Sendai, Nagano, Takayama, Kanazawa, Tonami, Kamioka and Shinhotaka (Gifu Prefecture).
Buses also run to Toyama Airport to the south (400 yen, 20 minutes) from Toyama Station. Toyama Airport has domestic flights to Tokyo, Fukuoka, Sapporo and international connections to Seoul, Dalian (China) and Vladivostok in Russia.
Hokuriku Shinkansen Explore Japan I
Hokuriku Shinkansen Explore Japan II
Hokuriku Shinkansen Explore Japan III
Book Hotel Accommodation in Toyama
Kurobe Gorge, in Toyama, is accessed on the Kurobe Gorge Railway and is one of the deepest, most beautiful gorges in Japan, famed for its autumn leaves.
All the themes of the city