Top Ten Parks and Gardens in Japan
Top Ten Parks and Gardens in Japan: see a listing of the best Japanese gardens and parks including Kenrokuen, Korakuen, Kairakuen, Rikugien and Katsura Rikyu Imperial Villa.
Top Ten Parks and Gardens in Japan
Parks and gardens in Japan began as miniature private retreats for the rich and powerful. In spite of relentless modernization, many survive, retaining their original esthetic, inspired by Chinese gardens, but distinctively Japanese in their essential simplicity and cultivated sense of wilderness.
Furthermore, thanks to modernization, nearly all of them are now open to the public, allowing anyone to savor the atmosphere of solitude and repose that is their original raison d'etre.
Identifying Japan's best gardens is ultimately as subjective as identifying Japan's best artworks or music. But, just like the latter, certain gardens have earned a reputation for their beauty. Others not necessarily found at the top of typical best-of lists, and not necessarily traditional, appeal for such extra reasons as their variety or novelty.
Here we introduce ten recommended parks and gardens throughout Japan. The following list includes both the classic and the modern, the Chinese- and Western-inspired, the urban and rural, the minimalist and the lavish.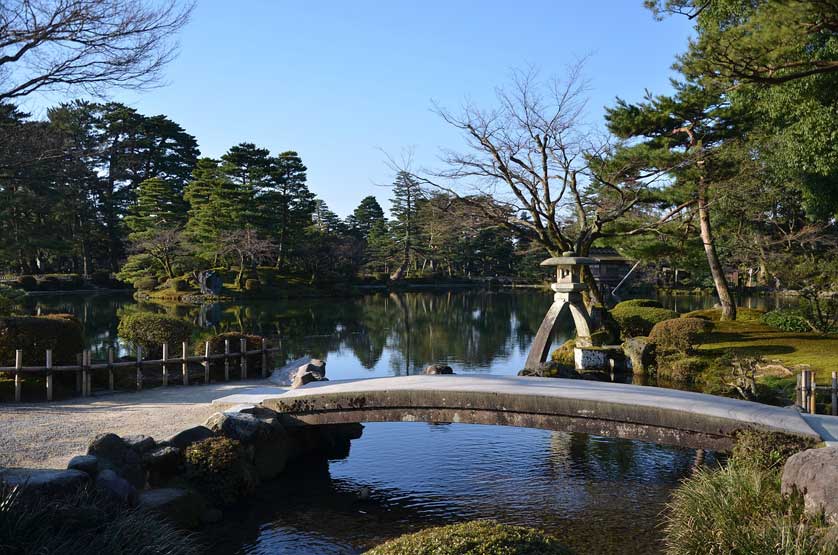 Kenrokuen Garden, Kanazawa, Ishikawa Prefecture
Kenrokuen Garden Kanazawa 兼六園
Kenrokuen Garden in Kanazawa - the city nicknamed "Little Kyoto" - is 11 hectares (almost 25 acres) of serene landscaping.
The name Kenrokuen literally means, "the garden of six sublimities" or, "a garden combining the six aspects of a perfect garden". These six features were what the Chinese traditionally believed were necessary for the ideal garden: spaciousness, seclusion, artifice, antiquity, watercourses and panoramas.
Beginning life as the outer garden of nearby Kanazawa Castle, Kenrokuen was restored in the late 18th century, renamed and opened to the public in the 19th, and is preserved and tended to this day as one of Japan's best known garden treasures.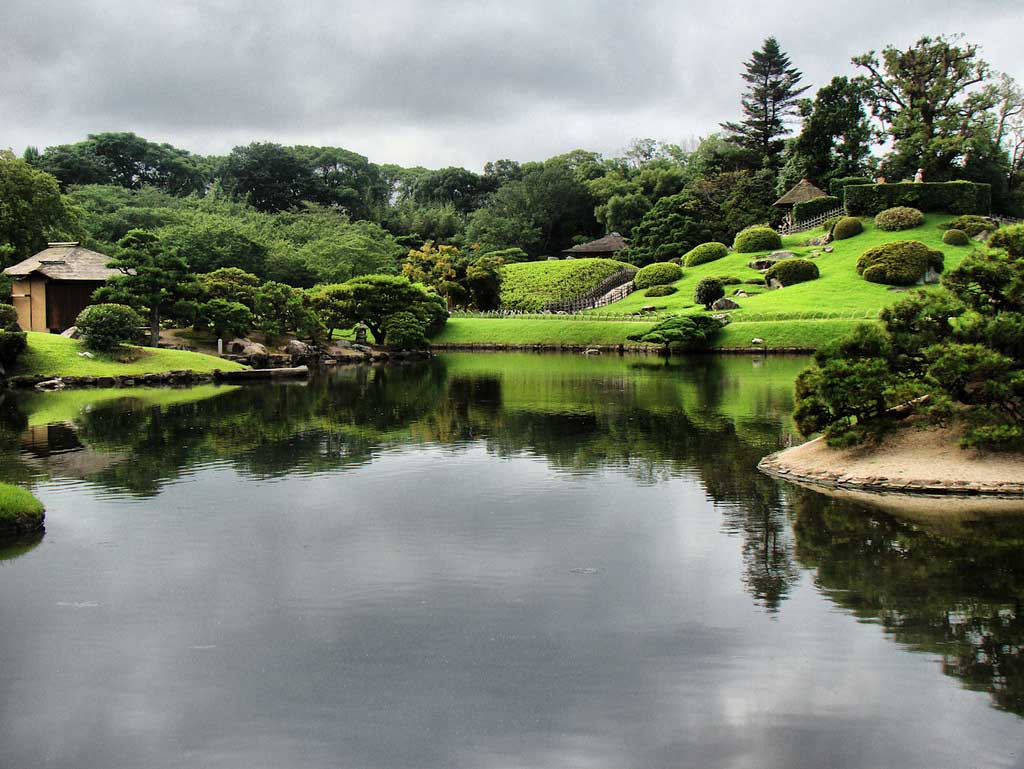 A peaceful pond on a windless summer's day in Koraku-en
Korakuen Garden, Okayama 岡山後楽園
Koraku-en was constructed by Tsuda Nagatada and completed in 1700, and neither the daimyo, nor his garden designer, could possibly have imagined just how famous that garden would become.
Behind each great cultural icon lies a unique and individual history, and in the year 1687, Ikeda Tsunamasa, the feudal lord (daimyo) of Okayama, decided to lay out a garden in his domain; not just any garden, but a large one of some 13 hectares (32 acres) on what is now an island in the Asahi River.
For nearly two hundred years Koraku-en remained the private domain of the daimyo and his family, overlooked by Okayama Castle, where they and important guests could be entertained.
It was only occasionally opened to the public for their pleasure too, but all that was to change in 1884, when its ownership was transferred to the Okayama Prefectural government and it became a public pleasure garden enjoyed by thousands of visitors throughout the seasons.
Kairakuen
Kairakuen, Mito 偕楽園
Kairaku-en Garden, located in Mito, the capital of Ibaraki Prefecture is one of Japan's top three landscape gardens up there along with Kenroku-en in Kanazawa, and Koraku-en in Okayama.
Kairaku-en dates back to 1842. The approximately 7-hectare (18-acre) strolling gardens are Mito city's biggest attraction and are particularly well known for their plum (ume) blossoms, which bloom in late February to early March. The Mito Ume Matsuri (Mito Plum Festival) is held at this time from February 20 to March 31.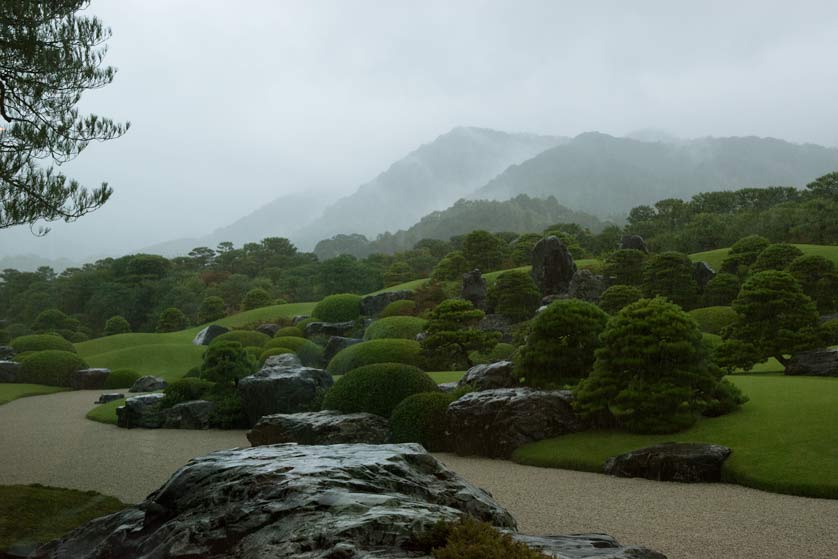 The garden at Adachi Museum of Art, Shimane - a picture in any weather
Adachi Museum of Art Garden, Shimane 足立美術館 (島根)
The Adachi Museum of Art Garden is located 20 km east of Matsue in Shimane Prefecture and combines a collection of over 1,500 works by Japanese artists with a series of gardens covering 16.5 hectares (almost 41 acres). Founded by locally-born businessman, art collector and connoisseur of Japanese gardens, Adachi Zenko (1899-1990), this superb space marries the best of art and garden design in a lovely whole, encapsulating Zenko's words: "A Japanese garden is also a living painting".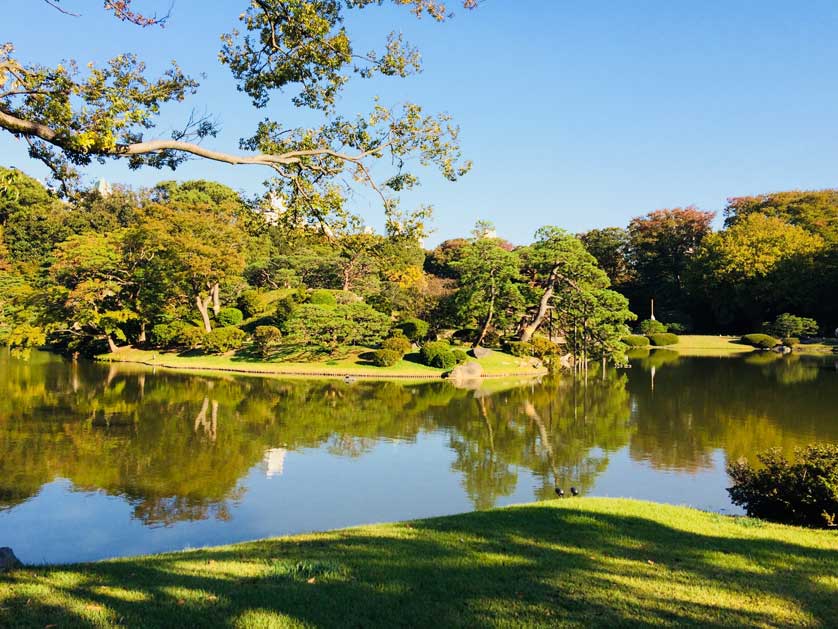 Rikugien Gardens, Tokyo
Rikugien Garden, Tokyo 六義園
Rikugien Garden is an Edo Period, landscaped, strolling garden in Bunkyo ward, Tokyo, covering ten hectares (almost 25 acres). Rikugien Garden's strolling paths give the visitor views of a variety of charming scenery, including a large pond with islands, and a hill covered with a dense grove of ancient trees.
Rikugi means the "Six Principles or Categories" (六義) of classical Chinese and Japanese poetry, and en means garden - referring to the poetry-inspired scenery purposely created in this miniature landscape.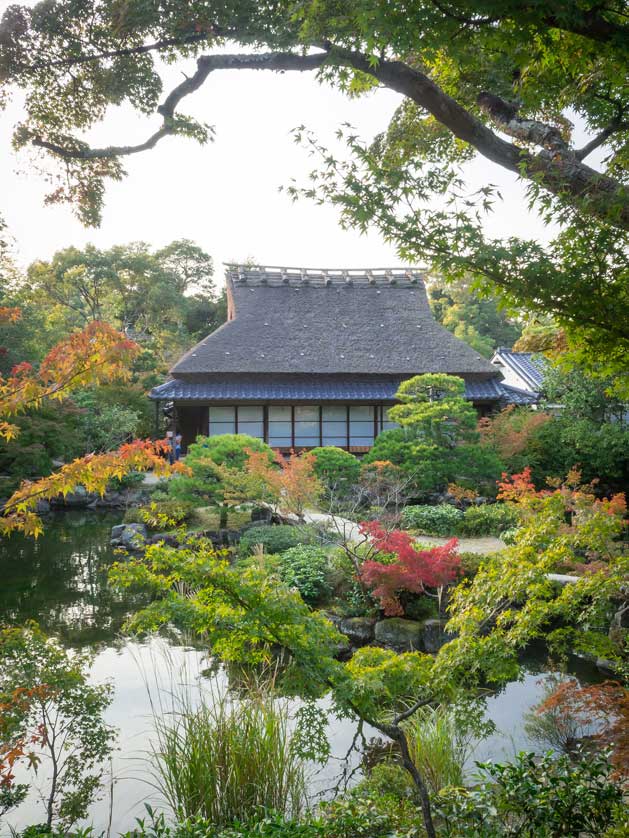 Isuien Garden, Nara © Eddie Smolyansky
Isuien Garden, Nara 依水園
Isuien Garden is a Japanese strolling garden in the center of Nara. Isuien Garden is located adjacent to the Yoshikien Garden, a short walk south of the Kaidan-in Temple in the spacious Todaiji temple grounds. Both gardens share the Yoshikigawa River as a source of water for their ponds and streams.
Isuien Garden consists of two gardens: the larger Eastern Garden and the smaller Western Garden.
The Western Garden, like its neighbor Yoshikien Garden, was once part of Manishuin, a sub-temple of Kofukuji. It was laid out in the Edo Period by a textile merchant, Kiyosumi Michikiyo.
The Eastern Garden is a Meiji Period creation by a local Nara businessman, Seki Tojiro.
The two gardens were merged in 1939 by new owner, Junsaku Nakamura, who wanted a site for the Neiraku Museum (寧楽美術館), which hosts a collection of traditional Japanese, Chinese and Korean pottery.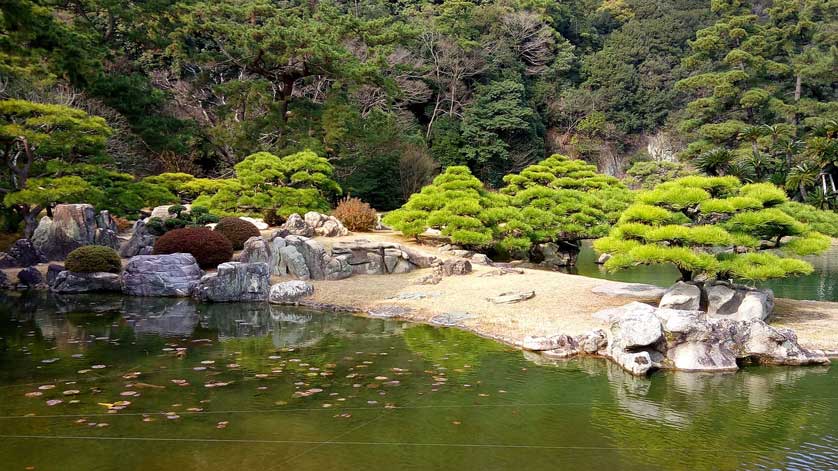 Ritsurin Park, Takamatsu, Kagawa, Shikoku
Ritsurin Garden, Takamatsu 栗林公園
Ritsurin Garden in Takamatsu, Shikoku was begun in about 1625 by Ikoma Takatoshi, the feudal lord of what was then called Sanuki (now Takamatsu), construction was taken over in 1642 by Matsudaira Yorishige.
However, it was to take more than a century before its final completion, by Lord Matsudaira Yoritaka in 1745. For more than another 100 years it was the private retreat of the Matsudaira family, but following the Meiji Restoration of 1868 it was ultimately designated as a prefectural park and in 1875 it was opened to the public for the first time.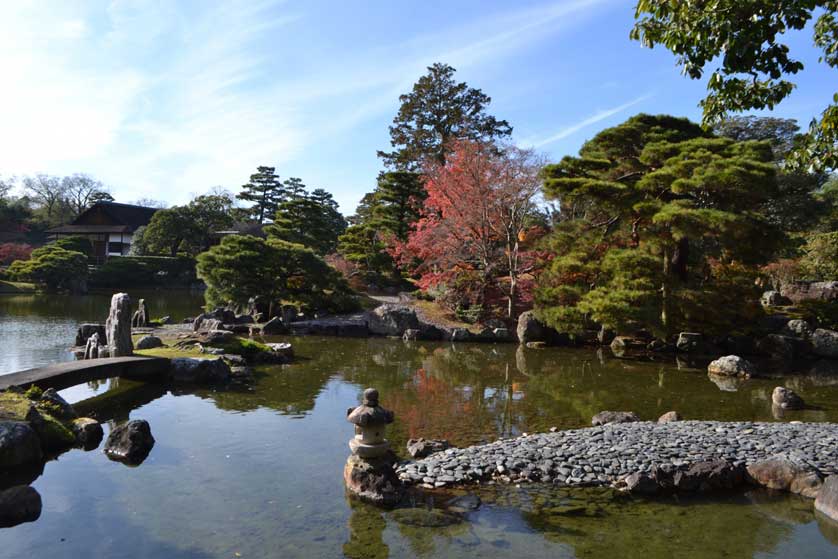 Katsura Rikyu Imperial Villa, Kyoto
Katsura Rikyu Imperial Villa, Kyoto 桂離宮(京都)
Katsura Rikyu, situated in southwest Kyoto, is one of the two Imperial Villas in the ancient capital (the other is Shugakuin Imperial Villa). It was planned in painstaking detail to be a place of high aesthetic beauty and an ideal example of Japanese Villa design.
Japanese traditional architecture designed by the most skillful masters, exotic trees, a lake with an elaborate shoreline, and beautiful views from any spot within the villa make Katsura Rikyu famous all over Japan and beyond.
Katsura Imperial Villa was established in 1615 at the commission of Prince Toshihito, the younger brother of Emperor Goyozei. However, most of the buildings that we see today have been added by Toshihito's son Prince Toshitada around 1649.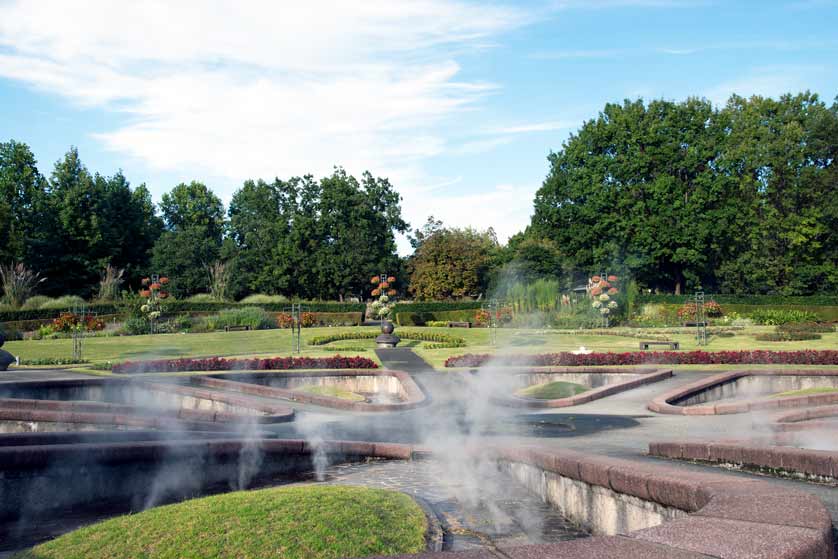 Mist Garden, Tottori Prefectural Flower Park
Tottori Prefectural Flower Park とっとり花回廊
Tottori Prefectural Flower Park (Tottori Hanakairo) is a spectacularly laid out and meticulously maintained 50-hectare (123-acre) garden park in the west of Tottori Prefecture, presided over by lofty Mt. Daisen in the near distance.
The park's numerous gardens and countless floral varieties make for scenes of dazzling beauty year-round, whatever the season or weather.
The focal point of Tottori Prefectural Flower Park is its futuristic transparent tropical Flower Dome. Encircling the dome is the 1-kilometer (more than half-mile) fully covered Circular Walkway for access to the variously themed gardens that fill the circle, and to the several other sprawling gardens beyond.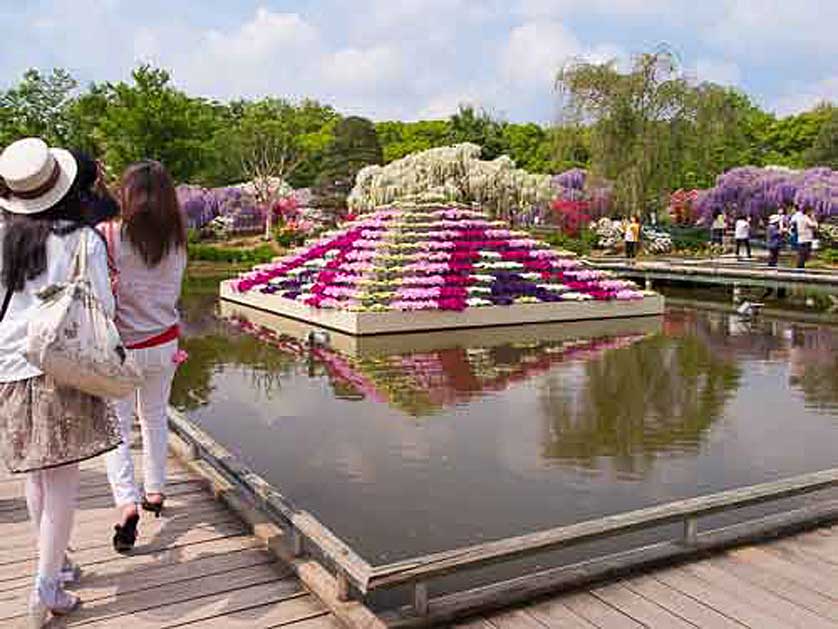 Flower pyramid pond in Ashikaga Flower Park
Ashikaga Flower Park,Tochigi Prefecture 足利フラワーパーク
Ashikaga Flower Park is a park of about 9 hectares (23 acres) that showcases the beauty of mainly wisteria (fuji) as well as many other flowers. It is the most famous attraction in Ashikaga city in Tochigi prefecture, about 1 1/2 to 2 hours from Tokyo.
Fuji, or wisteria, is native to China, Japan and the eastern United States, and plays a big role in Japanese culture. The kanji for fuji (藤) appears in many common family names, the wisteria flower features in many family crests, and fuji-musume, or "Wisteria Daughter," is a time-honored theme of Japanese painting and drama, specifically kabuki.
All the themes of the city