Fukuoka Attractions
Fun Time in Fukuoka: Kyushu's biggest city offers an eclectic range of attractions 福岡
Daniel Allen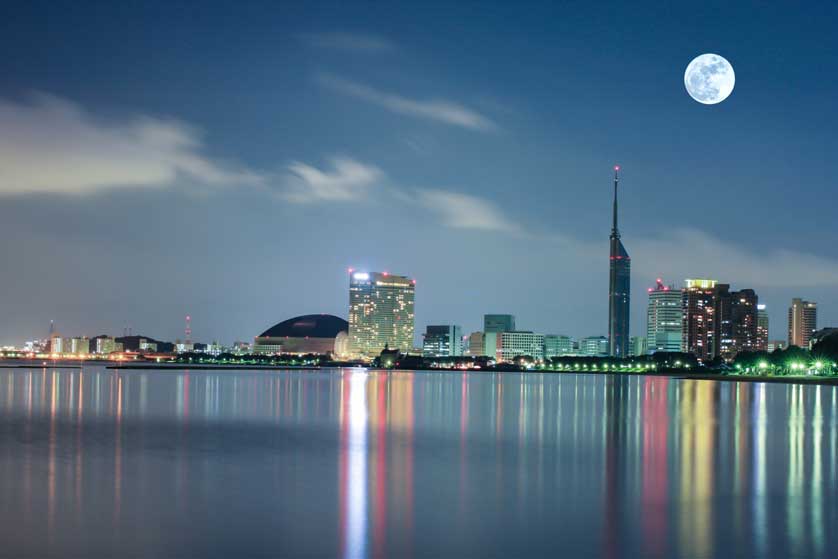 View of Fukuoka, Kyushu
It's 5 o'clock in the afternoon and at Fukuoka's Canal City a crowd has gathered beside the artificial waterway that bisects this giant shopping complex. Teenage girls in knee high socks squeeze mobile phones in excitement as they prepare for a local boy band to arrive on the waterborne stage.
Fountains of back lit water suddenly erupt as the carefully coiffured trio emerges to squeals of delight. Older shoppers studiously ignore the melee and continue their perusal of the latest fashions. It's just another day in Kyushu's most vibrant city - Fukuoka.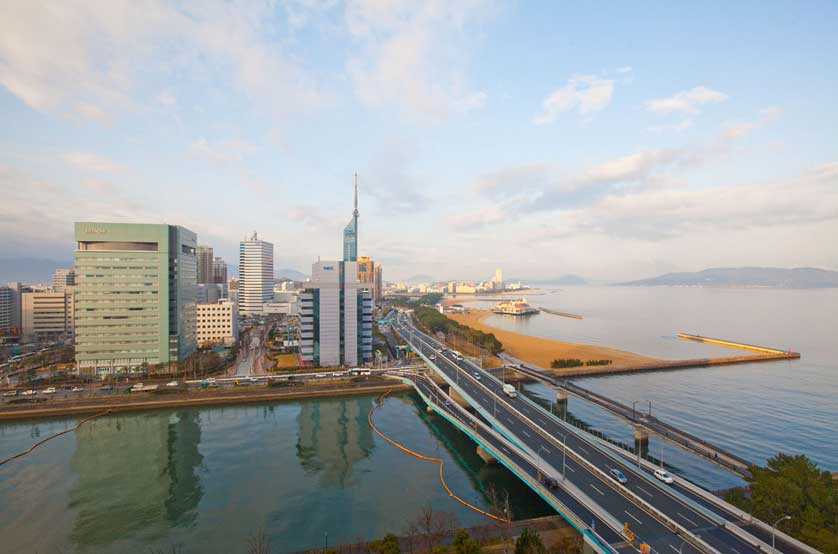 View of Fukuoka from the Hilton Hotel, Fukuoka
Fukuoka History
Fukuoka has been a cosmopolitan metropolis closely tied with the Asian mainland since ancient times, and it retains a well-ordered, hyper-efficient and welcoming international feel. These days the city is famous throughout Japan for its bijin (beautiful women) and huge strawberries, as well as for its strong baseball team, the Softbank Hawks. Take a trip to the giant Fukuoka Baseball Dome and perhaps you'll witness some of the fighting spirit that saw off Mongol warlord Kublai Khan and his 150,000 strong army of marauders in 1281 CE.
Fukuoka is still the center of culture, economy and transportation on the island of Kyushu, and the Hakata and Tenjin districts - both densely populated with skyscrapers - are ever expanding around their respective stations JR Hakata Station and Nishitetsu-Fukuoka Tenjin Station. In Fukuoka visitors can really experience Japan in various historic stages - the high-tech and historical, the cultural and the truly contemporary. With a modern and extensive subway, Fukuoka is quick and easy to get around.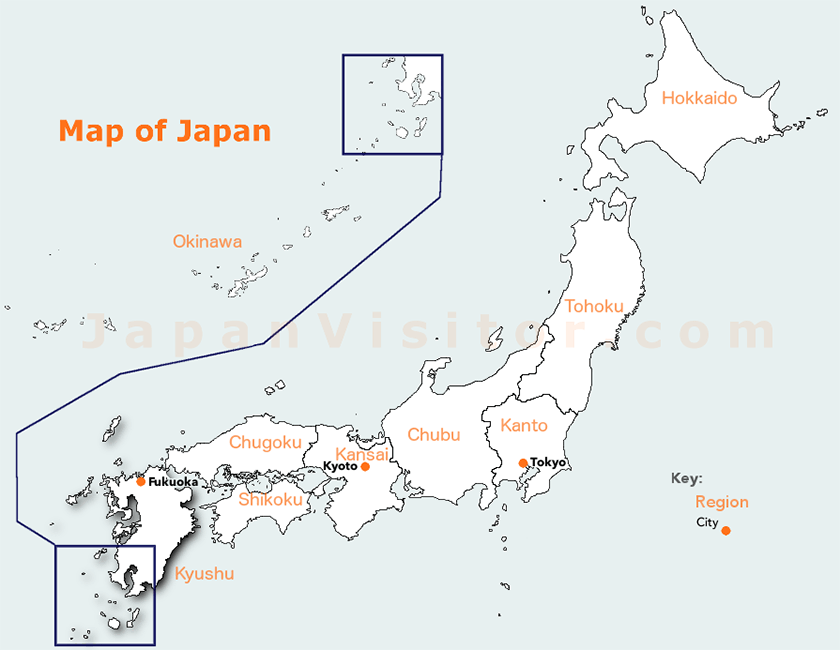 Fukuoka is located in the north of Kyushu Island
Fukuoka Temples & Shrines
Fukuoka is certainly rich in religious treasures. Make sure to check out the beautiful Tochiji Temple, a Buddhist place of worship which contains Japan's largest wooden statue of Kannon, the goddess of mercy. Founded in 806 CE, Tochiji is the oldest temple in Fukuoka, although an ornate pagoda decked out on striking orange has recently been erected in the grounds.
Also worth viewing, and dating back even further, is the lovely Kushida Shrine, a Shinto place of worship in Fukuoka's Hakata-ku ward. Shrines for each of Shinto's three gods were erected here in 757 and 941 CE. Unfortunately these shrines were subsequently destroyed in a fire - the present shrine was rebuilt in 1587.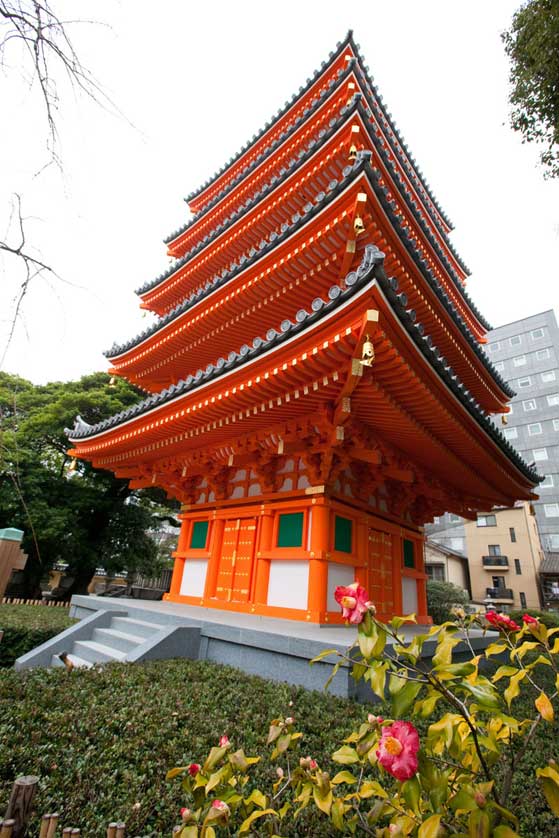 Pagoda at Tochiji Temple, Fukuoka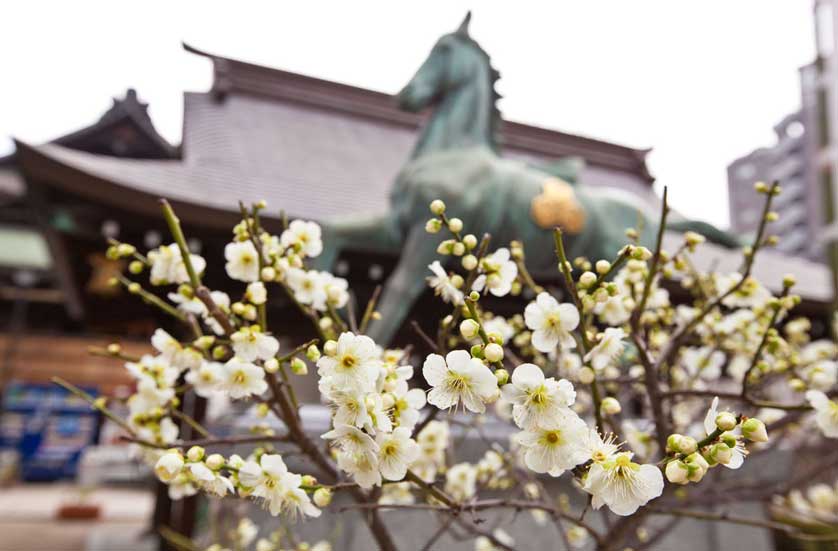 Plum blossom at Kushida Shrine, Fukuoka
"Kushida Shrine is the starting point for the "Oiyama," the crowning event in the finale of Fukuoka's most famous festival, the "Hakata Gion Yamakasa", explains local guide Noriko Nakamura.
"Terra cotta dolls have been loved in Japan for over 800 years, and the most famous of these are Fukuoka's Hakata dolls. Held annually on July 15, the Oiyama sees massive floats made by the city's master doll-making craftsmen raced through Fukuoka's streets. Hakata dolls make great Fukuoka souvenirs and fill window upon window in shops around the main train station."
Hakata clay dolls, Fukuoka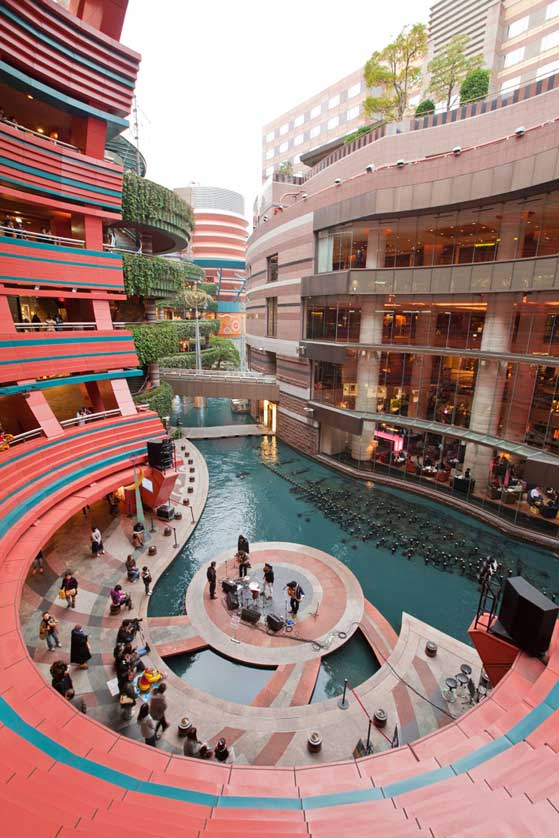 Canal City, Fukuoka, Kyushu
Fukuoka Shopping
For more contemporary experience visitors to Fukuoka can revel in Canal City's chic boutiques, and wander through the other glitzy department stores of the Tenjin area. Nearby is also the Asian Art Museum boasting a fine collection of contemporary Asian art. To the west of Fukuoka, built on reclaimed land and dominating the surrounding skyline, is the 234-metre Fukuoka Tower, Japan's tallest seaside tower. The observation deck at 123 meters offers amazing panoramic views over Fukuoka, and the entrance ticket includes a visit to the doll museum at the tower's base.
Close to the Fukuoka Tower lies the Hilton Fukuoka Seahawk, one of the city's finest hotels also offering great views from many of its rooms, and the distinctively-shaped Fukuoka Baseball Dome. Housed in a nearby store tech fans should make a bee-line for Robosquare, packed with the latest electronic pets and gizmos for the home (Note: now closed but with exhibits moved to Fukuoka Science Museum, near Ohori Park). For more mid-priced accommodation visitors can check out the b Hakata, a comfortable hotel just minutes from the main Hakata train station.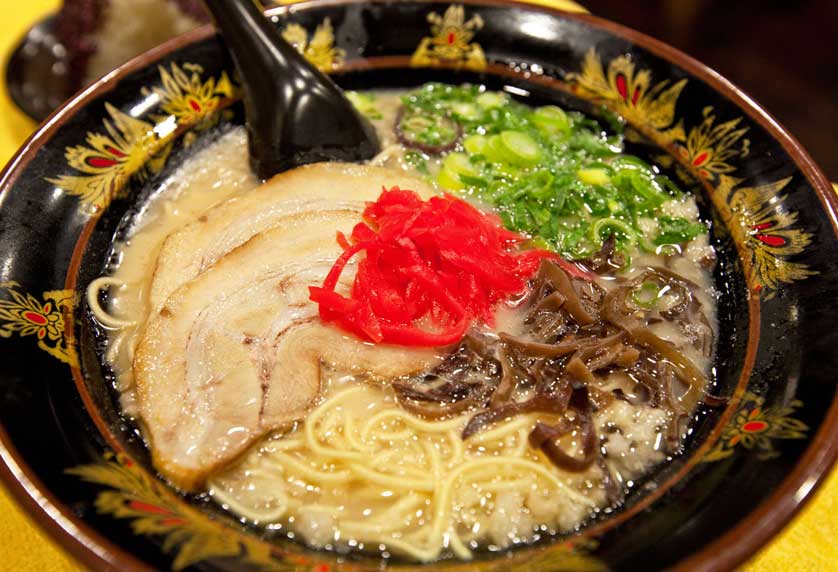 Hakata Ramen, famous throughout Japan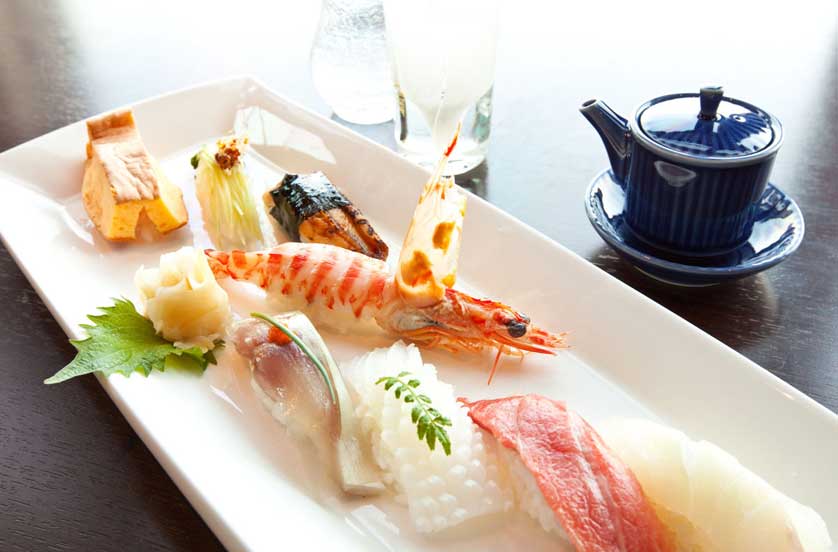 Japanese traditional cuisine at the Hilton Hotel in Fukuoka
Fukuoka Cuisine
Fukuoka's food culture flourished through early trade, with the result of many unique local specialties like pork noodles and mizutaki (Japanese hotpot). The city's open air stands, known as yatai, are one of it's best known features. There are over 150 yatai across Fukuoka city, with the highest concentration in the Nakagawa District. Typical yatai dishes include delicious yakitori (kebabs) and Hakata ramen (noodles).
A wonderful window onto the Land of the Rising Sun, Fukuoka makes the perfect introduction to Japan or weekend wind-down. A coastal gateway to the rest of Asia, this city by the sea always welcomes (friendly) foreigners with open arms.
Beppu Hot Springs
Beppu is probably Japan's top onsen (hot spring) destination; it certainly produces the most spring water. The town has made a showcase of its volcanic activity. Packed into a small area you can see natural springs in a range of colors, and even a geyser which happily conforms to the strict punctuality demanded by the Japanese.
The best way to get to Beppu from Fukuoka is by bus or train. Buses are run by the Nishitetsu company and take 2 hours and 40 minutes from Hakata and Tenjin bus stations. Tickets cost 3,100 yen, or 2,000 yen if four tickets are purchased together. Trains between Fukuoka and Beppu take about 2 hours, or 90 minutes changing to the Shinkansen line at Kokura (3,500 yen).
Spring flowers, Uminonakamichi Seaside Park, Fukuoka City
Fukuoka Parks
Uminonakamichi Seaside Park is Fukuoka Prefecture's biggest park, and sits on the peninsula across the bay from Fukuoka City. This huge family-oriented facility has numerous zones with something for everyone: playgrounds and rides for children, a naturally laid-out zoo with a petting area, pools in summer, wide open picnic areas, cycling paths with bicycles for hire, ponds, and a kaleidoscopic array of seasonally changing flower gardens with ponds. Reasonably priced Uminonakamichi Seaside Park makes for a great day out beside Hakata Bay, especially for those with children.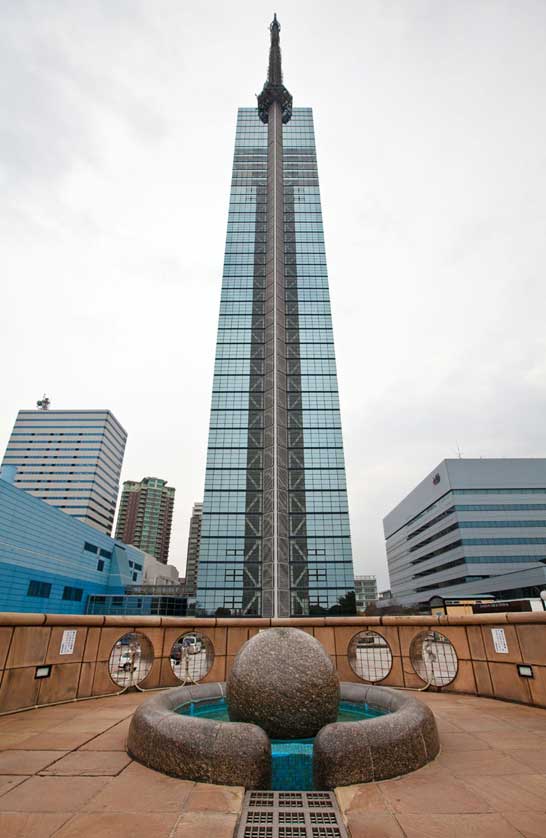 Fukuoka Tower, a good example of Fukuoka's modern architecture
Five Fun Facts on Fukuoka
Fukuoka is a renowned centre for blowfish cuisine. Some blowfish are highly poisonous and need to be prepared by specially licensed chefs.
Fukuoka is actually made up of two cities separated by the Naka-gawa River - Fukuoka and Hakata.
Fukuoka is famous for its beautiful Hakata dolls, made from clay.
Fukuoka is only 200 kilometres from Busan and is popular with South Korean holidaymakers.
Fukuoka is said to be the oldest city in Japan because it is the nearest Japanese city to China and the Korean Peninsula.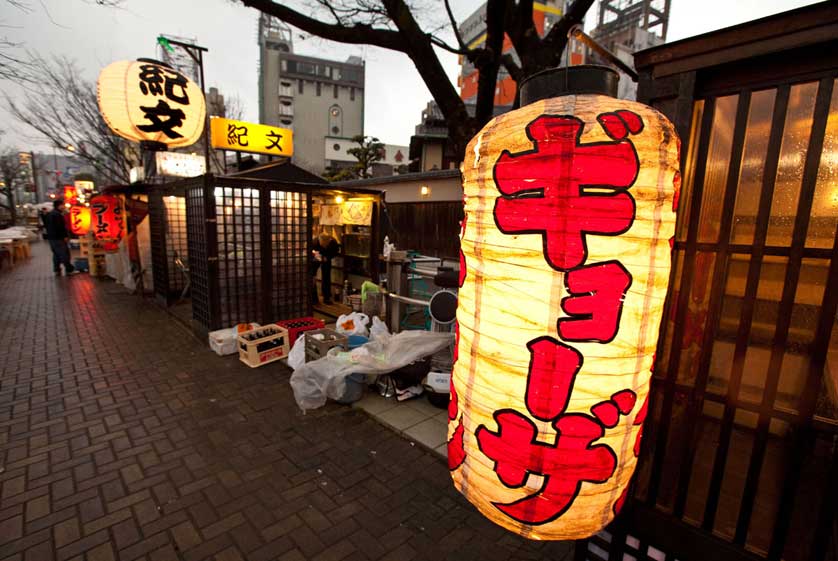 Yatai in Fukuoka - the lantern reads "Gyoza"
Fukuoka Subway Video
More Fukuoka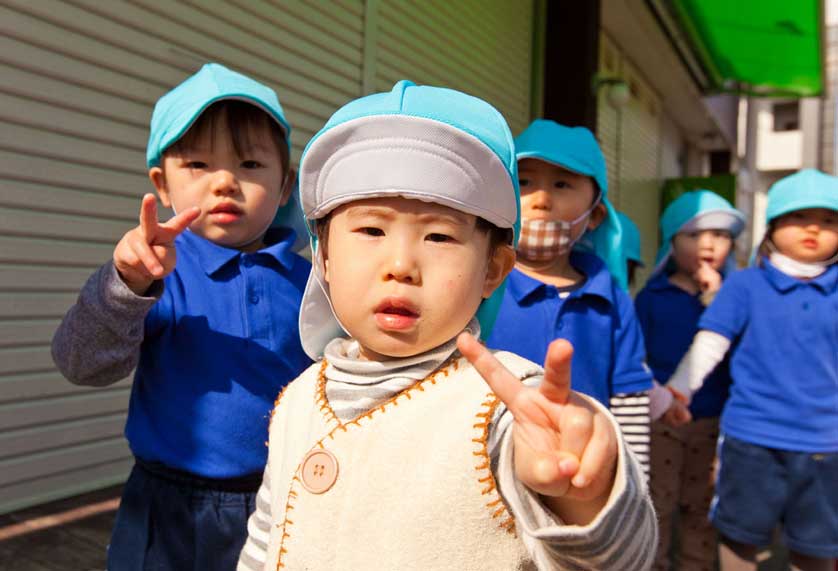 Fukuoka kids
Fukuoka attractions: read a travel guide to Fukuoka's many fun attractions including Fukuoka temples, shrines, museums and shopping.
All the themes of the city