Hiroshima Peace Pagoda
Hiroshima Peace Pagoda 二葉山平和塔
Jake Davies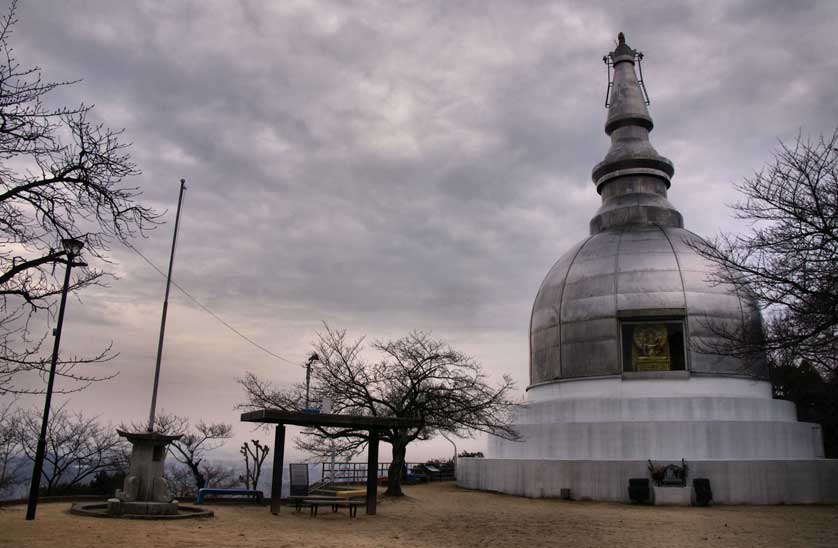 The Hiroshima Peace Pagoda, Hiroshima Prefecture
Visitors arriving in Hiroshima by shinkansen or train for the first time will usually notice the big, silver, dome-like structure on the mountaintop next to the station.
This is the Hiroshima Peace Pagoda. Pagodas are an East Asian version of a stupa, an originally Indian structure. Pagodas are typically multi-roofed towers or smaller stone towers with multiple "roofs."
In South Asia stupas still retain the domed or hemispherical shape based on the earliest form which was earthen mounds. What all stupas share is that they are the repositories of relics from the Buddha, his disciples, famous monks, and as time has gone on, simply ancestors.
The Peace Pagoda in Hiroshima contains ashes from the historical Buddha donated by the then Prime Minister of India, Indira Gandhi, and by a group of Mongolian Buddhist monks.
Also within the pagoda are thousands of stones each one representing a prayer for peace from a Hiroshima resident. The pagoda was constructed in 1966 by monks belonging to the Nipponzan Myohoji sect of Nichiren Buddhism.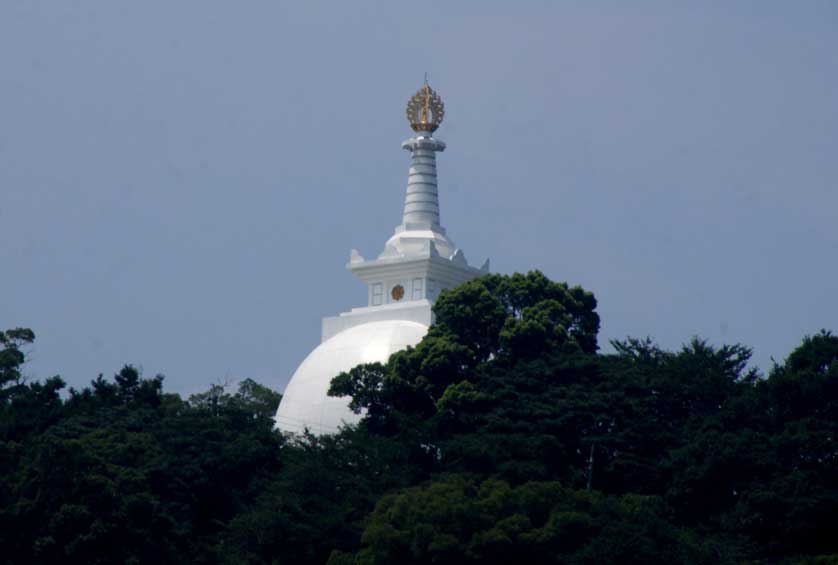 Hanaokayama Peace Pagoda, Kumamoto, Kumamoto Prefecture
Cherry trees have been planted around the pagoda and the views across the city and out into the Inland Sea are the best that can be had within the city limits. The pagoda can be reached by a short ride by taxi from Hiroshima Station, but the best way is to walk up the mountain along a part of the Futabanosato Historical Walking Trail.
If you look directly north from the north side (shinkansen exit) of Hiroshima Station you can see the steps leading up to a big shrine. This is Toshogu Shrine, and just behind it is a small Inari Shrine. From here a tunnel of vermillion torii lead up the mountain as far as the Pagoda. This is part of the much longer Futabanosato Historical Walking Trail. Total distance from the station to the pagoda is about 2 kilometers and the walk takes about 40 minutes to an hour.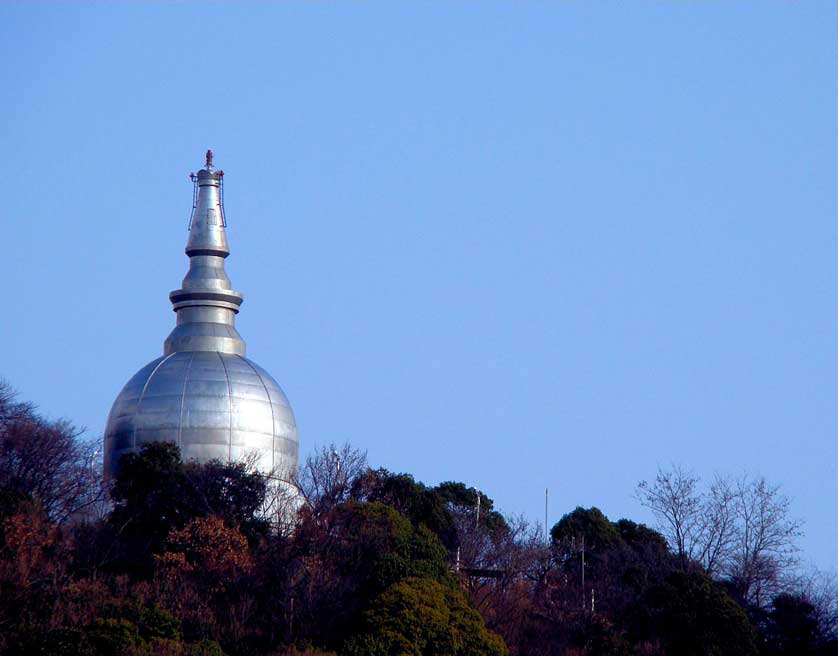 Peace Pagoda Hiroshima, Hiroshima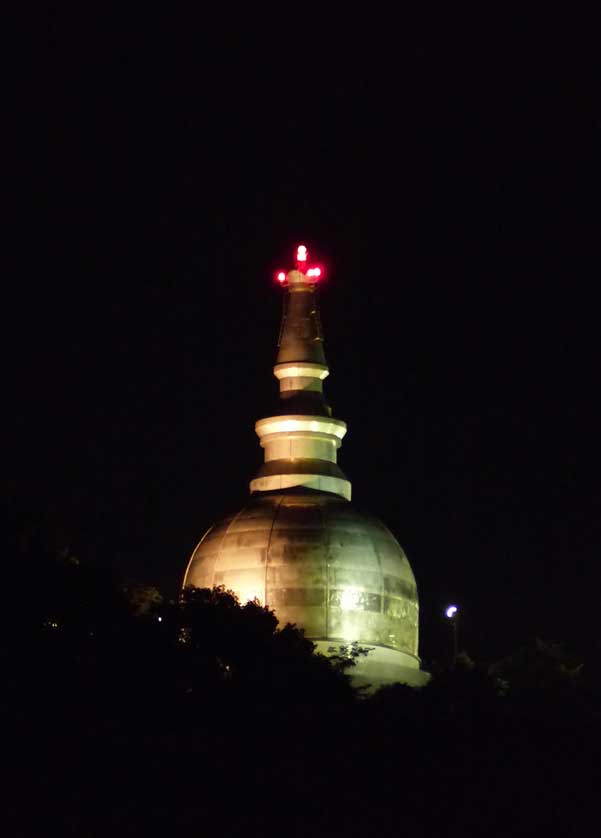 Hiroshima Peace Pagoda viewed at night, Hiroshima Prefecture
Nichidatsu Fujii, Nipponzan Myohoji & Peace Pagodas
Nichidatsu Fujii was born in 1885 near Mount Aso in Kyushu. At the age of 19 he was ordained as a monk and became drawn to Nichiren Buddhism. In 1924 he founded his own sect, Nipponzan Myohoji, which means "Japanese Mountain Dharma Temple" whose monks and followers practice sodai, the chanting of Myo Ho Ren Ge Kyo while beating a small hand drum.
In 1931 he visited India and while there met with Gandhi who had a profound effect upon him. According to his autobiography he spent the war years preaching peace and pacifism, though some historians question just how public these activities were.
What is not questioned is that starting in 1947 he and his followers began constructing Peace Pagodas as shrines to world peace. The first was built on Hanaokayama in central Kumamoto city and was completed in 1954 after 7 years of construction using only hand tools.
More than 80 peace pagodas have since been built, though not all by Nipponzan Myohoji. As well as Japan they are located all over the world, mostly in Asia but also in Europe and North America. The first one built in the West is located in Milton Keynes, England, and was built in 1980. In London, Battersea Park also has a Peace Pagoda on the banks of the River Thames.
Due in part to the Peace Pagodas the Nipponzan Myohoji sect are quite well known worldwide, but actually are a very small sect with only about 1,500 members and priests.
Another activity that has seen them noticed is the various Peace Walks organized by the group that continue to take place in many parts of the world, concerned with issues of peace and non-violence but also with social justice.
Monks, nuns, and followers of Nipponzan Myohoji will often be found banging their drums and chanting on marches and walks organized by other groups and faiths too.
The Hiroshima Peace Pagoda is a site on the Futabanosato Historical Walking Trail.
Access - how to get to Hiroshima
Rail
Hiroshima Station is served by the Sanyo Shinkansen line to Osaka (2 hours 10 mins), Tokyo (4 hours 30 minutes to five hours), Kyoto, Nagoya and Fukuoka/Hakata.
Other railway lines connecting from Hiroshima are the Sanyo Main Line for Miyajimaguchi, the historic town of Iwakuni and Tokuyama, the Geibi Line for Shiwaguchi and Miyoshi, the commuter Kabe Line for Omachi, Midorii and Kabe and the Kure Line for the port city of Kure, Hiro, and Takehara.
Bus
There are long distance bus services from outside Hiroshima Station to Tokyo, Kyoto, Osaka, Nagoya, Takamatsu, Fukuoka and Nagasaki.
Ferry
There are ferry and hydrofoil services to Matsuyama on Shikoku as well as ferry boats from Hiroshima Port to Nanoshima, Nomishima and Etajima.
Other places of interest in Hiroshima include Hiroshima Castle, the Mazda Museum, the JMSDF Kure Museum, Hiroshima Museum of Art and Hiroshima Children's Museum.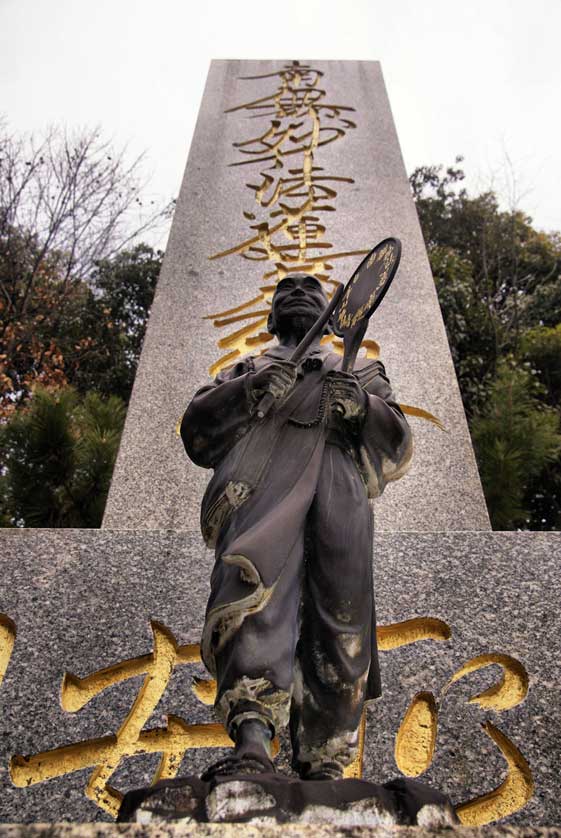 Statue of Nichidatsu Fujii, Peace Pagoda Hiroshima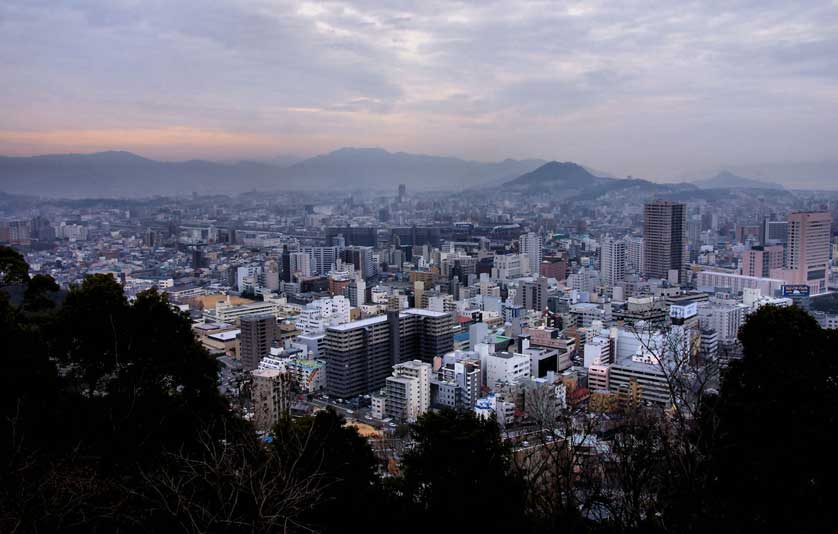 View over Hiroshima from Hiroshima Peace Pagoda
Book Hotel Accommodation in Hiroshima
The Hiroshima Peace Pagoda was built on a hill overlooking Hiroshima city in 1966 by followers of the Nipponzan Myohoji sect of Buddhism.
All the themes of the city