Uji Green Tea Culture
Uji: The Center of the Universe for Japanese Tea Lovers 宇治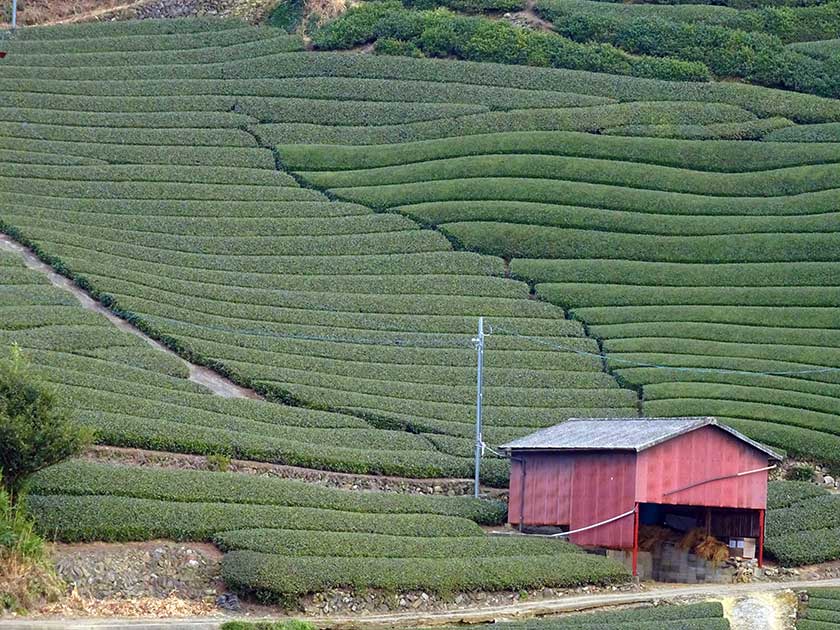 Ishitera tea fields, Uji, Kyoto Prefecture
Greg Goodmacher
Why do green tea lovers from all over the world flock to Uji, Kyoto?
Historically and culturally, Uji is the most distinct tea-producing region of Japan. For over a thousand years, Uji has been the nexus of Zen Buddhism, tea growing, tea processing, tea-cuisine development, and tea trading.
Farmers in Uji grow the tastiest tea in the country, or so say most Japanese tea experts. For Japanese tea connoisseurs, Uji could be the center of the universe.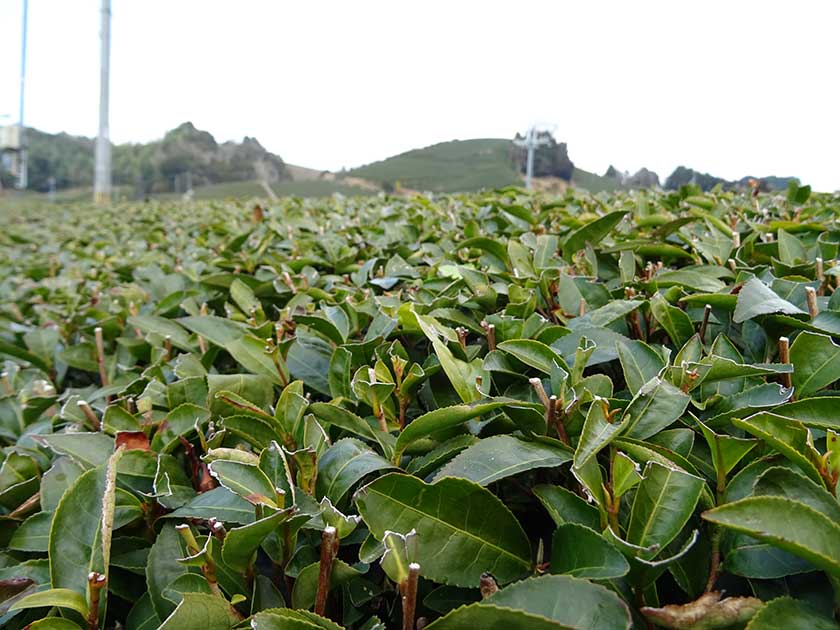 Freshly trimmed tea, Uji, Kyoto Prefecture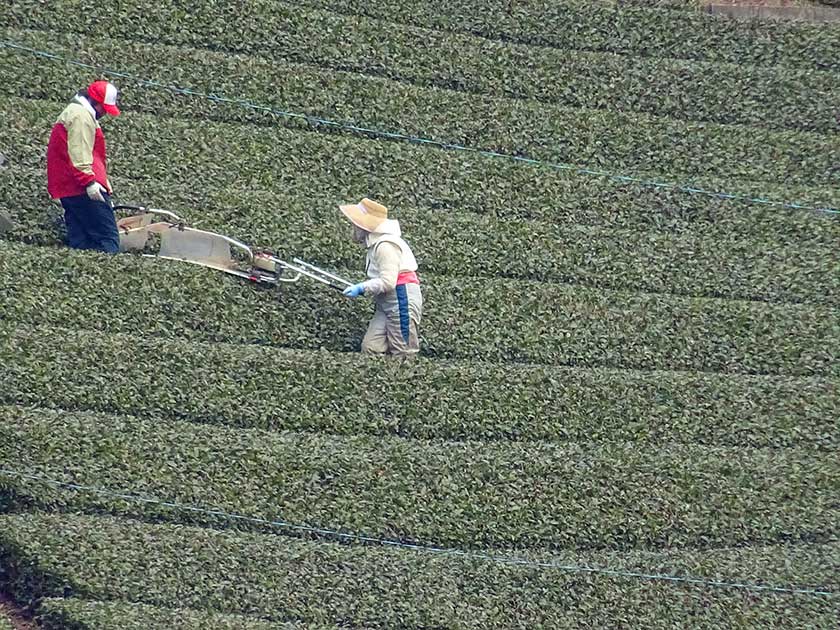 Trimming tea, Uji, Kyoto Prefecture
Uji Tea History
Numerous temples, teahouses, farms, tea markets, and other tea-related sites that tell stories of the development of Japan's unique culture exist within Uji.
Ancient Byodoin Temple and Ujigami Shrine, both in Uji, are both UNESCO World Heritage Sites. Uji's incredible history is why the Agency for Cultural Affairs of the Government of Japan awarded the coveted Japan Heritage designation to Uji.
The Agency for Cultural Affairs named the experience of visiting the historic city of Uji as "A Walk through the 800-year History of Japanese Tea." Travel there, and you will walk in the footsteps of notable personages (Ingen Ryuki, Baisao, Nagatani Soen, and others) who shaped Japanese history and tea drinking customs.
Uji Tea Routes
Green tea fans will want to stay at least two days. Many locations are fascinating, and, of course, the tea-infused cuisine of Uji is fantastic. For travelers who prefer to follow a travel plan, the Kyoto Prefectural Tourism Office recommends two main routes through the region.
The prefectural suggestions do not cover all of the places worth visiting. Walking, driving, or riding rental cycles without a specific plan has its merits. You are sure to encounter impressive shrines, shops, and restaurants no matter where you wander because Uji is rich in attractions.
Despite its fame in the world of tea, and its proximity to bustling Kyoto, sojourning in Uji city and its environs are as refreshing as drinking a fresh cup of hot sencha on a cold day or eating matcha-sprinkled vanilla ice cream on a searing summer day.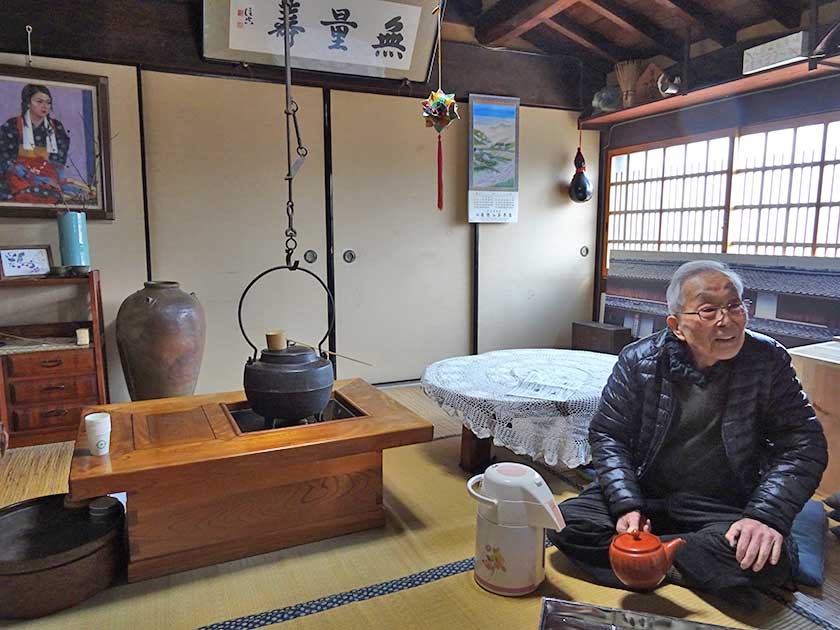 Friendly tea merchant preparing tea for guests, Uji, Kyoto Prefecture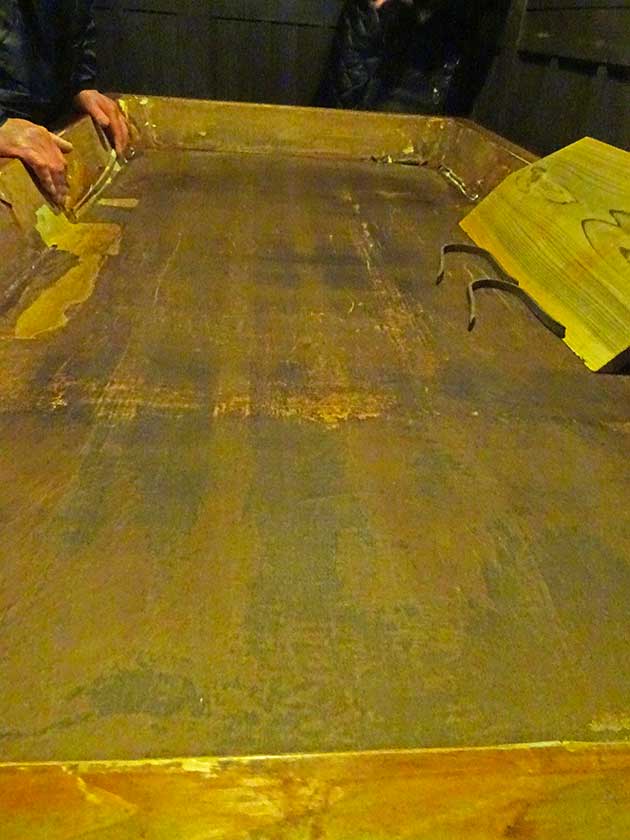 Ancient table for drying tea leaves, Uji, Kyoto Prefecture
Kamikoma Tea Wholesale District
One of the most aromatic parts of Uji is the Kamikoma Tea Wholesale District. Along the Kizu River, tea companies have been shipping tea to all areas of the world. You can traipse the quiet streets between hundreds-of-years-old tea warehouses. Peek through open wooden doors. You are likely to see antique wooden boxes that have seen countless years of use by local workers shifting tea and stuffing dried leaves into bags. Small shops attached to warehouses are redolent with the odor of freshly roasted tea.
Picturesque tea fields are within short drives or vigorous bicycle rides from downtown Uji. Ask for directions at the Uji Tourist Office.
You can stroll along farming roads that roll up and down green hills. If the timing is right, you may see tea farmers trimming the tea plants with curved blades into rows of perfect oval greenness. The curvaceous lines and verdant beauty of tea fields of Ishitera may cause you to use up all of your camera's memory. There are no shops or towns, just tea plants, tea farmers, and more tea.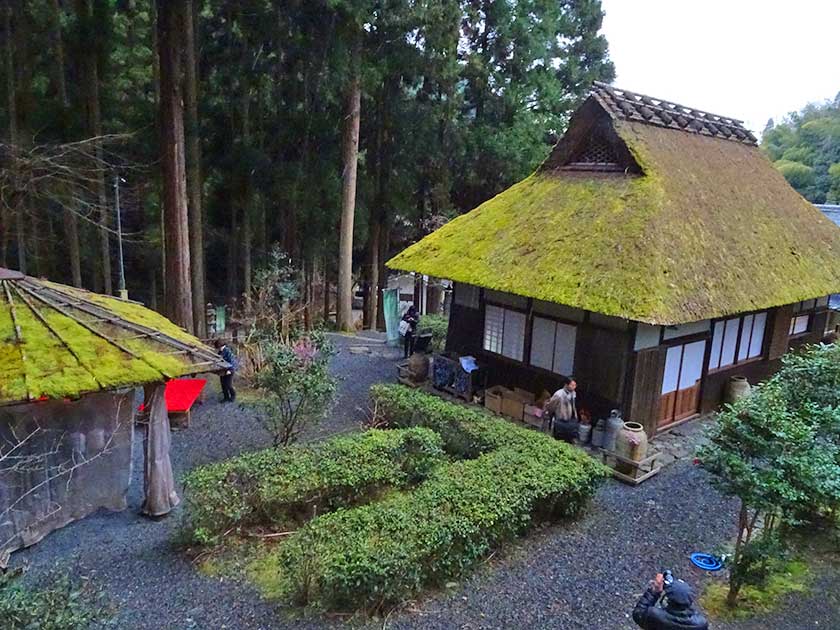 Birthplace of Nagatani Soen, Uji, Kyoto Prefecture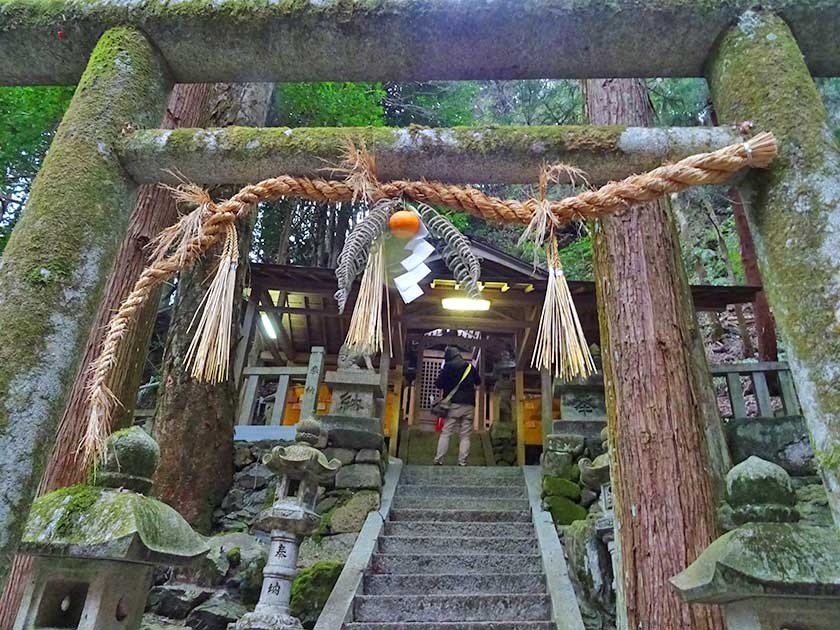 Chasomyo Shrine Built to Honor Nagatani Soen, Uji, Kyoto Prefecture
Ujitawara
Another culturally important location outside of Uji City is the birthplace of Nagatani Soen, located in the small town of Ujitawara.
Soen worked for many years to discover an economical method to quickly prepare green tea leaves in large amounts so that ordinary people could enjoy drinking high quality sencha tea.
Previously, it was a drink that only the literati, samurai, and nobility could afford. You can walk around Soen's simple thatched-roof home that huge cedar trees surround in a forested valley.
Enter, and you will find the simple hearths where he heated and rolled tea leaves until he mastered the process. From this simple home, green tea spread to the masses across Japan and then the world, and the economy of Uji flourished for many years.
The tea community built a shrine for Soen to express their gratitude for his contributions to tea culture and the regional economy. Most shrines are only for religious figures and places where gods are believed to reside. You can recognize the memorial by the kanji symbol for tea, 茶, engraved into the rock surface of the front gate. It is a small shrine tucked into a narrow valley. The only sounds may be the trickle of a stream.
Back in Uji City, within the sprawling grounds of the ancient Chinese Zen Buddhist Mampukuji Temple, another shrine honors a compatriot of Nagatani Soen.
Baisao, a Buddhist monk, traveled around Japan serving high quality sencha tea to ordinary people at a time when high quality tea was restricted to the upper class. Both men played significant parts in bringing high quality tea to the world.
Although the majority of travelers to Japan are unaware of Uji, it was famous long before animation, cute characters, electronic factories, or any of the other modern faces of Japan. Today, you can still feel the atmosphere of a time when Uji was a central location in the development of green tea culture.
Uji Accommodation
While the selection of accommodation is not huge in Uji, there is something to suit any budget. Those looking for a budget option should stay at Tabibitoyado Kirinya, a basic hostel with dormitories and small tatami rooms. A good mid-range option is Almont Hotel Kyoto, with good access to trains to Uji. Ryokan fans, or visitors looking for real luxury, should head to Koryuen Seizanso. This hot spring featuring ryokan has everything you could need, and is a short, five minute walk from Byodoin Temple.
Other recommended places to stay in Uji include the luxurious, four-star Hanayashiki Ukifune-en with views of the river from some of its rooms and the two-star Uji Dai-ichi Hotel, closer to Uji Station.
Access - Getting to Uji
There are frequent trains from both Kyoto and Nara, making Uji a great place to visit if also visiting these big cities. The city itself is best to navigate on foot, with the main attractions clearly shown on local maps and all within walking distance.
From JR Kyoto Station, take a JR Nara Line train to Uji (JR) station (17 minutes, 240 yen).
From JR Nara Station, take a JR Nara Line train to Uji (JR) station (30 minutes, 500 yen).
Uji can also be reached on the Keihan Line from Demachiyanagi Station, Sanjo-Keihan Station and Shijo-Keihan Station in the center of Kyoto changing at Chushojima for the Keihan Uji Line. Total journey time is 33 minutes and costs 330 yen. To get to Chushojima from Osaka, take a Keihan train from Kyobashi Station.
The Japan Rail Pass is valid for JR trains to Uji.
Book Hotel Accommodation in Uji
Historically and culturally, Uji, just south of Kyoto, is the most distinct tea-producing region of Japan.
All the themes of the city