West Kyoto Walk
A Walk In West Kyoto: take a stroll from Myoshinji Temple to see the Kyoto temples of Ninnaji, Ryoanji, Kinkakuji, and Toji-in.
Kyoto Area Guide: Kyoto West 京都西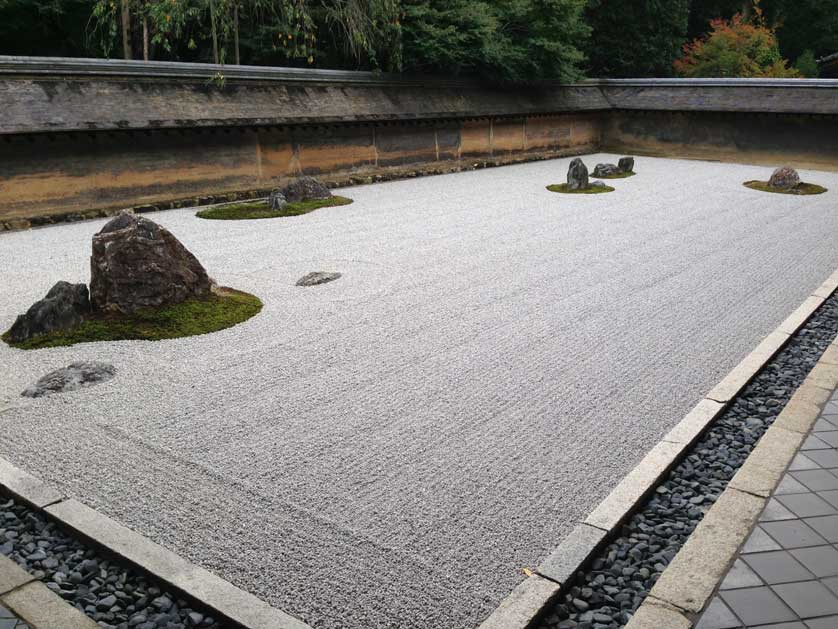 Ryoanji Temple, Kyoto
Kyoto is a fairly large city, but if you break it up into geographic areas it is fairly easy to see many of the city's World Heritage sites and other temples and shrines. One of the best ways to do is this on foot.
In the western part of the city, for example, are the Golden Pavilion (Kinkakuji), Ryoanji, Ninnaji, and Myoshinji (and, if you have the time and energy, the Kyoto Museum for World Peace and Toji-in). All are worth a visit. With a good pair of walking shoes, you can easily see them in a day.
You can either start at Myoshinji Temple and end at the Golden Pavilion, or work the other way. If you begin at Myoshinji, take the JR Saiin Line from Kyoto Station four local stops to Hanazono Station. From the station it is a seven minute walk to the south gate of Myoshinji.
Myoshinji 妙心寺
The zen temple Myoshinji Temple is a city behind walls with many, many sub-temples. Myoshinji is a temple that is peaceful, vast and not very crowded.
Hanozono, Ukyo-ku, Kyoto 075-463-3121
Your next stop is Ninnaji Temple. From the north gate of Myoshinji Temple, go out and turn left. Follow the road as it curves to the right, crosses the tracks of the Keifuku train line, and continues up to a five-point intersection. The walls of Ninnaji are across the street in front of you.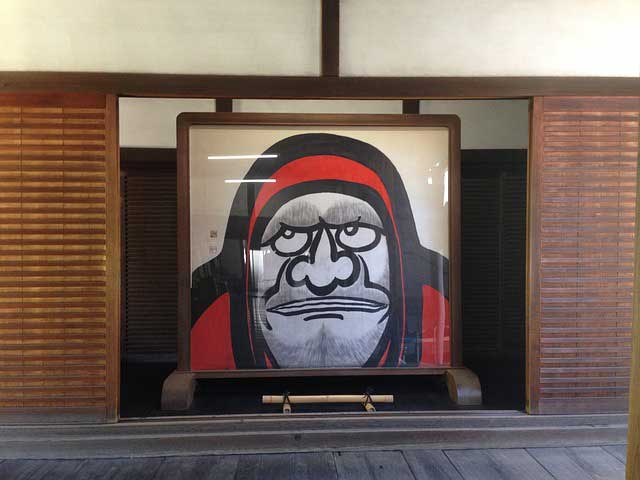 Toji-in Temple, Kyoto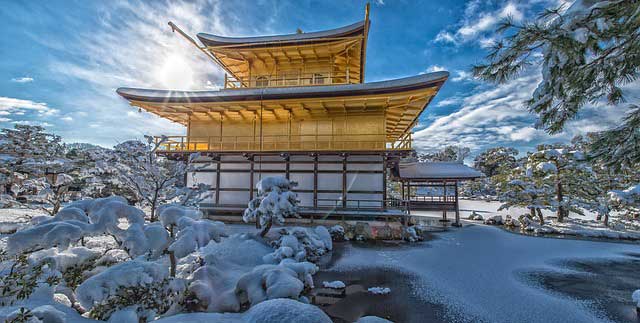 Kinkakuji Temple in snow, western Kyoto

Ninnaji 仁和寺
Ninnaji Temple has an impressive gate, an interior section that has been designated as a World Heritage Site, and massive grounds with many sub-temples and grounds. It is well known for its Omuro Sakura cherry trees. When the trees are in bloom, in early to mid-April, Ninnaji can be crowded.
400 yen fee to the sub temple that is a World Heritage site; otherwise, it is free.
33 Ouchi Omuro Ukyo-ku Kyoto 075-461-1155
Now you will head to Japan's most famous stone garden, at Ryoanji Temple. Walk out the main gate of Ninnaji, head left. Follow this road as it winds through forests and neighborhoods for about one kilometer (.6 miles).
It will take 10-15 minutes. Ryoanji is on your left on the same side of the road.
Ryoanji 竜安寺
Ryoanji Temple has an amazing pond and lush grounds, and a world famous stone garden.
500 yen for adults.
13 Ryoanji Goryonoshita-cho, Ukyo-ku, Kyoto 075 463 2216
From the main gate of Ryoanji, turn left and continue on the winding road towards the Golden Pavilion. You will pass Ritsumeikan University on your right. Keep walking on the same street; it is another five minutes from there.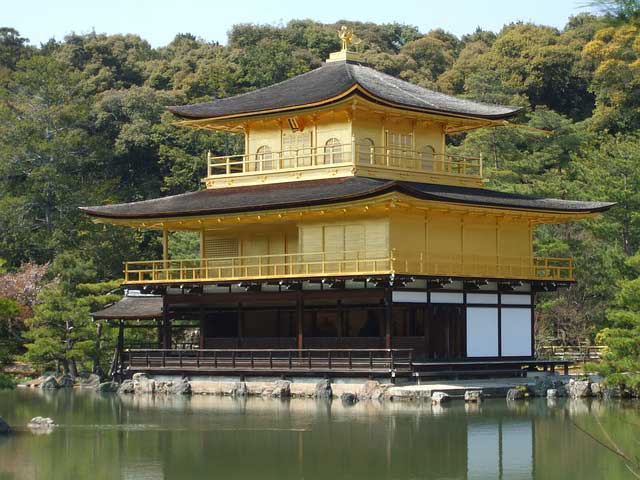 Kinkakuji Temple, western Kyoto
Kinkakuji 金閣寺
The Golden Pavilion (Kinkakuji) is Japan's best-known temple (although some might make a case for Kiyomizudera Temple). Kinkakuji has the world famous pavilion that shimmers in front of a small lake.
400 yen for adults.
1 Kinkaku-ji-cho, Kita-ku, Kyoto 075 461 0013
From here you can return to the center of Kyoto, Shijo-Kawaramachi, on bus 59 or to Kyoto Station on bus 101 or 205.
If that isn't enough for one day, three sites near Ritsumeikan University merit a visit: the Kyoto Museum for World Peace, the Insho Domoto Museum of Fine Art and Toji-in Temple.
Walk back towards Ryoanji on the same road until you get to Ritsumeikan's Main Gate. Head down to the left, heading south. The Kyoto Museum for World Peace is on your right.
Kyoto International Peace Museum 立命館大学国際平和ミュージアム
The Kyoto Museum for World Peace has rotating photography and other exhibits. The permanent collection is a great source for World War II buffs - and told from a point of view highly critical of Japan's wartime activities.
56-1 Kitamachi, Toji-in, Kita-ku Kyoto 075 465 8151
To get to Toji-in, the easiest thing to do is cut through the campus. With a bit of hit or miss luck, you will find an entrance to the temple from the campus. The Temple abuts the south entrance of the university campus. Ask a student for directions.
Toji-in 等持院
Toji-in was founded in 1338. It was the temple of the Ashikaga shoguns and has a beautiful Japanese garden and tea house.
Admission fee: 500 yen; 5.30am-4-30pm. 075 461 5786
For a full listing of Kyoto Museums & Art Galleries click here
Kyoto Map
If the map does not load when using Internet Explorer (IE) on a Windows PC, please hold down the "Control" key and refresh the page
Book Hotel Accommodation in Kyoto Near Kinkakuji
All the themes of the city