Nishijin Textile Center
Nishijin Textile Center 西陣織会館
Text and photos by Aliona Jefimova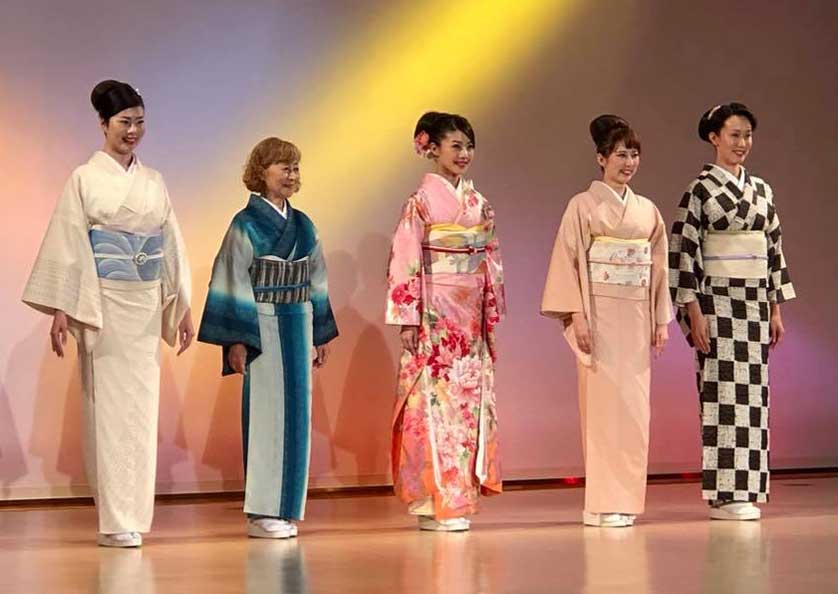 © Nishijin Textile Center
The kimono has been associated with the image of Japan for centuries. Within Japan itself, Kyoto has been the main centre for kimono and textile production for more than 1000 years.
Although demand for kimono decreased dramatically once Western clothes were introduced to Japan during the Meiji period (1868-1912), Kyoto still remains famous for kimonos and textiles. The Nishijin Textile Centre, situated in the centre of Kyoto in the Nishijin weaving area, is an alliance consisting of more than 700 small companies that continue to foster and nurture the ancient textile tradition.
The seven-storey "Nishijin" Union building is located on Horikawa Street, just south of Imadegawa. Nishijin Textile Museum is a museum, a factory, a shop and a gallery all in one.
Origins of Nishijin and its Textile Tradition
Although nowadays most Japanese associate the name "Nishijin" with textile production, the origin of the name "Nishijin" dates back to the 15th century, when the Onin War was being waged in Kyoto. Nishijin was the area of Kyoto where the western rebel army was located (Nishi' meaning West' and jin' meaning camp'). When the war ended, the weavers who had fled from Kyoto during the period of the war came back to the city and settled down in Nishijin area. Eventually, this centre of textile production came to be called "Nishijin".
Even though the name "Nishijin" only originated about 500 years ago, the tradition of textile weaving that continues to this day, goes back to the Heian period (from 794 AD), being one of the most important crafts in Japan for more than 1200 years.
As mentioned earlier, many textile weavers' and kimono makers' businesses suffered when Western clothes were introduced to Japan during the Meiji era (1868-1912), but many from the Nishijin area went to Europe to learn the new Jacquard weaving methods, which resulted in prosperity that has lasted up to the present day.
Creative craftsmen in the Nishijin Alliance work hard to combine traditional Japanese arts with modern needs and tastes, which has helped Nishijin to remain on the top of the textile industry throughout its history, with the one exception being a decline in production during World War II.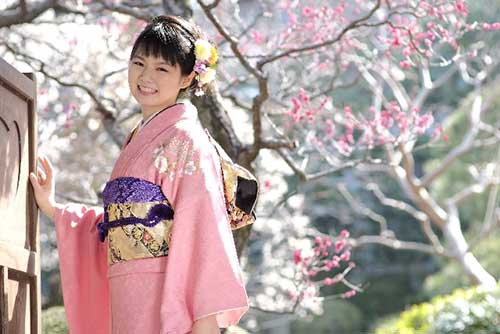 Japanese woman in a kimono posing near cherry blossom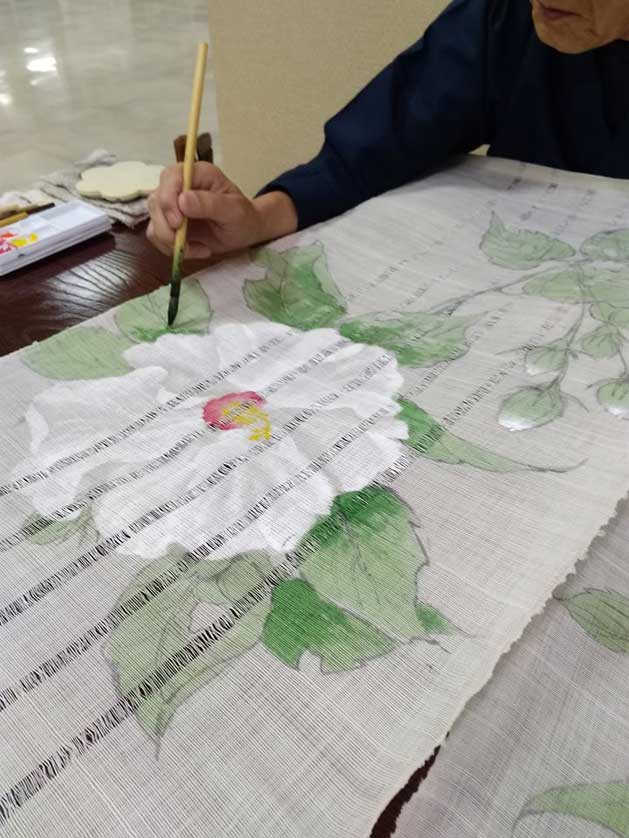 © Nishijin Textile Center
The Textile Making Process
The main characteristic of Nishijin textiles is that threads are dyed before being woven into fabric diagonally. It is thus very complicated and requires that many people are involved in the production process. Nishijin Union employs a division of labour, which means that each person or a company is only involved in one of many stages of production.
The people involved in the production are divided into designers, MON (design template) planners, weavers, arrangement and process workers, thread dyers and many others. Hand looms, handicraft looms and power looms are used in the manufacturing process. Nishijin textiles are produced in small quantities but come in great variety, which makes many of the works unique.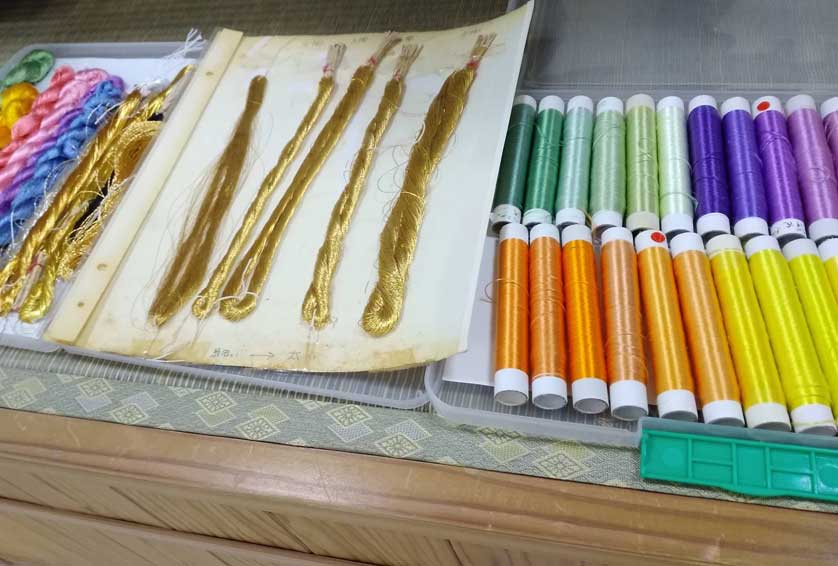 © Nishijin Textile Center
The Museum
The Nishijin Textile Centre is open from 9 am to 5 pm 7 days a week throughout the year (except the winter holiday period from December 29 till January 3). Entrance is free and no prior reservation is needed.
On the first floor there is a stage, on which a kimono fashion show is held approximately every hour 7 days a week. The kimonos are splendid, some of them traditionally Japanese and others combining Japanese and Western fashions.
You can witness the process of making Nishijin textiles first-hand, as some of the craftsmen work on the second floor of the Nishijin Textile Centre, allowing visitors to observe the process of production or ask any questions.
There is a gallery on the 3rd floor, which displays the most valuable and outstanding textiles in the history of Nishijin tradition. The gallery exhibition changes several times a year.
Experience Nishijin
Visitors can experience even more here. Booking a hands-on weaving experience allows you to try your hand at weaving a piece of fabric on mini-looms using traditional methods.
Moreover, guests are allowed to try on a beautiful kimono, take pictures and even rent it for the whole day. This would make for an unforgettable day out in Kyoto. Above it all, women can become a real maiko (apprentice geisha) or a court lady of the Heian period. A professional will fully make up your face as well as dress you in a luxurious maiko kimono or a 12-layered kimono, the kind worn by imperial court ladies more than 1000 years ago.
These activities are not free however and a reservation is required.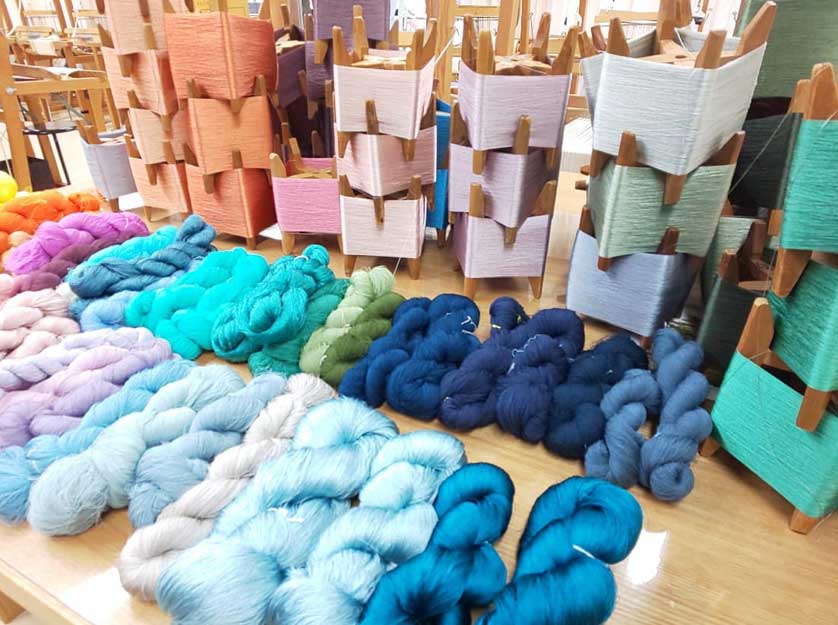 © Nishijin Textile Center
Nishijin Textile Centre Shop
The Nishijin Textile Centre is one of the best places to shop for souvenirs in Kyoto as the prices are comparatively cheap, and the variety of the goods available would satisfy even the pickiest of customers.
The food souvenir shop has a variety of Japanese sweets and pickles, whereas the 2nd floor offers kimonos, ties, bags, accessories, Japanese dolls, prints, postcards, socks, furoshiki (large square kerchief that can be used as a bag or for gift wrapping), key-rings and much more.
The Nishijin Textile Centre is a perfect place to come both for those interested in textiles and willing to know more about this old tradition as well as for those who would like to shop for traditional Japanese souvenirs.
Access
Nishijin Textile Center (nishijin.or.jp in Japanese, Chinese & English)
Horikawa-dori Imadegawa
Minamiiri Nishi-gawa Kamikyo-ku
Kyoto, 602-821
Tel: 075 432 6156
Walk 10 minutes west along Imadegawa from Imadegawa Station on the Karasuma Line of the Kyoto subway. Alternatively, take any of the following Kyoto buses: the #9 and #101 from Kyoto Station, the #12 from Shijo Kawaramachi and Sanjo Keihan stations, the #201 from Shijo Omiya and Demachiyanagi Station (on the Keihan and Eiden lines) and the #59 from Sanjo Keihan Station.
Books on Japanese Kimono
Kimono: Fashioning Culture
Japanese Kimono Designs
Japan Articles by Aliona Jefimova
Japanese Gift-Giving
Katsura Imperial Villa
Shugakuin Imperial Villa
Jidai Matsuri, the Festival of the Ages
Nishijin Textile Center. Read about Kyoto's Nishijin Textile Center, famous for its traditional kimono fabrics.
All the themes of the city